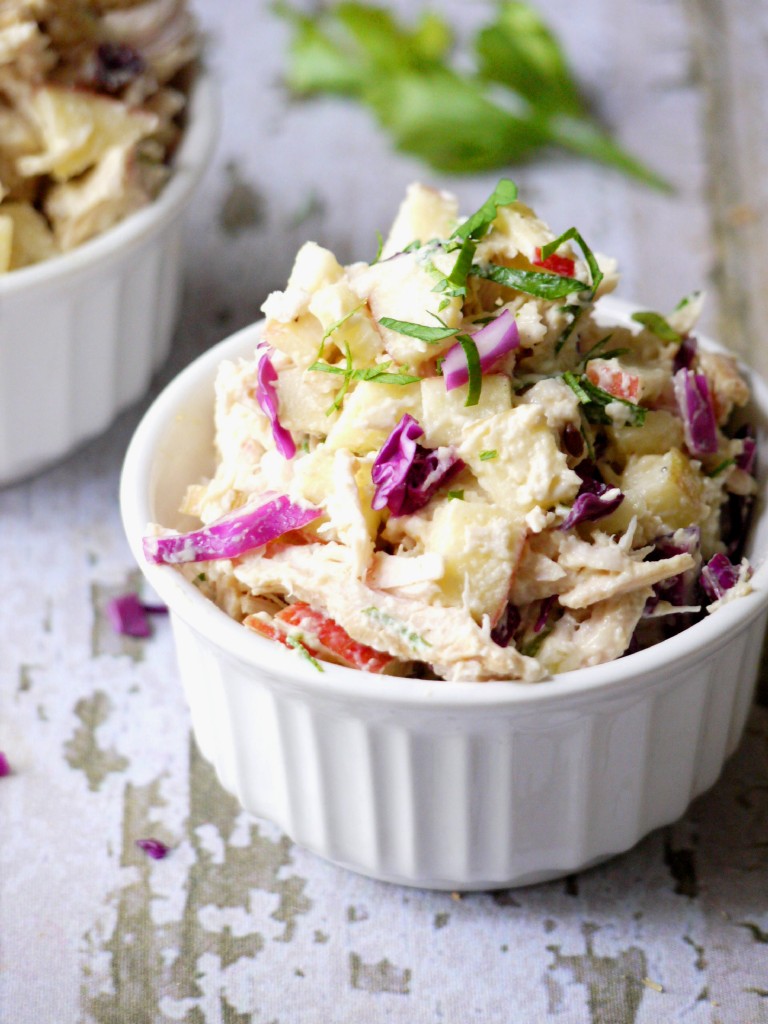 Rotisserie chicken can provide a wonderful reprieve from the usual deli meat sandwiches that I rely on throughout the week. Especially if you shred that chicken and mix it with crunchy apples and tangy Dijon mustard. Oh yeah…. There ain't nothing wrong with that.
Whipping up a batch of this chicken salad takes five, maybe 10, minutes and you can eat it alone, with crackers or on sandwich bread all week long. Don't you love options??
During the sunny summer days I've been known to eat my chicken salad on a whole-wheat sandwich roll. It would be just as good in a wrap or on regular bread, but there's something about eating chicken salad on a roll that feels so right in July!
Healthy Recipe Ecstasy? Oh yeah! I cut back on the gobs of mayonnaise that usually accompany chicken salad and replaced most of it with tangy Dijon mustard and horseradish. We're talking 1/4 cup low-fat mayo for 4 servings – that's approximately one tablespoon per serving. Beat that store-bought chicken salad.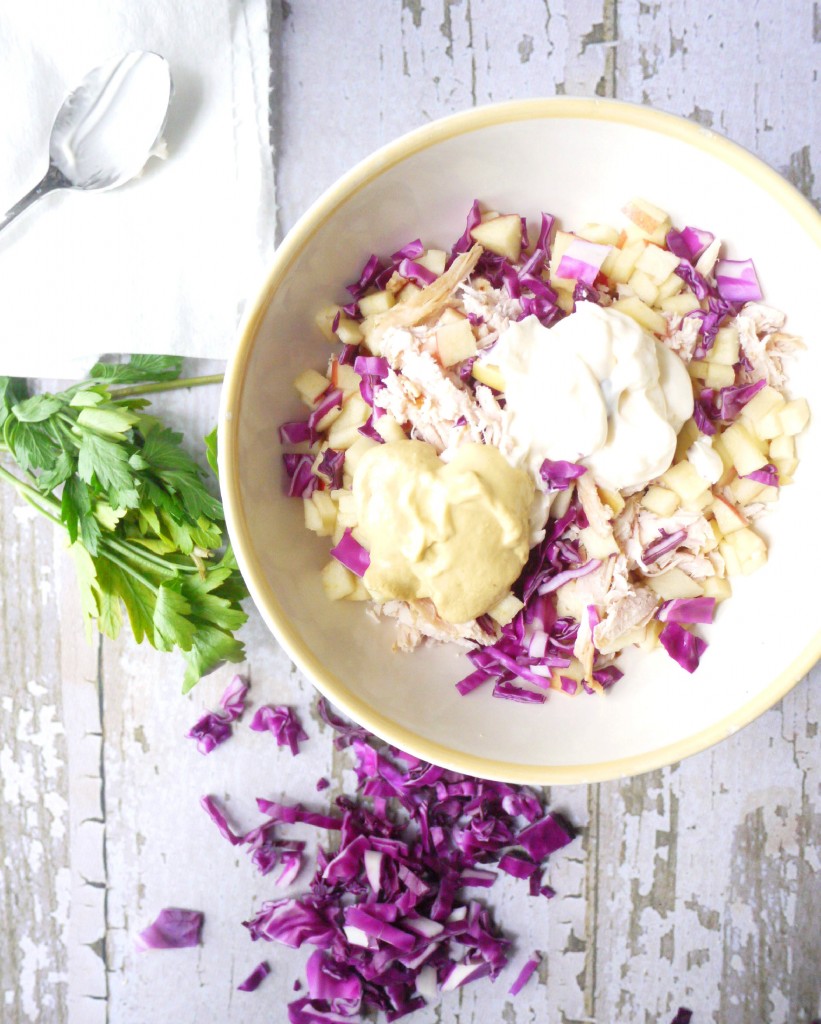 When I was younger, I used to love the fact that chicken salad was all creamy and mushy. But, now that my taste buds are all grown up, I've realized that super creamy chicken salad just makes my bread soggy and isn't as fun to eat on it's own.
Here comes apples and cabbage to the rescue! The diced apples and chopped cabbage give the creamy chicken a nice satisfying crunch. The produce makes it a little more interesting and salad-like so I don't feel the need to slap the chicken between two slices of bread all the time.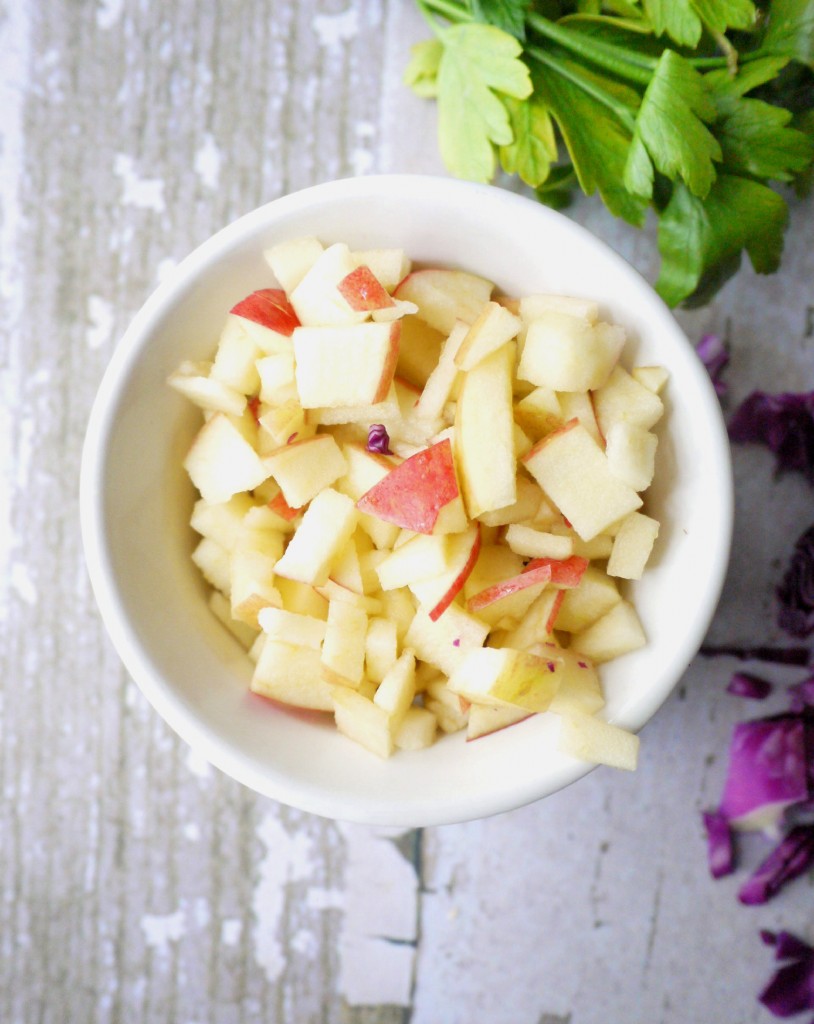 And, the best part is that the vibrant colors of the herbs and produce make this chicken salad so pretty! Because pretty salad is important, right? Just me?
If you're gluten-intolerant, skip the bread and just start spooning this business into your mouth. Or, do like I do and eat it with some gluten-free crackers or tortilla chips.
Sorry, boring turkey sandwich. This is my new lunchtime staple. #sorrynotsorry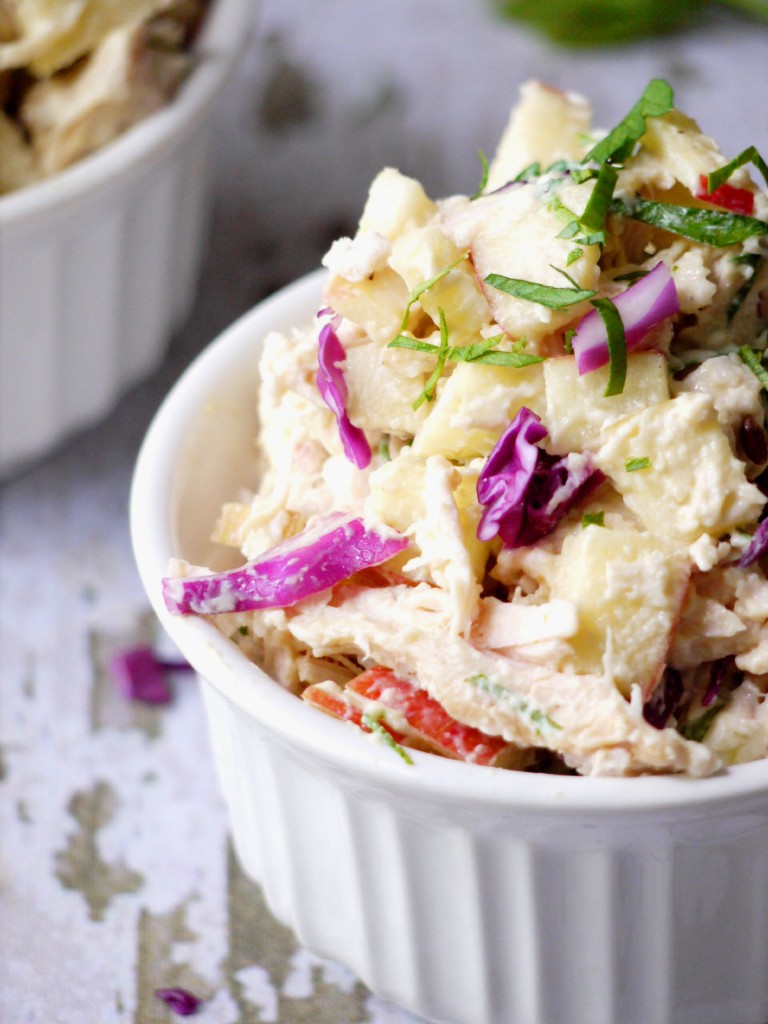 Tangy Chicken and Apple Salad
Buying a pre-cooked rotisserie chicken at the store means that you can make this chicken salad in under 10 minutes. If you have a little more time or don't have a rotisserie chicken on hand, you can always boil and shred chicken breasts. Regarding the apples, I used these beautiful reddish-yellow apples that came from my friend Milind's apple tree, but you can use any type of apples in this recipe. I recommend Braeburn or red apples.
Author:
Healthy Recipe Ecstasy
Ingredients
2 cups shredded rotisserie chicken
1 cup diced apple (approximately 1 small apple)
½ cup shredded and diced red cabbage
1 tablespoon chopped parsley, plus more for garnish
½ cup low-fat mayonnaise
2 tablespoons Dijon mustard
1 tablespoon prepared horseradish
Salt, to taste
Freshly-ground black pepper, to taste
Instructions
Put all the ingredients in a medium bowl and mix together until combined. Adjust seasoning to taste and garnish with more chopped parsley.
DONE! Wasn't that easy?
Serve with crackers, if desired. Or add the chicken mixture to bread or a roll to make a delicious chicken salad sandwich.