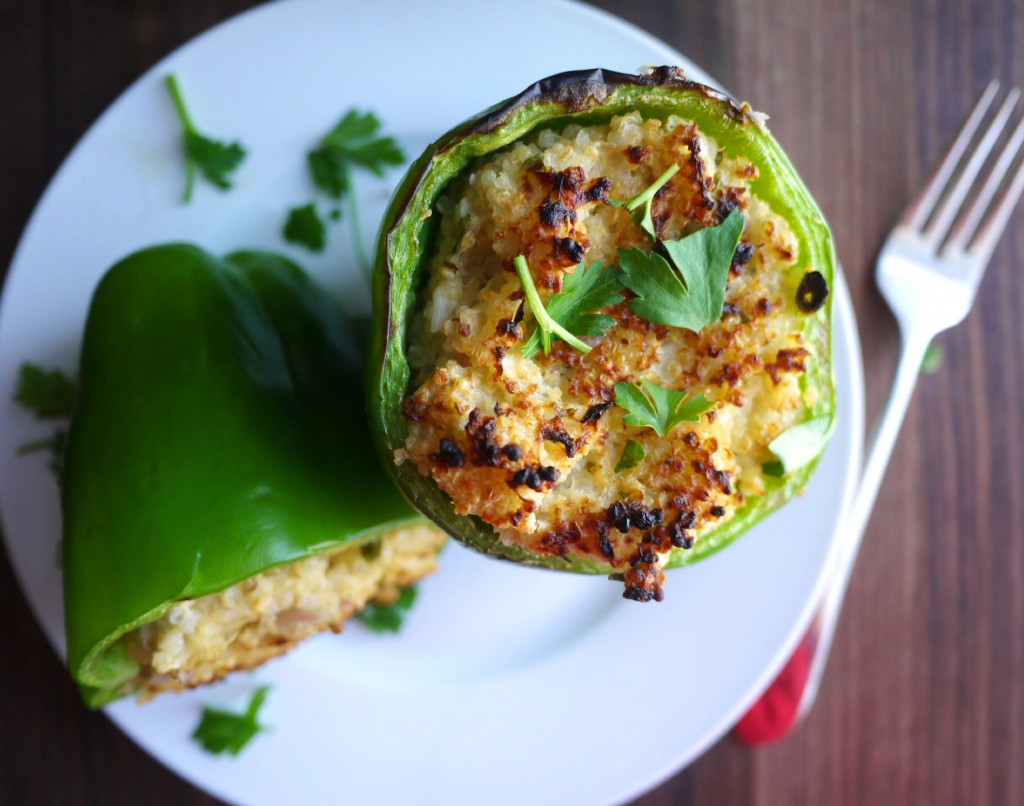 Before I went to New Orleans, I made these creamy stuffed bell peppers that I've been dying to share with you. I had been wanting to try my hand at stuffed peppers for a while, but every recipe seemed to be filled with loads of cream cheese and/or sour cream. Not good for my belly. The solution? Goat cheese!
I love how versatile goat cheese can be, and how much easier it is to digest. Sometimes my grocery store carries a goat cream cheese which is the most amazing thing in the world. However, for this recipe, I used plain old chevre. I also used quinoa rather than carb-heavy rice to add a little substance to the dish. And voila! A stuffed pepper healthy makeover that, I think, is even better than the original version. Look at that golden brown goodness.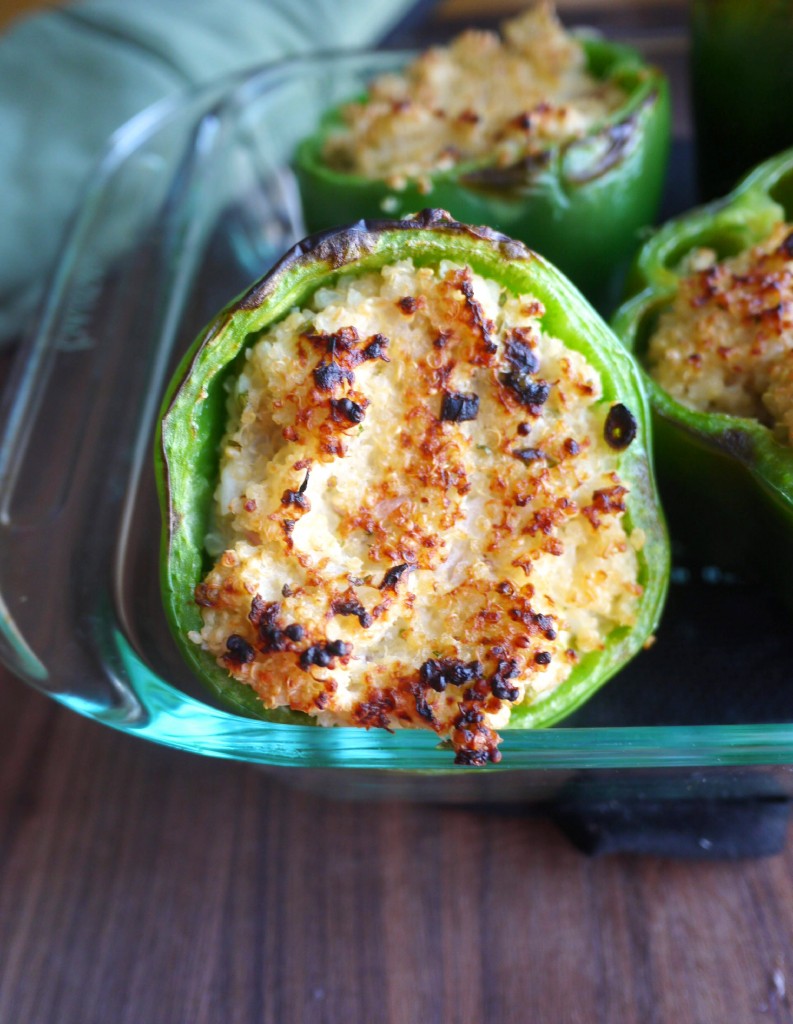 Unlike the usual stuffed bell peppers, weighed down with tons of cheese, cream, fatty sausage, and rice, these stuffed peppers are light and full of flavor. Using the quinoa makes them a great gluten-free choice for dinner. They're hearty enough that they can be eaten as the main entrée (maybe along with a nice salad?) or they would work perfectly alongside a fish or chicken dish. The best part is they are super easy to make for a quick weeknight meal.
**Recipe updated 1-22-14.

Stuffed Bell Peppers with Quinoa and Goat Cheese
Author:
Healthy Recipe Ecstasy
Recipe type:
Entree/Side Dish
Ingredients
½ cup sliced green onions
½ cup chopped shallots
2 tablespoons fresh lime juice
10 ounces goat cheese
2 tablespoons chopped fresh cilantro
Salt and black pepper to taste
4-6 large green bell peppers
2 cups quinoa
Instructions
Preheat oven broiler on high.
Cook quinoa according to package directions (about 15 minutes). Set aside and keep warm.
Combine green onions, shallots, lime juice, goat cheese, and cilantro in a small bowl. Add salt and pepper to taste.
Add the goat cheese mixture to the quinoa and mix gently until all ingredients are combined.
Cut the top off each bell pepper and remove the seeds. Divide the quinoa-goat cheese mixture evenly among the peppers. Depending on the size of your peppers, the mixture is enough to fill 4-6 peppers.
Place peppers in a square baking dish and drizzle with olive oil. Make sure they are packed in tightly to keep them upright while baking.
Broil for 10 minutes or until the peppers are soft and blackened and the quinoa-goat cheese mixture is browned on top. Serve warm.