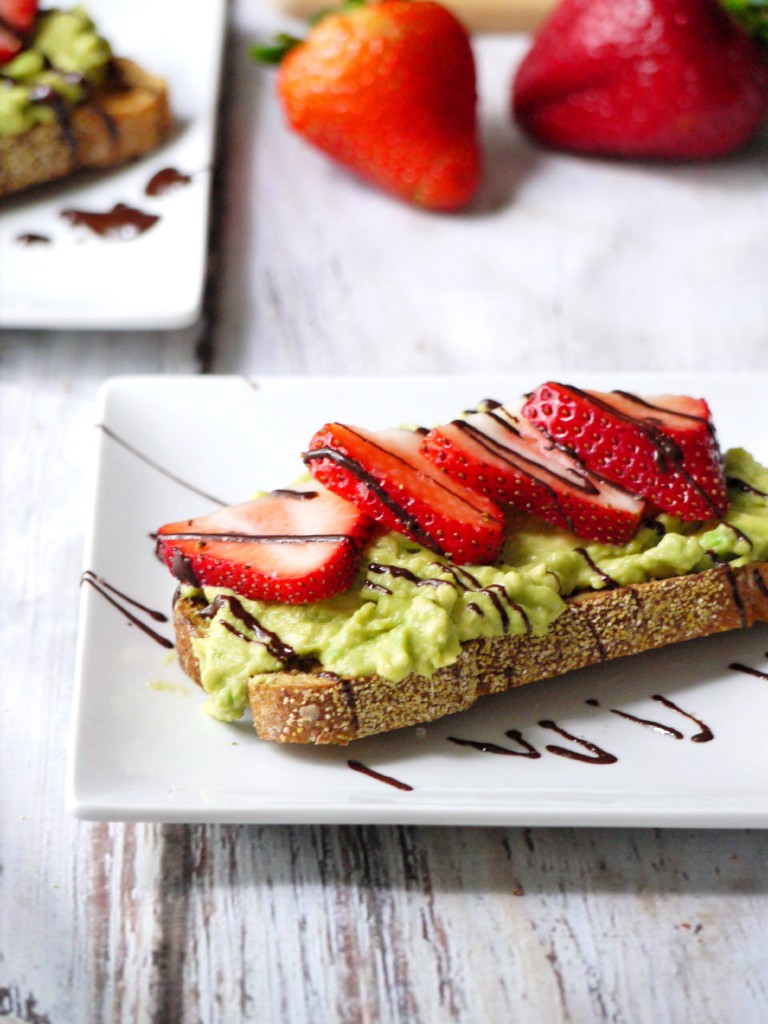 I had a dream and it involved strawberries, avocados and chocolate. And it was glorious. Then I woke up, and I was all…it was glorious in my dream but will it be glorious in reality? Strawberries + chocolate = da bomb. Avocado + chocolate = da bomb.com. So strawberries + chocolate + avocado must be da bomb.com.com (yeah that extra .com was on purpose), right? And it was.
This toast makes me a little weird. In a good way. Just like this toast is a little weird but in the absolute best way possible. Three flavors that might seem a bit odd come together for one of the best mouthfuls I've had in a while. It just works. It works for breakfast, it works for lunch, it works for a snack, it works for an appetizer. If this was a pageant, it would win best all-around.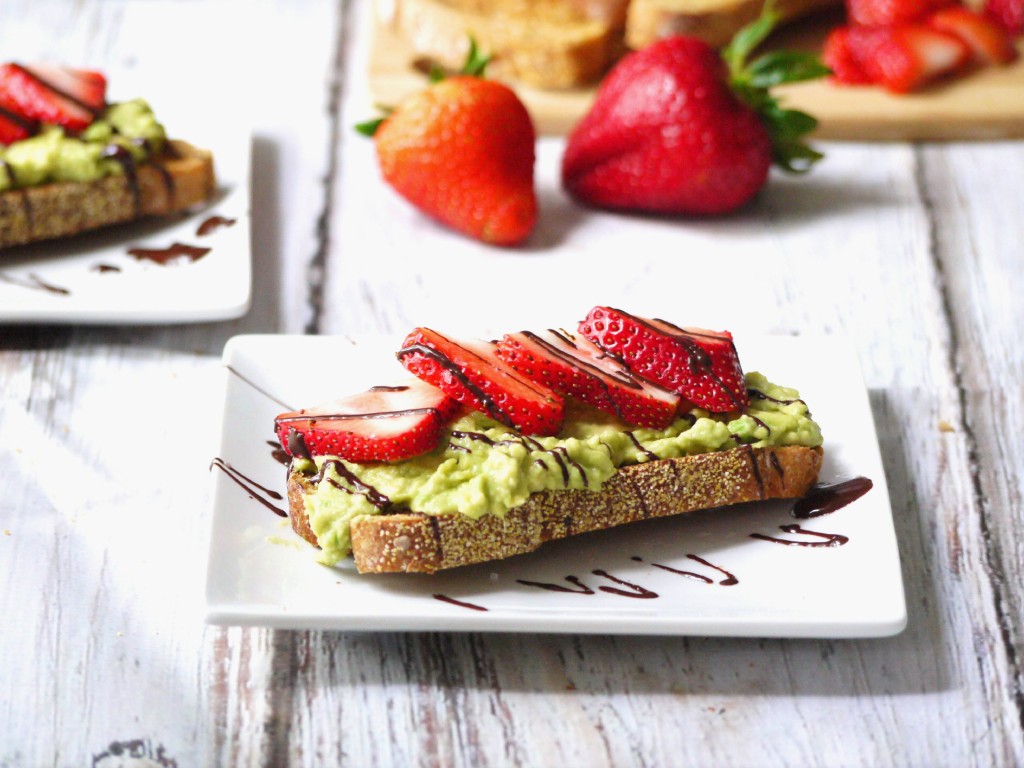 It's strawberry season and that makes me happy. But not as happy as this strawberry and avocado toast makes me. It has sweet strawberries – one of my favorite fruits. It has avocado – my all-time favorite creamy produce. It's toast, and toast is awesome. But the kicker is the dark chocolate drizzle. Extra dark chocolate, that is. Why extra? Why not? And that's really all I have to say on the subject. Usually I like to wax poetic about a particular ingredient or the health content of a dish or, you know, my life, but I think a picture speaks a thousands words. And, in this case, those words are all "yum."
If you think strawberry, avocado, chocolate toast is the strangest strawberry combination I've got. Think again. Coming Thursday, I'm using strawberries in a way you will never expect.

Strawberry and Avocado Toast with Extra Dark Chocolate Drizzle
Serving size is 1 slice of toast per person. If you have a gluten issue, swap in gluten-free bread or spread the mashed avocado on gluten-free crackers and top with one strawberry rather than 3-4 strawberries.
Author:
Healthy Recipe Ecstasy
Recipe type:
Appetizer/Snack
Ingredients
4 slices whole-grain bread
4 large strawberries
2 small avocados
1 ounce extra dark chocolate
Good quality sea salt flakes
Instructions
Toast the bread until it's a light golden brown, 2-3 minutes
Slice the strawberries and mash the avocado.
Melt the chocolate in the microwave.
Spread the avocado on each slice of toast. Top with 3-4 slices of strawberries. Drizzle with dark chocolate and sprinkle with sea salt. Serve immediately.