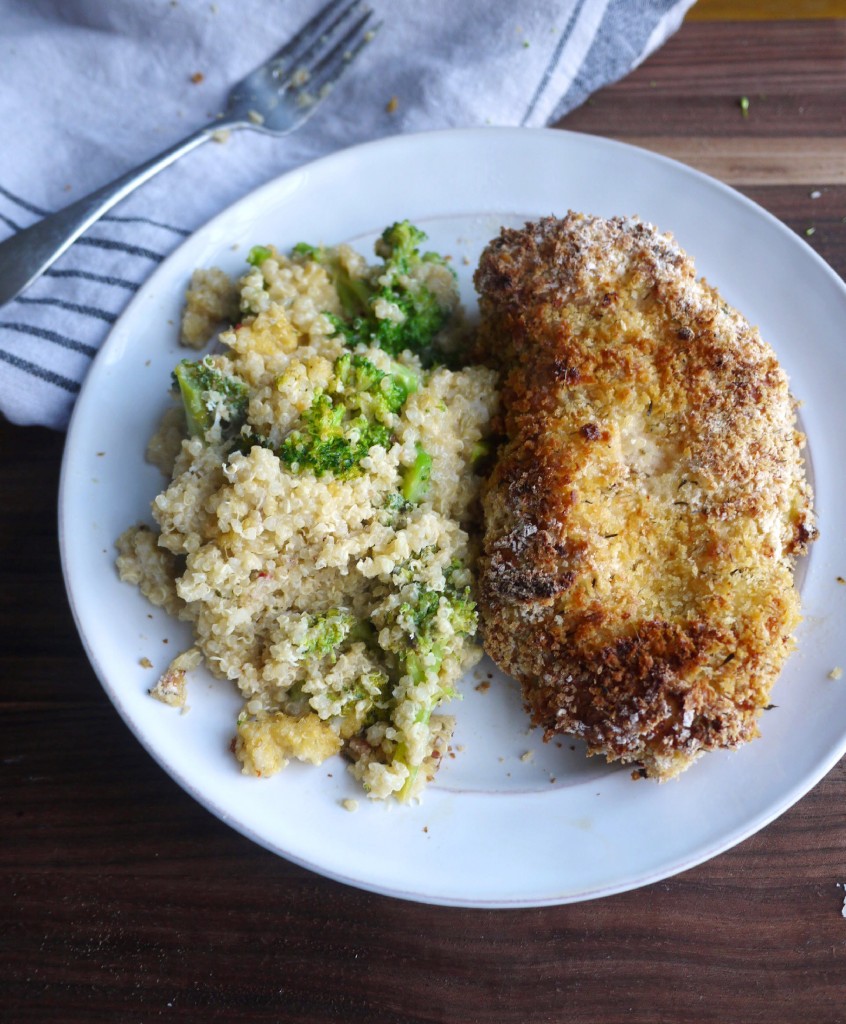 Whenever I'm trying to eat healthy, all I can think about are the unhealthy foods I'm not supposed to eat. Yesterday, I could not get broccoli and cheese casserole out of my head. When I was a kid, my mom used to make chicken divan, which is a creamy chicken, cheese and broccoli casserole that's typically made with mayonnaise, cream-based soups, sour cream and cheddar cheese. My stomach alternately growls with hunger and howls with pain at the thought!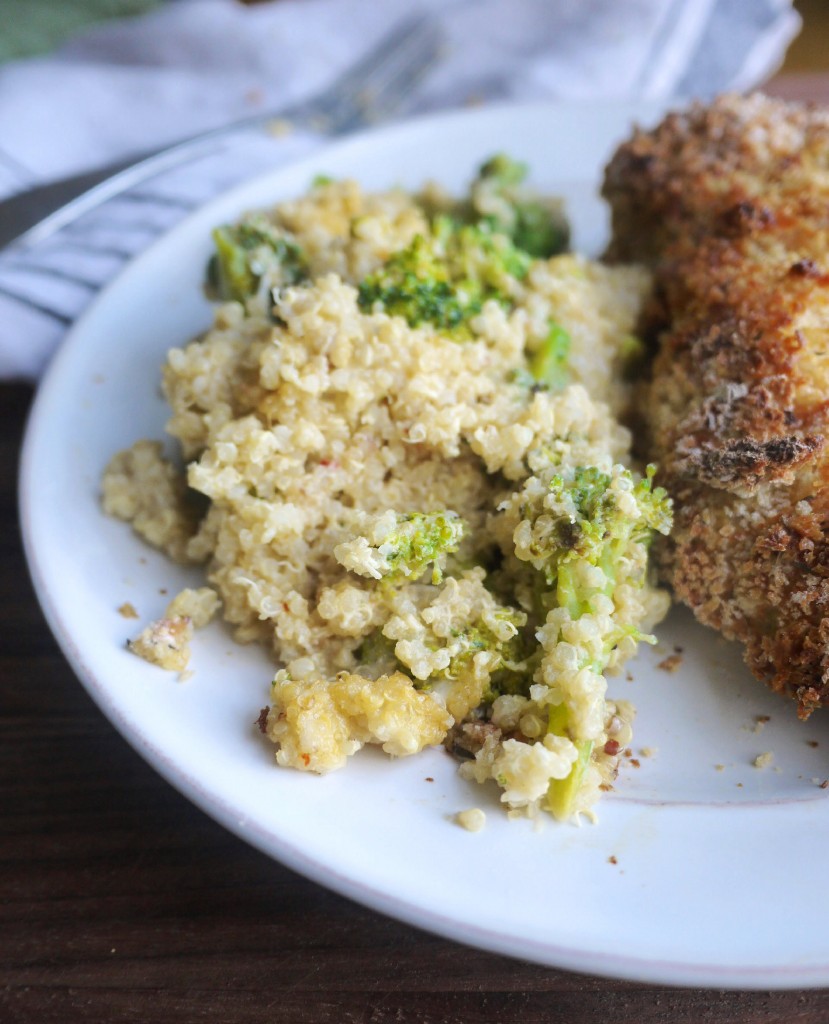 Instead of torturing my stomach (you're welcome stomach), I decided to be responsible and use my childhood memories of chicken divan as inspiration for a stomach-friendly meal. Instead of the usual white rice, I took a chance on quinoa, which is a grain I've never actually eaten before. I know, I know. Where have I been?? As the gluten-free poster child, quinoa is making its way into kitchens all across the country, except mine. I decided that needed to be rectified immediately, and quinoa and I needed to become better acquainted.
Instead of including chicken in the broccoli and cheese casserole, I decided to experiment with oven-fried chicken.  That way I feel like I'm getting more of a controlled, balanced meal rather than just scooping heaping portions of casserole out of the baking dish onto my plate. The double-dipping was actually not planned but borne out of my not wanting to waste the excess flour and egg coating. They say the best results sometimes come from mistakes – well, in this case, it's true. Double-dipping made for a delicious crunchy crust that I've never experienced from cooking chicken in the oven.
Healthy Recipe Ecstasy?  Yes and no. The texture of the chicken is perfect – nice and juicy on the inside and super crispy like real fried chicken on the outside. I couldn't stop eating it! The chicken rocks. The quinoa casserole the first time around was okay… I mean, if you're looking for a healthy substitute for a creamy broccoli and cheese casserole, it does the job, but I thought that it needed a little more flavor to reach true "healthy recipe ecstasy."
So, the second time around, I added a little bit of goat milk butter and chili garlic sauce to up the creamy factor and to give it a little kick. Much better second time around (recipe has been updated to reflect the goat butter and chili sauce addition). But I still think it could be elevated even more.  Maybe add some fresh herbs, a few more spices…. If you do make some adjustments, let me know how it turns out!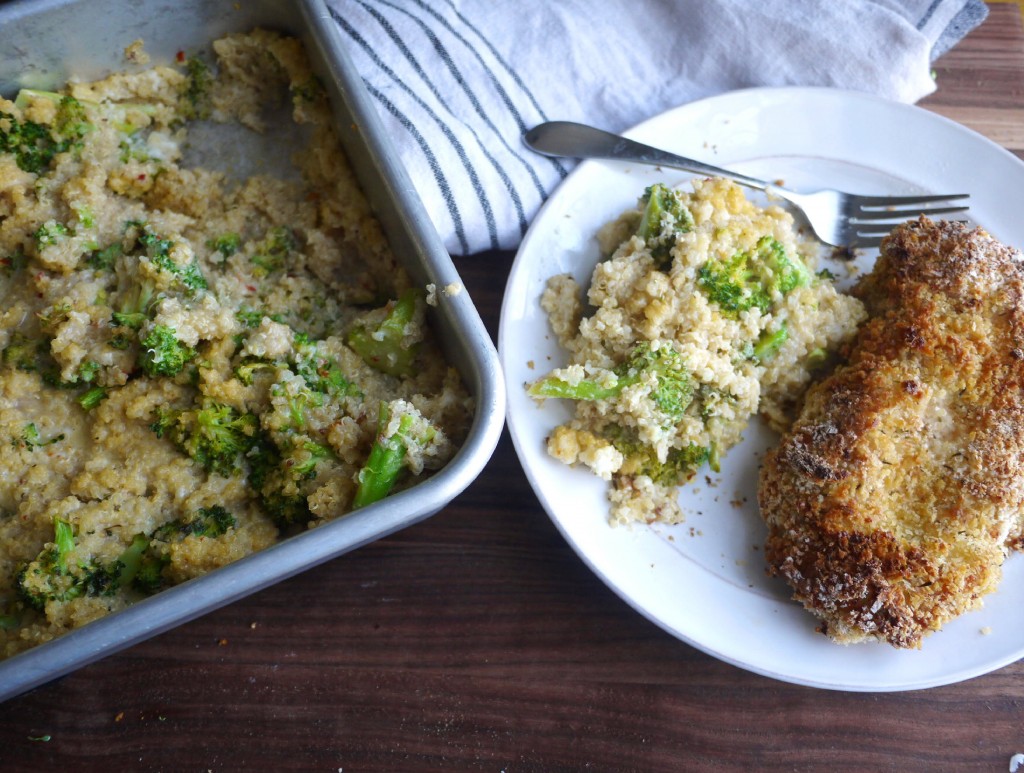 Double-Dipped Oven-Fried Chicken and Broccoli and Goat Cheese Quinoa Casserole
While the quinoa is gluten-free, the chicken is not because I used Panko bread crumbs. And, while the chicken is dairy-free, the quinoa is not because of the goat cheese and goat's milk butter. But, if you're like me, you may find goat products easier to digest than cow products.
Author:
Healthy Recipe Ecstasy
Recipe type:
Entree & Side Dish
Ingredients
CHICKEN:
2 pounds of chicken (I used all chicken breasts but you can use thighs and/or legs as well)
2 eggs
2 egg whites
1.5 cups flour
1 teaspoon kosher salt
½ teaspoon garlic powder
½ teaspoon cayenne pepper (use more if you like spice!)
½ teaspoon freshly ground black pepper
2 cups panko breadcrumbs
1 tablespoon dried thyme
2 tablespoons olive oil
QUINOA:
1½ cups quinoa
1 tablespoon olive oil
1 head of broccoli, chopped
1 pinch of kosher salt
1 cup soy milk
2 large eggs
1 teaspoon garlic powder
1 teaspoon seasoning salt
½ teaspoon freshly ground black pepper
1 tablespoon goat's milk butter, melted
1 tablespoon chili garlic sauce (again, use more if you like spice)
1½ cups grated hard goat cheese (I've used both a goat gouda and a goat cheddar, but pretty much any hard goat cheese will work in this dish)
Instructions
CHICKEN:
Heat the oven to 375 degrees. Pat the chicken dry.
Whisk together the eggs and egg whites and pour into a shallow dish. Mix together the flour, salt, garlic powder, cayenne, and black pepper and add to another shallow dish. Add the bread crumbs and thyme to a third shallow dish. Dip each chicken piece into the flour, then into the egg, and finally, into the bread crumbs. Then, re-dip each chicken piece into the flour, egg and bread crumbs.
Put the chicken on a baking sheet coated with cooking spray or covered with parchment paper and cook in the oven for 50 minutes.
After 50 minutes, take out the chicken and turn on the broiler. Sprinkle two tablespoons of olive oil evenly over the chicken pieces and put them back into the oven to broil until the crust is fully browned, about 4-5 minutes. Keep an eye on the chicken as the crust can burn very quickly while the broiler is on.
QUINOA:
Heat the oven to 375 degrees.
Cook the quinoa according to package (about 15 minutes). While the quinoa is cooking, lightly sauté the broccoli along with one pinch of salt in olive oil over medium heat until just tender, about 5 minutes. Remove from heat.
Whisk together the milk, eggs, garlic powder, seasoning salt, black pepper, butter and chili garlic sauce. Gently stir in broccoli, quinoa and goat cheese.
Transfer the broccoli quinoa mixture to a prepared baking dish and cook for 25-30 minutes.
NOTE: You can add the quinoa to the oven halfway through the fried chicken cooking time and cook both dishes together. You can also sprinkle more cheese over the quinoa after 25 minutes and put the casserole under the broiler while the fried chicken is broiling. I did not do this, but will next time. Hindsight is always 20/20!
**This post was updated on 1-17-14.