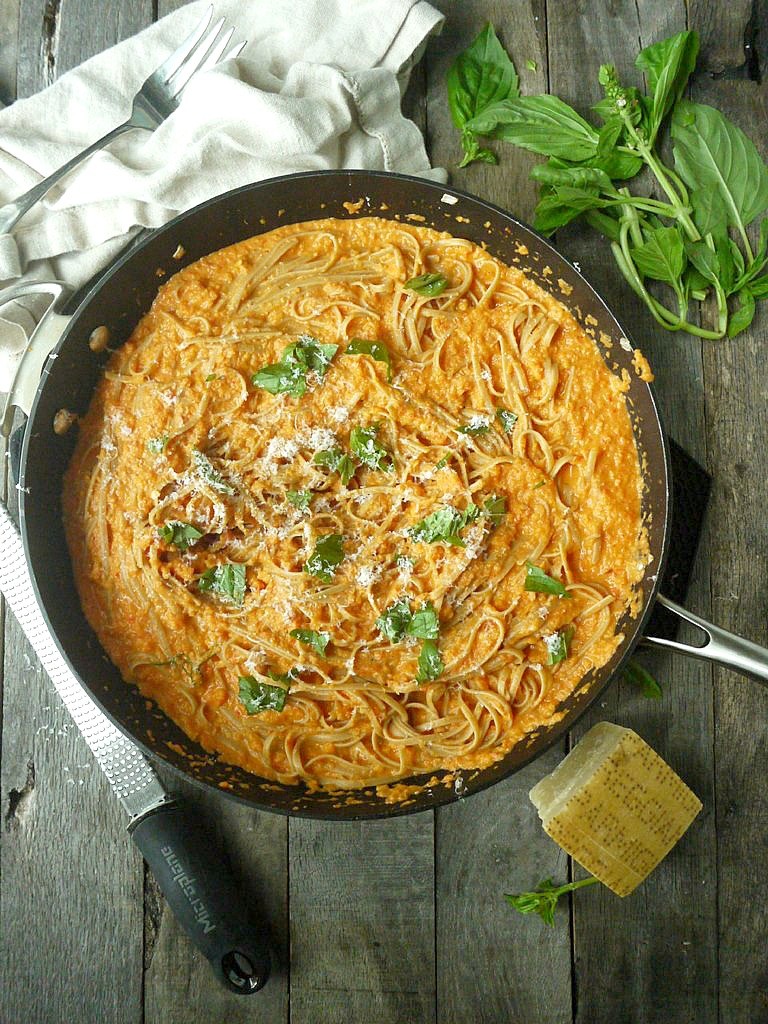 Oh hello. I didn't see you there. You see, I'm currently sleep typing. I'm sitting up, eyes wide open, staring at the screen, little (still puffy) fingers typing away, but I'm fast asleep. In fact, this may all be just a dream. Zzzzz….
I often dream of pasta. I don't often dream that I'm typing blogs about pasta but food dreams are not new to me. I've realized that the less I sleep, the more I dream, and, consequently, the less I feel like I've slept. It's a vicious cycle that's resulted in my fingers typing this blog while my brain is fast asleep. Good for you fingers for being so motivated and independent.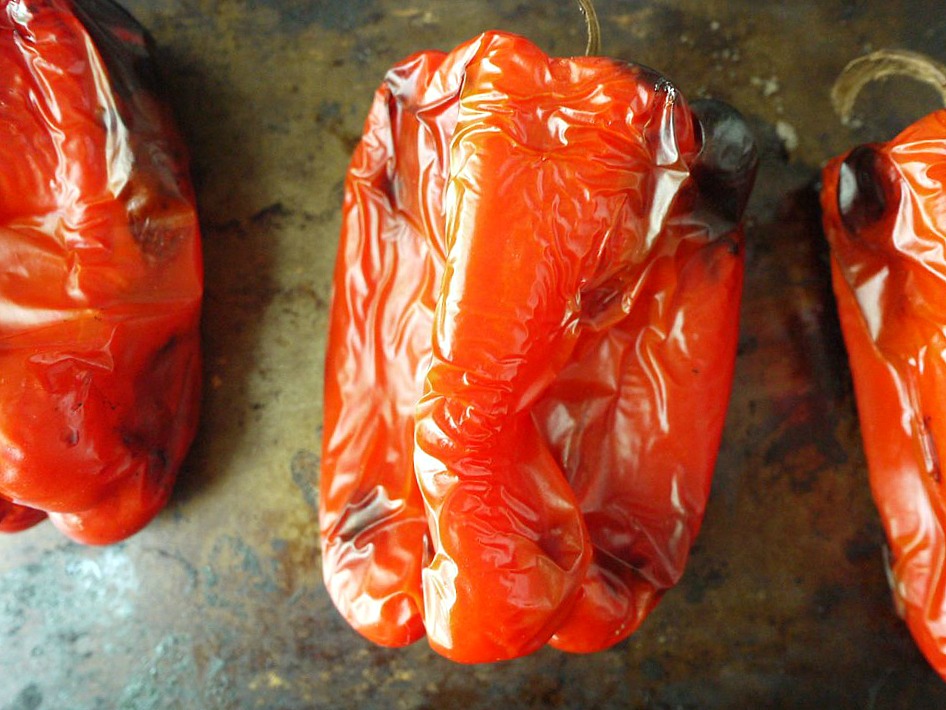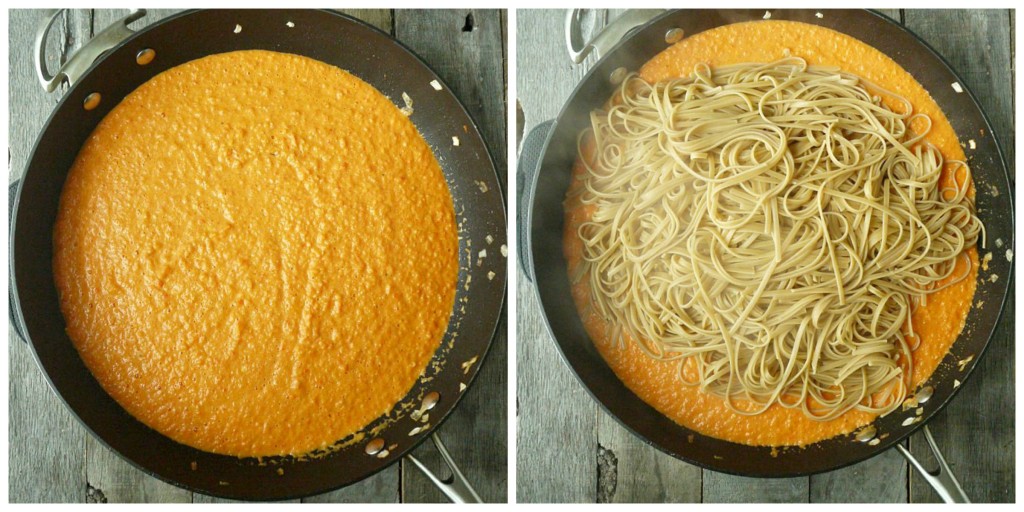 I'm going to come right out and say it. Babies are cruel. They lure you into a false sense of routine, and just when you think you might clock an 8-hour night on the regular, they turn your world upside down. I'm talking about the 4-month sleep regression. It's a thing. It's not a thing that anyone talks about – or at least not anyone in my pre-baby life – but it's definitely an all-consuming, mind-altering, want-to-pull-my-hair-out thing.
In the beginning, you expect the babies to be up all night. You're off work and slide into an adrenaline-filled groove of two-hour sleep spurts. It's hard but manageable. But, eventually, the adrenaline recedes and you return to the real world. You can no longer nap at 11 am or 5 pm (or both). You have to brush your hair and put on deodorant. You're expected to function alongside people who aren't covered in spit up and have time to go beyond what is considered basic acceptable grooming (see: hair brushing and deodorant) in the work place. There's no one to commiserate when you walk into a door frame because you can't see straight after a night where every shush-shush, bottom pat and lullaby was met with a cry of discontent.
So here I am – sleeping through my life. I'm going through the motions half-brained and half-hearted until something jolts me awake. A cry, a laugh, a smile. A simple plate of pasta.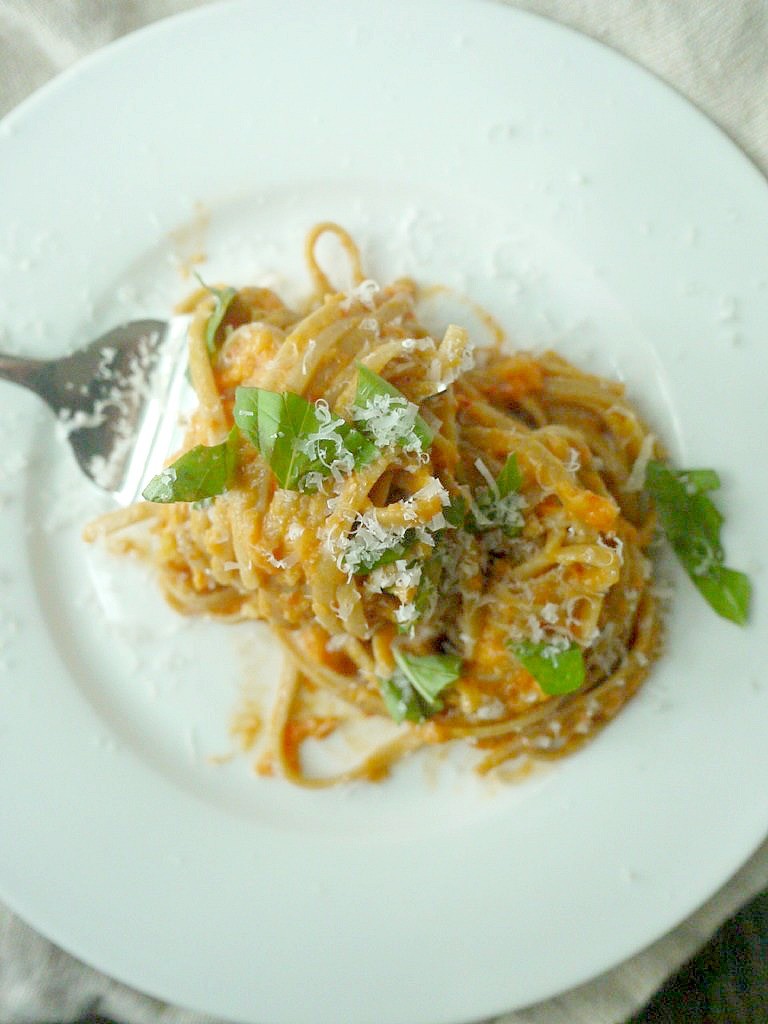 The thought that one day (hopefully sooner rather than later) my little guy won't just be sleeping through the night, he'll be sitting at the dinner table with us, shoveling this creamy pasta into his mouth right along side me. That's something I know I won't sleep through. Though the subtle flavors of the sauce – a hint of roasted pepper, a touch of spice, an undercurrent of licorice-y fennel and goat cheesy tang – might just lull the whole family into a satiated food coma.
For now, it's back to dreamland….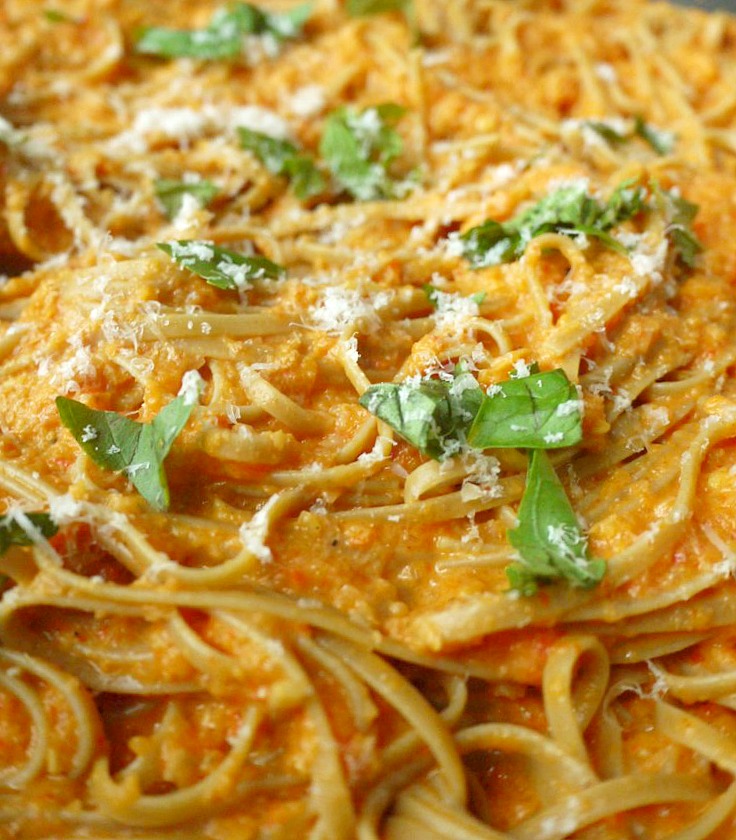 Roasted Red Pepper, Goat Cheese and Fennel Pasta
This creamy pasta is light on dairy and heavy on veggies, using just a small amount of goat cheese and Parmigiano-Reggiano cheese. I used whole-wheat pasta but a brown rice pasta would work really nicely for a gluten-free option.
Author:
Healthy Recipe Ecstasy
Ingredients
1 pound whole-wheat linguine, cooked according to the package (feel free to substitute brown rice pasta for a gluten-free option)
¼ cup reserved pasta water
3 large red bell peppers
2 tablespoons extra-virgin olive oil
1 medium white onion, chopped
4 cloves garlic, minced
1 large fennel bulb, chopped
½ cup low-sodium vegetable stock
6 ounces goat cheese
¼ - ½ teaspoon crushed red pepper flakes (use ½ teaspoon if you like a spicier pasta)
Coarse salt, to taste
Freshly-ground black pepper, to taste
½ cup grated Parmigiano-Reggiano cheese, plus more for garnish
Fresh basil, torn, for garnish
Sea salt flakes, for garnish (I used Maldon)
Instructions
Preheat oven to 450 degrees. Place red peppers on baking sheet and bake 25 minutes, rotating the peppers a quarter turn every 5 minutes until charred. Remove the peppers from the oven and cover with foil for 10 minutes. Uncover peppers, peel off skin and remove stem and seeds. Chop the peppers into large pieces.
Heat the olive oil in a large skillet over medium-high heat. Saute onions, garlic and chopped fennel bulb for 7-8 minutes or until tender.
Add the sauteed onions, garlic and fennel to a food processor along with the chopped red peppers, vegetable stock, goat cheese and crushed red pepper flakes. Process for about 60 seconds on high until smooth. Season with salt and pepper to taste.
Add the red pepper sauce back to the skillet and turn the heat to low. Add the cooked pasta, ¼ cup pasta water and Parmigiano-Reggiano cheese to the skillet. Stir until the cheese is melted and the sauce coats pasta. Garnish with additional grated cheese, black pepper, fresh basil leaves and sea salt flakes.