Spring has officially arrived. The temperatures have been steadily creeping upwards. The cherry blossom tree in our backyard is in full bloom. And I've had to forgo my usual get-up of leggings, nursing top, thick socks and warm cardigan for stretchy linen pants, nursing top, flip flops and light cardigan.
Let me emphasize the "stretchy" because I've still got a little ways to go with losing the baby weight. It was great having family and friends bring us yummy dinners and baked goods (yeah for cookies!!) for weeks, but not being in charge of my meals hasn't really helped the stretchy pants/waist line issue. It also doesn't help that even though I got the go ahead from the midwives to start exercising again, I almost passed out during my beginner postpartum boot camp DVD. Let me emphasize the "beginner."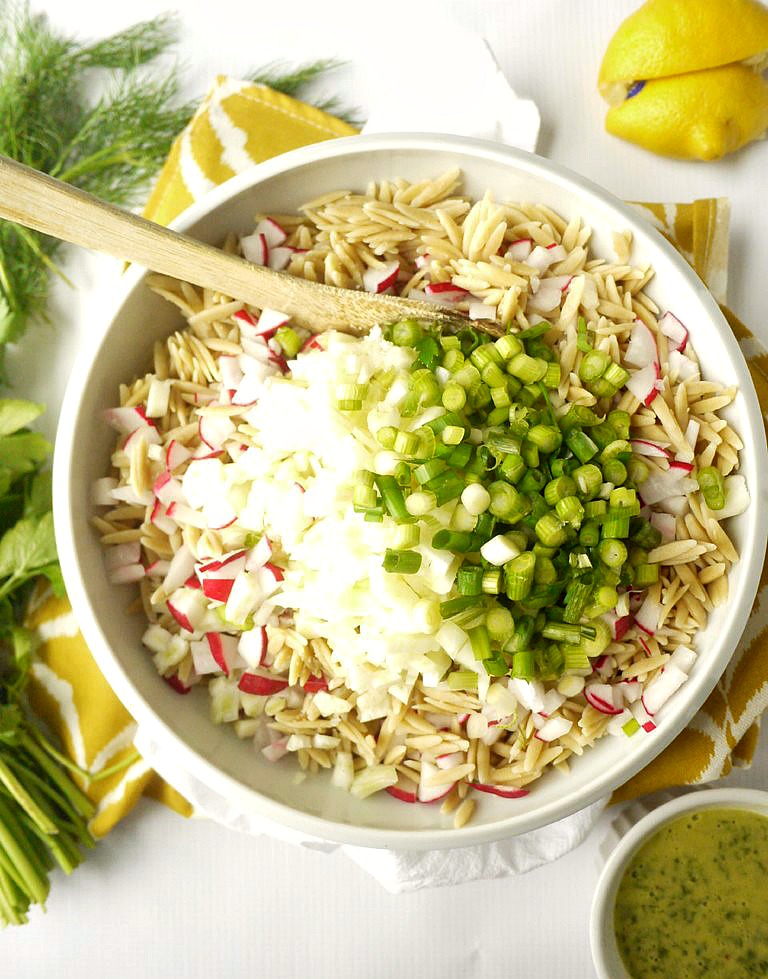 I knew that recovering from childbirth wasn't going to be easy but no one really talks about just how hard and how long it actually takes. I'm coming up on 7 weeks and I'm still plagued by sleep deprivation, frizzy hair (I swear this child can sense the second I get to the "hair products" point in my getting ready routine as he always chooses that time to sound his baby alarm) and the inability to do a simple, low-impact workout without seeing stars.
Meal time has gotten a little easier though as long as I stick to the 3 Qs: quality, quantity and quick. I'm filling my grocery cart with fresh, healthy ingredients (quality) to help get me back on track with my eating, I look for recipes that can be easily doubled, tripled, quadrupled (quantity) so that I can cook once and eat all week long, and, of course, those recipes must be quick to make and quick to eat. If I can literally pull a bowl of eats straight out of the fridge and start digging in all the better.
That's why this radish and fennel orzo that I adapted from Cooking Light is now a household staple. I can throw a huge bowl of healthy, springtime produce together pretty quickly along with some fiber-filled whole-wheat orzo and I've got lunch all week long. It's also a great dish to bring to a springtime party.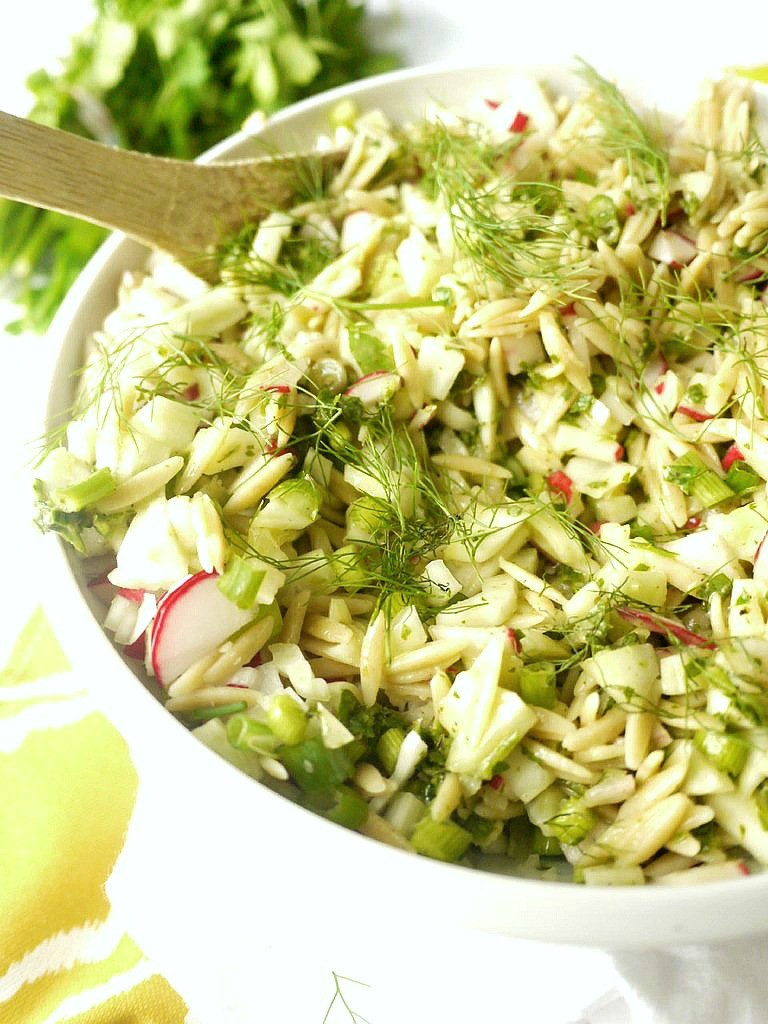 Speaking of parties (nice segue, right??), I was thrilled beyond belief that 17 of my favorite food blogger ladies got together yesterday to throw me the most awesome virtual shower a girl could ask for. The menu had me drooling all day long. This guy was drooling too but he does that most days… As you can see, he dressed for the occasion!
Double, triple, quadruple thanks again to Simply Fresh Dinners, Cooking and Beer, The NY Melrose Family, No Gojis No Glory, Omnivore's Cookbook, Climbing Grier Mountain, Bam's Kitchen, Natural Chow, Healthy Nibbles & Bits, The Complete Savorist, An Edible Mosaic, Pinch and Swirl, Food Faith Fitness, Bitz & Giggles, Vitamin Sunshine, House of Yumm, and The Crafting Foodie for making my day.
P.S. They're also giving away a KitchenAid Blender as part of the shower. You know you wanna get on that.
Radish and Fennel Orzo Salad with Parsley-Lemon Vinaigrette
If you're serving this dish for lunch or as an entree there's about 6 servings. You can stretch it to 8 servings if you serve smaller portions as a side dish.
Author:
Healthy Recipe Ecstasy (Adapted from Cooking Light)
Ingredients
PARSLEY VINAIGRETTE:
½ cup fresh lemon juice
6 tablespoons olive oil
2 teaspoons Dijon mustard
1 cup loosely packed fresh parsley leaves
½ teaspoon freshly ground black pepper
ORZO:
2 cups uncooked whole-wheat orzo pasta
1 tablespoon kosher salt
3 cups diced fennel (1 bulb)
1 cup chopped radish
½ diced green onions
Sea salt and freshly-ground black pepper, to taste
Fennel fronds, for garnish
Instructions
PARSLEY VINAIGRETTE: Combine lemon juice, olive oil, mustard, parsley leaves and black pepper in a food processor and process until smooth. Set aside.
ORZO: Cook orzo pasta with 1 tablespoon kosher salt according to the package directions, omitting additional fat. Drain and rinse with cold water. Add the orzo to a large bowl along with fennel, radish, and green onions. Add the parsley vinaigrette and toss well to coat. Season with sea salt and black pepper, to taste. Cover and chill.