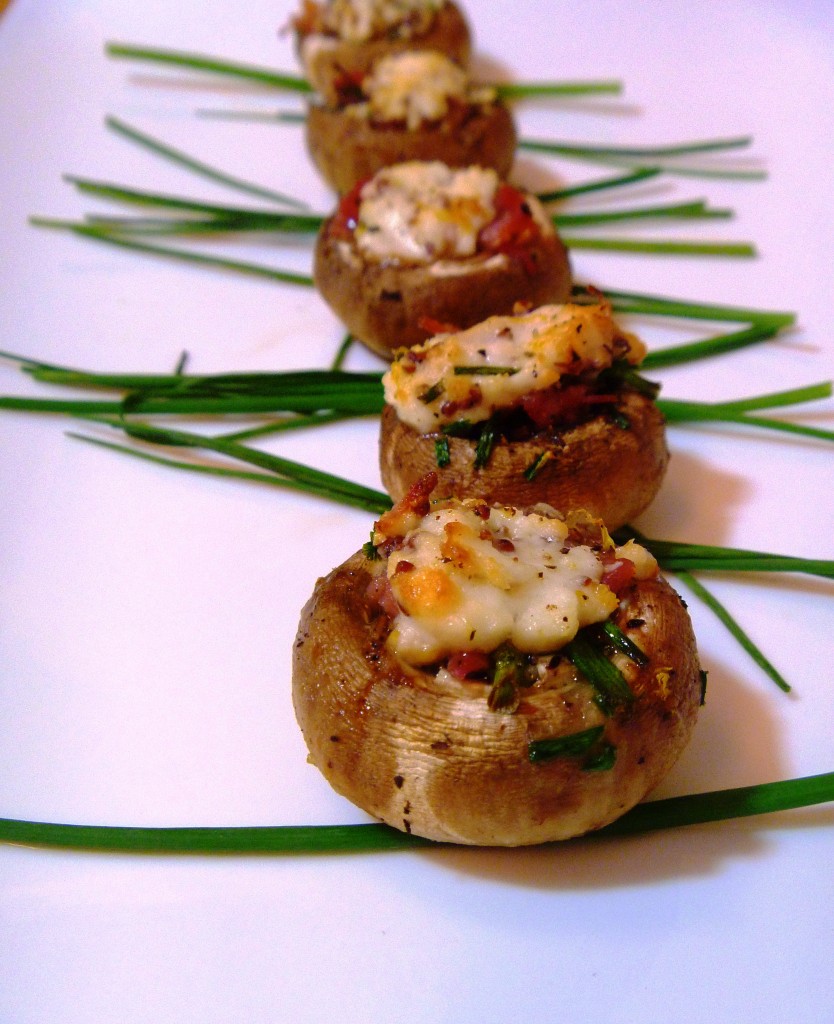 It's official. Alasdair and I are Costco members. As proper urbanites who lived in a small city apartment, we had previously refused to join Costco for two reasons: (1) Costco is located in suburbs. We HATE driving out to the 'burbs. (2). We had no room to store 96 rolls of toilet paper. However, in the past few months, things have changed. D.C. opened up its first Costco and we moved into a row house with actual garage storage. There was no fighting it anymore. We had to jump on the Costco bandwagon.
Our plan was to focus on dried goods and paper products (like the 96 rolls of toilet paper) but soon we drifted into the food section. Two whole chickens for $10? Absolutely. Double the amount of mushrooms for lower than Harris Teeter prices? Yep, going in the cart. 15 pounds of prosciutto for $9? Ok, that may be an exaggeration but it was a lot of prosciutto for a little money and I couldn't resist. Point being, I ended up with a ton of prosciutto and mushrooms and had to act fast before all that produce spoiled. So, I just decided to stuff the prosciutto inside the mushrooms along with a few other ingredients like my favorite new cheese: Queso de Murcia al Vino. It's a Spanish goat cheese made with red wine, and it's tangy and amazing in these mushrooms. I found the cheese at my local grocery store. If you can't find it, substitute regular goat cheese, nix the microwaving and double the Dijon mustard.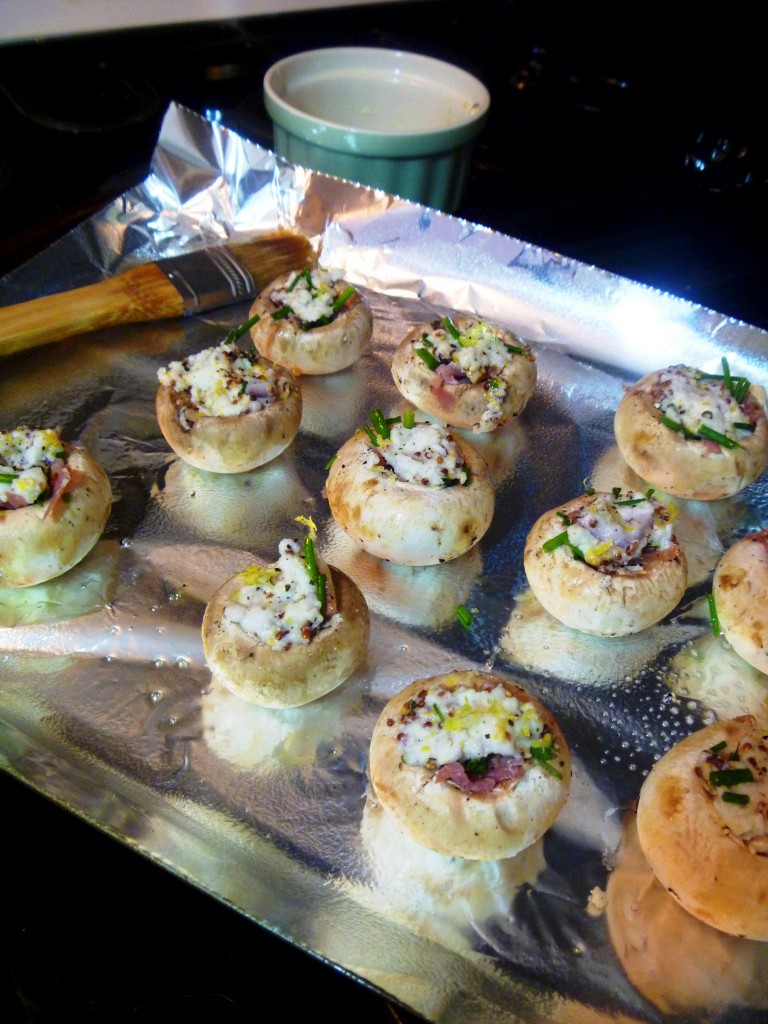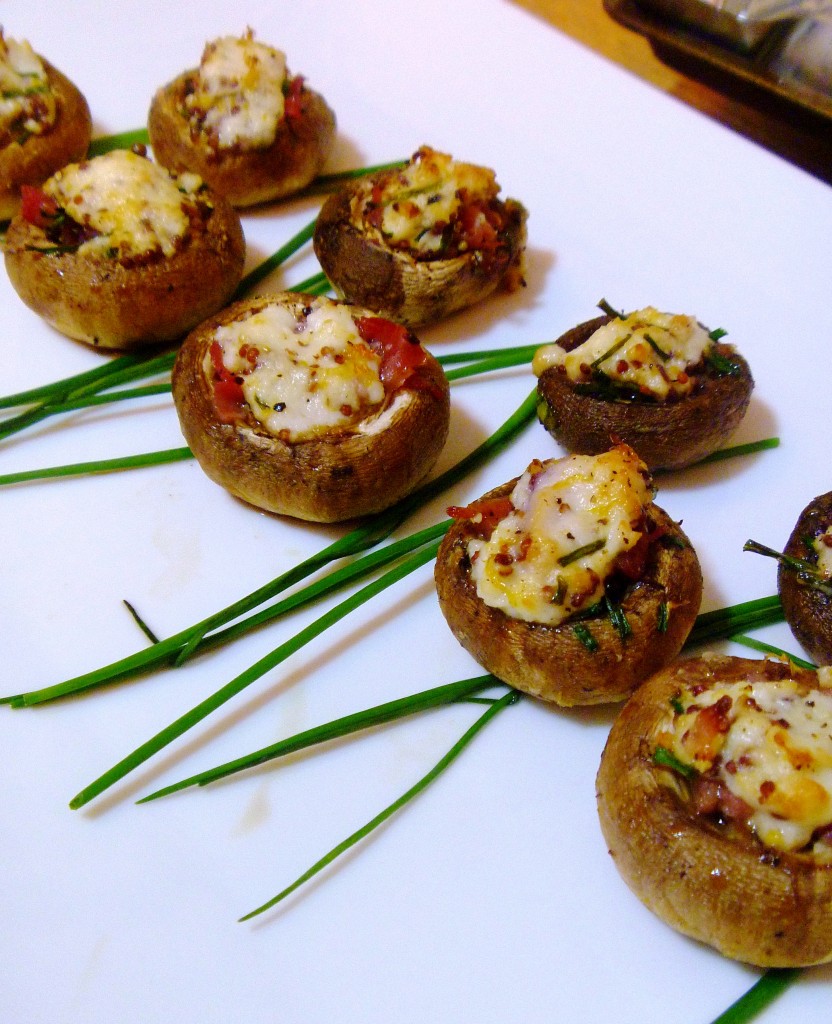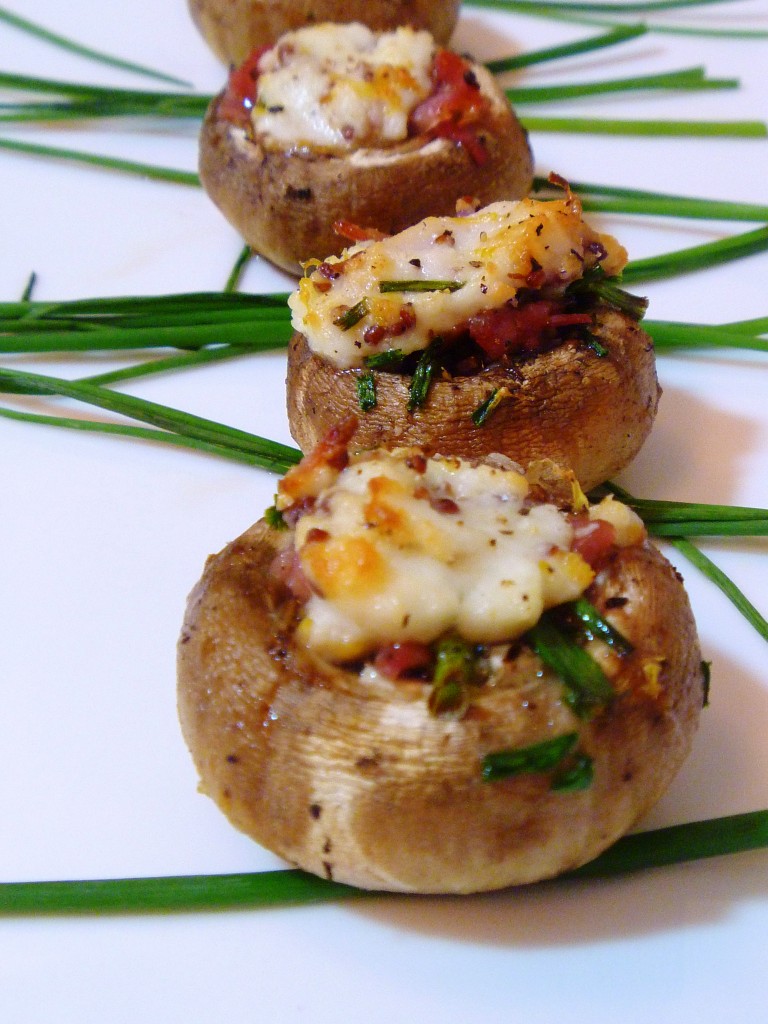 Healthy Recipe Ecstasy? These are great low-carb, gluten-free appetizers. We actually ate them as a side dish one night. The amount of prosciutto and cheese in each mushroom is so low that you can pop a few of these bad boys in your mouth without feeling any guilt. I ate quite a few and I am happy and guilt free. 🙂

Goat Cheese, Prosciutto & Chive Stuffed Mushrooms
Author:
Healthy Recipe Ecstasy
Ingredients
1 eight-ounce package white or baby bella mushrooms (approximately 12 mushrooms), wiped clean
2 thin slices prosciutto, chopped
¼ cup Queso de Murcia al Vino, chopped and melted in the microwave for 15 seconds
1 tablespoon chopped chives
½ tablespoon coarse Dijon Mustard
½ tablespoon lemon zest
1 tablespoon olive oil
Black pepper
Instructions
Preheat the oven to 375 degrees F. Remove the stems from the mushrooms and wipe clean. Do not rinse the mushrooms - they will absorb the water and be too juicy after you cook them.
Mix the melted cheese and mustard in a small bowl. Stuff each mushroom with a few bits of chopped prosciutto and then about a ½ teaspoon chives.
Spoon about 1-2 teaspoons of the cheese mixture onto each mushroom. Top with lemon zest and black pepper to taste. *You could also mix together the prosciutto, cheese, mustard, and chives and stuff the entire mixture into the mushrooms, BUT layering the ingredients ensures that each mushroom gets the correct amount of prosciutto and chives.
Brush each mushroom with olive oil and place on a rimmed baking sheet.
Bake for 15 minutes or until the mushrooms are fully cooked and the cheese turns golden. Serve immediately.