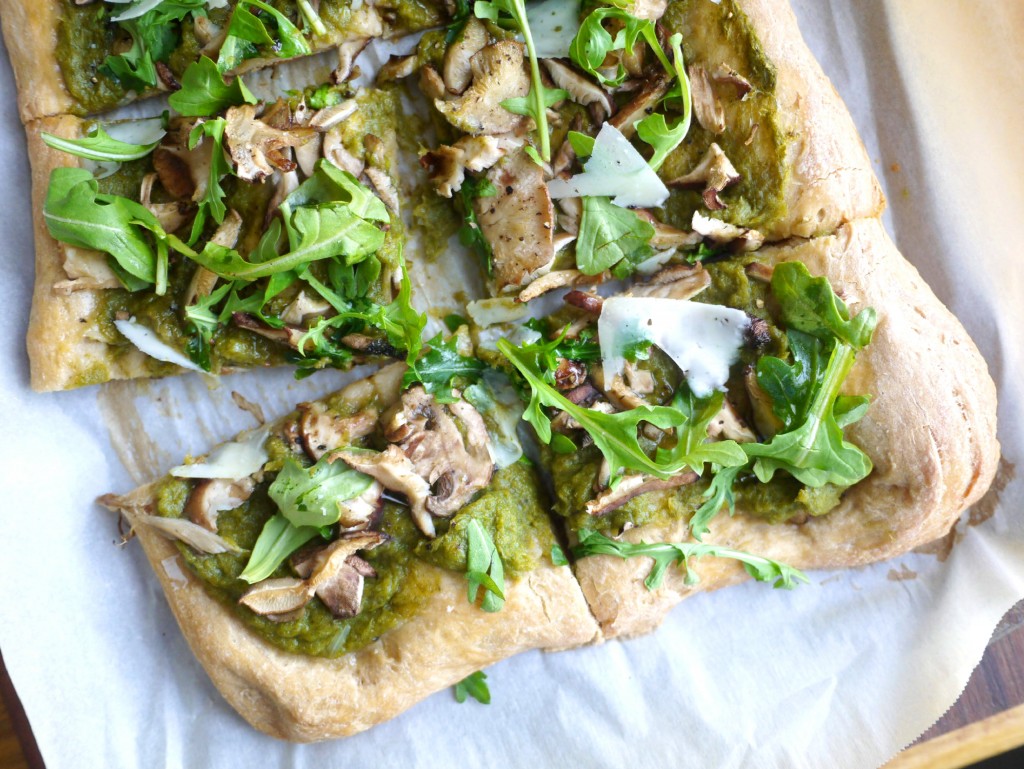 Tomorrow is Valentine's Day. Wooo….hooo…. Can you sense my sarcasm? For some reason, I have never been overly enticed by the red and pink, chocolate-filled holiday. I'm more of a Halloween girl (I love to dress up, I've always loved the color black, and free food? Yes, please). I mean, Valentine's are cute and romance is great and all. But forced romance is about as sexy as forced revelry (NYE) — it never quite lives up to expectations and it just puts unnecessary pressure on everyone.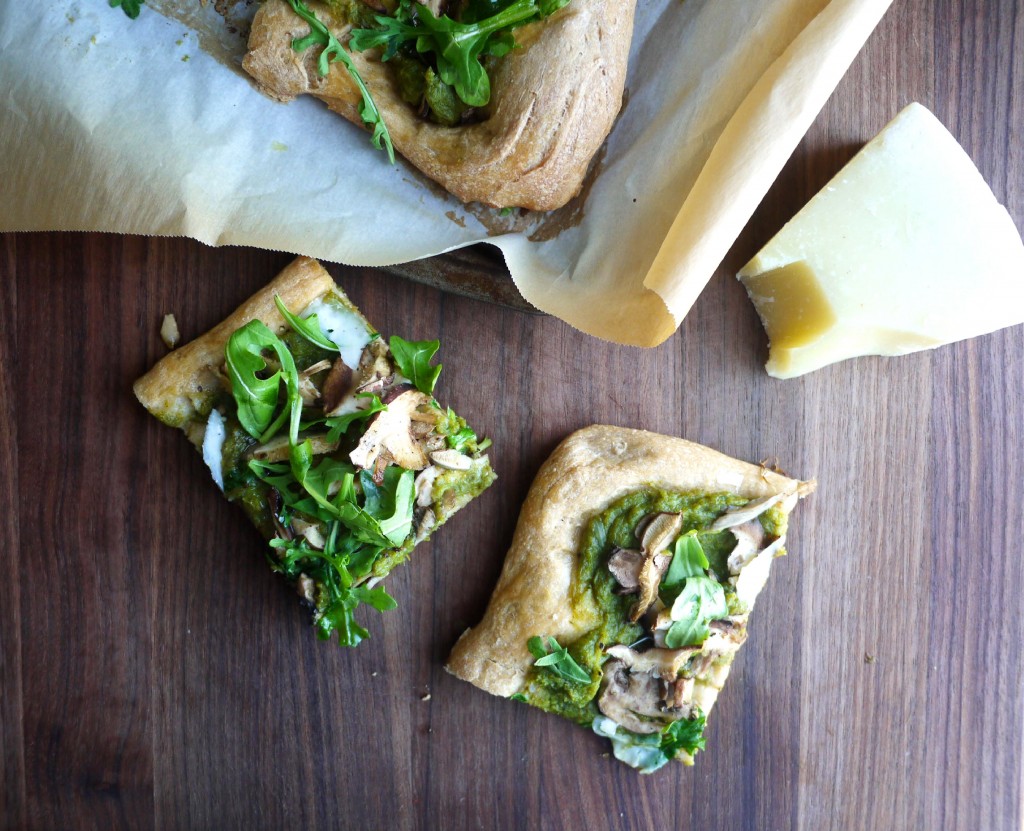 Fortunately, I'm married to someone who is also pretty unimpressed by V-day – over in the UK, I don't think they've quite reached our level of commercialization of Saint Valentine. However, as we just got married a few months ago, and the past year was crazy busy, the idea of a forced date night seems kind of….dare I say…nice? Plus, we have these restaurant gift cards (yeahhh wedding presents!) that are just dying to be used. So, after tossing around the idea of eating Chipotle in our sweats, we succumbed to the idea that an all-expenses paid night out at a restaurant stuffing our faces until we're both unbuttoning our pants (not in a sexy way but in an "I need to get home and put on my stretchy pants stat" kind of way), may be just what the doctor ordered. What says romance more than comparing food bellies with your spouse?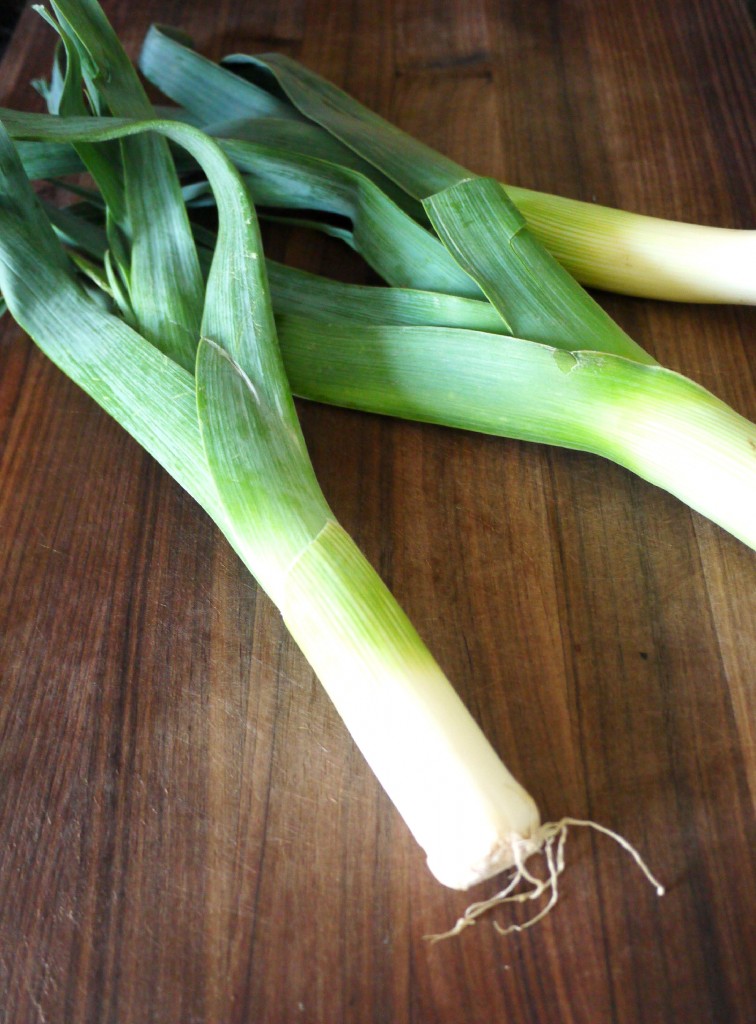 However, if you're not quite to the "hey, my food belly is bigger than yours" point in your relationship yet, and you're looking to impress your significant other (or a future sig-o) with a night of wine and old-fashioned romance, I  have the perfect meal for you. No, I'm not talking oysters and pink, heart-shaped brownies. No clichés or cheesy aphrodisiac dishes here. I'm talking about a simple flatbread with pureed leeks, wild mushrooms and truffle oil. Doesn't that earthy green and brown dish sound sexy? Just me? 🙂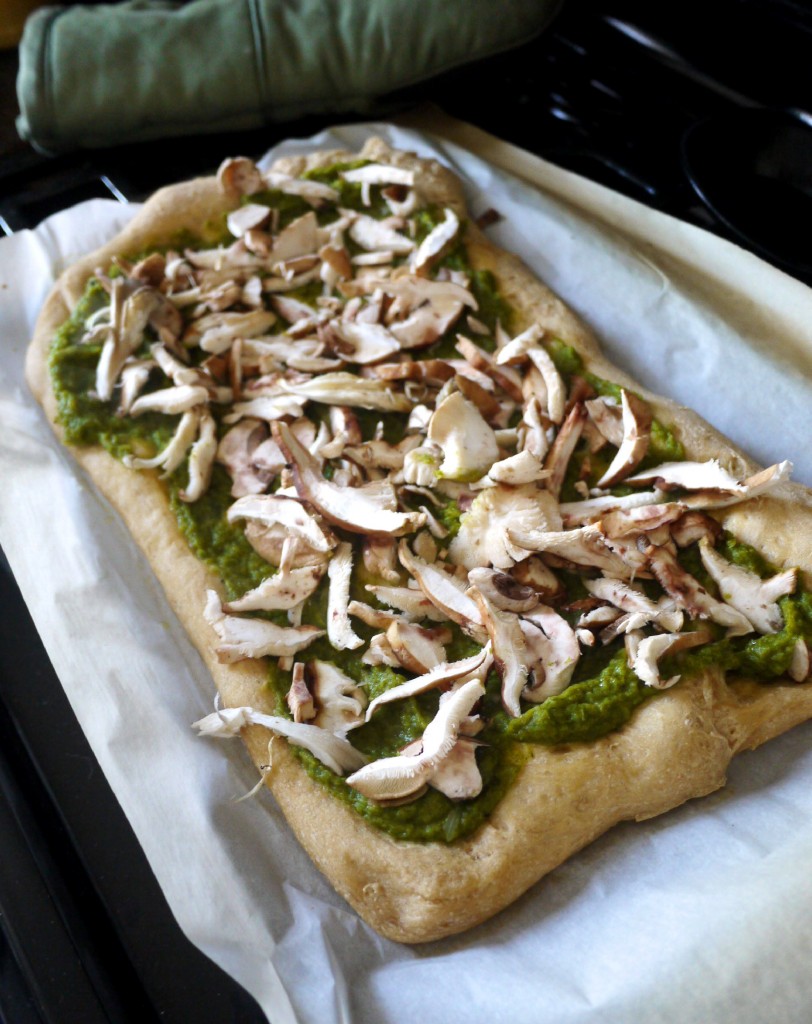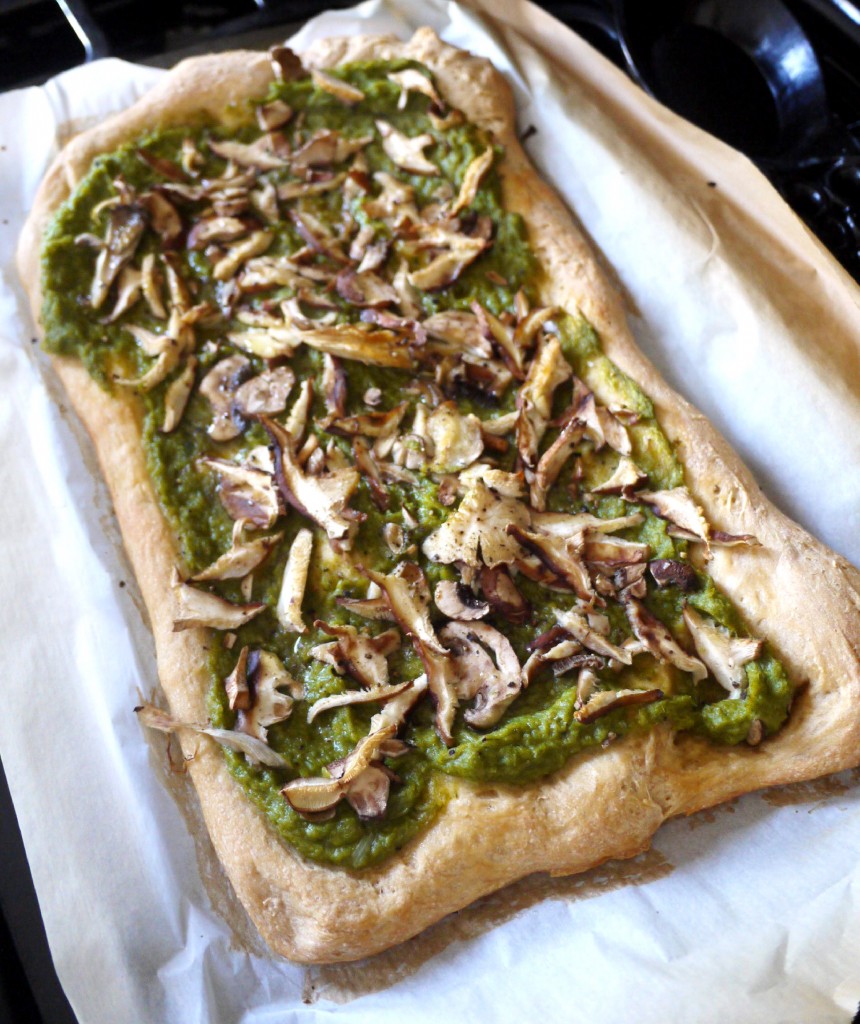 If you're thinking, wait a minute, I want my sinfully delicious creamy pasta finished off with rich chocolate cakes, not a veggie flatbread, think about it this way. Your pasta and cake might satisfy your taste buds but will probably leave you feeling tired and bloated (unless you're one of those people who can eat anything and everything and feel fine, in which case, I hate you. just kidding. not really).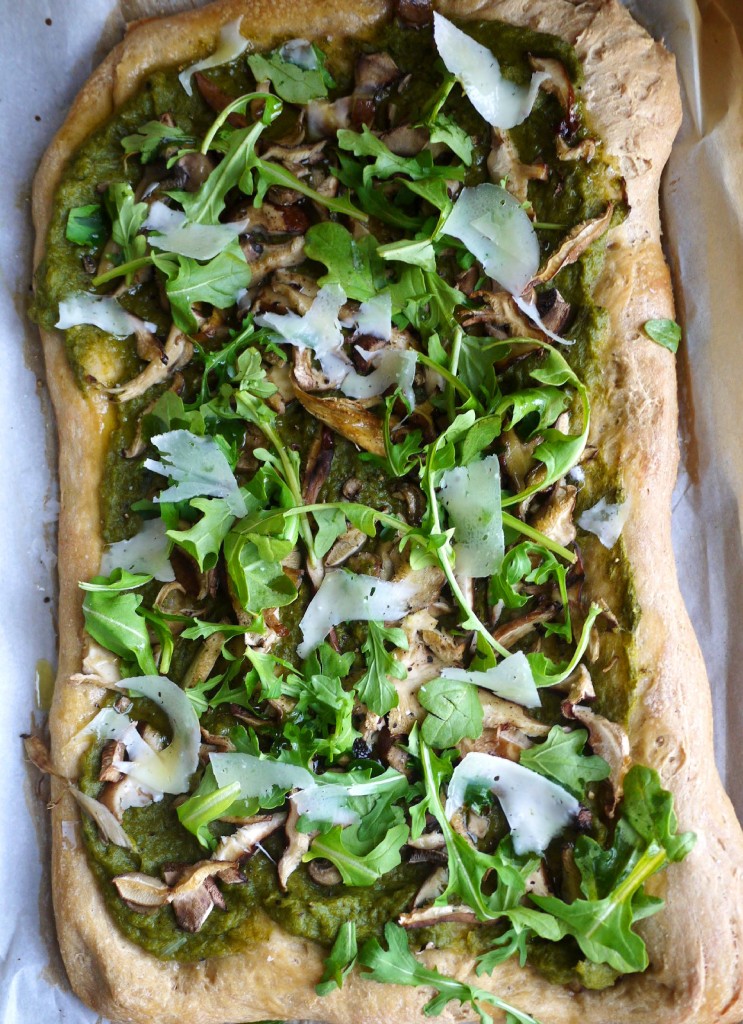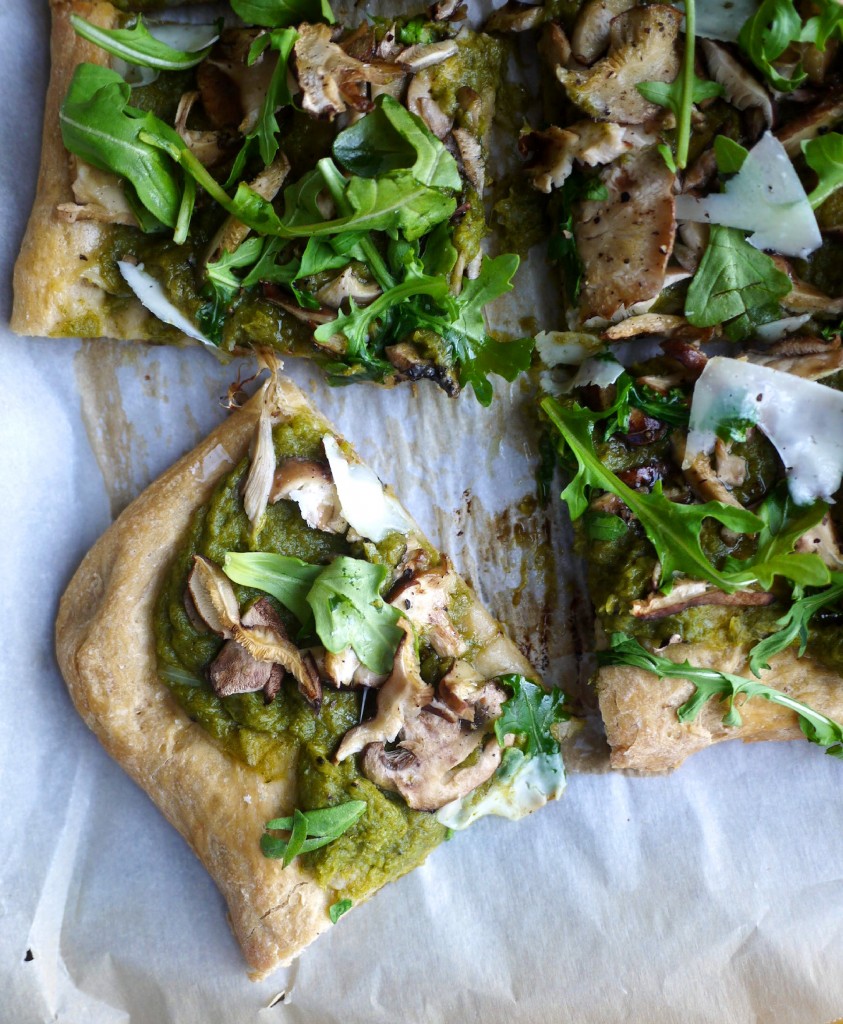 Here's why this flatbread dish is perfect for your Valentine's Day dinner. First, the truffle oil and mushroom mixture feels incredibly romantic and luxurious. You know it's a special occasion when the truffle oil makes an appearance. Of course, if you can't afford truffle oil, extra-virgin olive oil will work just fine. Second, it's a quick and easy recipe so you don't have to spend the entire night in the kitchen. Slaving away over a hot stove for hours leaves little time for "romance." Third, using the leek puree as a base gives the dish a more interesting flavor and allows you to leave out ingredients that could cause stomach issues (creamy sauce) or heartburn (tomato sauce). Can we say unsexy? Finally, the flatbread is finished off with a few Pecorino cheese shavings, sea salt, and arugula, which unbeknownst to me until yesterday, is actually considered to be an aphrodisiac.  If you have major dairy issues, leave off the cheese shavings and don't add the butter to the leek puree – two easy fixes to make this dish dairy-free.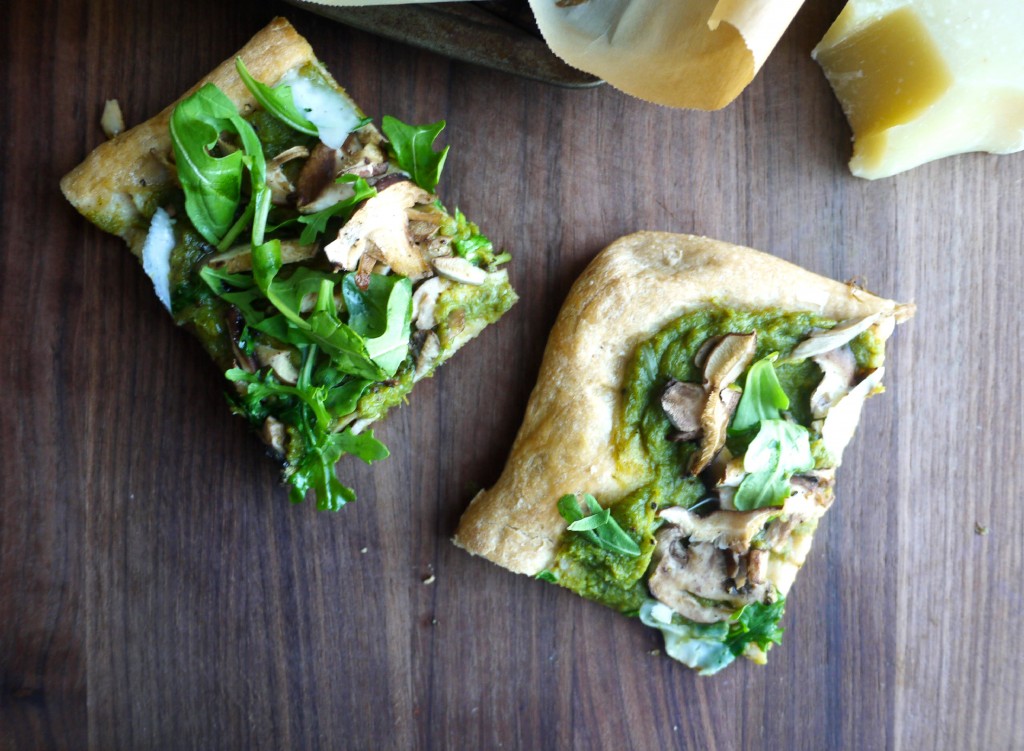 I must warn you that this Valentine's Day fantasy meal is pretty "me" focused. Despite his lack of interest in the holiday, Alasdair can barely make it through even lesser holidays without a plate of meat. If I tried to serve him a vegetarian flatbread for a holiday dinner, we really would end up eating Chipotle… If you or your sig-o are also craving a bit of animal protein, Cooking Light has 20 Romantic Dinners for Two – from filet mignon with mushroom wine sauce to caramelized scallops – which are healthy, relatively light and completely luxurious.
As for "me", a night of flatbread, wine, candles and romance sounds perfect. Maybe we should cancel those reservations after all…. 🙂

Wild Mushroom and Leek Flatbread with Truffle Oil
Author:
Healthy Recipe Ecstasy
Ingredients
Leek Puree
3 small leeks
1 tablespoon unsalted butter
Sea salt and freshly-ground black pepper to taste
Flatbread
4 ounces wild mushroom blend, roughly chopped
16 ounces whole-wheat pizza dough
2 tablespoons extra-virgin olive oil, divided
½ cup of loosely packed arugula leaves
2 tablespoons truffle oil
Pecorino Romano cheese shavings, for garnish
Sea salt and freshly-ground black pepper to taste
Instructions
Leek Puree
Trim off the stem end of each leek. Cut off enough of the green part to leave a main section of about seven inches. Split the leeks lengthwise in half. Coarsely chop the leeks. There should be about 5 cups loosely packed. Rinse thoroughly in cold water. Drain.
Put the leeks in a saucepan and add enough water to cover. Bring to a boil and simmer, uncovered, about 15 minutes or until tender. Drain thoroughly, reserving 3 tablespoons cooking water.
Put the leeks into a food processor or blender and puree until smooth along with 3 tablespoons cooking water. Scrape the mixture into a saucepan and whisk in 1 tablespoon unsalted butter. Whisk for 2-3 minutes until butter is melted and the puree is creamy.
Flatbread
Preheat oven to 450 degrees F.
Roll out the pizza dough onto a baking sheet coated with cooking spray. Stick the dough all over with a fork to prevent it from puffing up. Drizzle 1 tablespoon olive oil over the dough. Cook dough for 10 minutes.
Remove the baking sheet from the oven and spread the leek puree evenly over the dough. Then, add the mushrooms in an even layer. Drizzle the remaining tablespoon olive oil over the mushrooms; stick the baking sheet bake into the oven and cook for an additional 15 minutes or until the dough is golden brown and the mushrooms are tender.
To finish the flatbread, add the arugula in an even layer over the mushrooms. Garnish with cheese shavings and drizzle with truffle oil. Season with sea salt and black pepper to taste.
Cut into 8 squares and serve hot.