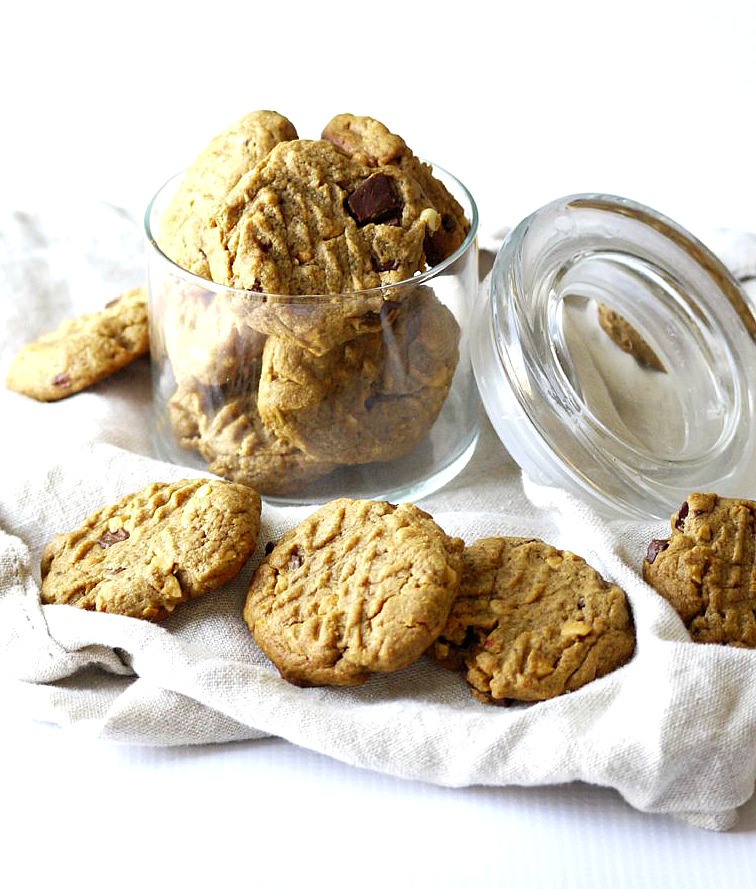 Hey friends, it's me. I know this blog has been a bit radio silent but I've been kinda preoccupied with this guy for the past month. Isn't he the cutest?? He's also pretty high maintenance but he can totally get away with it because of those squeezable cheeks and big blue eyes.
Motherhood is a million different things but relaxing is not one of them. Normalcy goes right out the window along with the "to-do" list. So, imagine my surprise when, at 3 and a half weeks postpartum, I had a day that seemed almost, dare I say, pre-baby-like? Sure I was up all night and didn't get out of bed till 11 am, but, despite my husband being out of the house for part of the day, I actually showered (score!) and got dressed while Baby Alex chilled in his napper. I cleaned, did laundry, wrote thank you notes. Check, check, check. Then, I made dinner – a simple pasta – AND dessert. That's right…dinner AND dessert.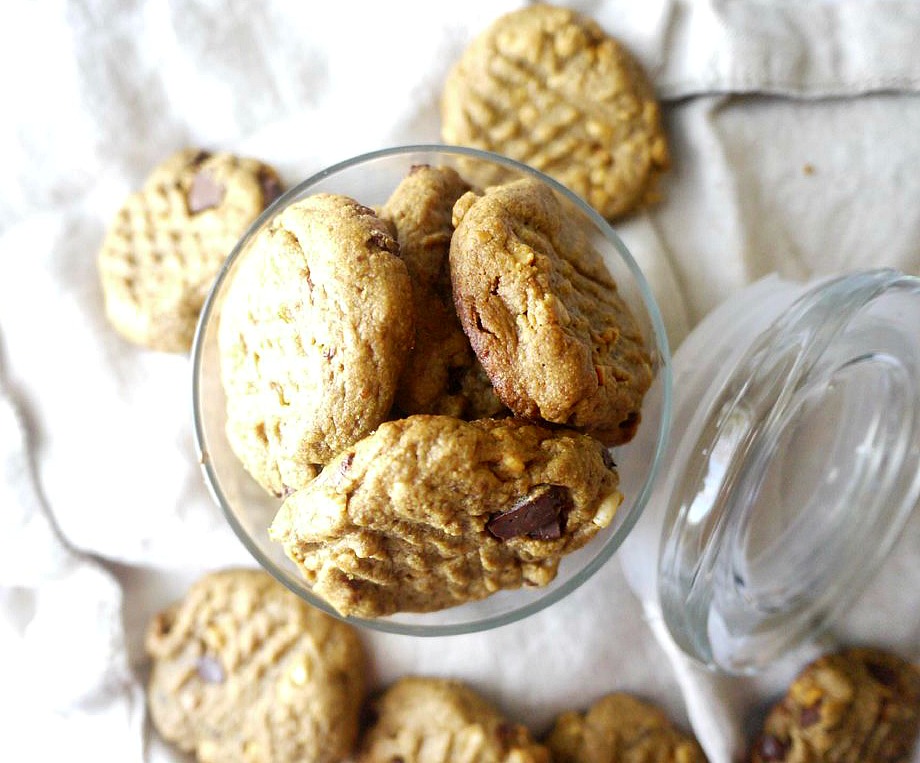 Just when I thought I might never grace the kitchen with my presence again, I found myself stirring pasta on the stove top and throwing cookies into the oven and all was right in my world.
Of course, it helped that neither recipe was time-consuming or took much brain power because, let's be honest, I'm running on empty in the cognitive functioning department due to lack of REM sleep. I riffed on a cookie recipe that both my mom and my stepmom sent me (either this recipe gets around or my taste buds are completely predictable to everyone around me) using just three ingredients: peanut butter, sugar and an egg.
I could have happily stuck to that recipe because it's delicious on its own but I've been having some serious chocolate cravings so I threw in some dark chocolate chunks – because dark chocolate chunks make life worth living. I also added vanilla extract because I needed to sniff something that didn't smell like baby spit up.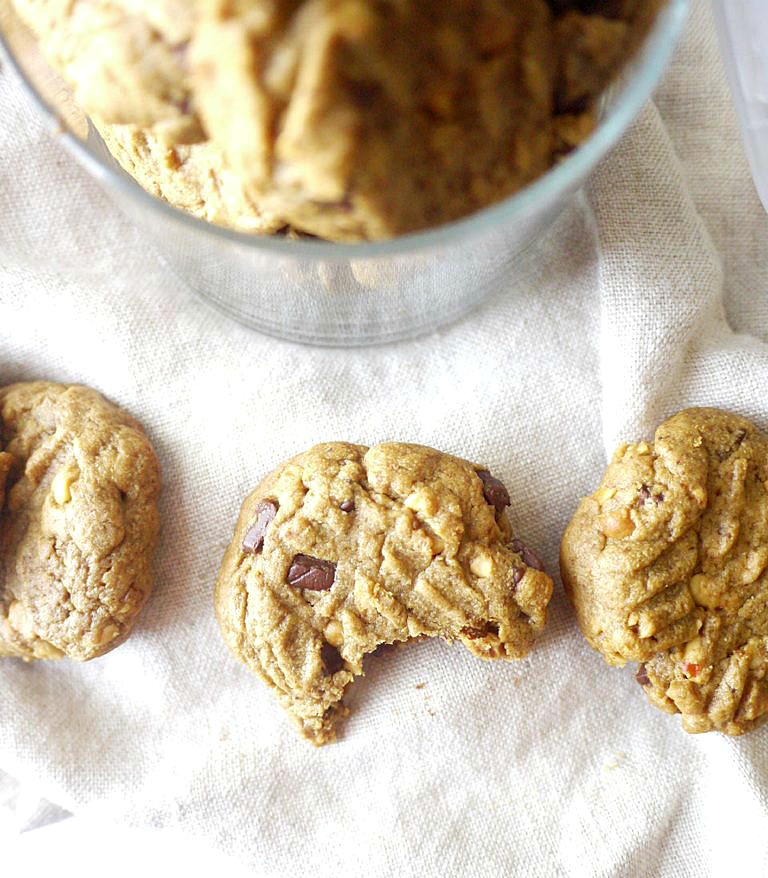 I used unrefined coconut sugar because mama's gotta lose the baby weight, and, just like that, I'm munching on the easiest, healthiest, most delicious cookies I've made in just about forever.
And, apparently, I'm not the only one who thinks these cookies are amazing….  That's right, the little one was caught with his hand in the cookie jar. Foodies start young in this house!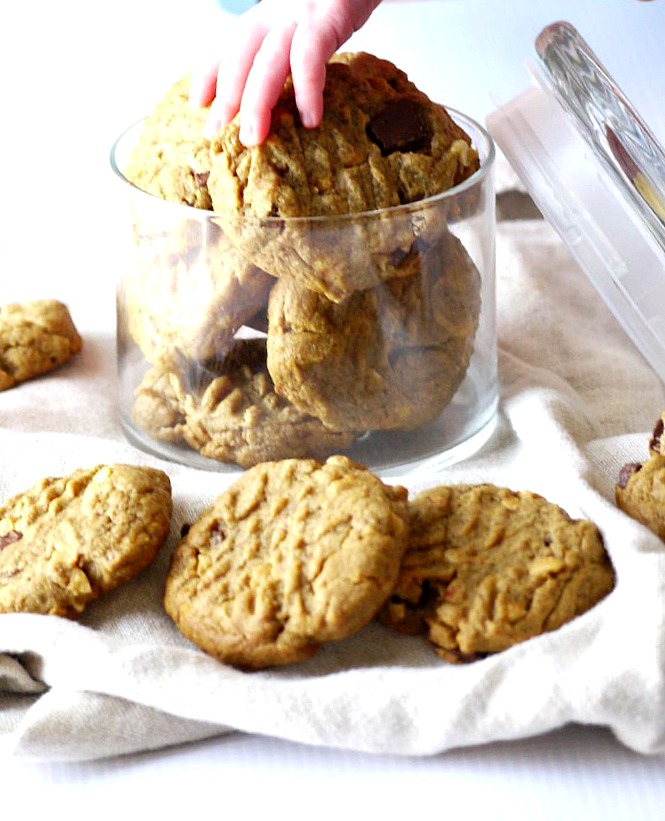 Flourless Peanut Butter Cookies with Dark Chocolate Chunks
Author:
Healthy Recipe Ecstasy
Ingredients
1 cup all-natural crunchy peanut butter (you could use smooth but I love the crunch in these cookies)
1 cup coconut sugar (if you don't have coconut sugar you can use regular white sugar or brown sugar)
1 large egg
1 teaspoon vanilla extract
⅓ cup dark chocolate chunks (I used a Lindt dark chocolate bar and chopped it up into chunk-size pieces)
Instructions
Preheat the oven to 350 degrees F.
Add the first four ingredients to a medium mixing bowl. Mix together until well combined. Gently stir in the chocolate chunks.
Form the batter into 15-16 tablespoon-size balls and place on a prepared baking sheet. Use a fork to flatten the cookies and make a criss cross pattern.
Bake for 11-12 minutes and let the cookies cool on the baking sheet for a few minutes before removing to a wire rack to cool completely.