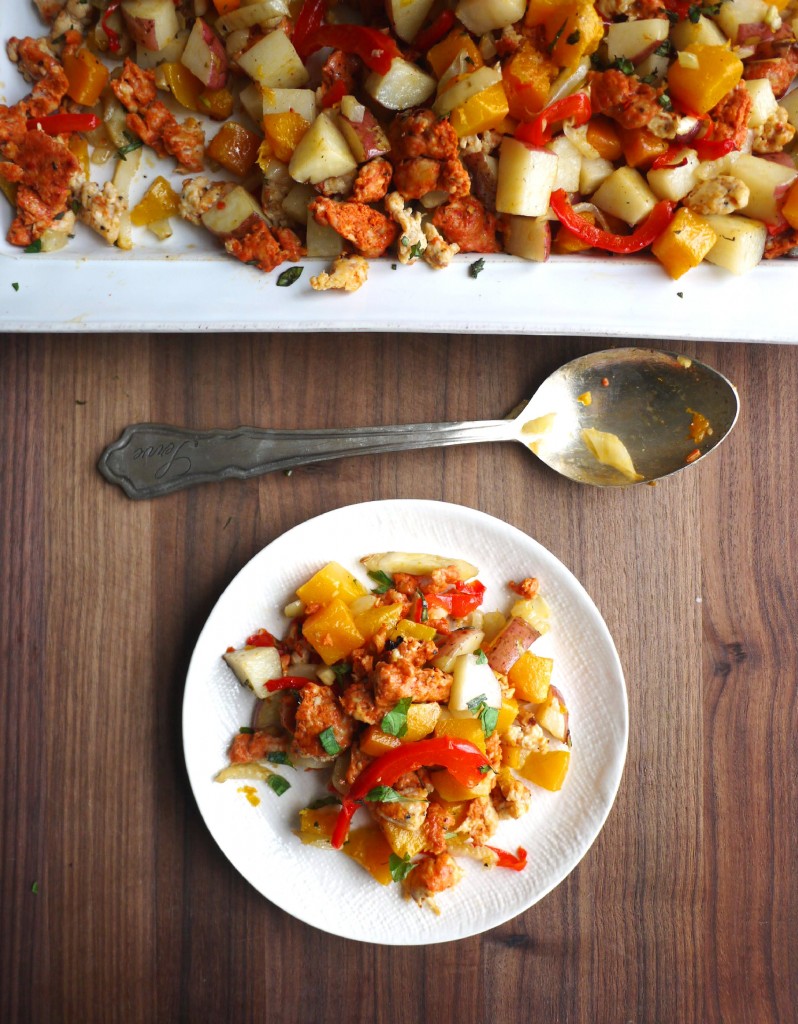 I feel like we're all a bit stuck in Mother Nature's purgatory, teetering between the hope of sunny 70-degree days and the reality of a late March snow storm. Really Mother Nature? Did you really put snow on the agenda for tomorrow? I mean, that's just cray-cray.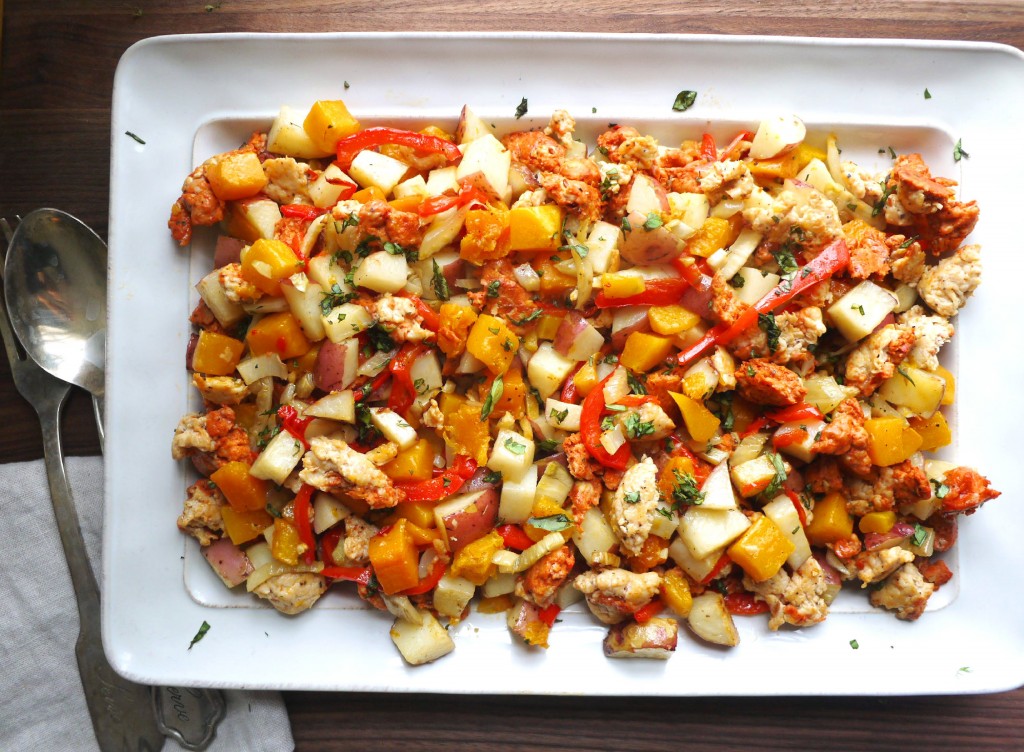 Despite the impending day of below freezing temps, hope springs eternal (see what I did there?) with "spring green" recipes popping up all over the web. I don't really know where everyone is getting these beautifully bright green veggies when the super markets in DC still seem to be hawking root vegetables, but I'm a bit jealous.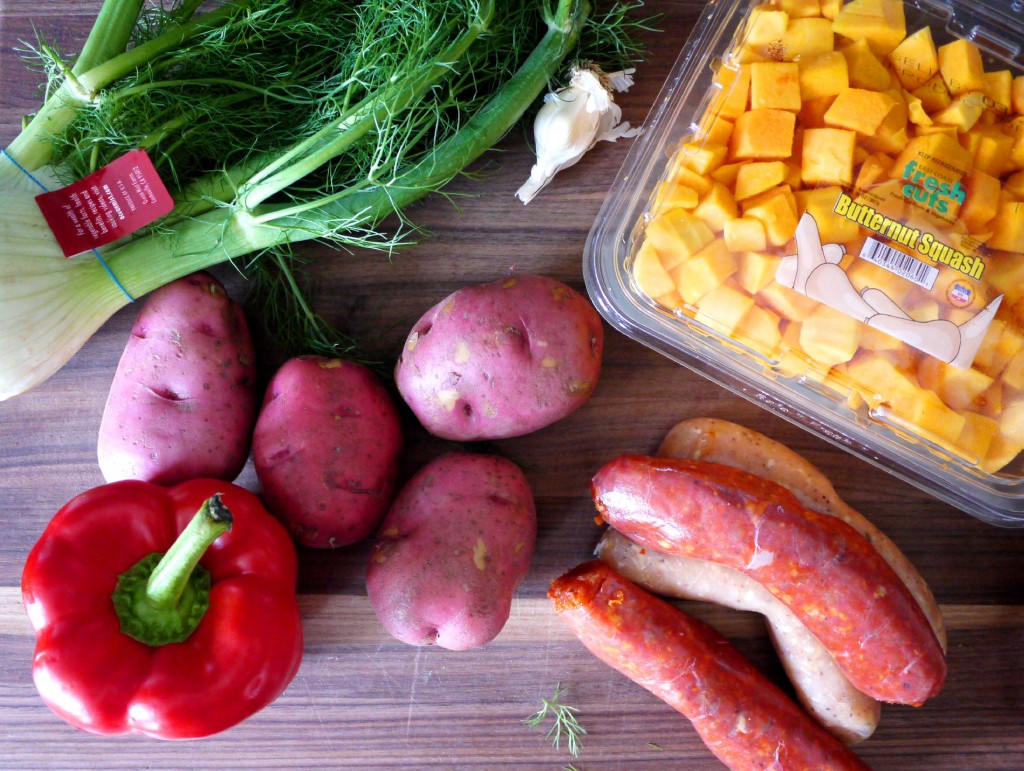 Until my friend, Ginny, sent me this roasted squash and potato dish that seems to balance the unimaginably late winter with the precipice of spring, that is. It's a hearty meal rocking winter produce but, at the same time, it's sort of light, sort of fresh, and oh-so-bright. You know, just the kind of thing you want for spring. #FoodArt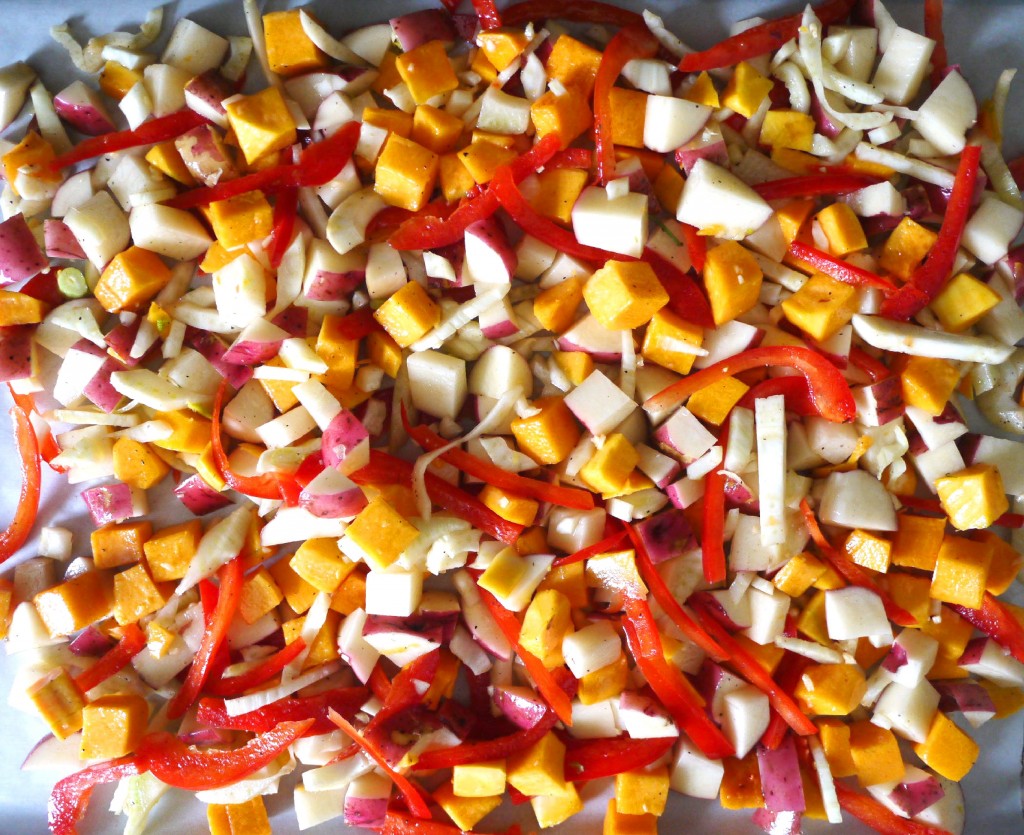 This is one of those "telephone game" recipes. Ginny got it from Self magazine, made a few changes, sent it to me, I made a few changes, and I'm passing it along to you, where I'm sure you'll make a few changes….or not because it's pretty darn enjoyable as is. But it also screams "throw an egg on top of me, add some dried thyme, and/or let me play with some scallions." When I was making the hash, I was so torn between leaving it the simple 5-main ingredient dish it is (perfect for a quick weeknight dinner) and making it more complex as I'm want to do. But, in the end, I'm glad I left it alone (for the most part).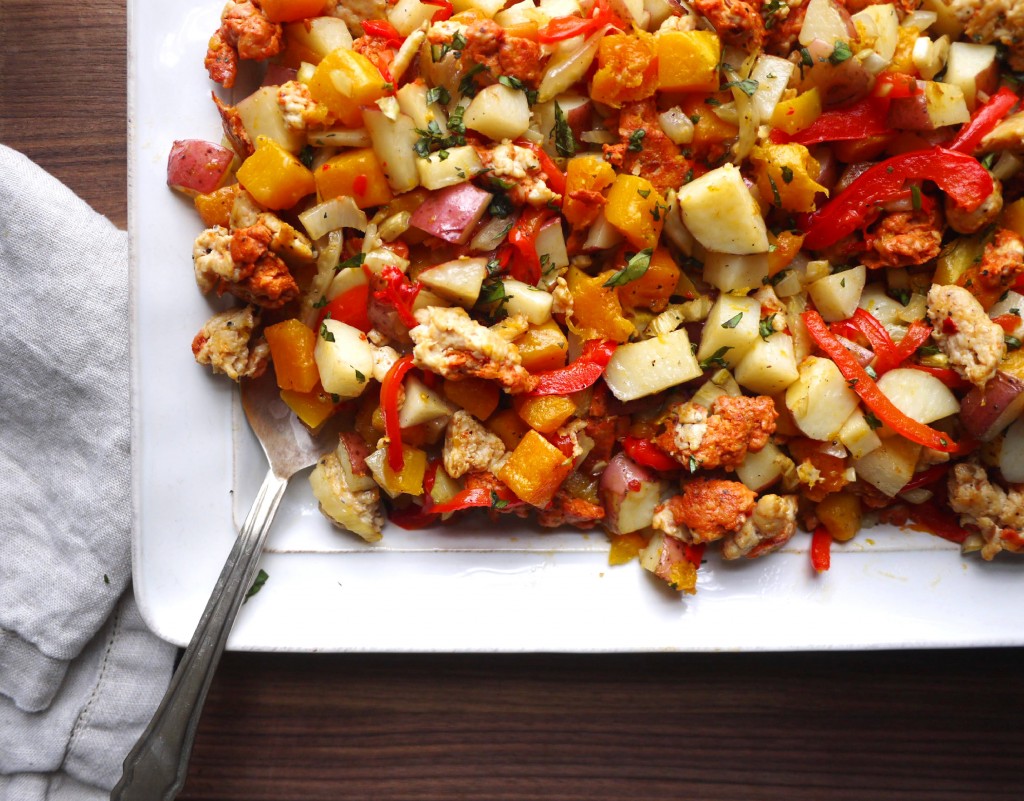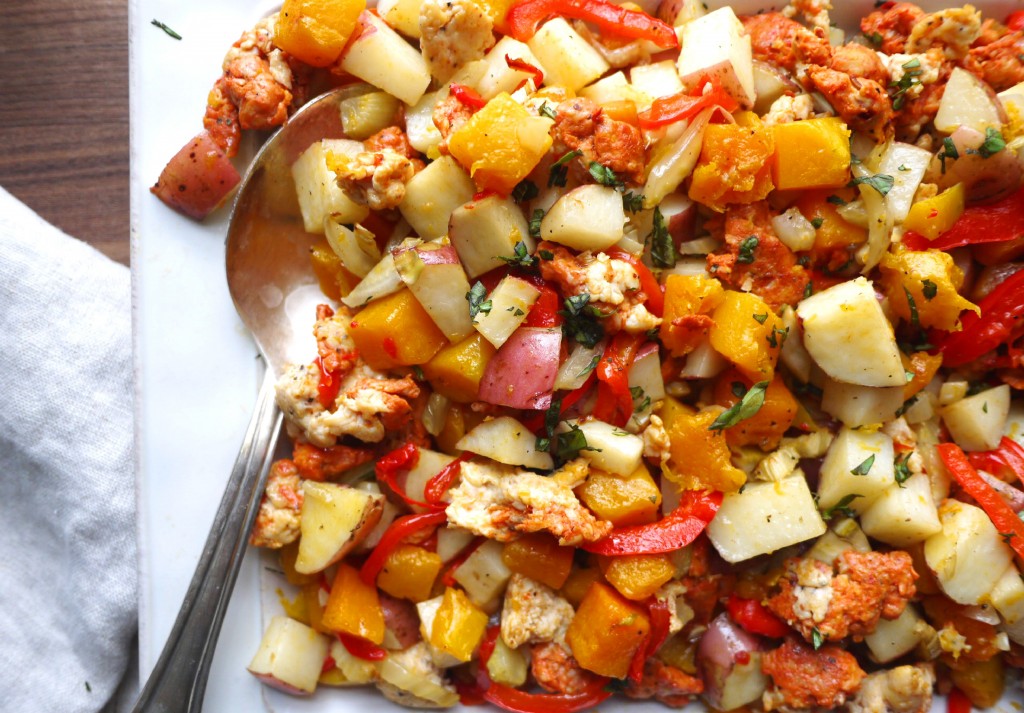 You've got the lean chicken sausage which will satisfy any meat lovers in your family (ahem…my husband) without going overboard on the fat. On that note, I think the hot and spicy sausage is a MUST in this recipe. If I had used all mild, the recipe would have been too bland. But the mixture of mild and hot was perfect. For a vegetarian version, you could swap in veggie sausage or omit the sausage all together and add some spicy peppers to get that heat.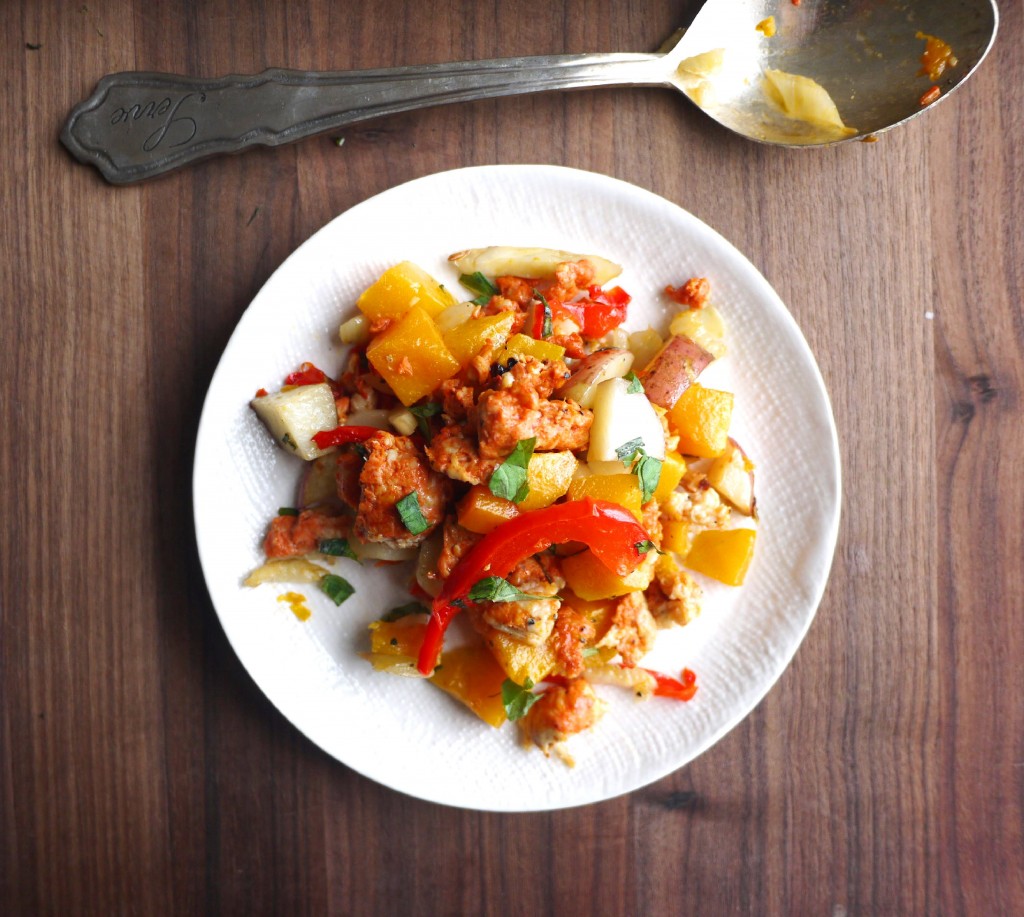 Then, you've got the roasted veggies and potatoes which go together perfectly. No need for any butter, just a touch of heart-healthy olive oil to go along with the nutrient-packed orange and red veggies. This dish definitely fits in with the #tastetherainbow theme that I've got going on in my life (more to come on that in the next few weeks). Finally, a touch of fresh green herbs to finish the dish off really gives it that "almost" spring feeling.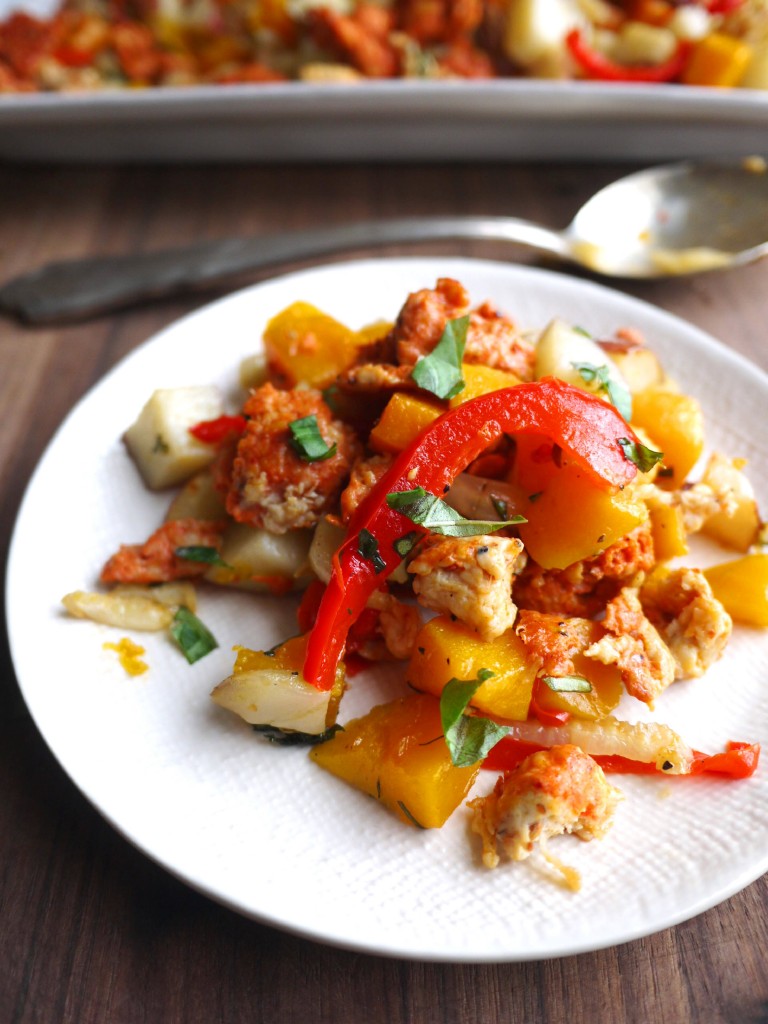 SPRIINNNNGGGG…..WHERE ARE YOUUUUUUUU?????
Oh wait, I'm too busy eating sausage, squash, and fennel hash to care (at least for a few more days). Speaking of hash and making things just a touch more complex……this hash is the bomb.com (ugh I can't believe I just said that. too late to turn back now….) for breakfast with some fried eggs and arugula. I should know because that's how I ate it all weekend long. It was great for dinner, but EVEN BETTER for breakfast. Oh yeahhhh….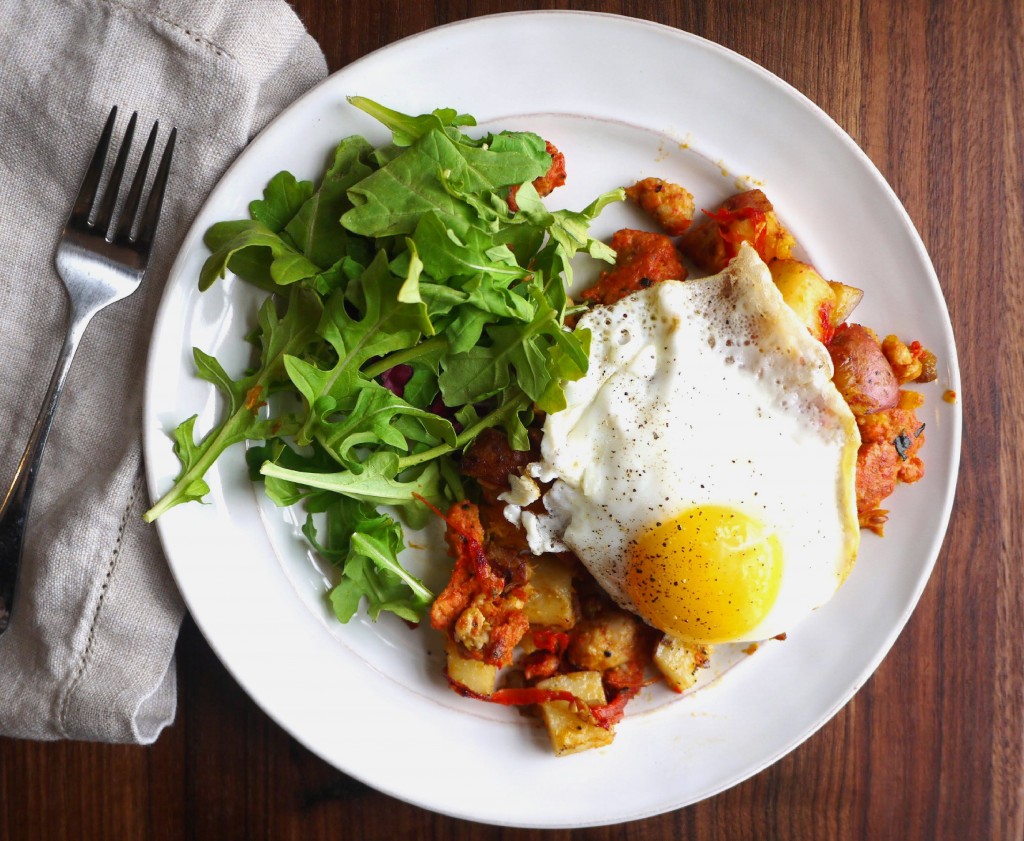 Chicken Sausage, Squash and Fennel Hash (GF, DF)
Author:
Healthy Recipe Ecstasy
Ingredients
4 cups of diced red potatoes (approximately 4 medium red potatoes)
4 cups of cubed butternut squash (I used the already cut up butternut squash from the grocery store because cutting up a whole squash is not my idea of fun)
3 cups of sliced fennel root
2 cups of thinly sliced red bell pepper (approximately 1 pepper)
4 tablespoons of extra-virgin olive oil, plus one more tablespoon for cooking sausage
4 small cloves of garlic or 3 large cloves of garlic
1 pound of chicken sausage (I used a mixture of mild and hot)
Sea salt and black pepper (to taste)
1-2 tablespoons of fresh chopped basil
Instructions
Preheat oven to 425 degrees. In a bowl, mix together the potatoes, squash, fennel, red pepper, olive oil, minced garlic, salt and pepper.
Roast the mixture for 20 minutes in a single layer on a cookie sheet coated with cooking spray or lined with parchment paper. Take out and stir. Roast for an additional 10-15 minutes or until the potatoes begin to look golden brown.
While the mixture is cooking in the oven, heat one tablespoon olive oil in a medium skillet over medium high heat. Add your chicken sausage (casing removed) and cook for about 5-6 minutes, or until the sausage is cooked through, breaking it up into crumbles as it cooks.
Add the sausage to the roasted veggies along with more sea salt and black pepper to taste. Garnish with 1-2 tablespoons fresh basil. Serve immediately.