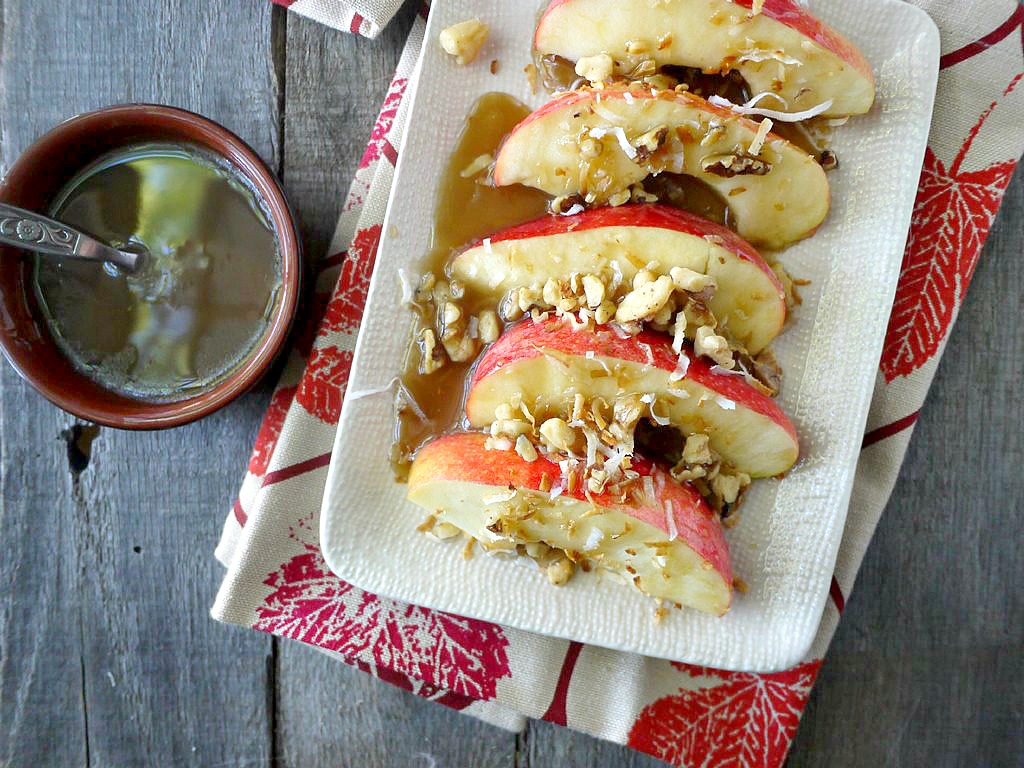 Halloween is my favorite holiday. There, I said it. I know that everyone else is obsessed with Thanksgiving and Christmas, but I've always loved Halloween the best. Creepy decorations, costumes, trick-or-treating, candy – what's not to like?
Unfortunately, for the past few years, I have not been able to fully indulge in the Halloween frivolity. Two years ago, we bought a house and closed on Nov 1 – the day after Halloween. We were a little bit preoccupied that year. Last year, we spent most of October in Europe, getting married and honeymooning, and, by the time we got back, there was just not enough time for proper Halloween preparations. This year, I'm pregnant, and I'm probably the most preoccupied I've ever been. So, three years running, I have not been able to give Halloween its proper due.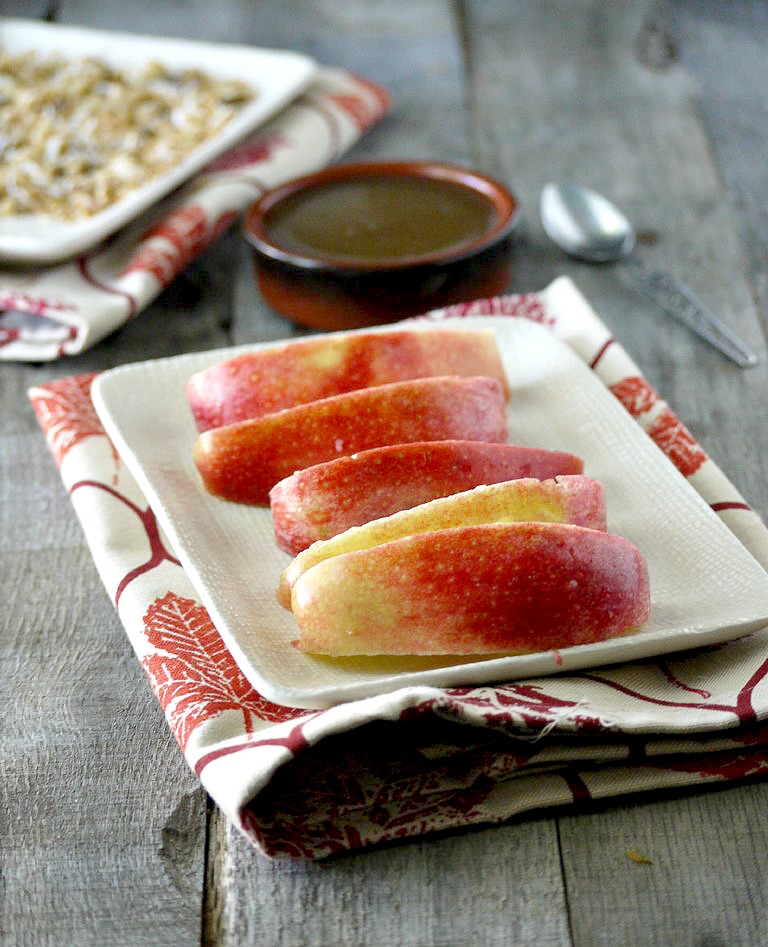 I'm the kind of person who doesn't like to do things half ass. If I don't have a killer costume, then I'd rather ignore the holiday altogether. However, in honor of moderation, I'm trying to moderate my Halloween views. Maybe I don't have time for a killer costume this year or a Martha Stewart-worthy haunted house, but that doesn't mean I can't dress up, hand out candy, and eat some caramel apple slices.
Speaking of caramel apples, they are, to me, the creepiest part of Halloween. Every time I look at a caramel apple, all I can think about is taking a big bite, getting my teeth stuck in the apple and getting lock jaw. #TMJproblems. It's sad, really. Because I love caramel and I love apples.
So, this year, I decided to make a Michelle-friendly caramel apple. First things first, I sliced the apples. Much more user friendly and no terrifying lock jaw. Secondly, I used my favorite dairy-free caramel sauce, making this a dairy-free, gluten-free, vegan-friendly treat. Finally, I chose toppings that are fun but still moderately healthy – nuts and unsweetened coconut.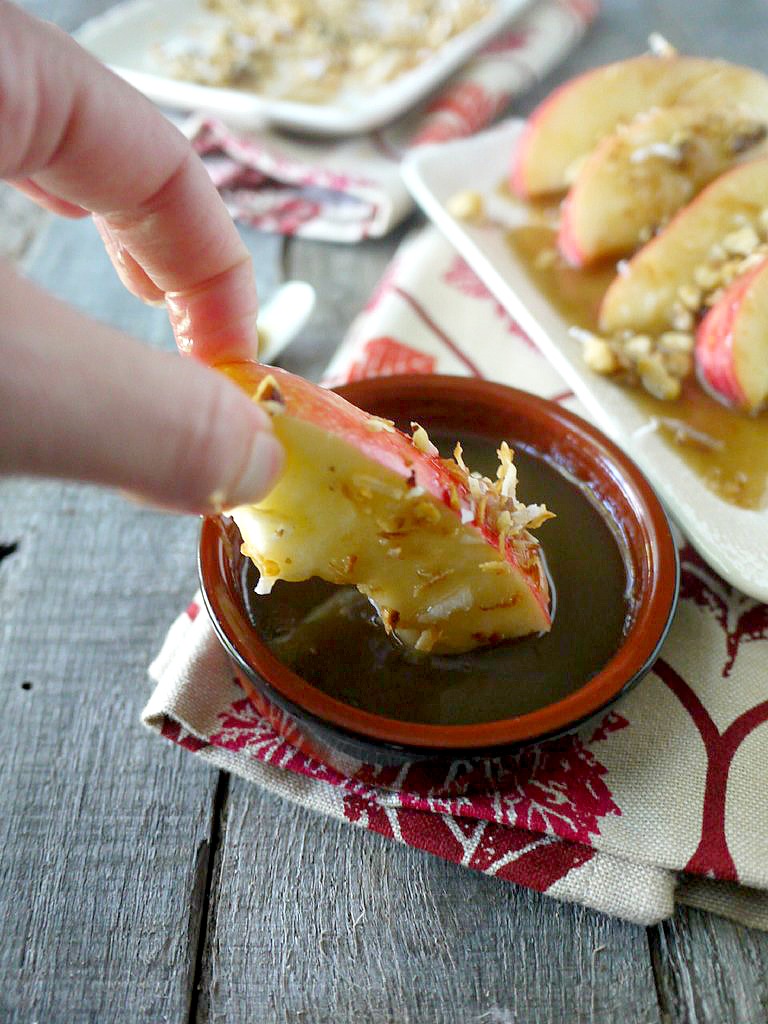 Let's just say I'm pretty mad that I didn't think of this sooner. All these years I could have been enjoying delicious caramel apples with just a few minor adjustments. Oh well. I definitely plan to make up for it this Halloween season by indulging in as many of these caramel apple slices as possible! You know you want to join me…..!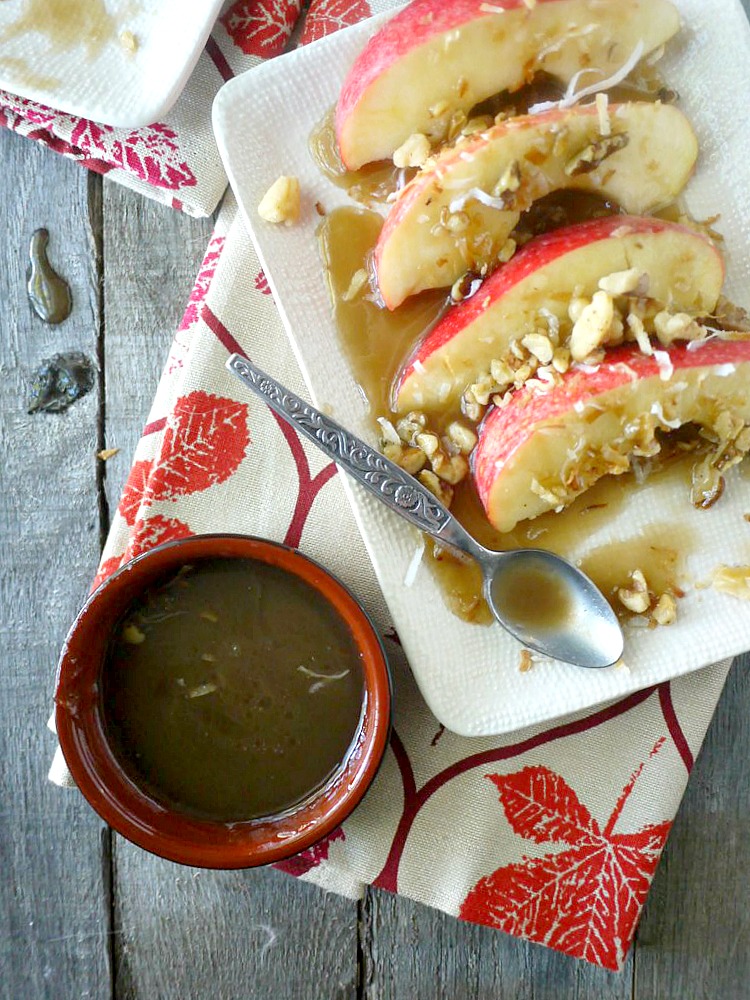 Caramel Apple Slices with Toasted Pecans and Coconut (DF, GF, V)
You will have enough caramel sauce and toppings for 1-2 apples depending on the apple sizes and how many slices you cut.
Author:
Healthy Recipe Ecstasy
Recipe type:
Snack/Dessert
Ingredients
1-2 sweet apples, cut into slices
¾ cup coconut milk fat
¼ cup brown sugar
¼ maple syrup
1 tablespoon vanilla extract
1 pinch kosher salt
½ cup chopped pecans
½ cup unsweetened coconut
Instructions
In a small saucepan, bring the coconut milk fat and brown sugar to a boil over medium-high.
Cook, stirring, until the fat melts and mixture is smooth.
Reduce to a simmer, stirring occasionally, 5 minutes. Stir in maple syrup, vanilla and salt . Let simmer for another 5 minute.
While the caramel is simmering, toast the pecans and coconut in a small skillet over medium heat for 2-3 minutes or until fragrant and golden.
Pour the caramel sauce over the apple slices and top with toasted pecans and coconut. Enjoy!