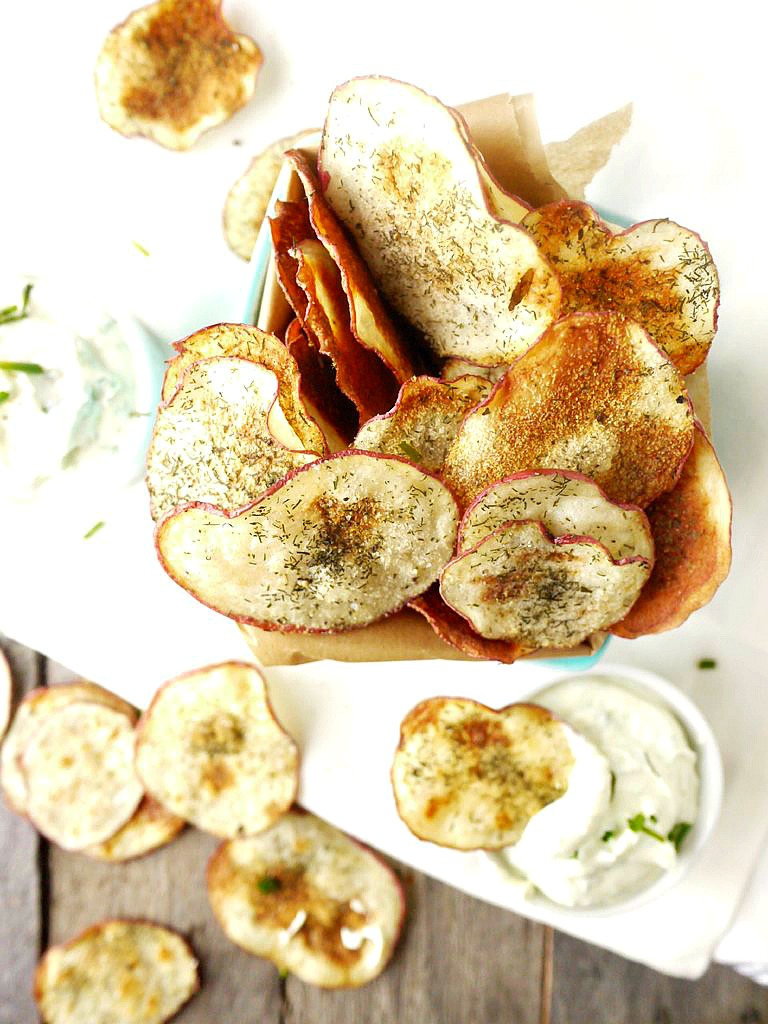 I have a secret. You ready? I don't care about the Super Bowl. There, I said it. I don't even know who's playing. I could blame this lack of interest on the fact that I'm 9 months pregnant or that my husband is turning 40 next weekend and I'm a little preoccupied with those celebrations. But, the truth is, I've never really cared about the game.
Don't get me wrong. I will gladly throw or attend a Super Bowl party solely for the food, commercials and camaraderie but I will probably be too busy chatting or stuffing my face to pay attention to the actual football. Yeah, I'm that girl who's like "everyone be quiet" during the commercials but I talk loudly during the last five seconds of the 4th quarter when the score is tied and one of the teams is about to kick the winning field goal. Just because I don't care doesn't mean I don't know stuff.
This year, due to the pregnancy and the 40th birthday celebrations, Alasdair may watch the game and I might drop in and out for commercials, but we will probably go without the camaraderie and the huge spread of yummy appetizers. Instead, I envision a night of chilling on the couch and digging into a snack so delicious that I'm absolutely certain I won't miss the spread that could have been.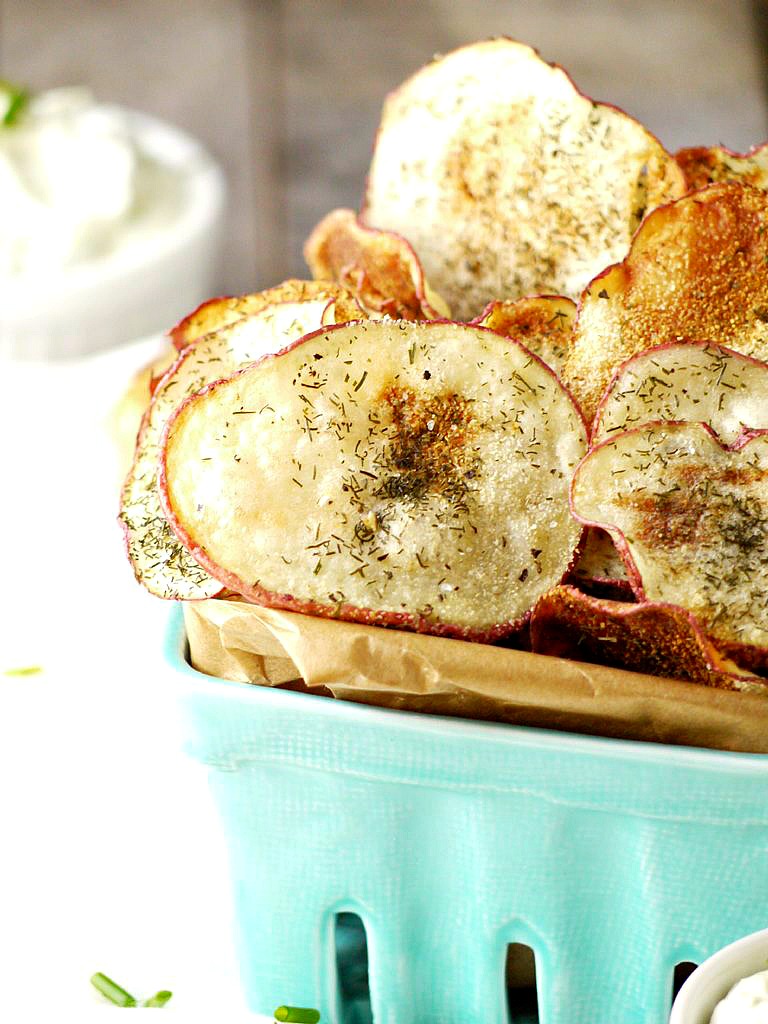 What's the delicious snack that's got me so excited? Chips and dip, of course. Crunchy chips and creamy dip are a pregnant woman's dream. OK, let's be honest, they're my dream food pretty much all the time. But, in real life, I don't chow down on chips and dip anymore. In college, oh yeah, I could crush a family size bag of tater chips and some sour cream and onion dip. But that's not how I roll anymore.
Until now. Until oil-free, baked red potato chips with a low-fat goat cheese dipping sauce came on the scene and stole my heart. And they will steal the heart of all your football-loving guests if you serve these at your Super Bowl party.
All the crispy, crunchy, creamy goodness I could possibly want without the greasy guilt.
It doesn't matter who wins the game. These chips and dip win the night.
Baked Dill and Onion Potato Chips with Goat Cheese Dipping Sauce
Author:
Healthy Recipe Ecstasy
Recipe type:
Appetizer/Snack
Ingredients
Potato Chips:
2 large red potatoes (yields 60-70 chips)
2 teaspoons onion powder
1 teaspoon dried dill weed
Freshly ground black pepper and sea salt, to taste
Cooking spray
Goat Cheese Dipping Sauce:
4 ounces goat cheese
½ cup nonfat Greek yogurt
2 tablespoons chopped fresh chives
2 teaspoons fresh lemon juice
½ teaspoon kosher salt
Instructions
Potato Chips:
Preheat the oven to 400 degrees F.
Slice the potatoes about ⅛ of an inch thick using a mandolin slicer, if possible. Put the potatoes in a colander and rinse well. This removes all the starch and helps them crisp when baked. Drain well and then squeeze any excess moisture out of the potato slices with paper towels.
Spray two baking sheets with cooking spray. Arrange the potato slices in a single layer on each of the baking sheets.
Spray the potato slices liberally with cooking spray. Sprinkle the onion powder and dried dill evenly over the slices. Liberally season with black pepper and sea salt.
Bake for 10-15 minutes, checking the potatoes at 10 minutes to see if any are starting to brown. If they are starting to brown, remove them from the oven and keep cooking the rest of the chips.
*Cooking times vary based on the thickness of the chip and your individual oven. Chips can brown or burn in a minute so after 10-15 minutes, keep cooking any chips that are not crisped for another minute or two, checking on them frequently.
Transfer the baked chips to a paper towel to cool down before serving. They will continue to crisp on the paper towel. Sprinkle with more sea salt, if desired.
Goat Cheese Dipping Sauce:
Add all the ingredients to a food processor or blender and blend together until the goat cheese is whipped and the ingredients are combined. Serve the goat cheese sauce alongside the chips.