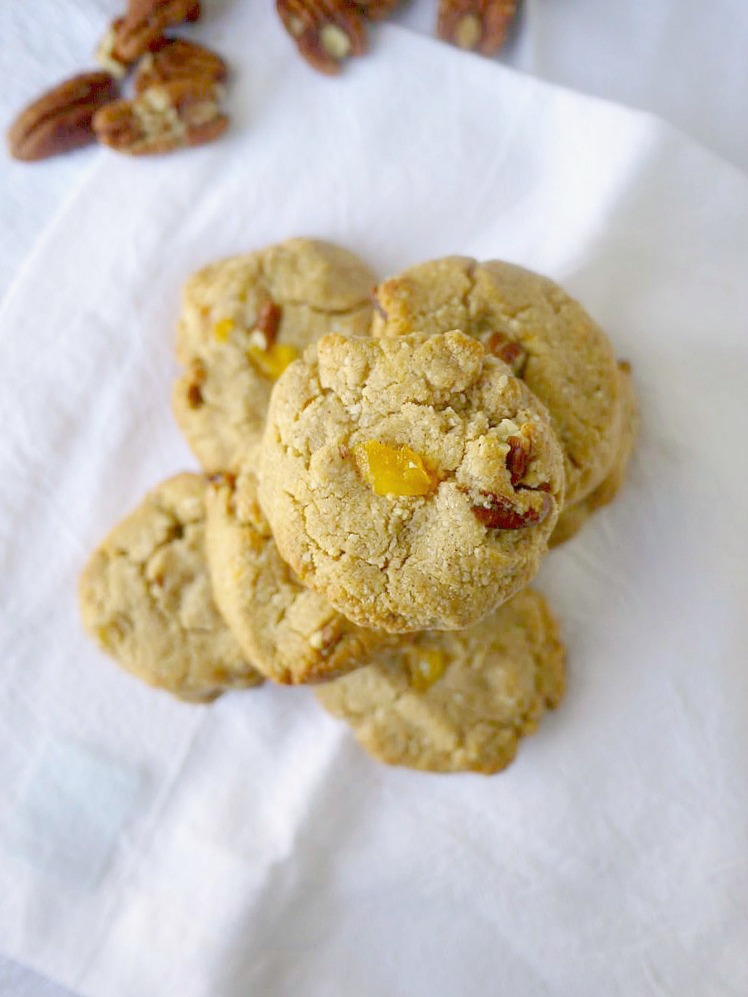 I received a new cookbook in the mail the other day, and, let me say, it was JUST in the nick of time. I'm coming up on my third trimester, and I am SO UNCOMFORTABLE already. I can't imagine what my body is going to feel like at 9 months, but I know the only way I'm going to survive is if I continue to eat healthy and stay active.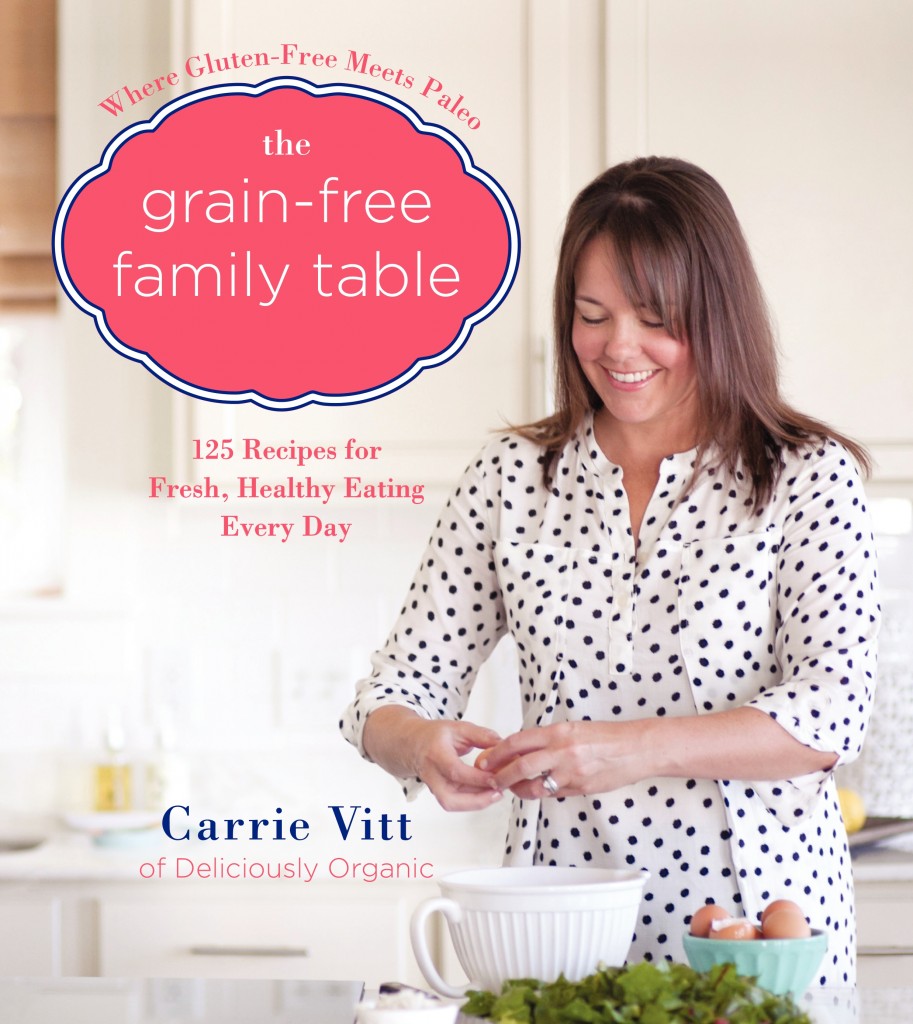 With the holidays coming up continued healthy eating is going to be especially challenging. BUT this new cookbook from Carrie Vitt of the blog Deliciously Organic might just save me. The Grain-Free Family Table includes 125 delicious recipes for healthy eating every day.  All the recipes are grain-free AND she provides adaptations to make them dairy-free and Paleo-friendly. It's basically the cookbook I wish I had written.
I know cutting back on grains seems like a crazy idea when you're pregnant, but my midwife practice swears by it. And, I have to say, the weeks where I've followed a protein-heavy, grain-light diet, have been some of my best weeks. I felt a bit lighter (which is AMAZING when you're pregnant and feeling like you're carrying around a weighted basketball) and my stomach pains weren't quite as intense. I've been getting a lot of pains and nerve compression from stomach stretching and back issues so controlling my weight gain is super important.
You thought pregnancy was all french fries and hot fudge sundaes, right? Apparently not.  At least not the whole time….
It's taken me 2/3 of the way into my pregnancy to really get my eating down. After I got over the first trimester queasy-carb-load period, I was eating healthy but I was still eating waaaaaay too many starches and grains every day. Don't get me wrong. I definitely need some whole grains to curb the hunger, but I don't need them at every meal. In fact, I feel much better in the evening when I have a protein-focused dinner. Even a normal-sized bowl of whole-wheat or brown rice pasta before bed makes me feel like I ate the whole refrigerator which leads to stomach cramps and a fitful night sleep. BLAH.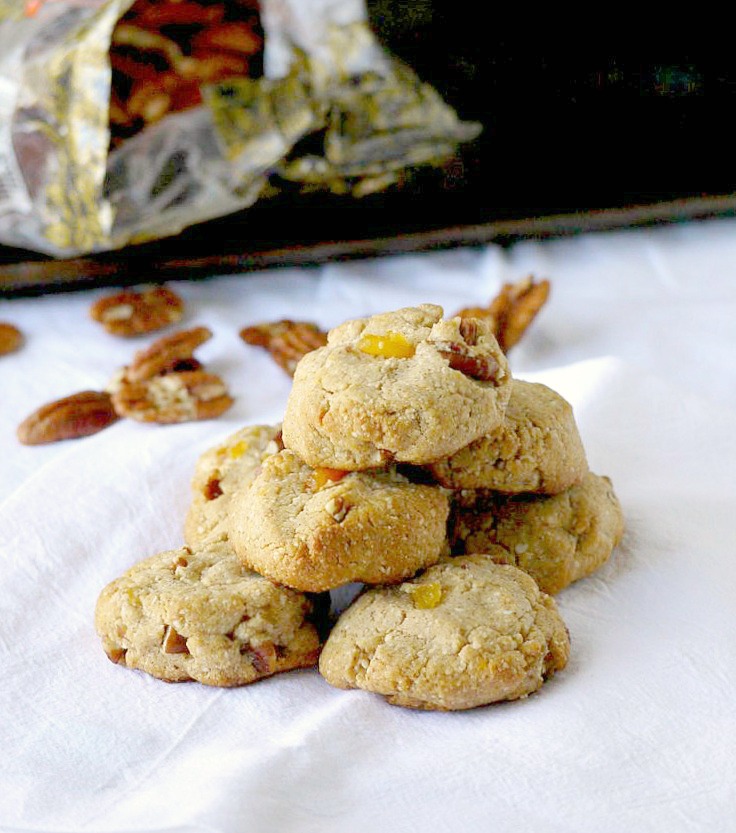 Swapping out popcorn and pretzel snacks for carrots and hummus and fruit made a difference as well. That's why these cookies from Carrie's cookbook make me especially happy. They're made with almond flour and coconut flour so they're higher in protein and void of any grains. Don't worry – they taste just like yummy cookies should taste. The almond butter and flour add a hint of nuttiness and the apricots and honey add a touch of sweetness. They're pretty much perfect.
Oh, and the chopped pecans make these cookies the perfect guilt-free fall holiday treat!
Thanks Carrie for an amazing cookbook and a stellar cookie recipe. Now if I can just stop myself from eating the whole batch in one sitting….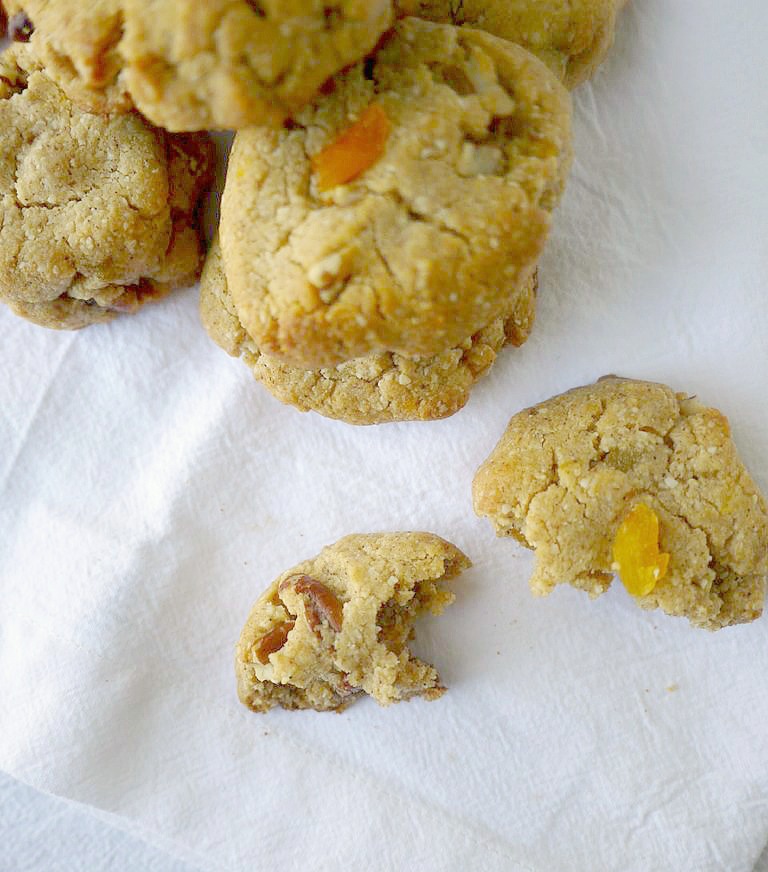 Apricot Pecan Cookies (Barely Adapted from Carrie Vitt's The Grain-Free Family Table)
I used chickpea flour instead of coconut flour because I was out of coconut flour. Usually it's hard to do a 1-to-1 replacement of coconut flour in baking because coconut flour is a dense, moisture sucker (as I learned when I tried to use it in my sweet potato pancake turned
sweet potato cake
recipe). HOWEVER, chickpea flour is also dense and the recipe calls for such a small amount that it worked out fine.
Author:
Healthy Recipe Ecstasy
Ingredients
2 cups almond flour
2 tablespoons coconut flour (or chickpea flour if you can't find coconut flour)
½ teaspoon baking soda
½ teaspoon unflavored grass-fed gelatin
½ teaspoon Celtic sea salt
1 teaspoon ground cinnamon
6 tablespoons unsalted butter, melted OR 5 tablespoons coconut oil plus 1 tablespoon water for a Paleo/dairy-free adaptation
¼ cup raw honey
2 tablespoons almond butter
1 tablespoon pure vanilla extract
¼ cup chopped pecans
¼ cup chopped apricots
Instructions
Preheat oven to 350 degrees F. Line a baking sheet with unbleached parchment paper or coat it with coconut oil cooking spray.
Place the almond flour, coconut flour, baked soda, gelatin, salt and cinnamon in a large mixing bowl and stir to combine.
Place the butter, honey and almond butter in a small saucepan over medium-low heat and let the butter melt, stirring occasionally. Pour the wet mixture into the dry mixture, add the vanilla and stir to combine. Stir in the pecans and apricots.
Using a 2-inch cookie scoop, scoop the dough into balls and place them on the prepared baking sheet. Using your fingers, gently press each dough ball until you have a 3-inch round. Bake for 11-12 minutes or until the cookies are just turning golden brown on the edges.
Cool for 15 minutes before serving. Store the cookies in an airtight container for 3 days. Enjoy!