I've done it. I've tricked him.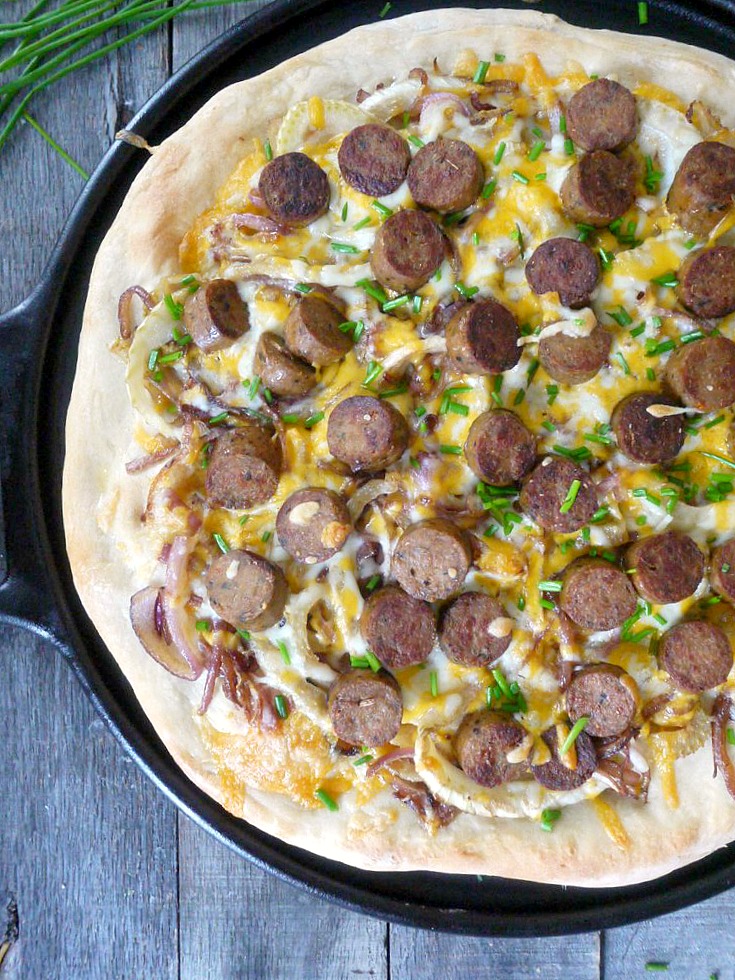 Let's rewind. If this was a TV show, "36 hours earlier" would flash on the screen. Okay, it's not that dramatic. But in the world of my relationship and veggies versus meat, it's a pretty big deal.
Those of you who've been around for a while know that my husband is a Carnivore with a capital C. He'll deal with the occasional meatless Monday, but, anymore than that, and he's calling in the reinforcements (aka a big rack of ribs). When we went paleo last summer, he was, not surprisingly, on board — even when I snuck in the occasional paleo-vegan recipe — because the diet was carte blanche to eat as much meat as he wanted.
Fast forward to the new year and our new year's resolution to streamline our house, finances, diet, and life in general. Paleo was great and all but it's not cheap or easy. You know what's cheap? Vegetables. You know what's easy? Sandwiches. You know what saves time? Getting a box full of in-season, fresh, local produce delivered to your door every week. You know what baby likes to eat? Bread and cheese (I mean, he is my son….).
Hubby was not immediately thrilled about receiving a ginormous box of fruits and veggies on a weekly basis that, combined with economical pantry goods like pasta, rice, quinoa and beans, would be the basis of our meals for the indefinite future with meat as an "if we have money leftover in the grocery budget" afterthought.
But, then, things changed. Despite the decline in meat-heavy dishes and the swift uptick in pizza, pasta and sandwiches (all easy ways to use up veggies but previously frowned upon in our carb-light household), we both saw rapid weight loss. I finally, FINALLY, FIIIINAAAALLLLLYYY made it back to my pre-pregnancy weight even though I ate pizza for lunch AND dinner one day and Alasdair was easily reaching his weight loss goals even when he didn't have time to exercise. It doesn't make sense, right???? How are we losing more weight eating vegetables and doughy carbs than when we were eating vegetables and meaty meat?
Two words: portion control. When pizza is an every-once-in-awhile treat, I feel like I need to eat 3, 4, 15 slices. When I know I'm going to eat yummy, homemade pizza every night for the next three nights or all week long for lunch, then I'm fine with 1-2 slices with a salad on the side. When we were doing paleo, we felt like we could stuff ourselves silly because we were only eating vegetables and protein. Wrong-o. Somehow, by giving ourselves a grocery budget, we've achieved the diet moderation we were always looking for. Who knew?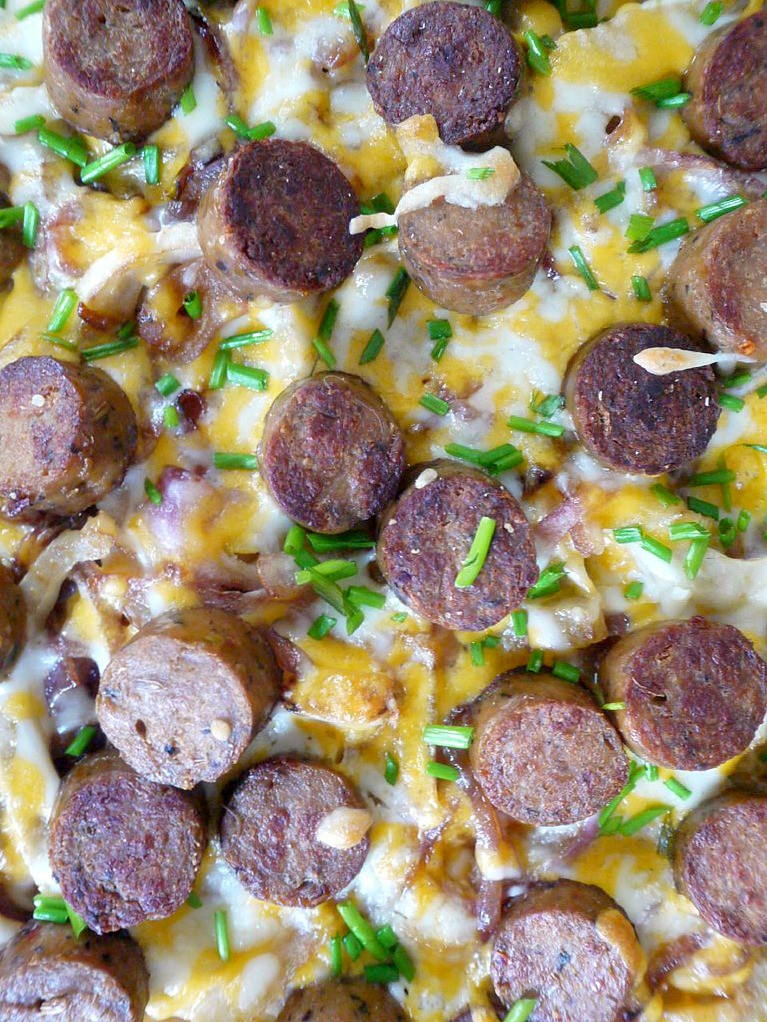 What does all this budgeting stuff and eating veggies have to do with that trick I mentioned earlier? Let me tell you. Because of the weight loss, Alasdair was all of the sudden on board with eating veggie-centric dinners most nights of the week so I decided to take it a step further and test the waters with some veggie sausages. I'm not usually a huge faux meat girl because there's no replacing pancetta, but I recently tried these Lightlife sausages and was truly surprised at the flavors and texture. I decided to serve a Cooking Light-inspired "sausage" and fennel pizza to see if I could sneak the veggie "meat" past him.
There I was, across the table, with a sh*t-eating grin on my face, all "how's the pizza?" "You like it?" "Really?" "Good sausage, right?" And he was all "yeah, it's really good." "Where'd you get the dough?" "How was your day?"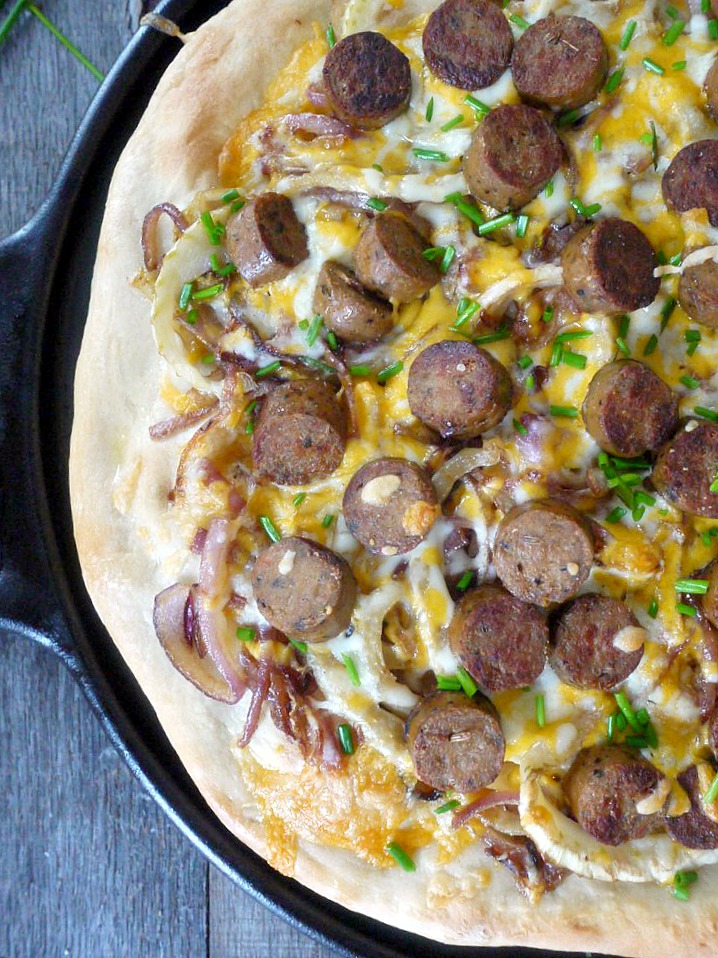 NOT ONE QUESTION ABOUT THE SAUSAGE. I was flabbergasted. Anytime I try to pull a meat trick on him, he is immediately, "you put something weird in this didn't you?" "IS THIS TOFU??" But, this time, he was happily chewing away, wondering how he got so lucky to be served a pizza with deliciously-browned Italian sausage in our time of economic and dietary restrictions.
It was truly a dinnertime miracle.
Lightlife has given me free product coupons to give away so that you too can trick your spouse at the dinner table or so that you can just enjoy some veggie sausage together like the civilized couple we are not. Enter below!
In the meantime, back to my pizza….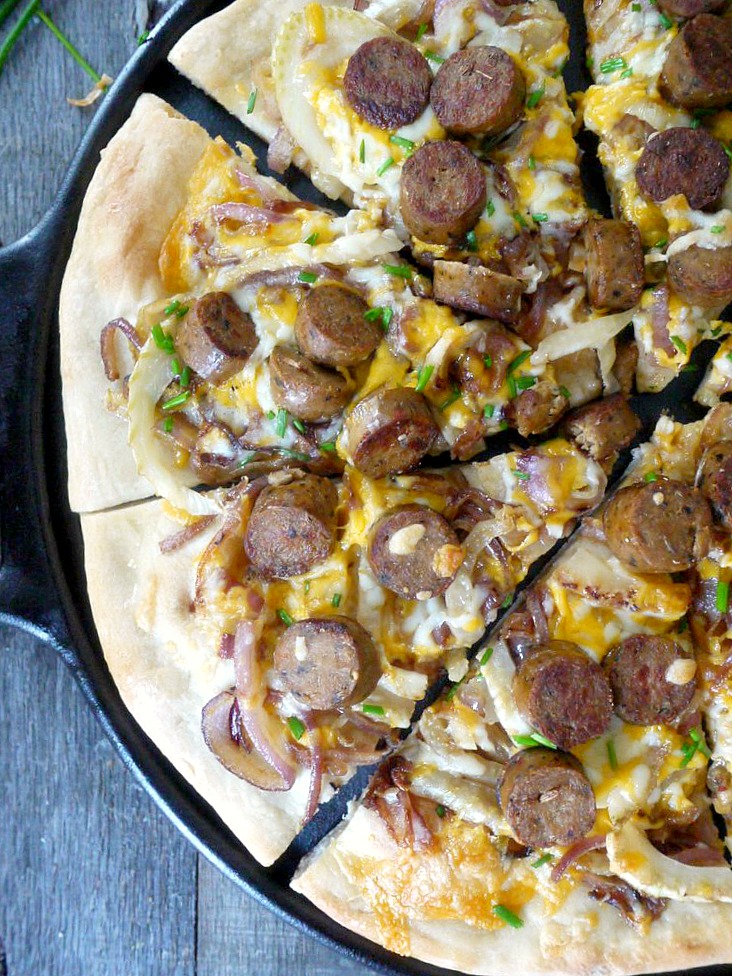 Veggie Sausage, Caramelized Red Onion and Fennel Pizza
Recipe adapted from Cooking Light's Chicken Sausage, Sweet Onion and Fennel Pizza.
Author:
Healthy Recipe Ecstasy
Ingredients
12 ounces Lightlife Italian sausage, chopped into ½-inch thick slices
3 teaspoons olive oil, divided, plus a few tablespoons for pizza dough
Whole-wheat pizza dough (I used the pizza dough from the Whole Foods deli section)
1 and ½ cups vertically sliced red onion (about ½ a medium red onion)
1 and ½ cups thinly sliced fennel bulb (about 1 medium bulb)
¼ teaspoon salt
1 and ¼ cups monterey jack cheese
1 tablespoon chopped fresh chives
Freshly-ground black pepper, to taste
Instructions
Preheat oven to 450 degrees F. Pre-bake pizza dough on a warmed pizza stone coated with cooking spray for 15 minutes or until the dough starts to brown.
Heat one teaspoon olive oil in a large nonstick skillet over medium-high heat. Add sausage slices to the pan; sauté for 4-5 minutes or until browned, stirring occasionally. Remove from pan.
Add two teaspoons oil to pan. Add onion, fennel, and salt and cook for five minutes on medium-high, stirring frequently until the onion and fennel begin to brown. Turn heat down to medium low and cook 15-20 minutes, stirring occasionally, until tender and starting to caramelize.
Brush the pre-baked pizza dough with 1-2 tablespoons olive oil. Top evenly with onion and fennel mixture, sprinkle with cheese, and top evenly with sausage.
Bake at 450° for 12 minutes or until cheese melts. Sprinkle evenly with chives. Cut pizza into 8 wedges.