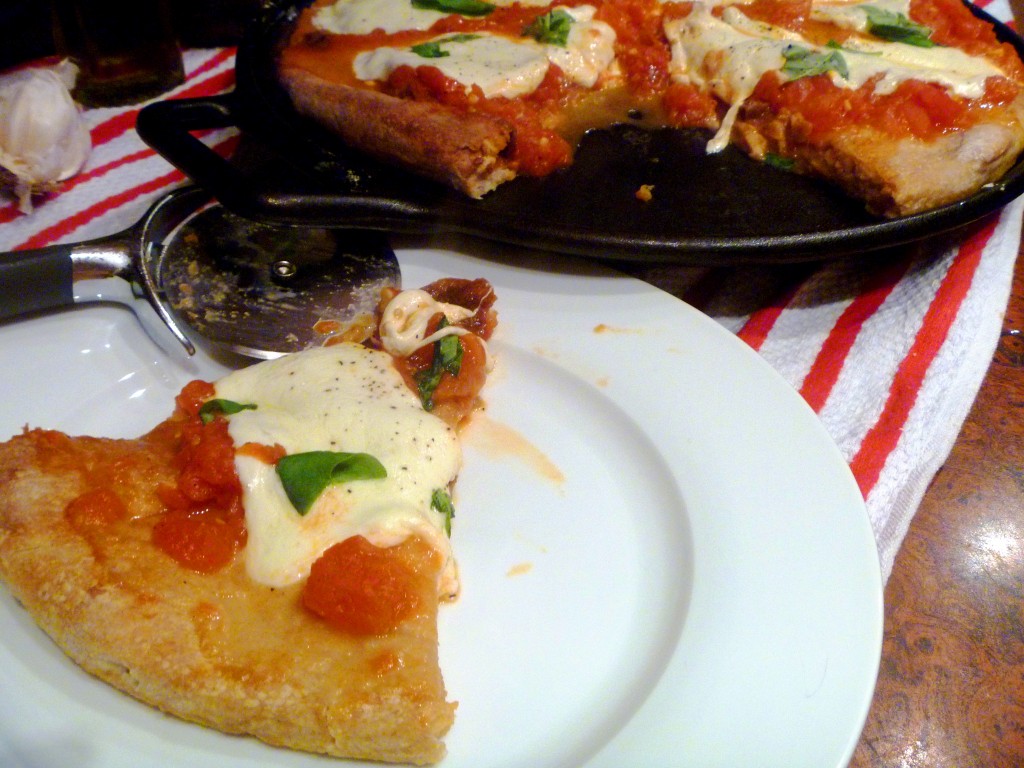 I'm writing today's blog in honor of my Uncle Ben, my stepdad's brother, who passed away last week.
The last time I saw Ben was at a family BBQ over the summer. I had just started my blog and I had made a few appetizers for the party to test out recipes. I vividly remember Ben asking me detailed questions about everything I made. I was excited that he took such an interest in my cooking.
I recently learned from my stepdad, Paul, that Ben was quite the home cook himself. Paul told me that Ben's favorite food to make was pizza. And he tried to do it the right way – spinning the dough in the air – something I haven't quite been able to accomplish. He also would make spaghetti sauce with tomatoes he grew in his garden. If you can't tell from the emphasis on pizza and spaghetti, my stepdad's family is Italian and proud of it!
It's been a hard week for my family since we learned of Ben's passing, and I couldn't think of a better way to honor Ben's memory than cooking up a classic Pizza Margherita with homemade tomato sauce.  
You may be able to see from the picture below the consequences of my overzealousness with the tomato sauce… I repeat, do not dump the entire pot of sauce on the dough! But, even with that tiny disaster, it still tasted amazingly delicious. Whenever you use fresh ingredients, like my Uncle Ben did with his tomato sauce, it's hard to go wrong.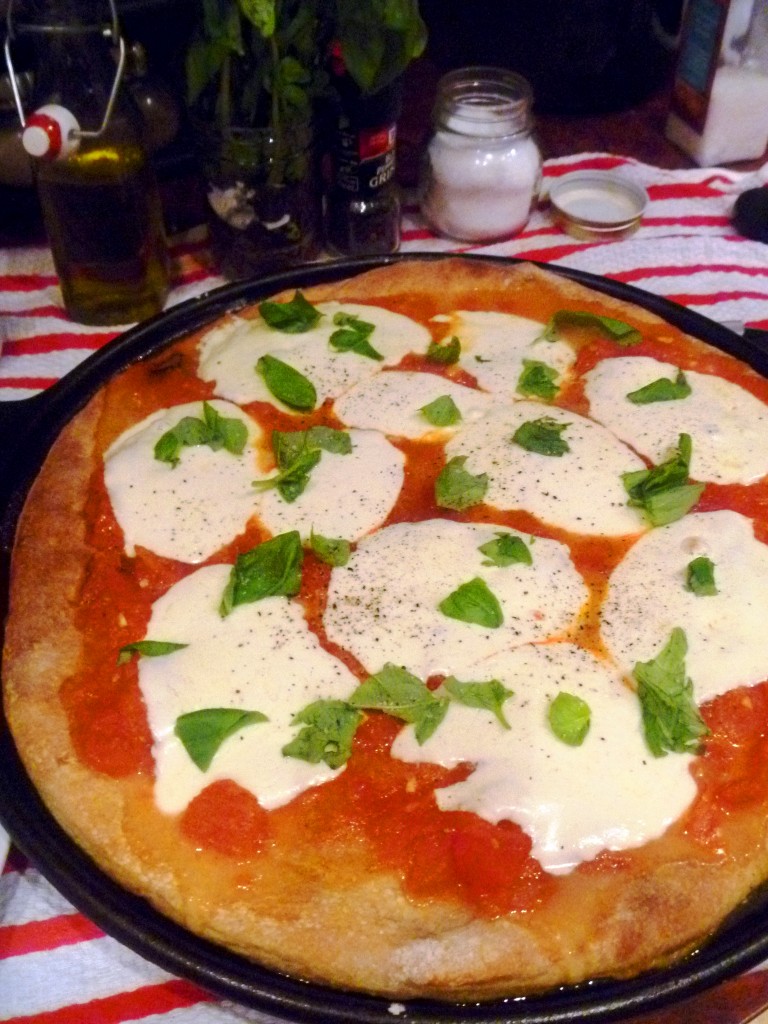 Uncle Ben's Pizza Margherita
Author:
Healthy Recipe Ecstasy
Ingredients
One ball of whole-wheat pizza dough (you can make your own like Ben or find fresh dough in your grocery store's deli section)
2 tablespoons olive oil, divided
8 Roma or plum tomatoes
2 cloves garlic
¼ teaspoon coarse salt
¼ teaspoon black pepper
¾ of a pound fresh mozzarella cheese, sliced
Fresh basil for garnish
Sea salt & freshly ground black pepper for garnish
Olive oil for garnish
Instructions
Bring a pot of water to a boil. Cut an X into the bottom of each tomato.
Blanche the tomatoes in the boiling water for one minute, then rinse under cold water. Peel and coarsely chop the tomatoes, discarding the seeds.
Mince the garlic. Heat one tablespoon olive oil in the pot over medium heat. Add the garlic and cook until it gets fragrant (about 30 seconds), stirring frequently. Add the chopped tomatoes and bring to a simmer. Turn the heat down to low and simmer for 30 minutes, stirring and mashing occasionally to help the tomatoes break down.
While the tomatoes are cooking, heat the oven to 450 degrees. Put the cooking stone or baking sheet in the oven while it heats (about 5-6 minutes). Roll out the dough on a floured surface and then add the dough to the pizza stone or baking sheet. Rub one tablespoon olive oil on the dough and cook for 10 minutes or until its crisp and brown. Set aside until the tomatoes are done.
When tomatoes are almost done cooking, add ¼ tablespoon coarse salt and ¼ tablespoon black pepper. Stir once and then take off the heat to cool.
Add the tomato sauce to the dough. DON'T make the mistake I did and pour the entire pot of tomato sauce on the dough. It's still tasty but it's more like pizza soup than Pizza Margherita. Instead, gently spoon the sauce onto the dough until it covers the surface, leaving a ½ inch circle around the edges of the crust bare. If you have leftover tomato sauce, great, use it for pasta. Add the mozzarella slices to the pizza.
Cook for another 10 minutes or until cheese is nice and melty.
Finally, garnish with fresh basil. Add a sprinkle of sea salt and freshly-ground pepper and a drizzle of olive oil to finish off the pizza.