WARNING. This post is not healthy. I repeat. This post is not healthy.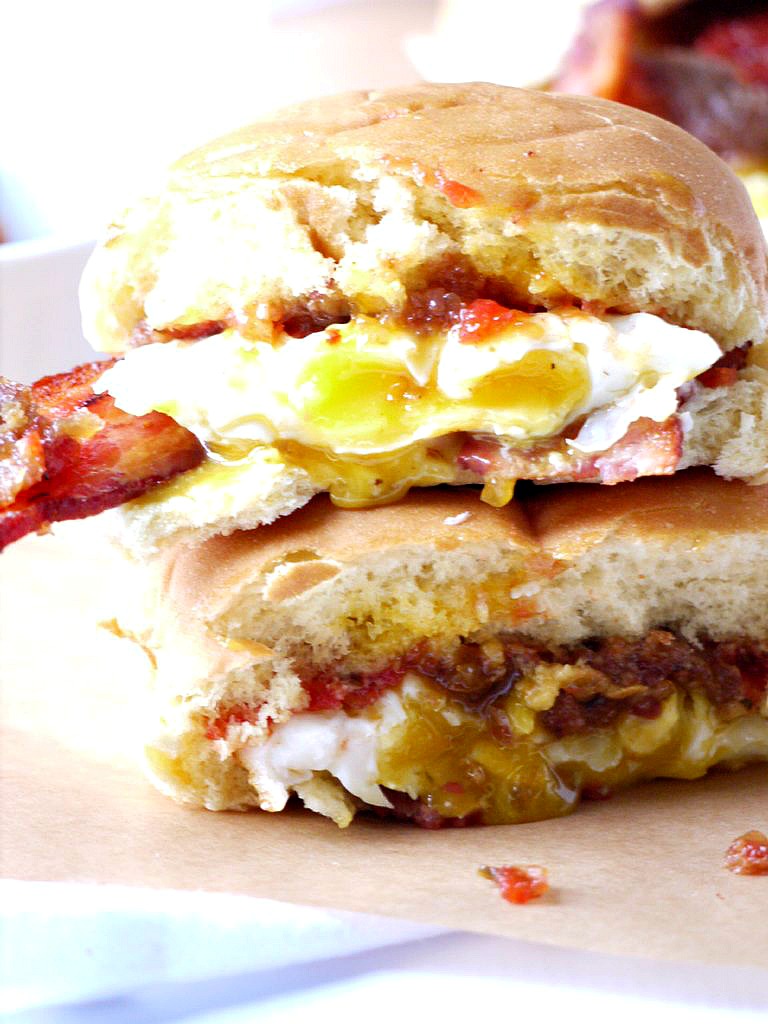 I wish I could blame this masterpiece on pregnancy cravings but I shamefully dreamt up this indulgent creation almost a year ago when I was brainstorming entries for the Wisconsin Grilled Cheese Academy contest. My entry was "The Highlander" – a Scottish inspired grilled cheese complete with Wisconsin cheddar, British bacon, black pudding, and some pretty crazy jams. It rocked my world. Unfortunately, it did not rock the Wisconsin judges world. Maybe Wisconsin's not ready for black pudding?
However, when I received an email asking me to enter a British Bacon Butty competition, I just knew these peeps would appreciate my sandwich. I made a few alterations from the original but it's still pretty over the top.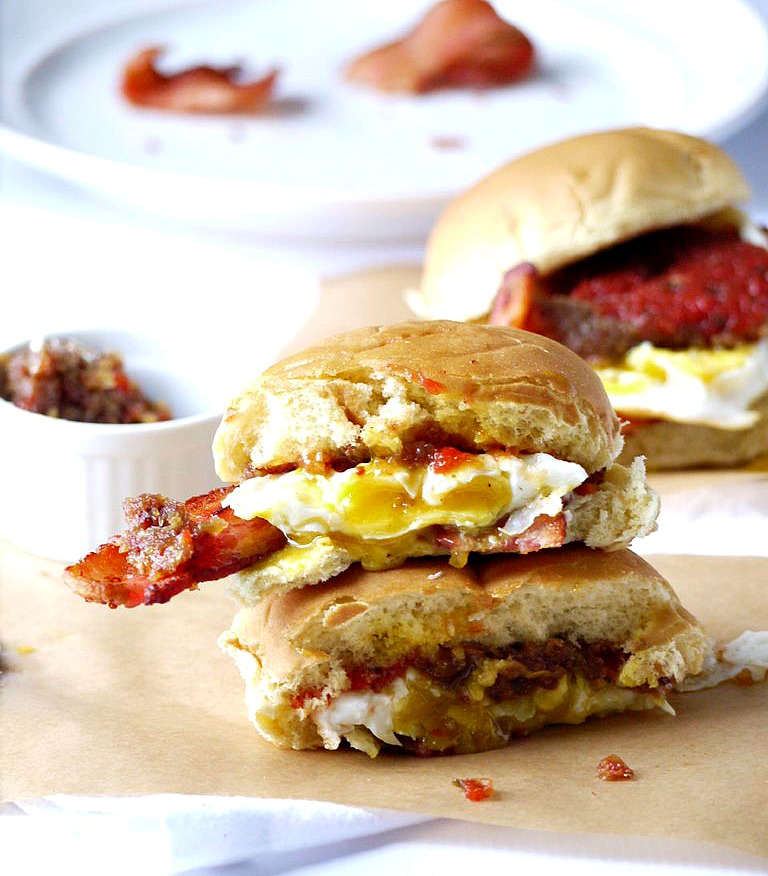 For those of you who aren't familiar with bacon butties, they're basically just a bacon sandwich and they are extremely popular over in the UK. Thick bacon, a roll and either ketchup or brown sauce are where it's at. At first, I didn't really understand the point of a BLT without the LT or a breakfast sandwich without the egg, but, after a night of drinking with my British pals, I got it. The simplicity of greasy bacon and bread is pure genius and has the added bonus of sopping up all that alcohol.
That said, I still miss the egg. So, when I was asked to make the best bacon butty imaginable and post the gloriously greasy results on my blog, I knew exactly what I wanted to do.
First, you've got the bread. I've had bacon butties on white bread, wheat bread and rolls, and I gotta say, the roll takes the cake. Then, the most important element: the bacon. Over in the UK, they often use British back bacon. That's not as easy to get in the States so I chose my favorite bacon – a thick cut streaky bacon fried up in the pan.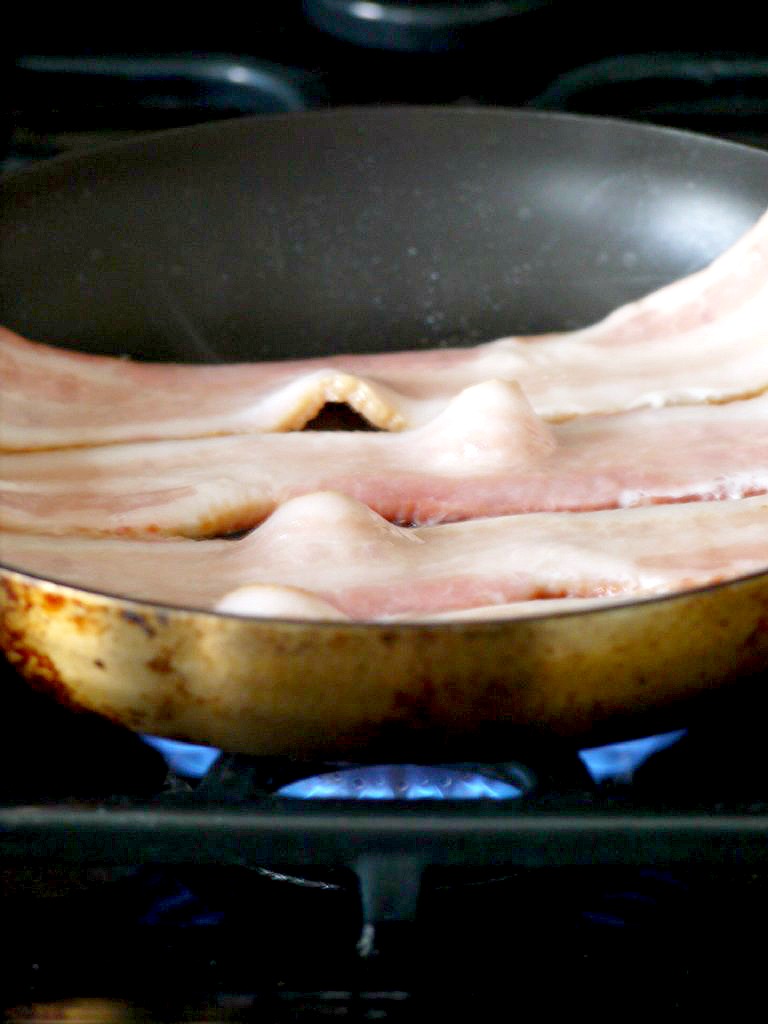 As for sauce, well, as much as I like ketchup, I feel like the best ever bacon butty needs something a little more intense. So, instead of ketchup, I made rosemary tomato jam, and instead of brown sauce, I made a bacon onion jam. It's double the sauce, double the bacon and a million times the sweet, sweet flavor.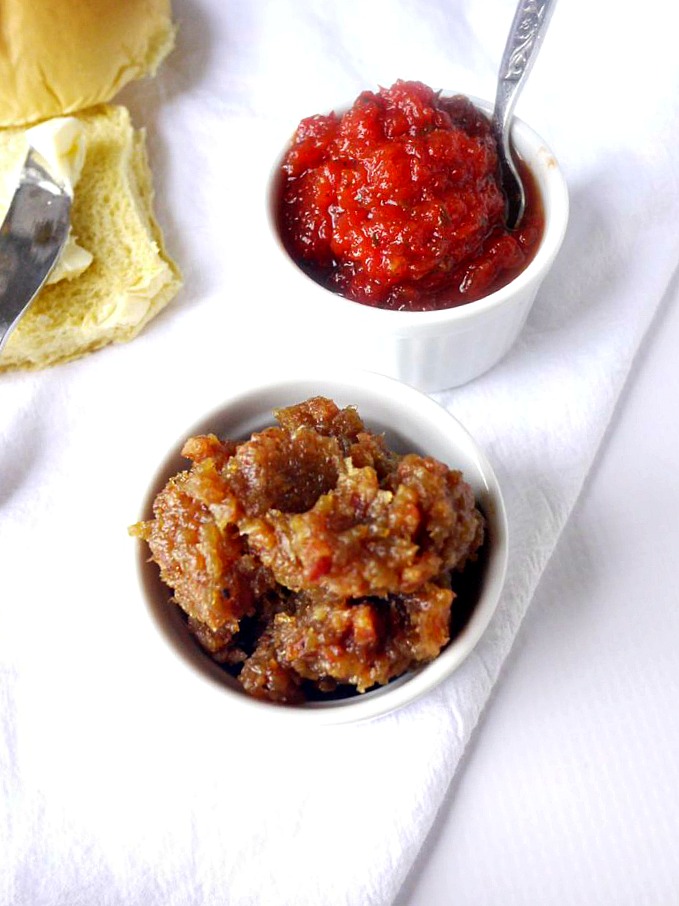 Don't worry, I didn't forget about that egg. A breakfast sandwich, to me, is never complete without a nicely fried egg with an oozing yolk. Yeah, that's the stuff. The perfect combo of salty, savory and sweet all wrapped up in a soft buttered roll.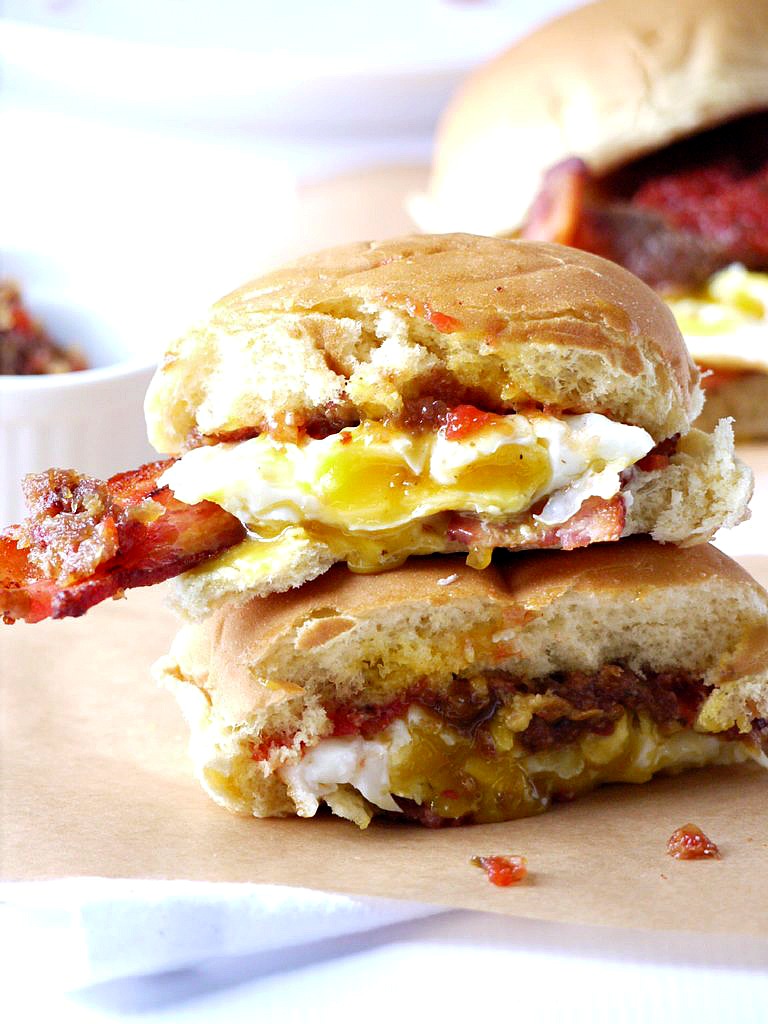 Whether I win the competition or not, this bacon butty has stolen my heart and my taste buds.
UPDATE: My bacon butty breakfast sandwich won "Best Looking" bacon butty in the competition! Can't argue with that.
The Ultimate Bacon Butty Breakfast Sandwich
Author:
Healthy Recipe Ecstasy
Ingredients
Rosemary Tomato Jam:
5 medium Roma tomatoes, cored and quartered
¼ cup granulated sugar
½ teaspoon kosher salt
⅛ teaspoon black pepper
2 tablespoons fresh lemon juice
1 teaspoon minced fresh rosemary, plus more as needed
Bacon Onion Jam:
½ pound thick sliced bacon, chopped
2 onions, chopped
½ cup brown sugar
½ cup water, plus more for splashing into the pan
Sandwich:
8 slices thick-cut bacon
4 large eggs
4 medium-sized potato rolls
Butter
Instructions
Rosemary Tomato Jam:
Pulse the sugar and minced fresh rosemary in a food processor until moist and fragrant, about 30 seconds. Add tomatoes, pepper, and 1 and ½ tablespoons lemon juice to the food processor and pulse until fruit is finely chopped but not completely pureed and sugar is dissolved, about six 2-second pulses.
Pour the tomato mixture into a small nonstick skillet and bring to a boil over high heat. Cook over medium heat, stirring occasionally, until liquid has reduced noticeably, about 10 minutes. Adjust heat to medium and simmer, stirring more often as the mixture reduces, until it is glossy and has a jammy consistency between sauce and paste, 10 to 12 minutes.
Set aside off heat to cool to room temperature. Stir in remaining ½ teaspoon lemon juice. Taste and adjust seasoning with salt and pepper and additional rosemary, if desired.
Bacon Jam:
Place a medium saucepan over medium high heat. Toss in the chopped bacon along with a big splash of water (a few tablespoons does the trick). Stir frequently with a wooden spoon until the water evaporates and bacon renders, releasing its fat. Continue stirring occasionally for 15-20 minutes until the bacon is evenly cooked. It should be nicely browned but not particularly crisp. Keep an eye on the heat, adjusting as needed so the bacon doesn't burn.
Remove the bacon from the pan and strain off all but 2 tablespoons or so of the drippings. Add in the onions and brown over medium low heat until they are soft and caramelized, about 30 minutes.
Add the bacon back to the pan along with the brown sugar and water. Bring to a boil and then simmer over medium heat until the water is absorbed and the mixture becomes thick and jam-like, about 20 minutes. Carefully transfer the mixture to the food processor and pulse until the jam is desired consistency.
Sandwich:
Add four bacon slices to a large cold skillet. Turn the heat to medium high. Cook the bacon for 3 minutes, then flip the slices. Cook for 3 minutes on the other side and then flip the slices again. Turn the heat to medium if the oil starts to splatter and cook for an additional 2 minutes. The bacon should be evenly cooked and just a little crispy. Drain on a paper towel. Repeat with the remaining bacon slices.
Add one teaspoon of the bacon drippings to a small skillet set at medium heat. Gently crack the eggs into the skillet and cook for 3-4 minutes or until the whites are set. Flip the eggs and remove the skillet from heat.
Toast and butter the potato rolls. Add two slices of bacon to each roll, one egg and as much as tomato and bacon jam as desired. Enjoy!