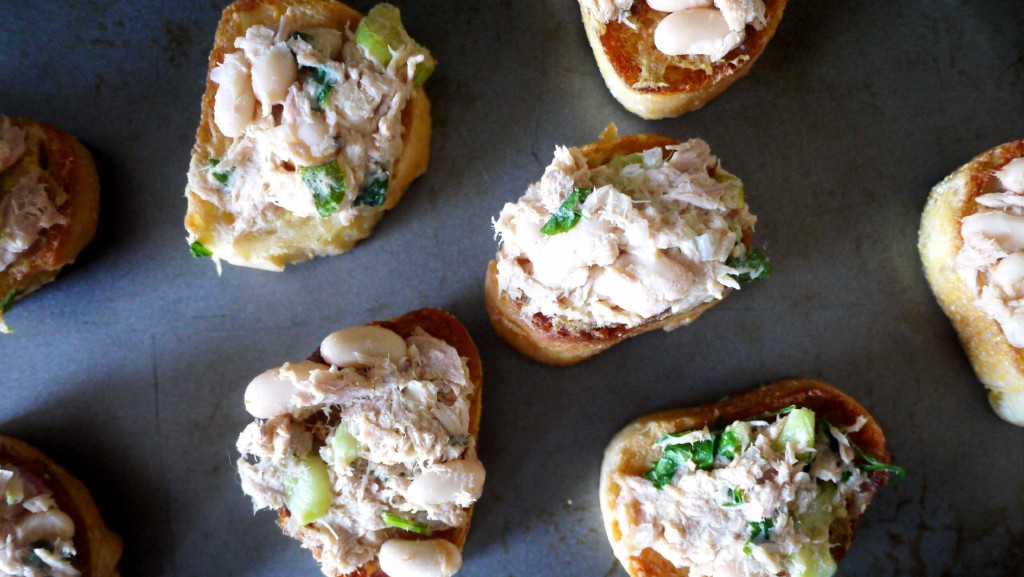 I love the time between Christmas and New Year's Eve – especially this year as Alasdair and I took a few days off work and are having a mini staycation/winter cleaning bonanza. The stress leading up to Christmas Day (last-minute present shopping, holiday traffic, Feast of the Seven Fishes preparation) has finally abated and there's a bit of a lull before the next celebration in which to recuperate, relax, and clean out my overstuffed sock drawer. Oh, and there's a good five days to take a small break from stuffing my face with the likes of homemade cinnamon rolls, sausages, anchovies, mac 'n' cheese, etc.
I had planned to spend this rare free space on our calendar cooking up an HRx storm and trying out some new detoxifying recipes to prepare for my January eat-right-extravaganza (more on that later), but we have so many leftovers from Christmas Eve and Christmas Day, that I really can't justify adding tons more food to the fridge. And, most of our neighbors and friends are out of town, so we have no one to pawn the "experiments" off on either. Instead, and in preparation for whatever New Year's Eve festivities you might be engaging in (bruschetta party, anyone??), I thought I'd share my three favorite bruschetta recipes from 2014, two of which I made this past week for the Christmas festivities. I will try to space these recipes out over the next few days in order to provide you with maximum entertainment value on the chance that you are also at home, relaxing and trolling food websites. 🙂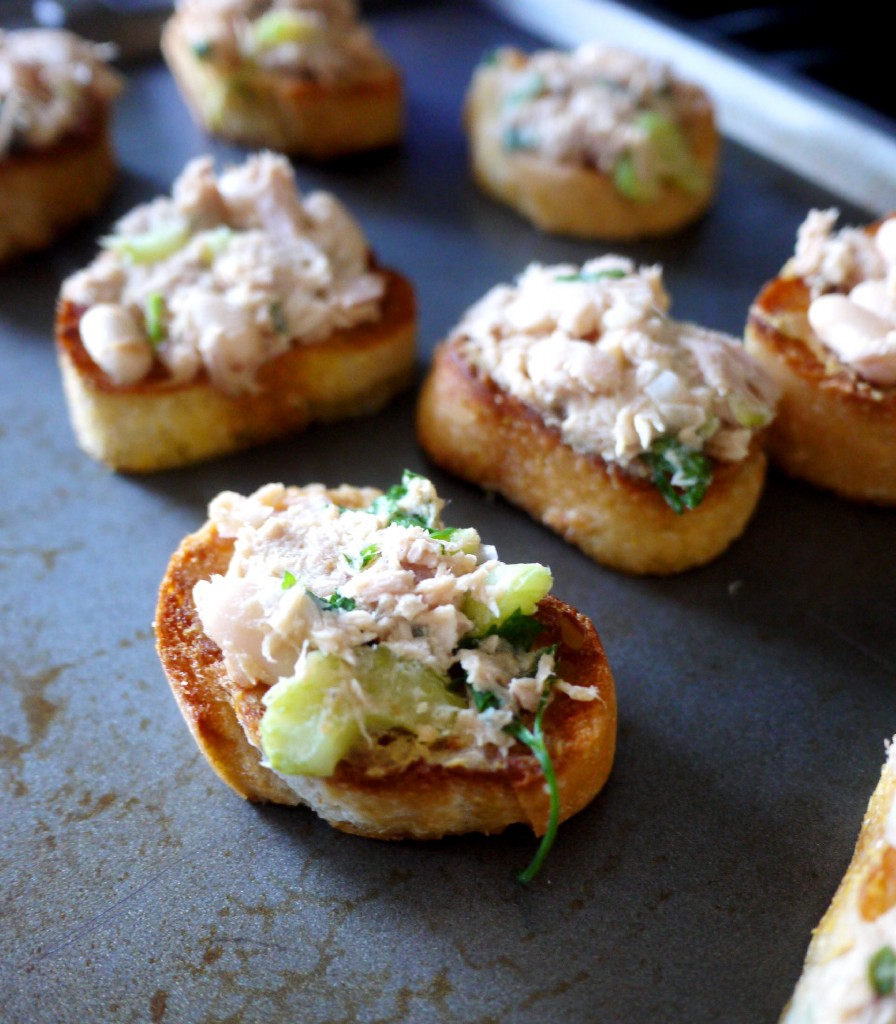 The first bruschetta is a Martha Stewart recipe that I made for my family's Christmas Eve Feast of the Seven Fishes. It was the fourth course (after anchovies, shrimp cocktail and whipped salt cod). Here's what I love about it: (1) it's super easy to make (2) if you use the fancy tuna (I used the tuna we brought back from Spain), it makes for a really flavorful and impressive cocktail party treat (3) if you use run-of-the mill tuna from your neighborhood grocery store, it's a great value for money appetizer that can feed a lot of people and (4) if you add a little cheddar cheese on top and then broil, it becomes a tuna melt bruschetta which my hubby and I really enjoyed for lunch yesterday.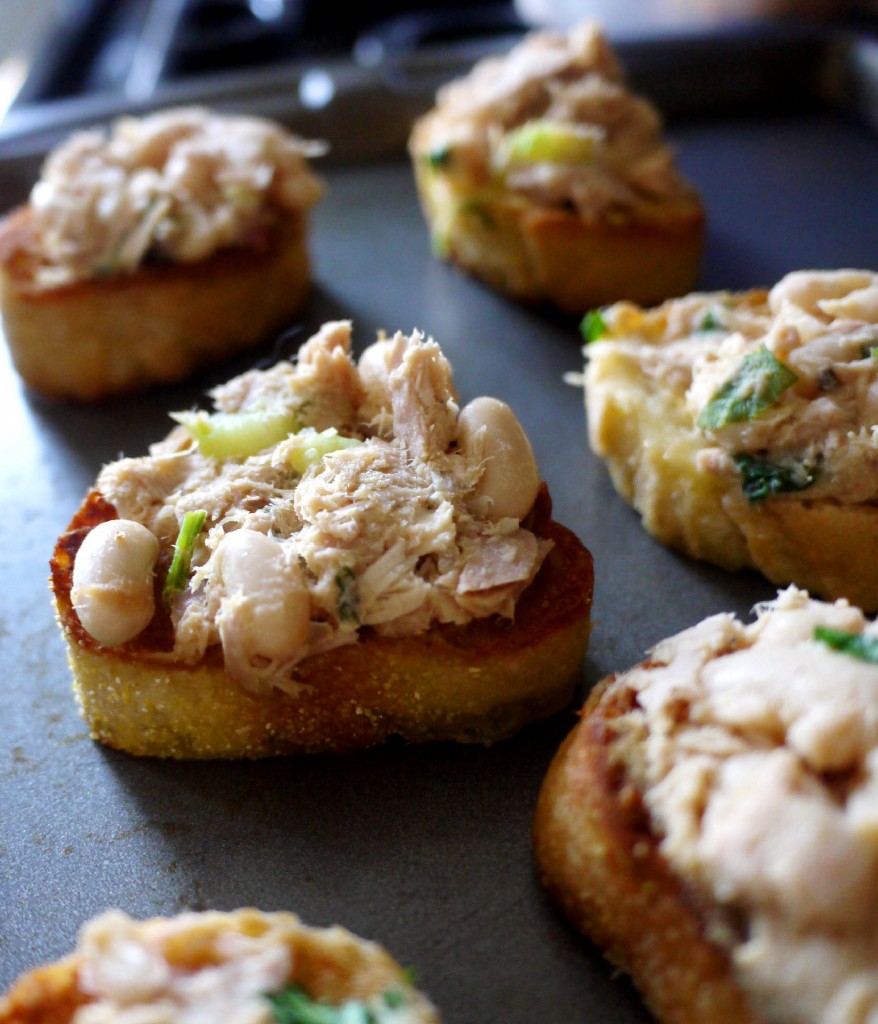 Healthy Recipe Ecstasy? I'm a big fan of canned tuna – I have been ever since I was a little girl and spent the majority of my lunches eating tuna fish on saltine crackers or rye bread. That was the life. This is like a grownup version of my tuna and saltines lunch. The tuna salad is refreshing with a bit of crunch from the celery, subtle heat from the hot sauce, tang from the Dijon mustard and plenty of cool acidity from the lemon juice. It pairs perfectly with the toasted French baguette slices which have been slathered in Dijon mustard for a double hit of the yellow stuff. However, the tuna salad works just as well on a gluten-free rice cracker (which is how my stepmom ate it) or a cucumber slice for a low-carb treat. No mayonnaise ensures that the dish stays low in fat and calories and the cannellini beans give it some heft to keep you from going back for fourthsies….

Tuna Salad Bruschetta
Ingredients
8¾-inch-thick slices baguette, cut on the diagonal
1 tablespoon olive oil
Coarse salt and ground pepper, to taste
¼ cup fresh lemon juice, from 2 lemons
4 tablespoons Dijon mustard
2 cans (6 ounces each) tuna in olive oil, drained, reserving 1 tablespoon oil
1 can (15 ounces) cannellini beans, rinsed and drained
½ cup fresh flat-leaf parsley, chopped
1 shallot, finely chopped
2 celery stalks, thinly sliced crosswise
Instructions
Preheat oven to 450 degrees. Place bread slices on a baking sheet. Brush top side with olive oil; sprinkle with salt and pepper. Bake until golden, 4 to 6 minutes. Set aside.
In a large bowl, whisk together lemon juice, 2 tablespoons mustard, and reserved tuna oil; season with salt and pepper. Add tuna, beans, parsley, shallot, and celery; toss to combine.
Spread bread with remaining 2 tablespoons mustard. Top each bread slice with tuna salad, and serve.
NOTE: As I was writing this blog and reminiscing about my tuna fish on rye sandwiches, I got the brilliant idea to swap out the regular baguette for toasted rye bread rounds. If you're also a tuna on rye fan, give it a shot and let me know how it goes!