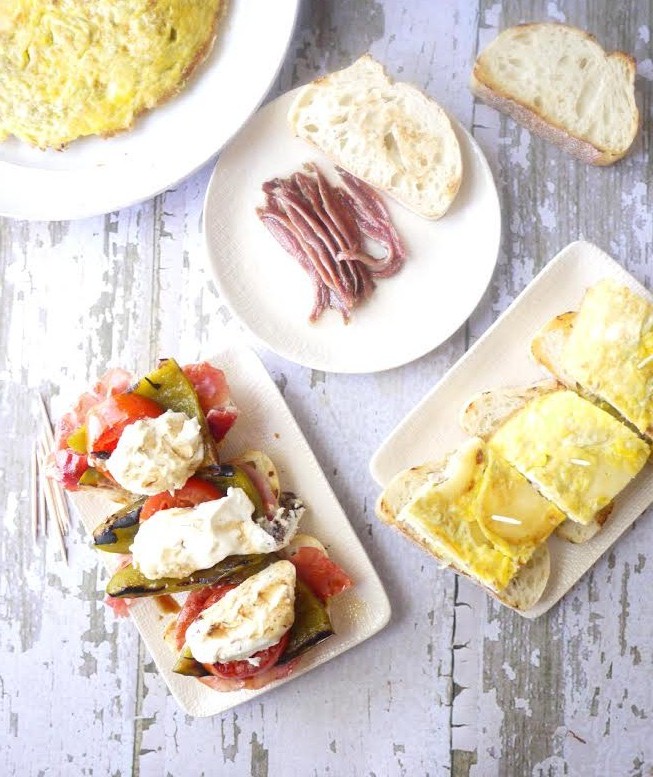 'Tis the season for celebration, and fall celebrations usually mean a laser focus on apple and pumpkin flavors, heavy stews and mashes, meaty roasts and creamy casseroles. Along with dips, burgers and dogs at all the football tailgates, it's a wonder anyone's pants still fit by December.
I'm not complaining. I love apple pie and mashed potatoes as much as the next girl. But, sometimes during the fall season, I find myself on a bit of a pumpkin overload, yearning for fresh, interesting flavor combinations.
Last fall, I experienced just that. I spent my October honeymooning in Spain. No pumpkin pie or spinach and artichoke dip in sight. Instead, I feasted on salty anchovies, crusty bread smeared with tomatoes, Spanish tortillas, and, my new favorite food group, pintxos.
That's why, when Destination Femme asked me to write a feature article, I didn't think twice about sharing some of my favorite pintxos recipes. Who needs green bean casserole when you have toasty bread topped with salty ham, roasted veggies and creamy goat cheese? NOT ME!
Head over to Destination Femme to learn how to throw a pintxos party and to get the recipes!