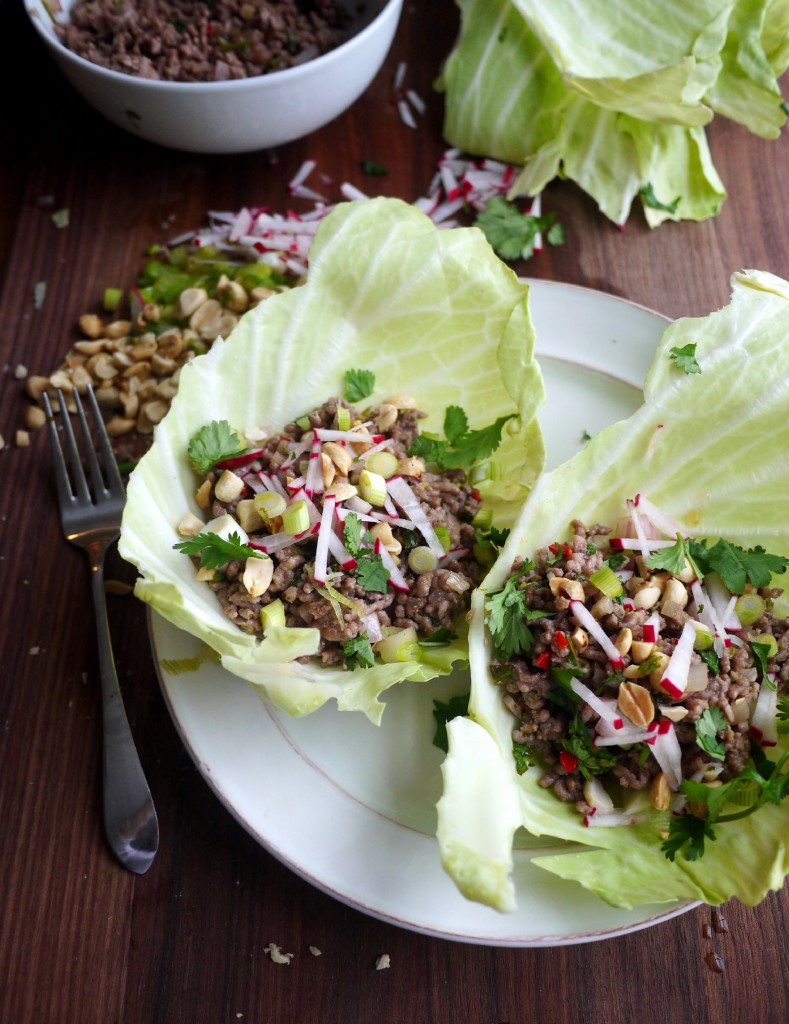 At least once a week, usually after 3-4 straight nights of eating dinner at home, Alasdair gets an overwhelming craving for Thai food. His cravings are so bad that he will brave torrential downpours, subzero weather, and recent snowstorms to get his fix. After his last craving resulted in a dinner bill that came nowhere close to jiving with our new belt-tightening way of life, we realized that if we're going to be serious about saving for our future, then we can't just satisfy every food whim that pops into our belly.
Despite my desire to try every new restaurant that hits the DC metro area, I'm a little easier to convince re: staying home for a meal than Alasdair. So, I knew that if I was going to convince him that a quiet home-cooked meal on a Saturday night was just what the doctor ordered, it better meet his standards of tasty – not mine. That means spicy, saucy, meaty, and Asian-y. Most recently, he's been craving the Thai salad dish called larb gai, which is basically minced meat with herbs, fish sauce, lime juice and, sometimes, toasted rice.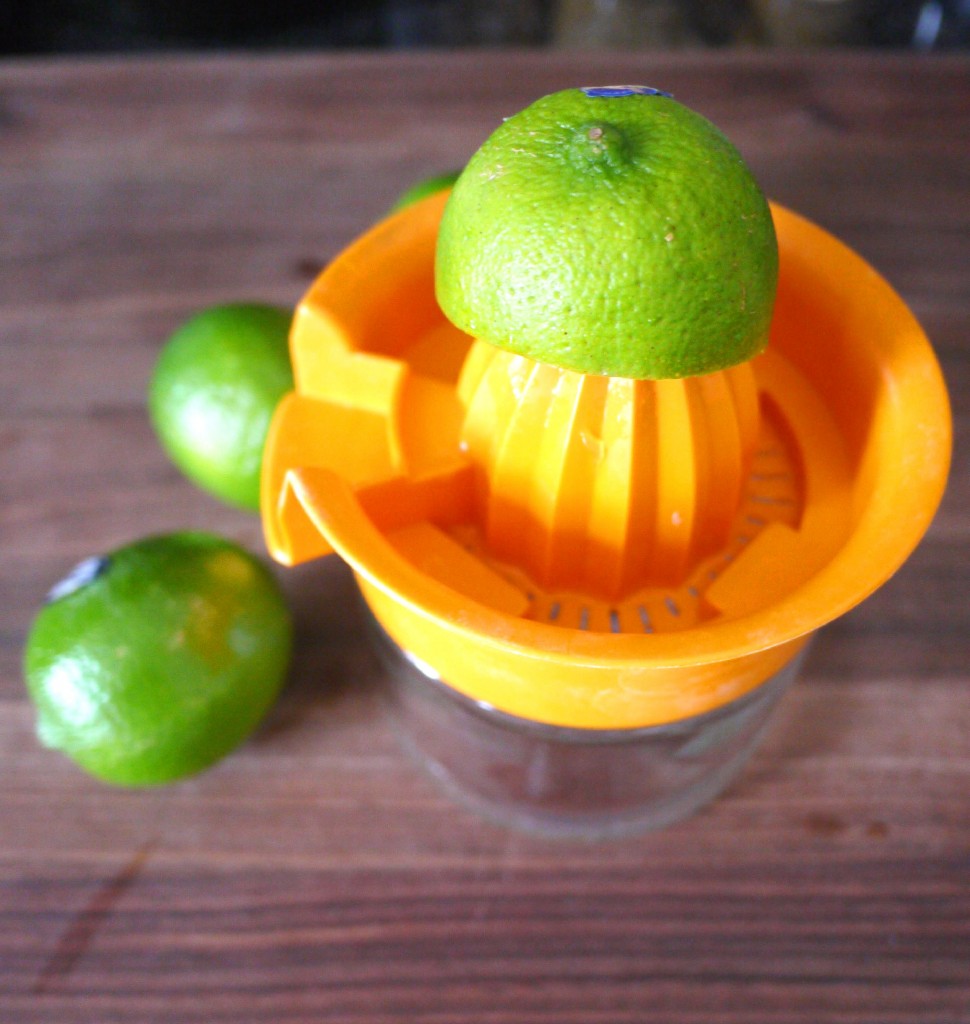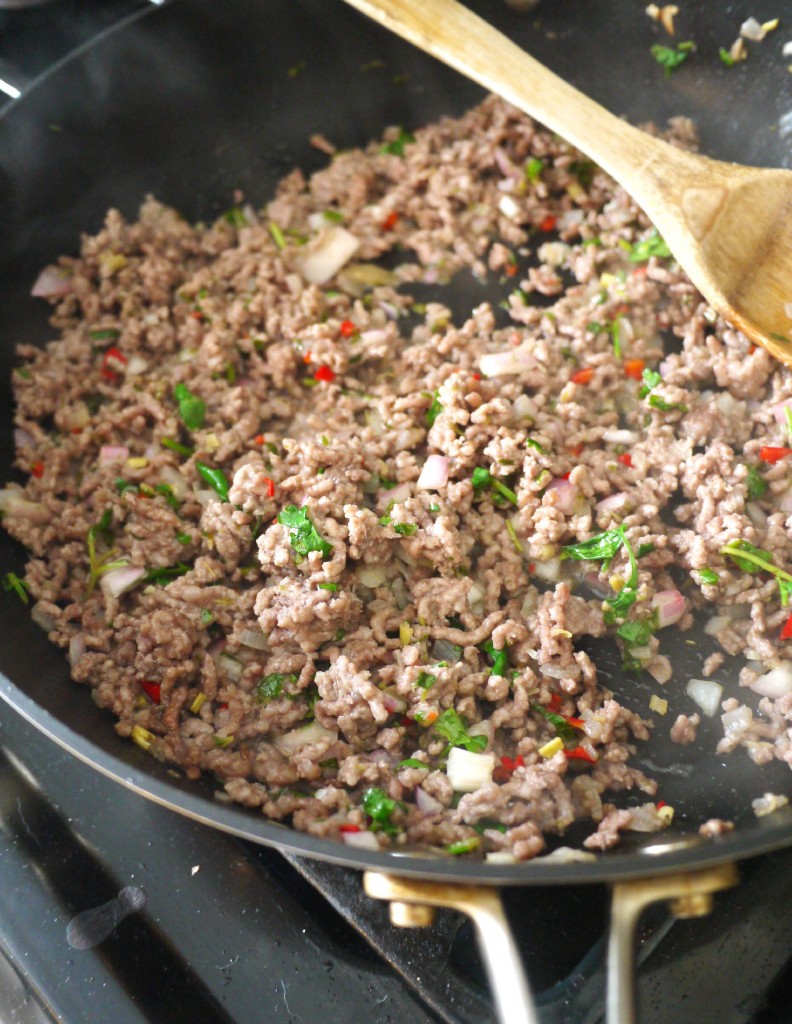 When I saw Tasting Table's Thai Pork Salad, I knew it was close enough to make him happy – and wrapping it in a cabbage leaf made me happy because not only did it use up the stockpile of cabbage we have in our fridge (long story pertaining to my first catering gig this past week which I rocked except for the part where I may have overbought on the cabbage front), but it was also healthy and low-carb. Using a cabbage leaf also negates the diet stigma of "lettuce wrap." Cabbage leafs are sturdy, strong, and hearty creatures not to be confused with their wimpy cousin lettuce which Alasdair abhors. We both felt like we were out indulging in some Thai takeout, but we were in the comforts of our own home, spending no cash (except usual groceries), and controlling portions and things like sodium and oil which run rampant at Thai restaurants.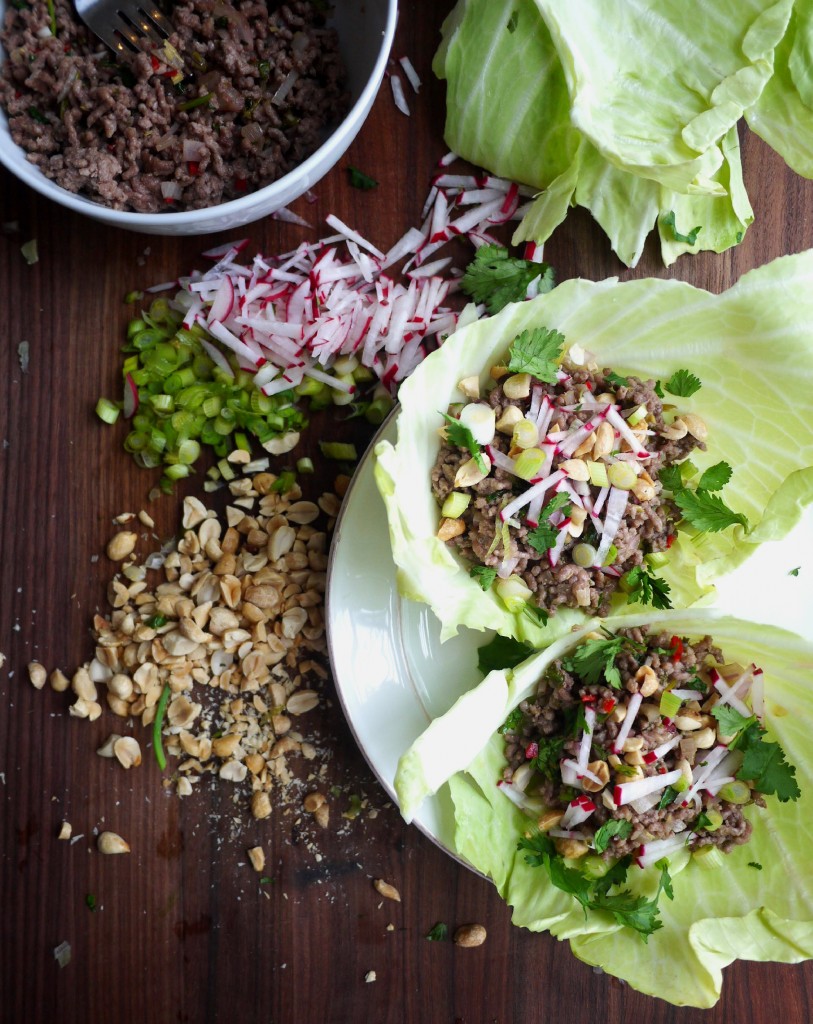 While this salad may lack the toasted rice element of larb gai, it does not lack for that fishy, acidic, herby flavor that makes Thai food so great. Alasdair spent the entire meal, going, "this is really good. no, this is REALLY good." With that said, the spice factor was slightly underwhelming. Even for me. I threw in a super hot diced red chili and the spice didn't really come through at all. Next time I will double the chili. I will probably also double the sauce because Alasdair liked it so much he wanted to pour a heaping helping over his cabbage wrap. Recommendations from Alasdair himself include adding chopped red onions and adding more chopped peanuts when sautéing the meat.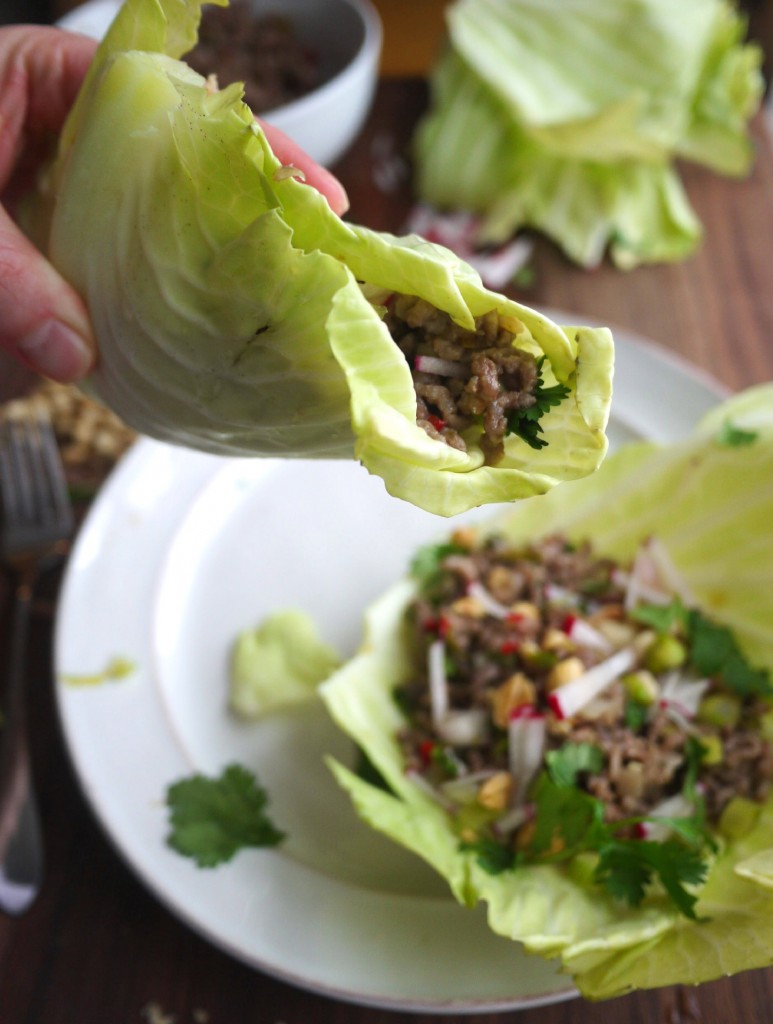 Speaking of cabbage wraps, while I was making this dish, and after repeatedly ripping my cabbage leaves as I tried to extract them from the large cabbage head, I figured out a better way to separate the leaves. First, cut the root of the leave where it connects to the root of the head. Then, instead of peeling it away from the top of the cabbage and, thus, resulting in breakage, peel it away from the bottom. SO. MUCH. EASIER.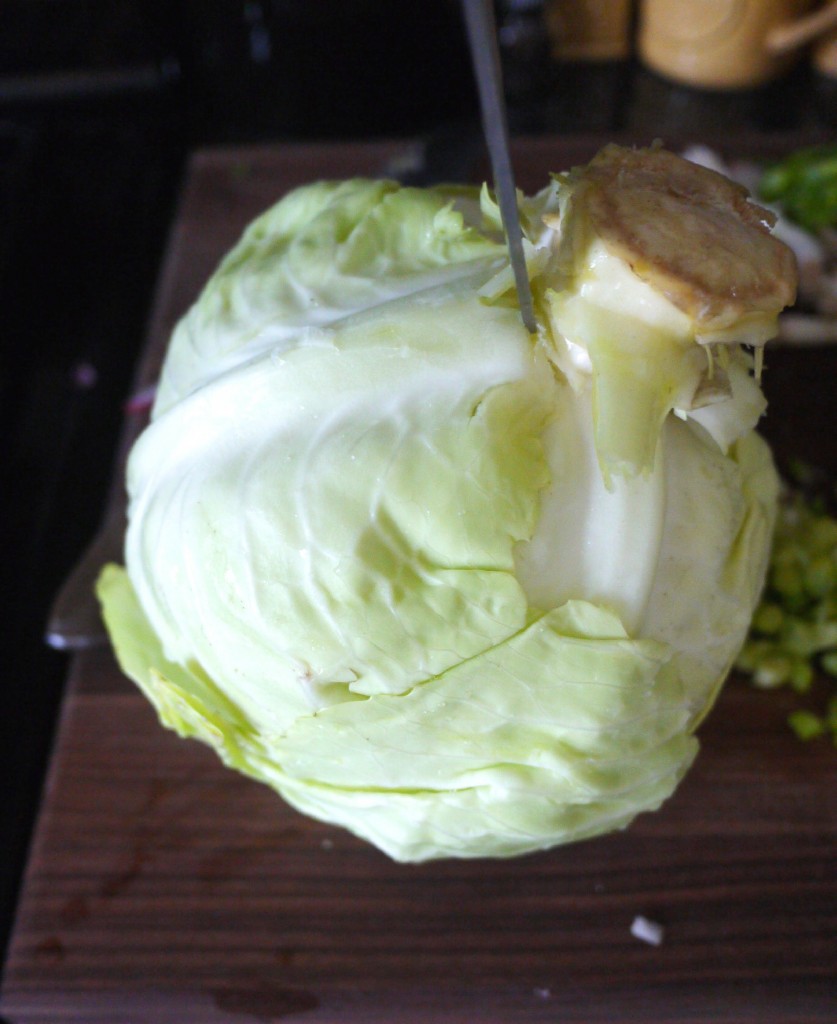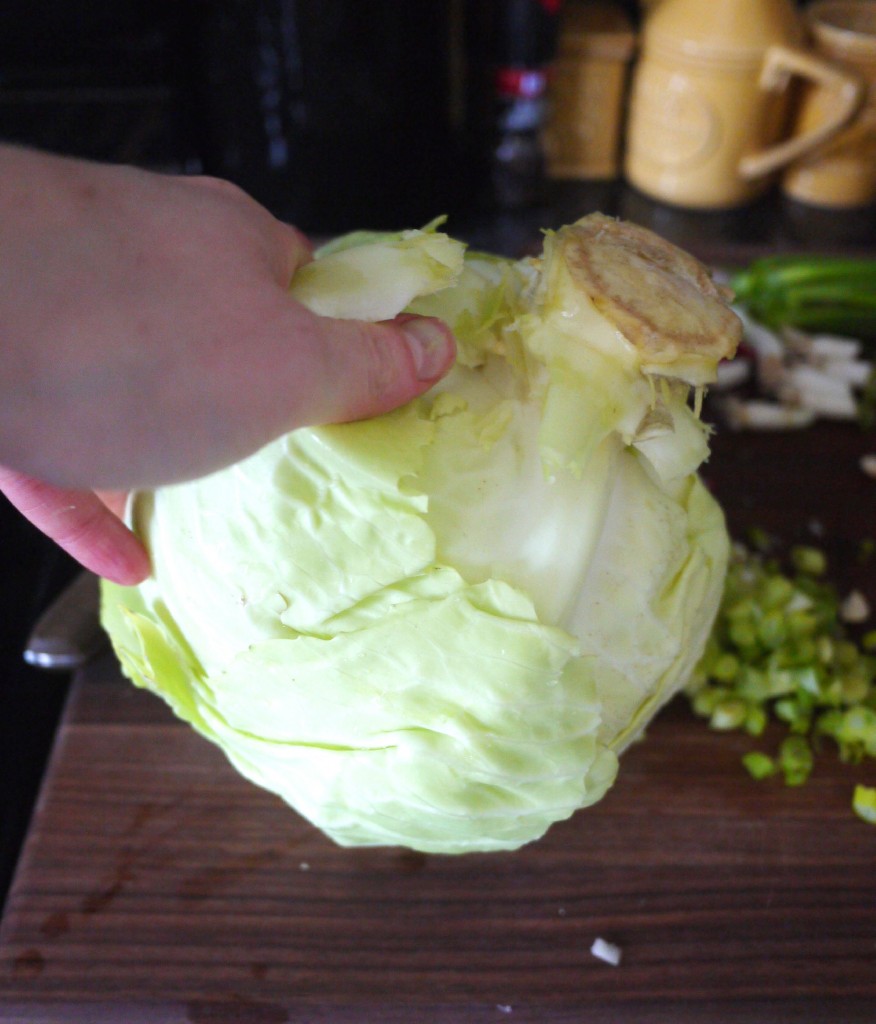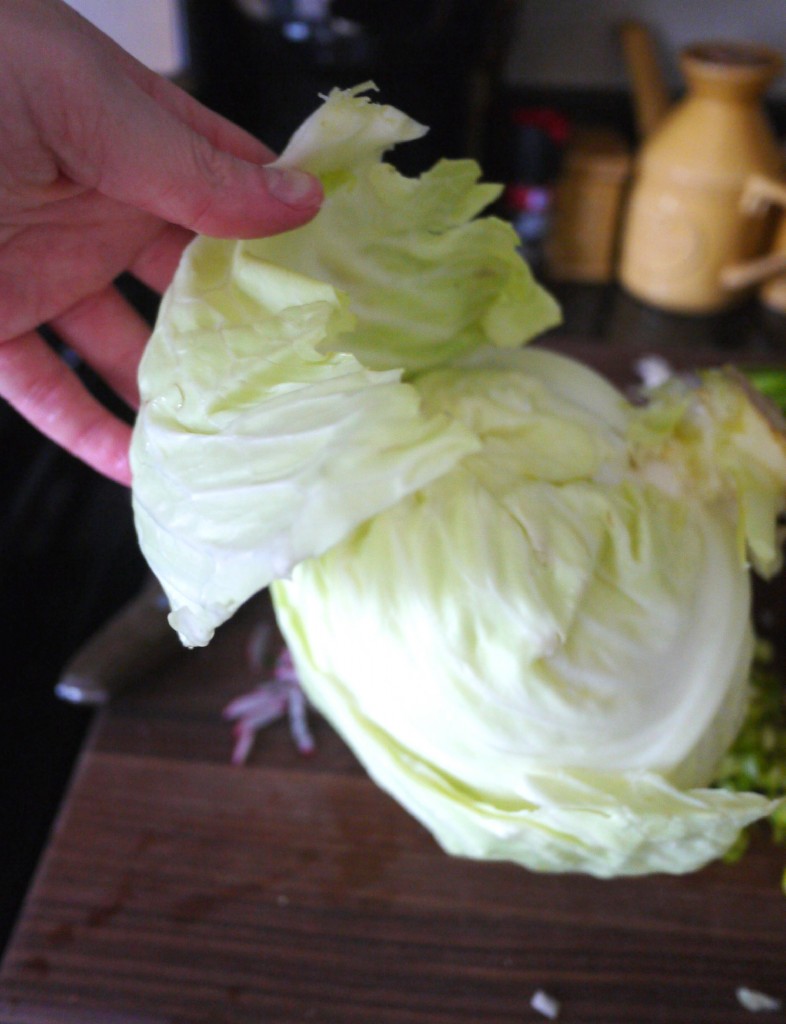 One of my favorite things about cooking Asian-style food is that, most of the time, it's dairy-free and gluten-free without even trying. It's also chock full of good-for-you spices and herbs. I *think* this dish is also Paleo-friendly, minus the peanuts (you could use cashews instead) and brown sugar (not even necessary). If it's not, it could easily be made Paleo with a few adjustments.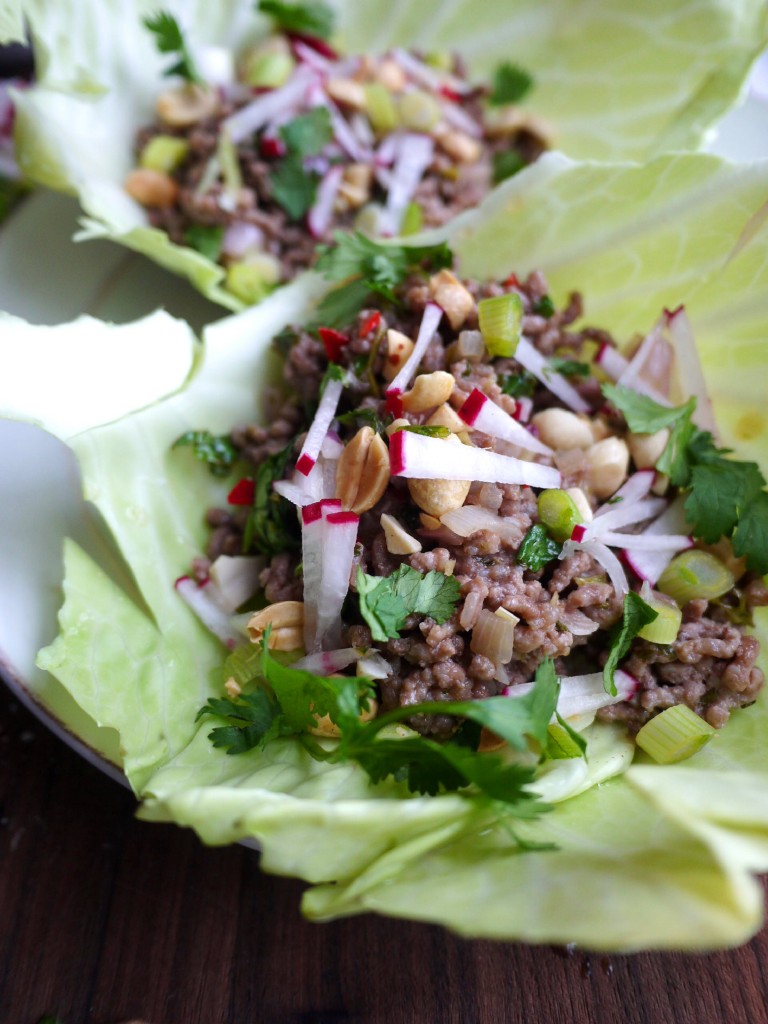 There's just something fun about wrapping your dinner in a vegetable leaf and smiling across the table at your dinner companion while savory juices run down your forearms. Give it a try. 🙂

Thai Pork Salad Cabbage Wrap
Author:
Healthy Recipe Ecstasy (Barely Adapted from Tasting Table)
Ingredients
1 pound ground pork
½ cup fresh lime juice, divided, plus 1 lime sliced into wedges (you will need about 4-5 limes)
1 tablespoon fish sauce
1 tablespoon light brown sugar
2 medium shallots, finely chopped, divided
1 Thai red chile or small Serrano chile--halved, seeded and finely chopped
3 makrut (kaffir) lime leaves, very thinly sliced, or 2 teaspoons fresh lime zest (I used the lime zest)
¼ cup finely chopped basil, plus extra for serving
¼ cup finely chopped cilantro, plus extra for serving
¼ cup finely chopped mint, plus extra for serving
2 tablespoons canola or grapeseed oil
1 tablespoon finely chopped lemongrass
4 cabbage leaves
4 radishes--thinly sliced, stacked and thinly sliced into matchsticks
3 scallions, white and light green parts only, thinly sliced
¼ cup roasted, salted peanuts, roughly chopped
Instructions
In a medium bowl, add the ground pork and ¼ cup of the lime juice; set aside to marinate at room temperature for 15 minutes.
In a medium bowl, whisk together the remaining ¼ cup of the lime juice, the fish sauce, brown sugar, half of the chopped shallots, the chile, lime leaves or zest, ¼ cup chopped basil, ¼ cup chopped cilantro and ¼ cup chopped mint. Set the sauce aside.
In a large skillet set over medium-high heat, add the oil and heat it until it shimmers, 1 to 2 minutes. Add the remaining half of the chopped shallots and the lemongrass and cook until fragrant and golden-brown, about 30 seconds.
Add the ground pork, breaking up the large pieces with a wooden spoon. Cook, stirring occasionally, until the pork is slightly browned and starting to stick to the bottom of the skillet, about 8 minutes. Add ½ cup of the sauce to the skillet, stirring and scraping the browned bits from the bottom and sides of the pan, and simmer until the sauce is slightly reduced, 2 to 3 minutes.
Divide the cabbage leaves among 4 plates. Top with some of the pork mixture and drizzle with some of the remaining sauce. Serve sprinkled with the radishes, scallions, basil, cilantro, mint and roasted peanuts. Serve with the lime wedges.
NOTE: This recipe was fantastic. However, to take it to even greater heights, next time I make this recipe, I will double the chili, double the sauce, and add half the peanuts to the pan to cook along with the lemongrass.