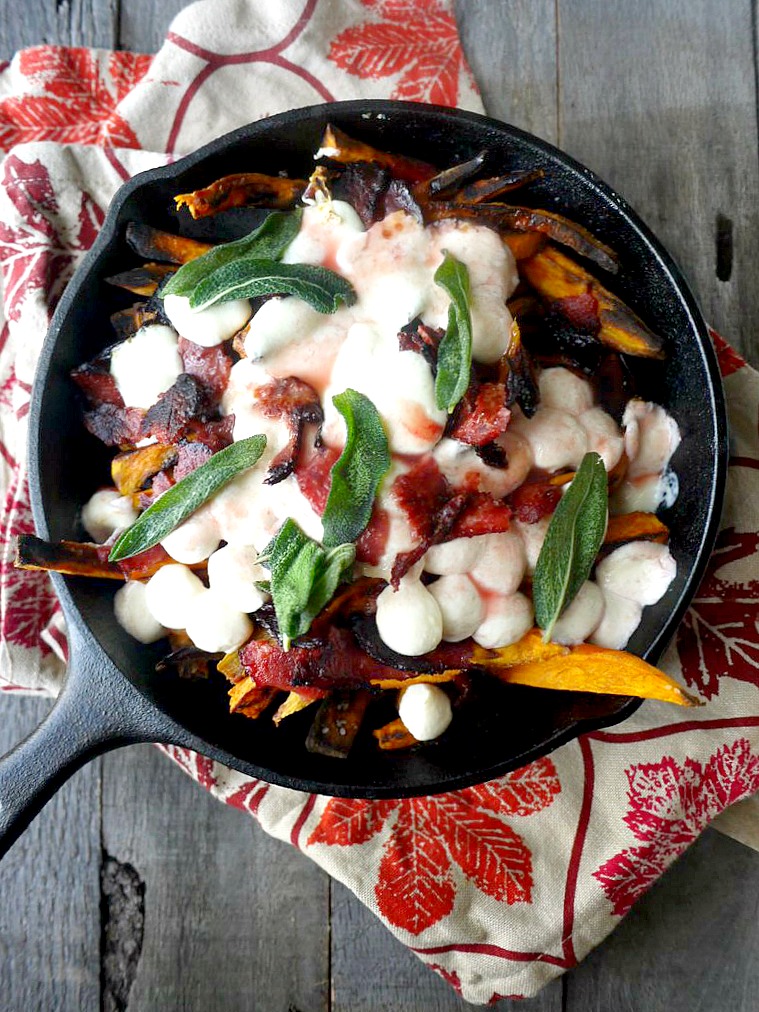 Holy poutine batman. This, here, makes me go all googly-eyed like a Saturday morning cartoon character. Imagine my eyes popping out of my head, spinning around and the caption "WOWZA" above my head.
Yeah this is that good.
And before you go all "this is not authentic poutine" on me, I never said it was. So there. I mean, who does authentic food anymore? Don't answer that. But, seriously, everywhere I look it's all creative fusion combinations of foods you'd never think to put together before that just mesh in your mouth or melt in your mouth depending on the dish.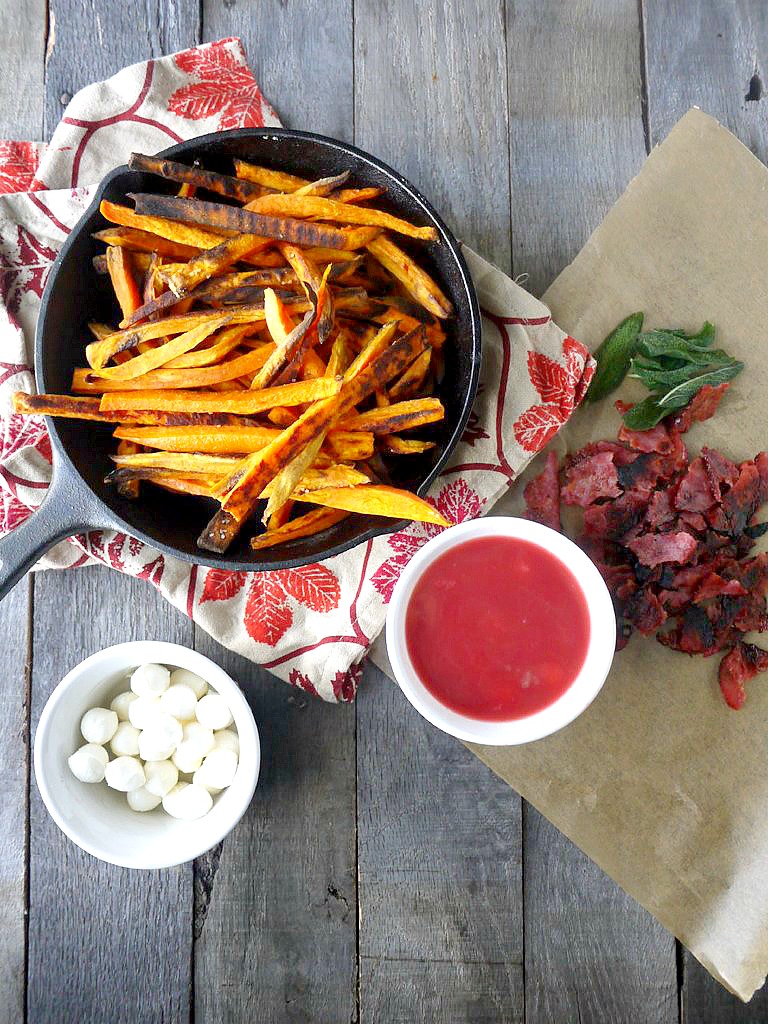 I love searching out authentic finds as much as the next girl. And, yes, I've had authentic poutine in Canada and it's FANTASTIC. But, here in the States, when everyone and their mama is obsessing over the upcoming turkey holiday how can you not style up your poutine with some Thanksgiving accessories? You can't. Simple as that. P.S. If I styled myself as much as I styled my food I could easily be a fashion blogger.
My poutine is rocking out with sweet potato fries, crispy turkey bacon, cranberry gravy sauce and fried sage. And, no, I did not get cheese curds. Not because I have anything against cheese curds but because they're not readily available and, lately, I gots no time. So we're rolling with some mozzarella balls which are heavenly when slightly melted. HEAV-EN-LY.
My family is pretty traditional when it comes to Thanksgiving. Not traditional as in there needs to be some form of turkey, mash and green beans but traditional as in the same recipes year after year. They're good recipes, and since I only get them once a year, I can't complain too much, but I like to mix things up. If I were in charge of Thanksgiving I'd be all let's eat sweet potato poutine and turkey chorizo tacos (not sure where that came from but yum. mental note. add to "to make" list.) this year and call it a day.
So, I know this dish sounds all trashy and unhealthy, but take away the buzzwords, and it's really not. Sweet potatoes = so good for you. We're baking them – no frying here – so points there. Turkey bacon = lower in fat than regular bacon. Double points. The cranberry gravy sauce is made with honey, no refined sugar, and is gluten-free. Actually, this entire dish is gluten-free. Didn't expect that did ya?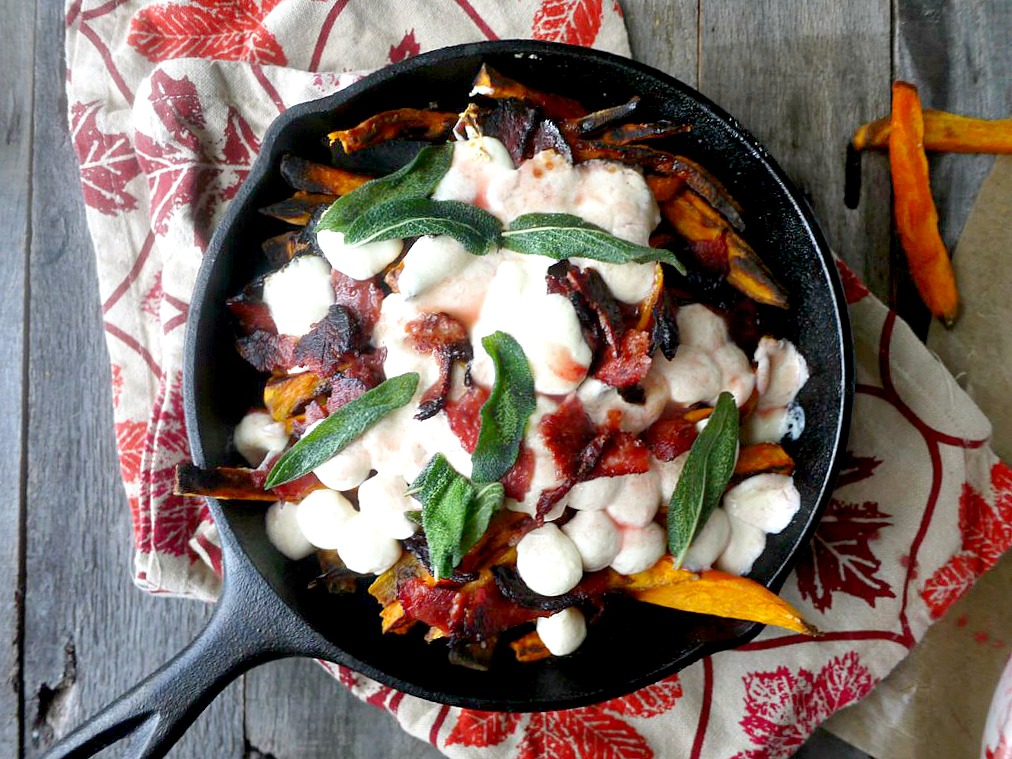 Don't you love when you feel like you're indulging on a crazy splurge and you find out that it's actually not that bad for you? Sure, there's some cheese and butter involved, but everything in moderation. Plus, the baby needs calcium!
I'll take seconds, please!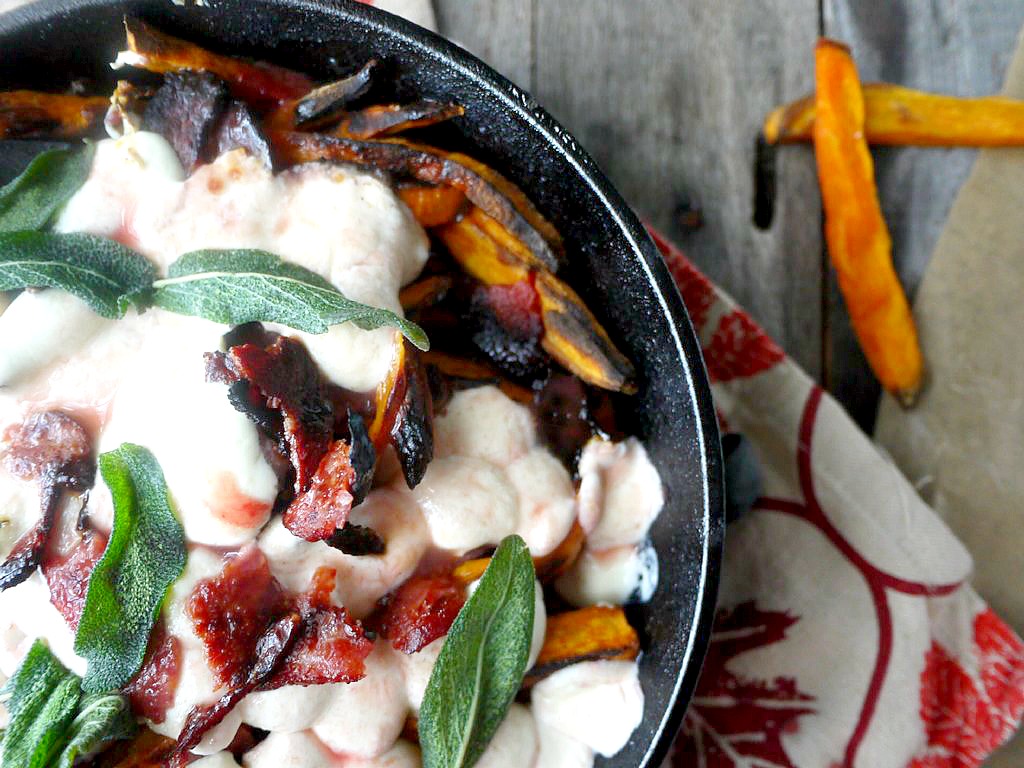 Sweet Potato Poutine with Crispy Turkey Bacon, Cranberry Gravy Sauce and Fried Sage (GF)
I seem to be making a lot of dishes lately that don't fall into one category. This dish is no different. Poutine is generally seen as an appetizer or snack. But, I would totally eat this for dinner. I mean, you have your vegetable and your protein all in one dish. I would also serve this as a side dish along with Thanksgiving turkey.
Author:
Healthy Recipe Ecstasy
Ingredients
Sweet Potato Fries:
2 large sweet potatoes, peeled and sliced into ¼-inch long slices, then ¼-wide inch strips
2 tablespoons coconut oil, melted
1 teaspoon coarse salt
½ teaspoon black pepper
Cranberry Gravy Sauce:
½ cup cranberries (I used frozen cranberries)
¼ cup water
1 tablespoon honey
¼ cup butter
1 cup chicken broth
1 tablespoon cornstarch
1 tablespoon water
Fried Sage Leaves:
2 tablespoons coconut oil
8 fresh sage leaves
Bacon and Cheese Garnish:
4 slices Turkey bacon
1 cup bocconcini mozzarella
Instructions
Sweet Potato Fries:
Preheat the oven to 450 degrees F. In a large bowl, toss the sweet potatoes with just enough oil to coat. Sprinkle with salt and pepper. Spread sweet potatoes in single layer on two prepared baking sheets, making sure not to overcrowd. Bake until sweet potatoes are tender and golden brown, turning over halfway, about 25 minutes. Keep an eye on the sweet potatoes as they can burn fast near the end of cooking time.
Cranberry Gravy Sauce:
In a medium saucepan, heat cranberries, water and honey to boiling. Reduce heat to medium low and simmer 10 minutes or until cranberries start to break down. Cool about 5 minutes. Puree the cranberry mixture in a blender until smooth.
Add butter, chicken broth and pureed cranberries to the saucepan and bring to a boil. Reduce heat to medium low and simmer, stirring frequently, for 5 minutes.
Make a slurry by mixing 1 tablespoon cornstarch with 1 tablespoon cold water in a small bowl. Slowly add the cornstarch slurry to the simmering sauce. Bring the sauce back up to a boil and then turn down heat again and simmer for another 5 minutes, whisking constantly until thickened a bit. Set aside and keep warm.
Fried Sage Leaves
Heat coconut oil in a small skillet over medium high heat. Add sage leaves and fry for 30 seconds or until crisp. Drain on a paper towel.
Bacon and Cheese Garnish:
Cook turkey bacon in the oven at 400 degrees for 15 minutes. Let cool then crumble.
Preheat broiler to high. Add the fries to a medium cast iron skillet. Top the fries with crumbled turkey bacon, bocconcini and fried sage. Put the skillet in the oven and broil for 2-3 minutes or until the cheese is just starting to melt. Watch carefully as the fries can burn quickly.
Pour the sauce over the fries and cheese and serve immediately.