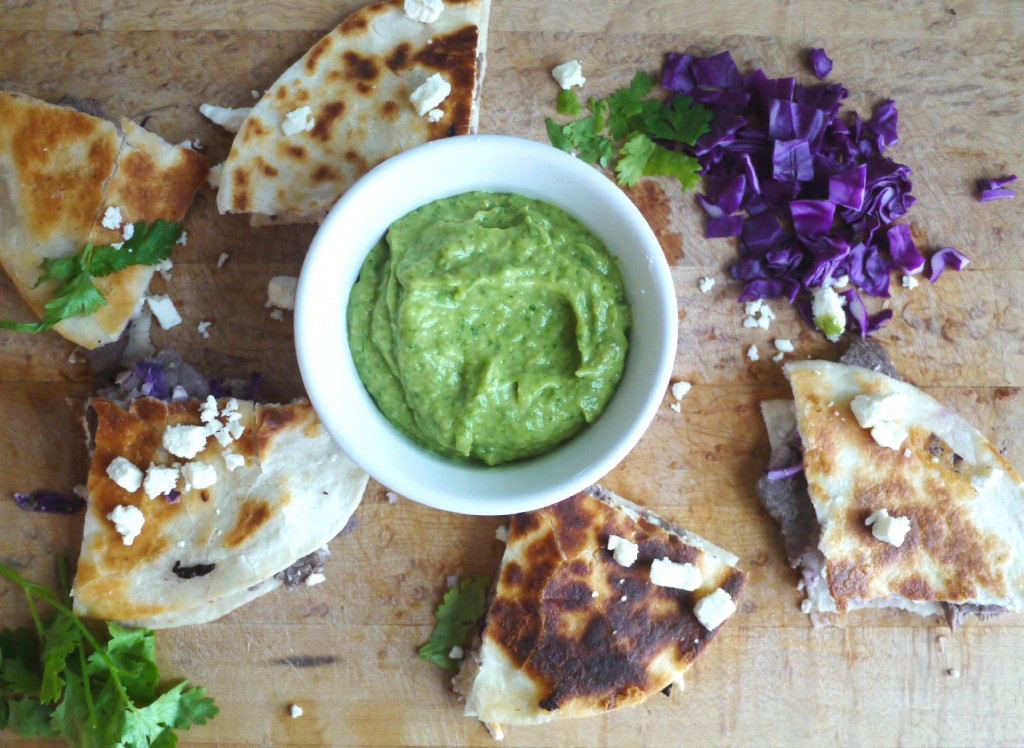 Have you ever heard of Guasacaca Sauce? Me neither. Can you pronounce Guasacaca Sauce? Me neither. Does that matter? Not at all. From here on out, we'll just call this the spicy, green, delicious sauce. Because that's what it is. Spicy, green, and delicious. Oh and did I mention super easy? You just give all the ingredients a rough chop, throw them into a food processor and there you go. Spicy, green, delicious sauce.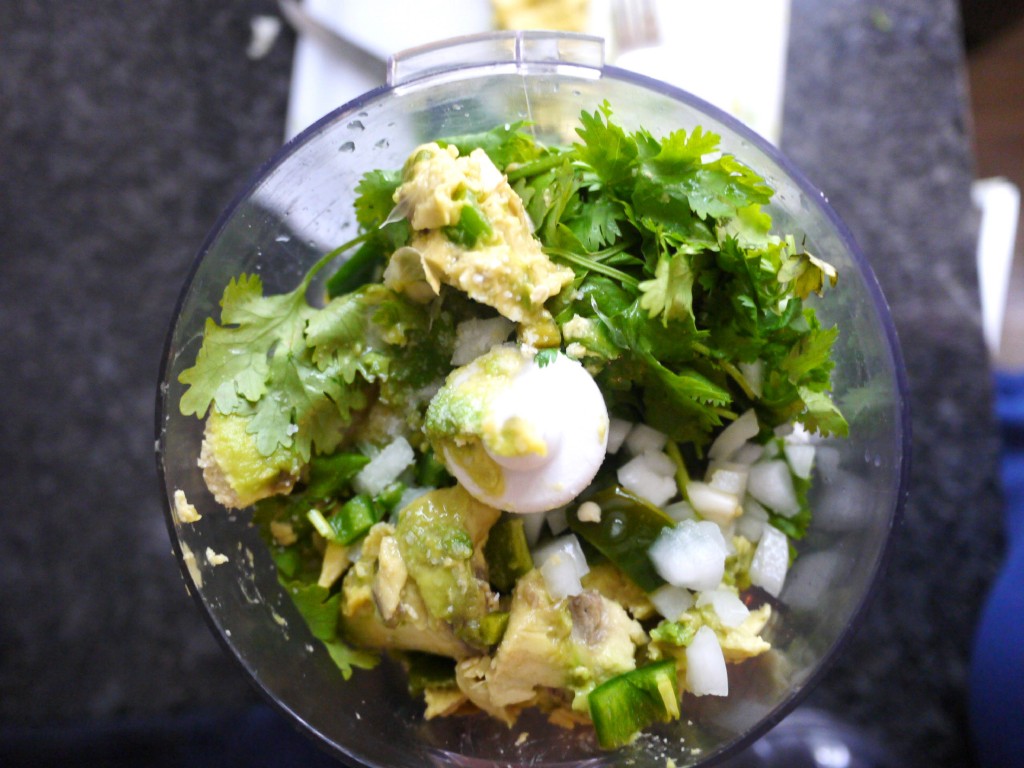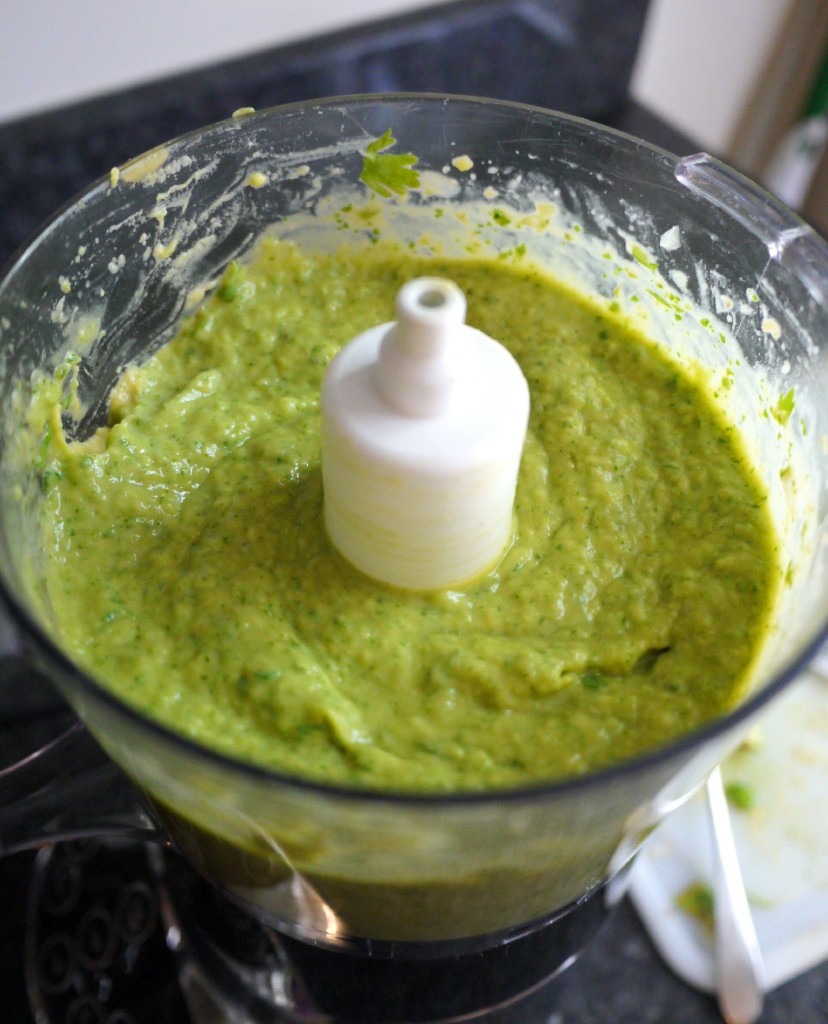 I know what you're thinking. The sauce is spicy, green, and delicious, but I'm not going to sit here and eat the sauce with a spoon. Even though you may be tempted to do just that. Don't worry, I'm not going to leave you hanging. The spicy, green, delicious sauce comes with a great steak quesadilla recipe which I adapted from Tasting Table. Well, let me rephrase. The steak quesadilla is just ok. Until you add the sauce, that is. Then the quesadilla is great. Really great. And it's 80 percent due to the spicy, green, delicious sauce.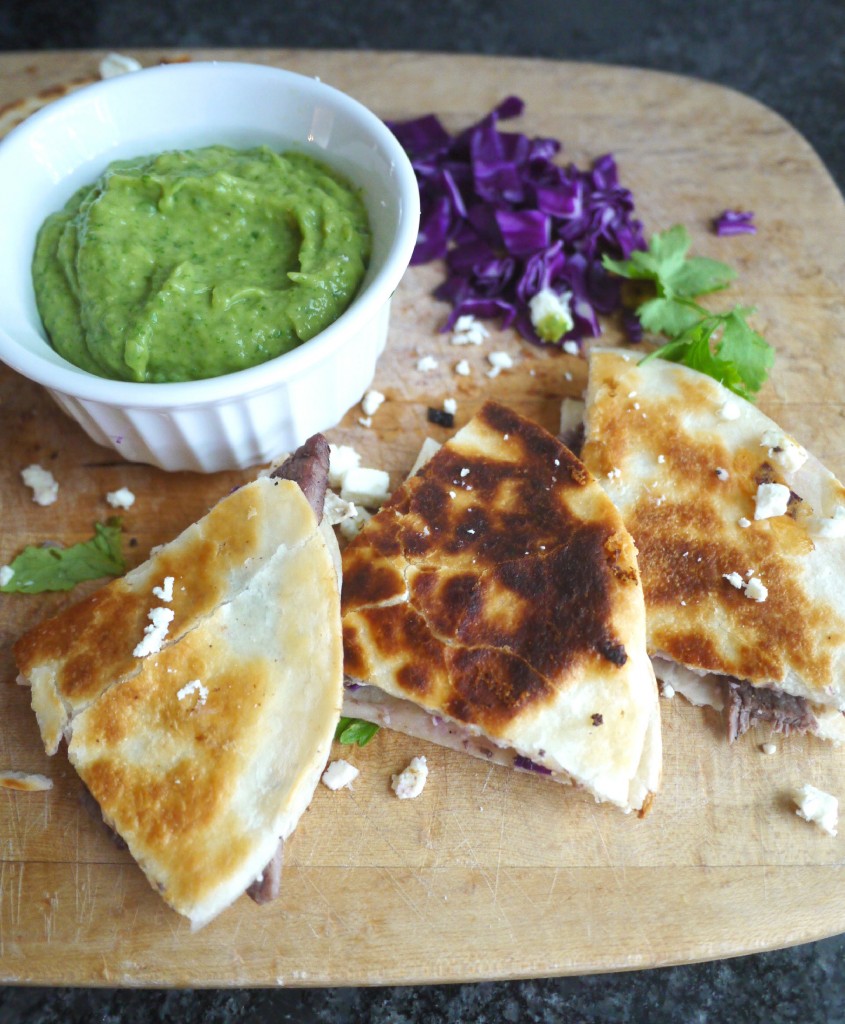 You know what else this sauce is great on? Homemade Chipotle burritos bowls. That's what I made for Alasdair the other night. He really wanted some Chipotle, but we were going out of town and had a fridge full of veggies and leftover steak quesadillas so I convinced him that we should just eat leftovers. Then I surprised him by making him some homemade "Chipotle." Cilantro lime rice, pinto beans, leftover steak, and a salsa/guacamole mix. He was a happy boy. Oh yeah, and we threw some of the spicy, green, delicious sauce on there too.
So, I have to admit something. I love steak (great source of iron!) but I don't make it very often because I just never seem to be able to cook it right. I either undercook or overcook the steak. Or I don't get the pan hot enough beforehand, and instead of giving the meat a beautiful char, the steak turns an ugly shade of grey.
Fortunately, I received an email recently about an infographic called "The Science of a Great Steak," which talks about how to make the perfect steak. I so needed this!

Image compliments of Best Health Science Degrees
I'm hoping that with this chart and some practice, I can become a steak master. In the meantime, I will stick to master of the spicy, green, delicious sauce.
Healthy Recipe Ecstasy? The spicy, green, delicious sauce gets a big HRx thumbs up. It's made with avocados (the good fat), garlic, peppers, onions, and herbs – all good for you ingredients.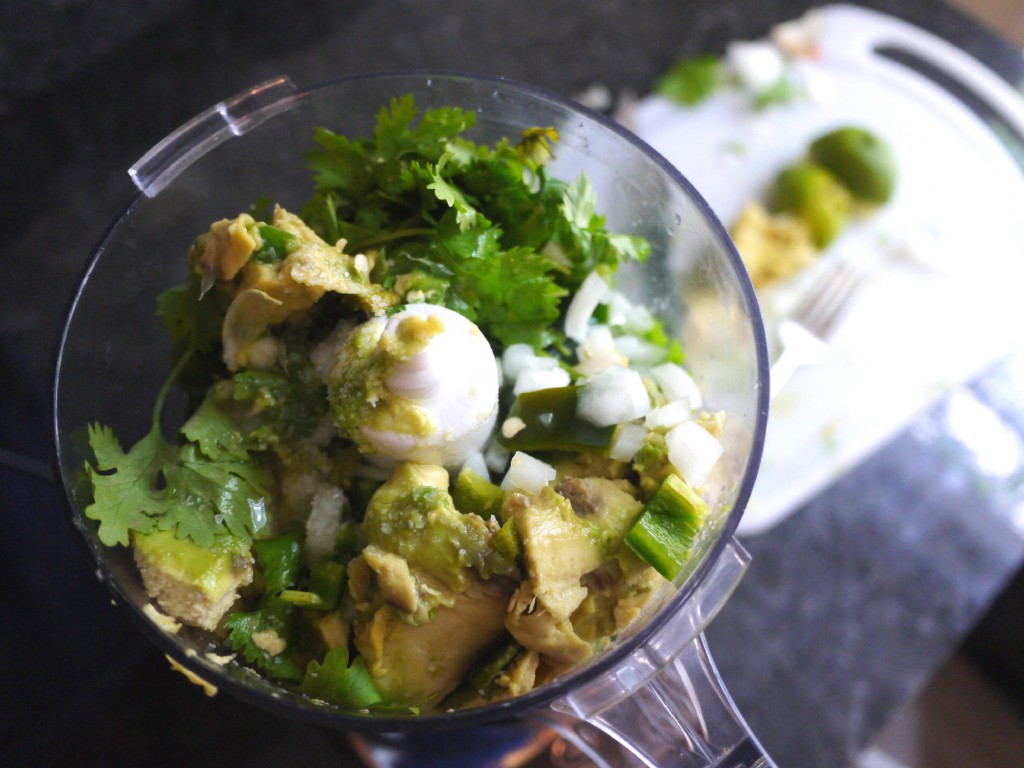 The quesadillas are made with flour tortillas, but if you're gluten-intolerant, go ahead and swap in corn tortillas. I used feta cheese because it's made with sheep's milk (easier on my tummy) and it's also got a great salty tang to it which I thought would go well in this dish, but you could use whatever cheese you prefer. I also used less cheese than was called for in the original recipe to cut down on the dairy, calories and fat. Of course, if you want a really cheesy quesadilla, you could use the Monterey Jack or Oaxaca called for in the Tasting Table recipe. I made a few other changes to the dish, including adding cabbage because I thought the quesadillas needed more than just the steak and cheese filling and nixing the adobo sauce because I just plain don't like adobo. Plus, the spicy, green, delicious sauce is so good that's all I wanted. I don't think you need hot sauce either because spicy, green, delicious sauce is already hot and spicy enough. 🙂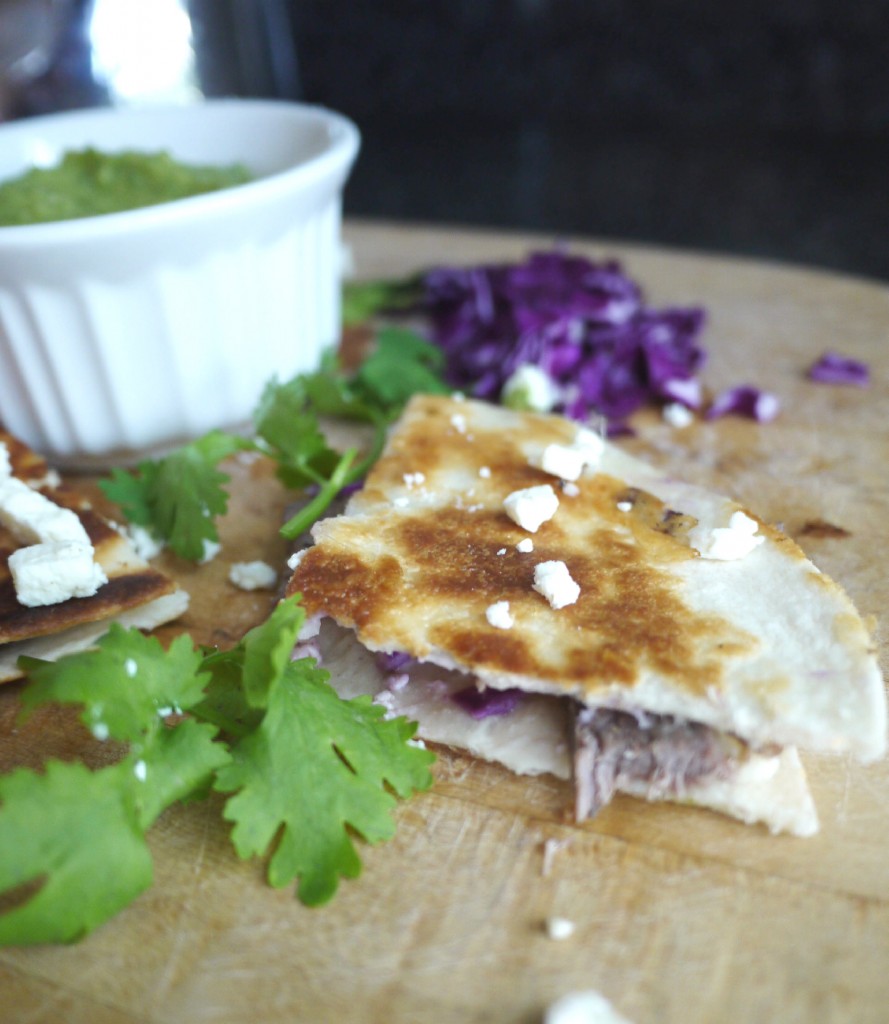 Steakadillas with Guasacaca Sauce (Adapted from Tasting Table)
Author:
Healthy Recipe Ecstasy
Ingredients
½ pound beef tenderloin, halved lengthwise into 2 long pieces
2 teaspoons kosher salt, divided
1 teaspoon freshly ground black pepper
2 small, ripe avocados--halved, pitted and roughly chopped
½ small white onion, roughly chopped
1 small poblano chile or 1 large poblano chile if you want more heat, roughly chopped
½ cup fresh cilantro, plus more for garnish
1 small jalapeño, roughly chopped
2 garlic cloves, roughly chopped
3 tablespoons distilled white vinegar
Juice of 1 lime
¼ cup and three tablespoons canola oil
Eight 8-inch flour tortillas
1 cup crumbled feta cheese, plus more for garnish
1 cup shredded red cabbage
Instructions
Set the tenderloin pieces on a cutting board and rub them with one teaspoon of the salt and one teaspoon black pepper. Set aside.
Make the guasacaca: In the bowl of a food processor, add the avocados, onion, poblano chile, cilantro, jalapeño, garlic, vinegar, lime juice and the remaining one teaspoon salt. Process until smooth; then, with the machine running, add two tablespoons of the canola oil until smooth.
Heat a large skillet (preferably cast iron) over medium-high heat until it smokes, about two minutes. Divide one tablespoon of the canola oil over the tenderloin pieces, rubbing it all over. Cook until all sides are browned and the internal temperature reads between 125° and 130°, about 10 to 12 minutes total. Transfer to a cutting board and rest the steak for five minutes, then slice crosswise into ¼-inch-thick pieces.
Set the cleaned skillet over medium heat and add one tablespoon of the canola oil. Add a tortilla followed by ⅛ cup of cheese, 6-8 tenderloin slices (or however many will fit in a row on your tortilla) and another ⅛ cup cheese. Add ¼ cup shredded cabbage. Place another tortilla on top and press down with the back of a metal spatula. Cook until the tortilla is browned, 2-3 minutes, then use a metal spatula to flip. Cook until the other side is browned, about 1-2 minutes longer. Transfer the quesadilla to a clean cutting board.
Repeat with the remaining tablespoons canola oil and the remaining tortillas, cheese, cabbage and steak.
Slice the quesadillas into quarters and serve topped with the guasacaca (spicy, green, delicious) sauce. Garnish with more feta cheese and cilantro.
NOTE: Depending on how fast your stove heats, your tortillas may need a little extra time to brown.