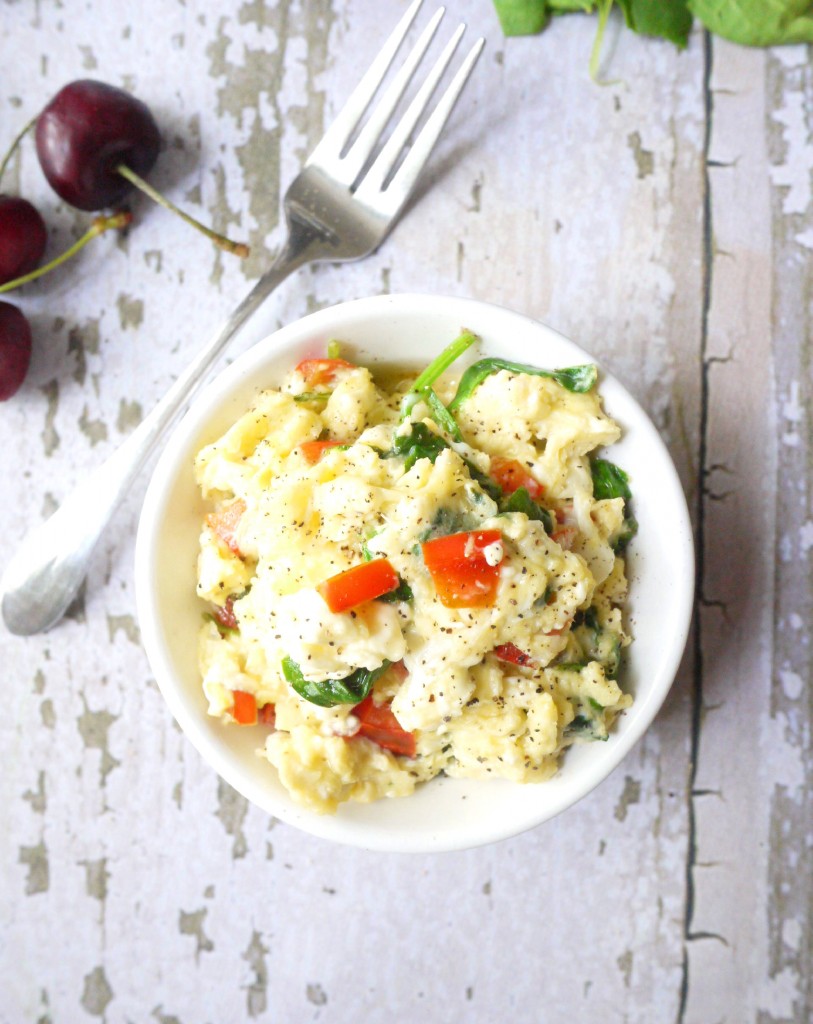 I've been really reluctant to post this recipe. Not because it's no good. It's good. Trust me. Just because it's scrambled eggs, and in a world of over-the-top "I can come up with the craziest ingredient combo that somehow still sounds good" food blogging, scrambled eggs just seems "meh."
I contemplated making this into a frittata or a burrito or a hash. Anything to make it sound just a little more interesting.
And then I stopped myself. Food blogging isn't about beating everyone out with the most innovative "how did you think of that" recipes, and I don't want to let myself get sucked into thinking it is. It's about sharing what you love to eat. And, guys, this is what I love to eat.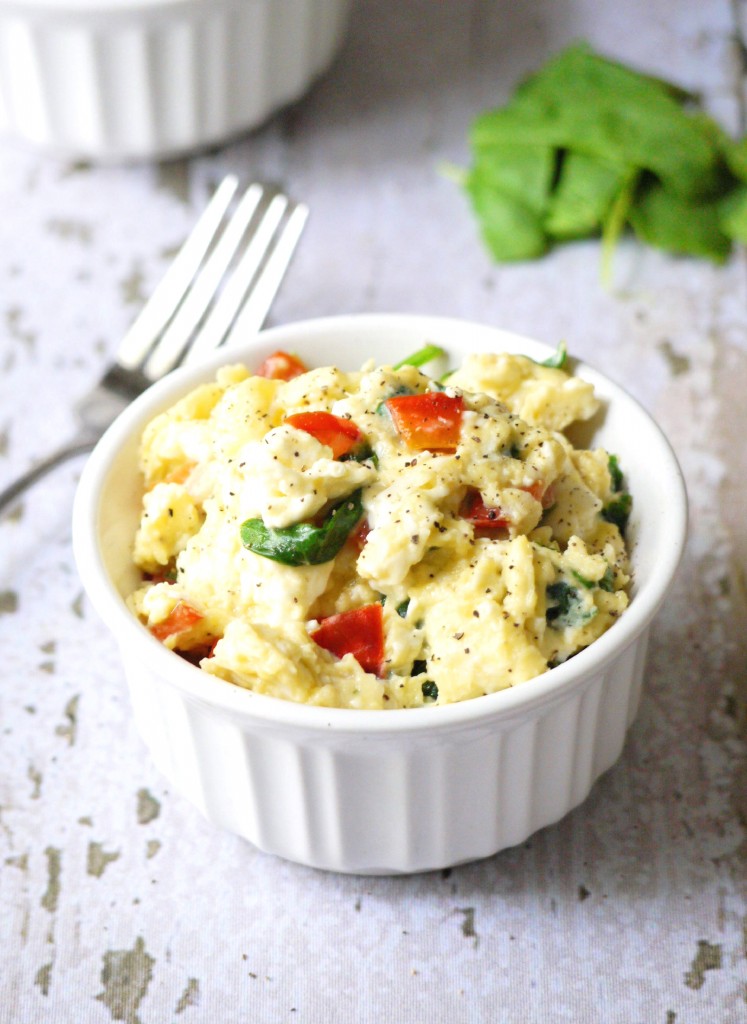 If you come into my kitchen on any given morning, I will most likely be making myself scrambled eggs or an omelet with whatever produce and protein happens to be in the fridge that day. Sometimes I eat just plain eggs with a side of fruit. It's not fancy. It's not interesting. But it's me.
Now, this particular produce-protein combo happened during a week when Alasdair was obsessing over spinach and red pepper salads. I was not obsessing over spinach and red pepper salads, but I gladly used his produce remnants for my morning eggs. And you know what? It was fantastic. Never one to comment on my usual egg breakfast, I actually remember saying, "Sweetie, my eggs are so good this morning! I think I might need to blog about this." Alasdair being a weekday cereal man responded with something equivalent to "Harumph."
My immediate thought was "my food blog friends will understand."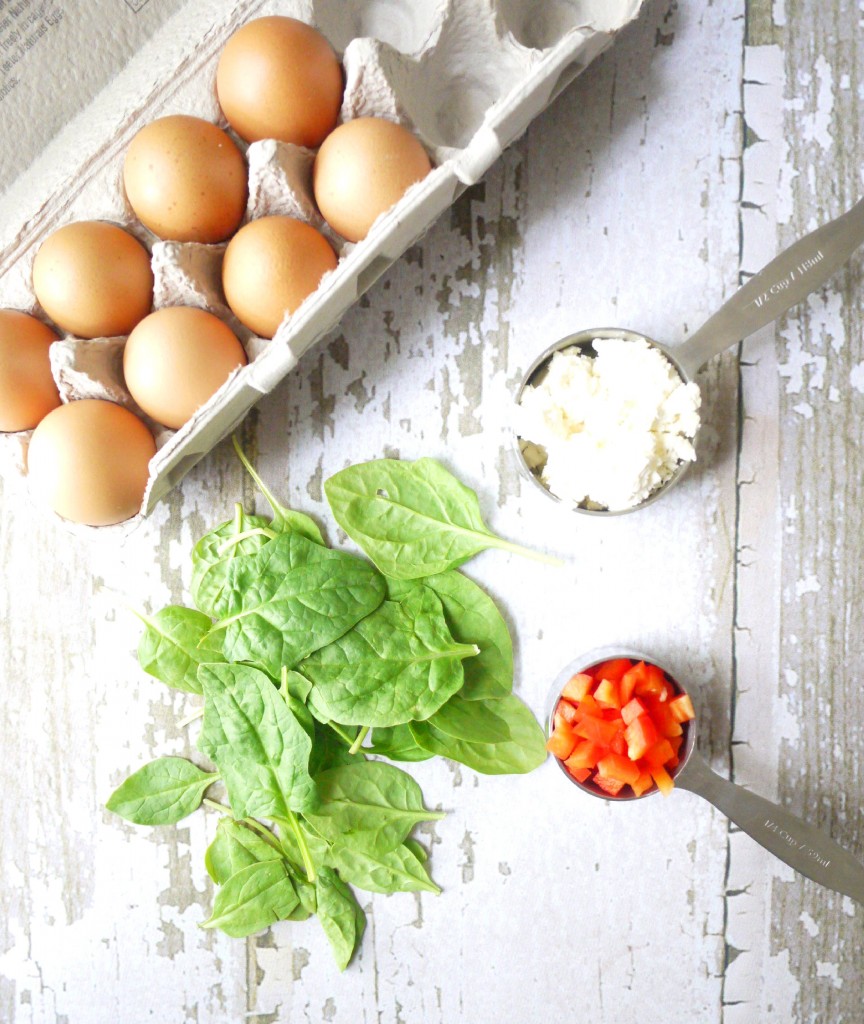 So, here I am with my scrambled eggs, and, I gotta say, they make me happy. Not only is the flavor combo delish but the spinach and red pepper are soooo good for you.
You know what makes me even happier? A scrambled egg pita pocket. All you food bloggers out there I'm sure know that you can't always make the right food at the right time in the right amount. Cake for breakfast? Eggs for dessert? Sure, whatever time the lighting is right.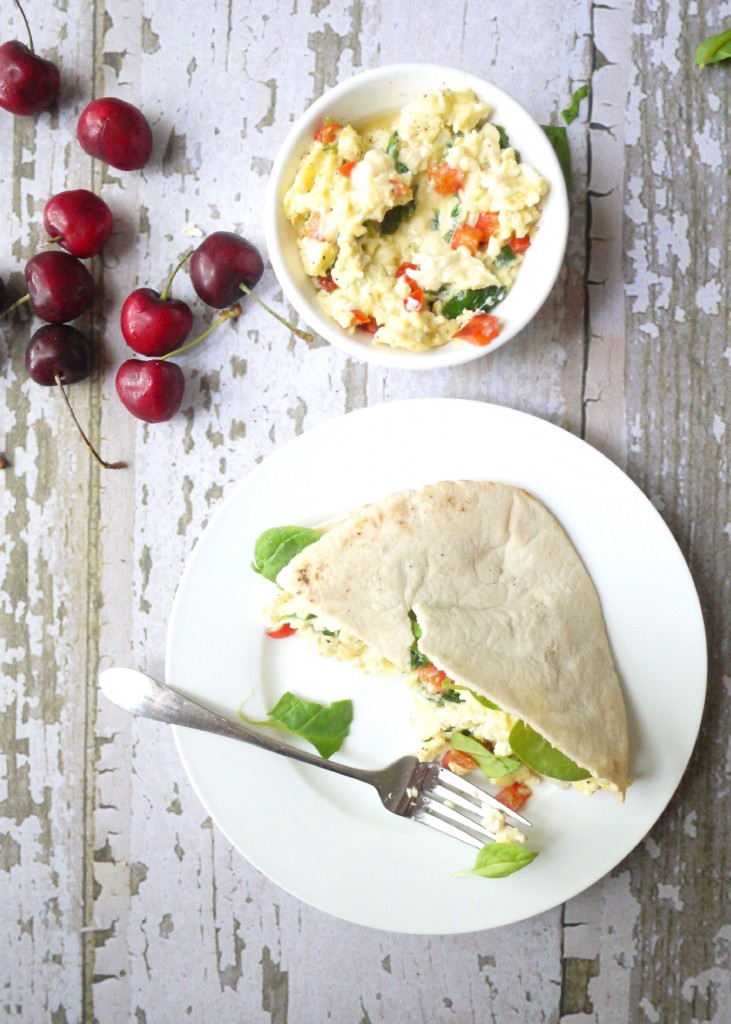 So, there I was making a mountain of scrambled eggs at 2 pm in the afternoon. What's a girl to do with all the extra eggs? Well, I ate some, saved some for next-day breakfast and, then, I made myself a pita pocket sandwich.
That got me thinking. What a great 2-for-1 recipe idea! Make a big batch of scrambled eggs in the morning, eat some for breakfast, and then throw the rest in a pita pocket for lunch. It's scary simple but the idea has totally escaped me until now. I always think of how to make my dinner leftovers into next-day lunch but I rarely think of how to make my breakfast leftovers into lunch.
Life changed.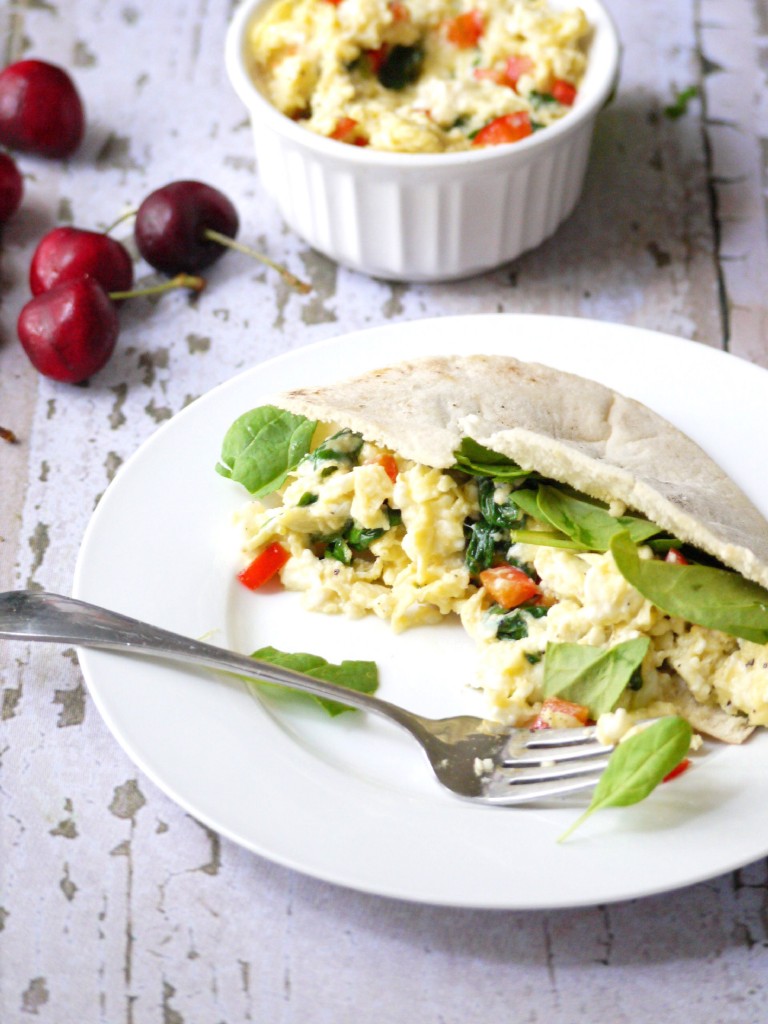 It's the simple things that make a difference, right?

Spinach, Red Pepper and Feta Scrambled Eggs
For a low-carb, gluten-free breakfast, I like to eat my eggs with a side of fruit. If you need a little more to sustain you until lunch, add a slice of toast. To make the leftover eggs into lunch, cut a pita pocket in half, and stuff one half with the scrambled eggs and some extra spinach leaves. This recipe makes enough eggs for two people or for one person for two meals.
Author:
Healthy Recipe Ecstasy
Ingredients
1 teaspoon extra-virgin olive oil
¼ cup chopped red bell pepper
1 cup roughly chopped baby spinach leaves
½ cup crumbled feta cheese
4 large eggs, beaten
Sea salt and freshly-ground black pepper, to taste
Instructions
Heat olive oil in a medium skillet over medium high heat. Add peppers and cook for 2-3 minutes, or until peppers become tender.
Turn the heat to medium low and add the spinach, cooking for 1 minute, or until it just begins to wilt.
Add the beaten eggs to the skillet and immediately start pulling the eggs towards the center of the skillet with a rubber spatula to form curds. Add the feta cheese, sea salt and black pepper, and then continue to move the eggs slowly around the skillet with the spatula until they are set, about 2 minutes.
Distribute the eggs among two small plates and serve hot. Sprinkle with more black pepper, if desired.