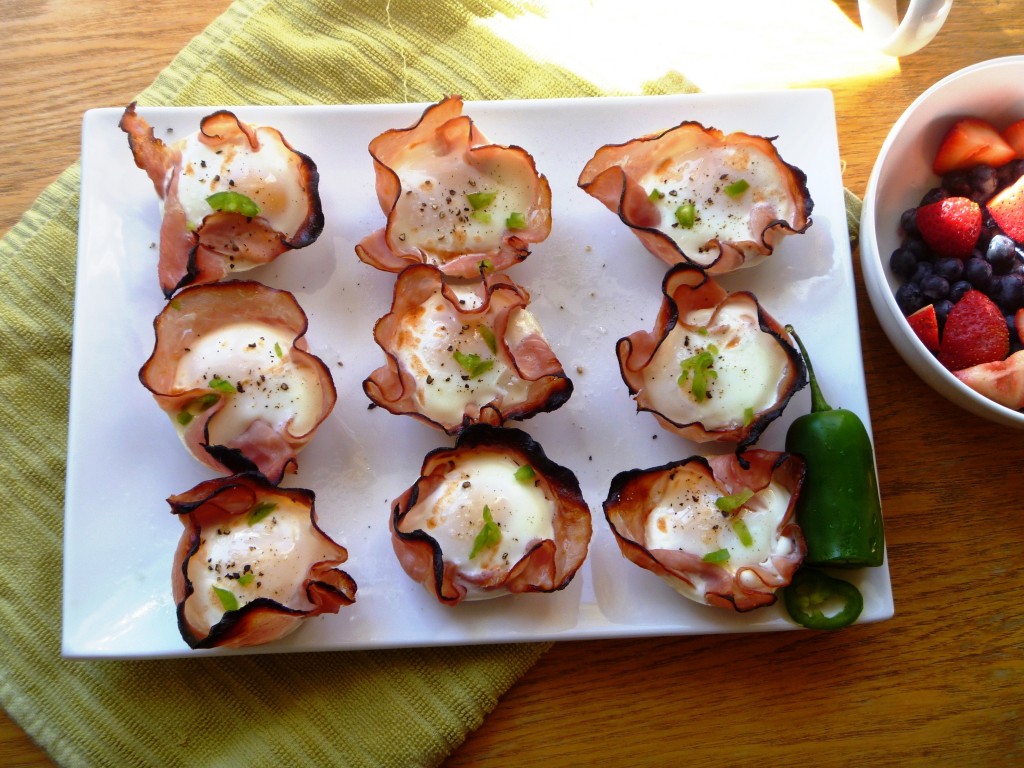 Super cute, right? I bought a new muffin tin when I made the Mini Chicken Taco Bites, and I thought I really should get another use out of that tin. And I'm obviously not going to use it to make muffins anytime soon… Strike that – I promise I will bake more. Some day…
Anyways, I was flipping through a wedding magazine recently, and I saw a picture of some adorable wedding brunch ideas from Martha Stewart. French toast sticks with a maple rum dipping sauce, mini apple cider doughnets, and eggs in Prosciutto nests.
Being as I'm addicted to eggs and Prosciutto, you can probably guess which idea caught my eye the most. Well, this past weekend, my mom and our potential wedding photographer came over for a brunch-time meeting. Perfect time to try use my muffin tin for another savory recipe! Unfortunately, I had previously devoured all my Prosciutto and was left with run of the mill ham. Not feeling up for a run to the store and feeling bad for neglecting my good friend ham, I decided I would make ham baskets rather than Prosciutto nests. Semantics, I know. To appease my spice-loving fiance I added a couple dashes of Tabasco and some chopped jalapeno, and Spicy Eggs in Ham Baskets were a hit!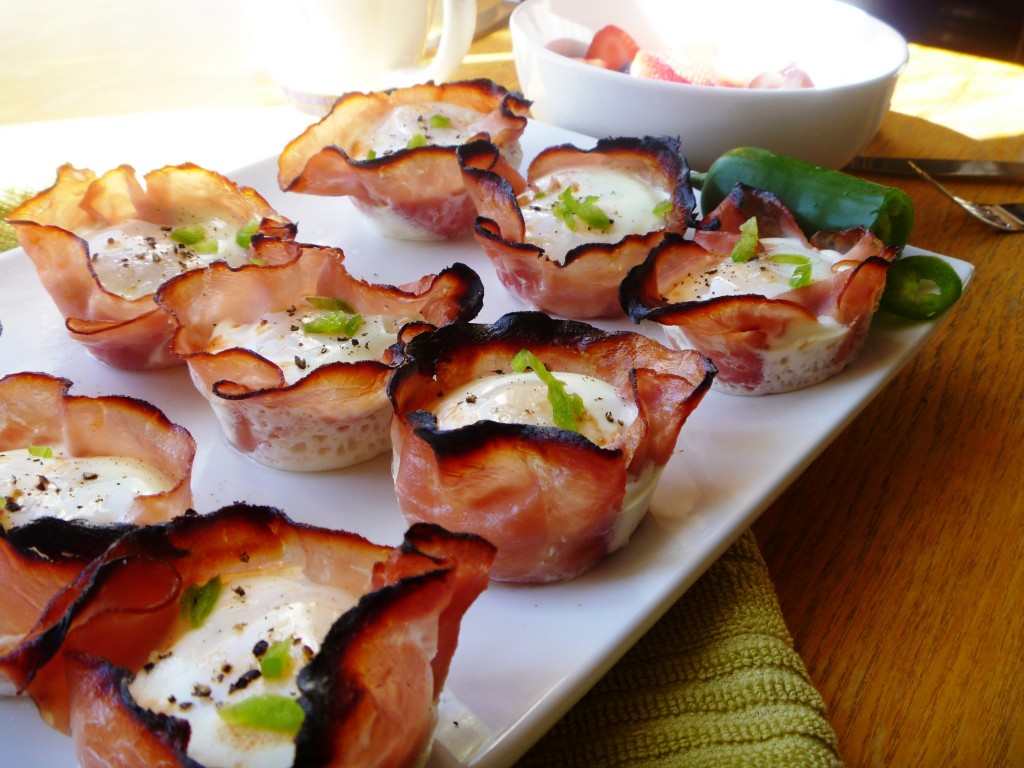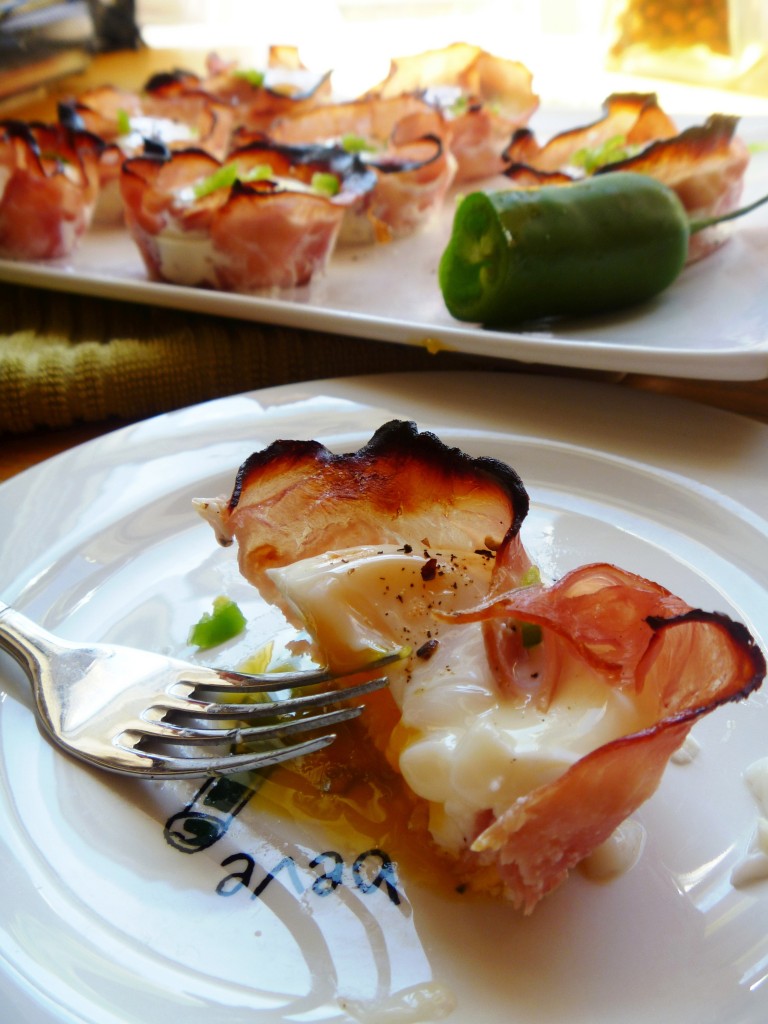 Healthy Recipe Ecstasy? Absolutely! This recipe is dairy-free, gluten-free, carb-free and great for the Paleo Diet. Ham has a lot less sodium than Prosciutto so bonus points there and rumor has it that spice can speed up your metabolism. What's not to love? On another note, I know tailgate week(s) is over, but these would be great for a kegs and eggs tailgate! Just make them ahead of time and then warm them on the grill.

Spicy Eggs in Ham Baskets
Author:
Healthy Recipe Ecstasy
Recipe type:
Breakfast/Brunch
Ingredients
9 slices of ham
9 eggs
1-2 tablespoons diced jalapeno
1-2 tablespoons Tabasco sauce
Sea salt and black pepper to taste
Instructions
Heat the oven to 425 degrees. Coat a muffin tin with cooking spray. Place one slice of ham in each muffin hole. Cook for five minutes. (You need to cook the ham by itself first because it needs longer in the oven to crisp and you don't want to overcook your eggs.)
Next, take the tin out of the oven. Crack one egg into each ham basket. Add a few dashes of tabasco on top of each egg.
Bake for five minutes. Then, turn down the oven to 350 degrees and bake for another five minutes (with this temperature you will get nice creamy eggs that are still just a little runny -perfect!). Take the tin out when the ham is nice and crispy and the eggs are set.
Sprinkle each egg in ham basket with salt and pepper to taste and then garnish with a few diced jalapeno. You can pick them up and eat them with your hands or, for the more civilized folks, use a knife and fork. Either way, I dare you to eat just one!