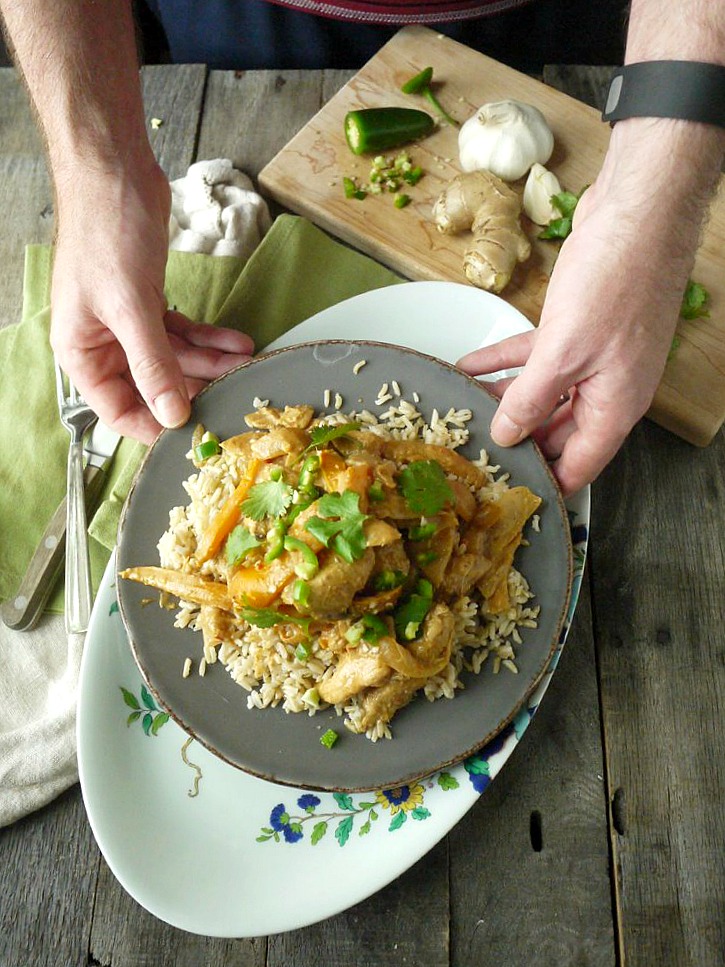 This post is brought to you by my husband, Alasdair, the curry aficionado who has spent the better part of our relationship perfecting his curry recipe. I've spent just as long trying to convince him to blog about it…
A thousand years from now anthropologists will look back at life in the British Isles around the turn of the second millennium AD and propose alternative hypotheses for why the native population lived on Asian food. Why the preponderance of Indian restaurants? Why the diet of exotic spices and cooking styles displaced from thousands of miles away? Why the cultural insistence on drinking the infused leaves of a plant grown in the same region? Seeing as this is a food blog not a history blog, I will spare you the journey through the rise and fall of the British Empire and 20th Century migration patterns and instead sum this phenomenon up in three words:
British. Food. Sucks.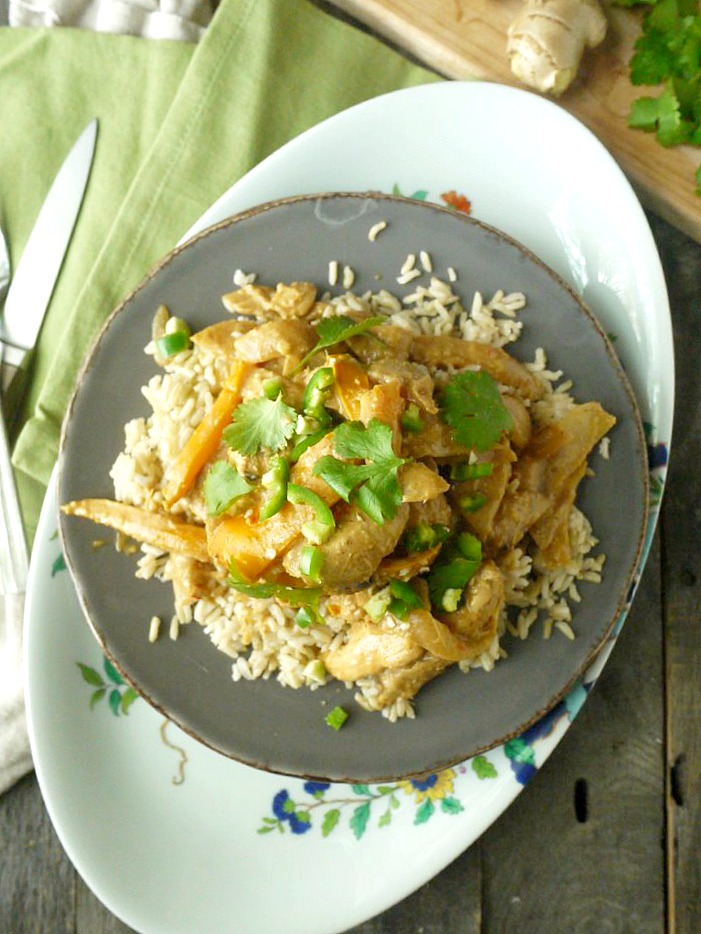 Beaten down by centuries of potatoes, pies, and mushy peas, British natives didn't need much convincing to adopt the cuisine of a far flung region as their own. Chicken Tikka Masala is now widely accepted as the national dish. Bottom line – British people love curry.
In celebration of this phenomenon, Mrs HRx has asked me to share my curry recipe with you. This recipe has developed over a few years from a base recipe Michelle found, with a few tweaks here and there to satisfy my own British-style curry tastes. If you've ever tried to make a curry you will know that it's not easy to get it right. My own attempts usually ended up more like spicy chicken soup. This is where the recipe Michelle found really caught my attention – a secret ingredient that makes it easy to get the right curry consistency that I would have never thought of – almond butter!
This ingredient, along with soy sauce and rice vinegar, form the base of the sauce which can then be supplemented with whatever tickles your fancy. The fresh ginger adds great flavor and texture to the sauce (and it's a "super food" according to Mrs HRx) so I like to be generous with the amount I put in. I also like spicy which comes from both the chilli-garlic paste and the fresh chillies added at the end. For those who don't like tears running down their face when they eat curry, you can go lighter on the heat. This curry works equally well with pork, beef or shrimp as protein options, just like when you go to your favorite Asian restaurant.
Of course this, and any curry for that matter, is best served with a cold Indian lager. Cheers!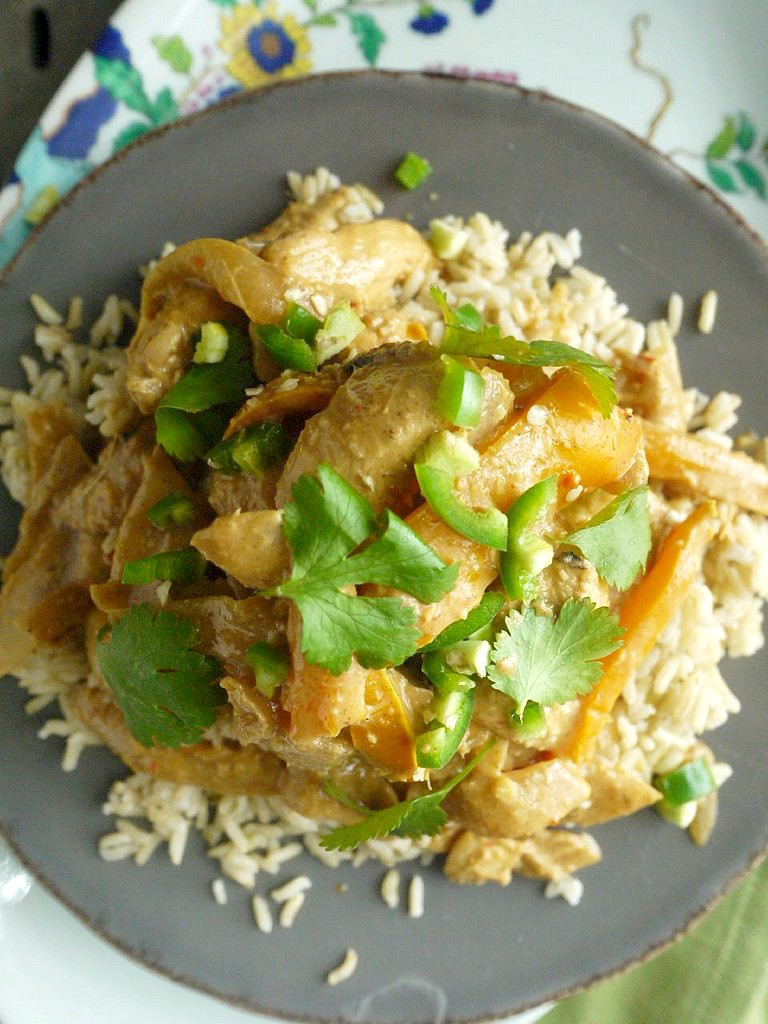 Spicy Almond Butter Chicken Curry
If you're gluten-free, make sure to use a gluten-free soy sauce.
Author:
Healthy Recipe Ecstasy
Ingredients
2 pounds chicken breast, sliced into fajita style strips
1 red, yellow or orange bell pepper, sliced into fajitas-style strips
2 medium onions, thinly sliced
3 tablespoons olive oil, divided
Salt and black pepper, to taste
4 garlic cloves, peeled and roughly chopped
3-4 tablespoons roughly-chopped fresh ginger (depending on how much ginger flavor you like)
5 tablespoons white rice vinegar
5 tablespoons low-sodium soy sauce
5 tablespoons almond butter
2-4 tablespoons garlic-chili sauce (depending on how spicy you want the base sauce)
3 whole cloves
Diced jalapeno peppers and fresh cilantro, for garnish
Brown basmati rice, for serving
Instructions
Heat one tablespoon olive oil in a large skillet set over medium high heat. Add the chicken to the skillet. Season the chicken with salt and pepper and saute, stirring occasionally, for 7-10 minutes or until cooked through. Remove the chicken from the pan and set aside.
Add another tablespoon olive to the skillet. Add the onion slices to the skillet. Season the onion with salt and pepper and saute, stirring occasionally, for 8-9 minutes or until they start to brown. Add another tablespoon olive oil to the skillet along with the bell pepper strips. Saute for 2-3 minutes or until the peppers begin to soften. Remove from heat.
Add the garlic, ginger, rice vinegar, soy sauce, almond butter, garlic-chili sauce and cloves to a food processor. Process until smooth.
Add the chicken back to the skillet along with the almond butter sauce and stir until the sauce coats the ingredients. Then, return the skillet to the stove and cook on medium-low heat for 5 minutes until the sauce has warmed through.
Serve garnished with diced jalapeno peppers (for those who like it spicy) and fresh cilantro over a bed of brown basmati rice.