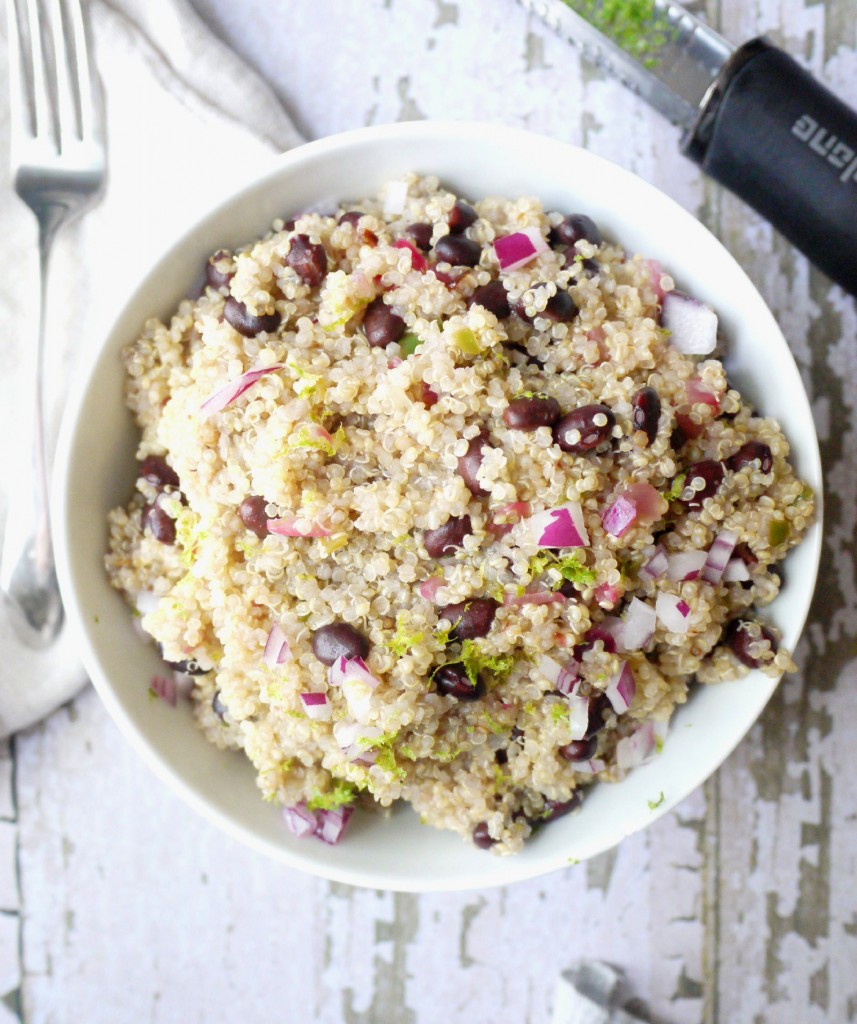 You know that commercial where they say, "Who knew healthy could taste this good?" I can't remember what magical healthy product the commercial people were referring to, but that slogan came to mind when I made this dish.
Alasdair and I attended our friends' wedding over the weekend. It was a beautiful ceremony and reception with some fabulous cocktails.  Unfortunately, it's hard to be healthy during a party-filled wedding/holiday weekend. Especially the morning after when your body's craving greasy fried foods, which my body has been known to do.
We came home from the wedding feeling a dire need for a quick detox. I'm not talking about a hardcore juice cleanse. More along the lines of eating clean foods that nourish your body and help your organs detoxify. Detox in any form, however, is a dirty, five-letter word in Alasdair's vocabulary. The thought of eschewing meat and alcohol and "tasty food" makes him verrrryyy unhappy.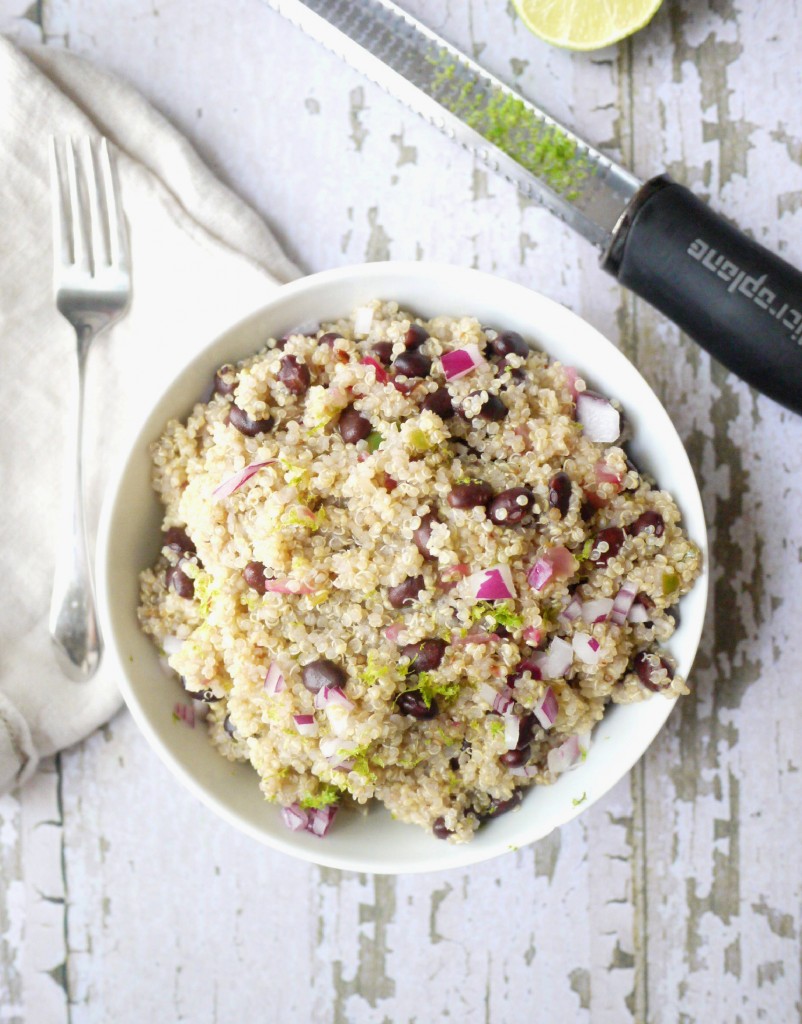 BUT, I felt confident that I could make a detox-friendly meal that would not leave him hungry and unsatisfied. So, I threw together some quinoa, black beans, garlic, onions and jalapeno peppers (peppers get him every time!) for lunch.
The result? Who knew healthy could taste this good (or be this easy)! The best part is Alasdair said it was tasty AND kept him full until dinner time! That's a huge compliment coming from him. 🙂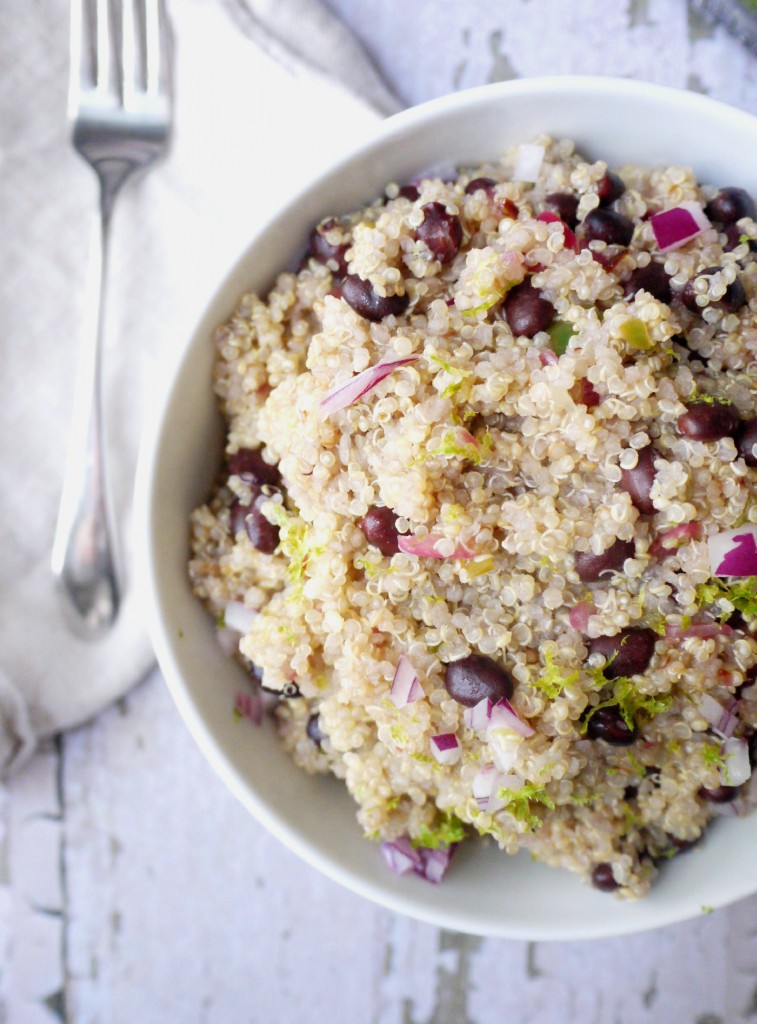 Healthy Recipe Ecstasy? YES! Quinoa contains all nine essential amino acids, making it a complete protein. This dish also contains a ton of fiber which helps "cleanse" your body….if you know what I mean. The garlic is immune-boosting and the chili peppers rev up your metabolism.
Basically, this is a dairy-free, gluten-free bowl full of health that tastes sinfully delicious. Who knew??
Southwest Quinoa and Black Bean Salad
Author:
Healthy Recipe Ecstasy
Ingredients
1 cup quinoa
1 cup black beans, rinsed and drained
½ medium red onion, plus more for garnish
2 cloves garlic
1 jalapeno pepper or other chili pepper (the spice factor is up to you!)
1 tablespoon olive oil
Juice of 1 lime
Lime zest, to taste
Kosher salt, to taste
Freshly-ground black pepper, to taste
Instructions
Cook quinoa according to the package.
While the quinoa is cooking, warm the beans in the microwave for 1 minute. Then, finely chop the onions, garlic and pepper.
Heat olive oil in a large skillet over medium high heat. Add onions and cook for 2-3 minutes. Add garlic and pepper and cook one minute, stirring frequently.
Squeeze the juice from one lime half into the onion mixture. Add the quinoa and black beans to the skillet and mix together. Add salt and pepper, to taste.
Remove the skillet from the heat and transfer the quinoa salad to a bowl. Stir in juice from the second lime half. Top with lime zest and a few uncooked red onions for garnish and crunch.