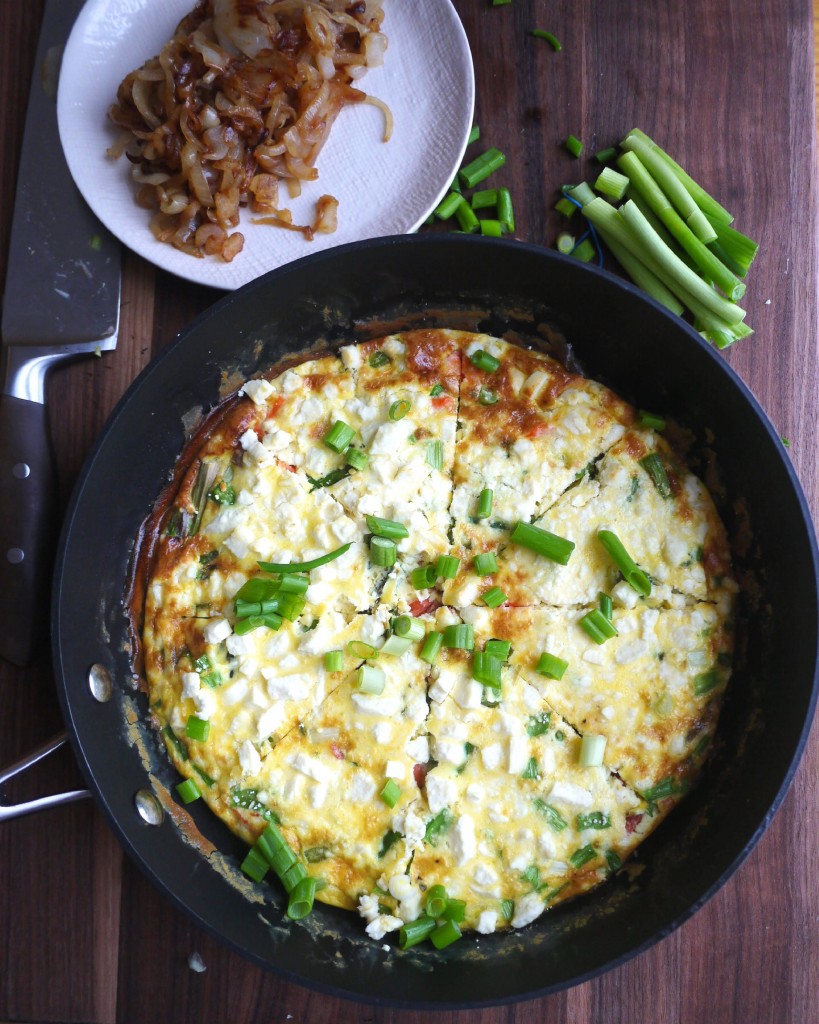 What's better than breakfast for dinner? The correct answer is: NOTHING. I came up with this recipe when I was doing that thing I do at least once a week – that would be trying to use up the ragtag bunch of leftover ingredients sitting around my fridge before Alasdair threatens to throw out the wilting produce. There's no better way to clean out your fridge than a frittata. Frittatas are a garbage dump (in a good way) for leftovers. As long as you have a protein, a vegetable, and eggs, you're set with a nice well-rounded meal!
Frittatas are incredibly easy and quick – the perfect weeknight dinner meal when you don't have a lot of time or energy. However, I also came up with a slightly more involved fancy pants version that you can make to impress your guests at brunch. The difference is the caramelized onion topping. Alasdair loves caramelized onions so I tend to use them as a garnish on just about everything – like this frittata. I love that yummy caramelized sweetness!
Healthy Recipe Ecstasy? I may be a little biased because I love eggs, but I think the ingredients in this frittata are especially delicious. Roasted asparagus goes so well with eggs and the salty feta cheese makes the frittata nice and creamy.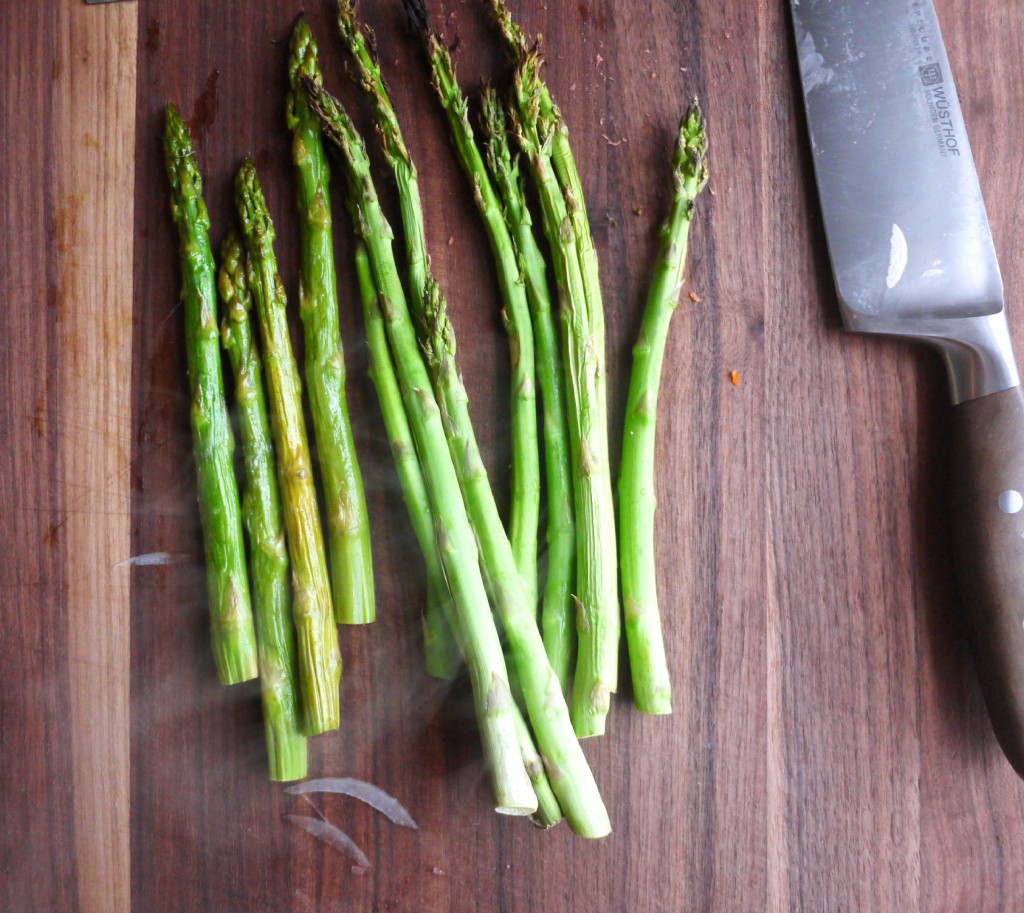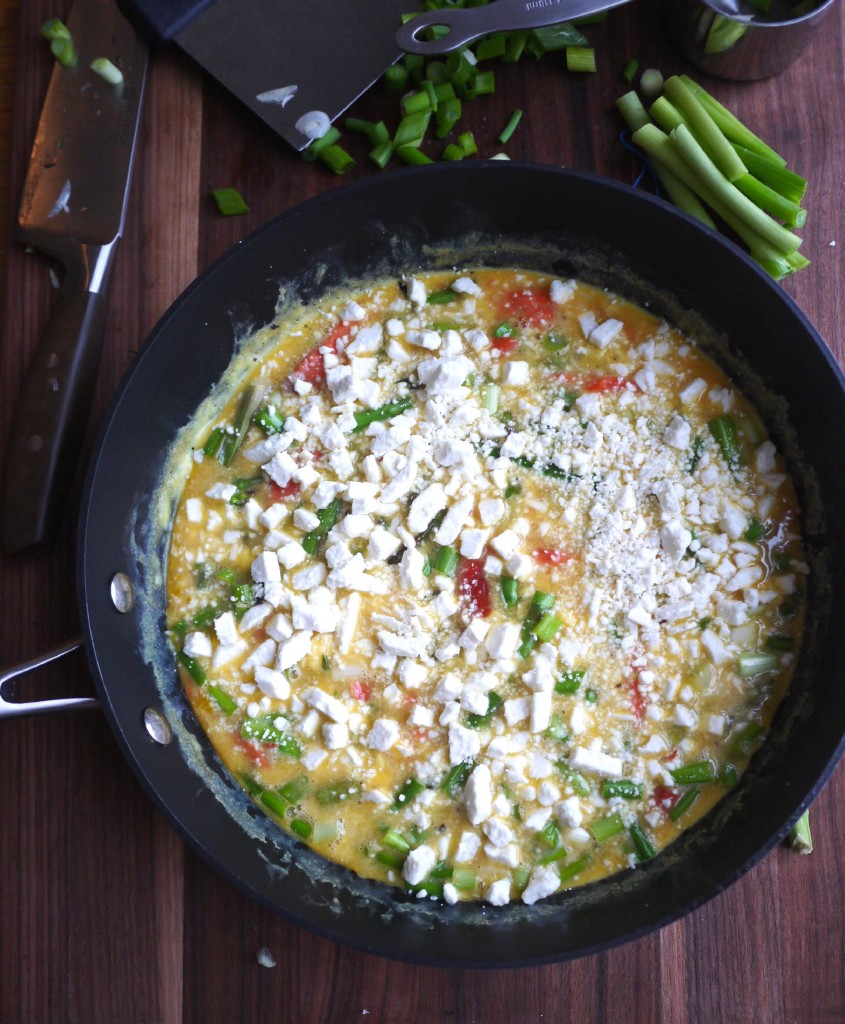 Speaking of salty, there's no need to add salt as a separate ingredients because the smoked salmon and the feta cheese are naturally salty. Also, I swapped soy milk for regular milk to lessen the amount of dairy in the dish, and I honestly cannot tell a difference. If you need to go completely dairy-free, leave out the feta and add some salt for seasoning. Regardless of your cheese choice, this is the perfect recipe to help lighten your carbload. And, if you make this on Sunday like I did, you have a great grab and go breakfast all week. Note: Some caramelized onion recipes call for added sugar. I find this pointless. The whole point of caramelizing the onions is to bring out their natural sugars. I feel the same way about adding sugar to onions as I feel about adding sugar to fruit – it's unnecessary! We have enough added sugar in our diets already. So forget sugar, and eat this frittata. 🙂
Smoked Salmon and Asparagus Frittata with Caramelized Onions
Author:
Healthy Recipe Ecstasy
Recipe type:
Breakfast/Brunch
Ingredients
10-12 stalks asparagus
6 eggs
¼ cup unsweetened soy milk
4 ounces smoked salmon bits
½ cup chopped scallions, white and light green parts only (reserve dark green part for garnish)
Freshly-ground black pepper, to taste
4 ounces crumbled feta cheese
2 onions, sliced into rings (optional)
1 tablespoon olive oil (optional)
Instructions
FRITTATA:
Heat the oven broiler on high. Broil asparagus for about 10 minutes. Let cool, then chop.
Whisk eggs in a medium bowl. Gently whisk in the soy milk. Next, add the chopped asparagus, smoked salmon bits, scallions, and black pepper to taste. Pour the egg mixture into a medium high-sided sauté pan coated with cooking spray. Cook on medium heat, gently moving the eggs back and forth with a spatula until they start to set, about 2-3 minutes. Cook an additional 2-3 minutes until eggs are almost set.
Top the eggs with feta cheese. Place the pan in oven and broil for five minutes or until the eggs are fully set and cheese is melted.
Cut the frittata into 6-8 slices and garnish with scallions. Serve warm.
CARAMELIZED ONIONS (Optional):
Heat olive oil in a large skillet on medium high heat. Add onions and sauté for five minutes until they begin to soften. Add a pinch of kosher salt. Turn heat down and continue to cook onions on low heat for 30 minutes until they brown, stirring occasionally. You can cook them longer (up to an hour) for a deeper caramelization if you have the time. Thirty minutes, for me, is just enough time for the natural sweetness of the onion to come out and the flavor to intensify.
If you're going for the fancy pants version, sprinkle the caramelized onions over the frittata slices after slicing. Finish with freshly-ground black pepper if desired.