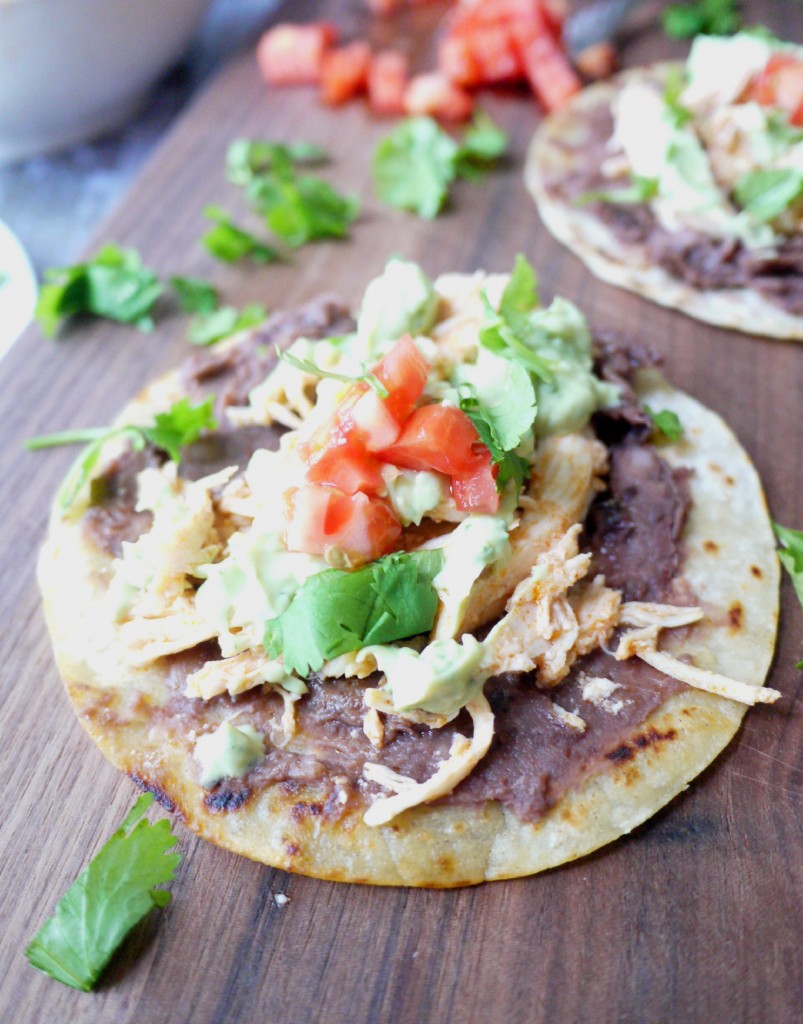 I've been leading a double life. No, make that a triple life. If you're just a casual reader of my blog, you may think that I spend my day testing strawberry smoothies and eating fancy egg sandwiches (I wish!). Au contraire. Though, I dream of spending my days working my way through Julia Childs cookbook a la Amy Adams in one of my favorite movies, I'm just not there yet.
Instead, I spend the day working for the Man (aka the U.S. government) and squeeze in blogging on the weekends, early morning hours, weeknights, basically whenever I have a free minute. Hence the double life. But that's not all, I've actually been leading another life so secret that I don't think I've ever mentioned it on the blog. For the precious few hours a week that I'm not working, cooking, blogging, or crashed out on the couch trying to catch up on my soaps, I've been honing in on another creative outlet.
Guys, I'm in a band. I didn't mention it before because (a) I've never considered myself musically talented (b) "the band" was basically just me, my husband and a few of our friends tooling around in our basement and (c) we didn't even have a name. Before you start thinking I'm some super talented rockstar, let me explain that, until last year, I had never played an instrument and my ability to carry a tune was promising but fleeting. However, when Alasdair (who does have musical talent) decided he wanted to start a band in our basement, I was all, "I want to be in it. Pick me! Pick me!" And, in true Michelle style of "I can do anything I put my mind to," I  taught myself how to sing and play a few tunes on the ukulele. Not enough to impress Simon Cowell, but just enough to contribute to the noise that was happening in my house on Sunday mornings.
A year and a half later (otherwise known as last Wednesday night), our band had a 10 song set list, a name (Piper Down) and an actual gig at a bar. Sure, the gig didn't pay and half the room was filled with my family, but, I gotta say, we rocked it out, and I, for about 45 minutes, achieved my dream of being a rockstar. Will we play out again? Who knows. But setting a goal and achieving it was pretty awesome.
So, it goes without saying (though I'm going to say it anyways), that August has not been the lazy month that it should be. Instead of laying claim to the perfect spot on the beach and drinking out of coconuts, I've been running around like a stressball with its head cut off trying to balance work, blogging, and my new-found rockstardom. There's hardly been time for dinner let alone slaving away over boeuf bourguignon. The name of the game in my house lately has been Whole Foods takeaway, pita pizzas, quick smoothies, and the slow cooker.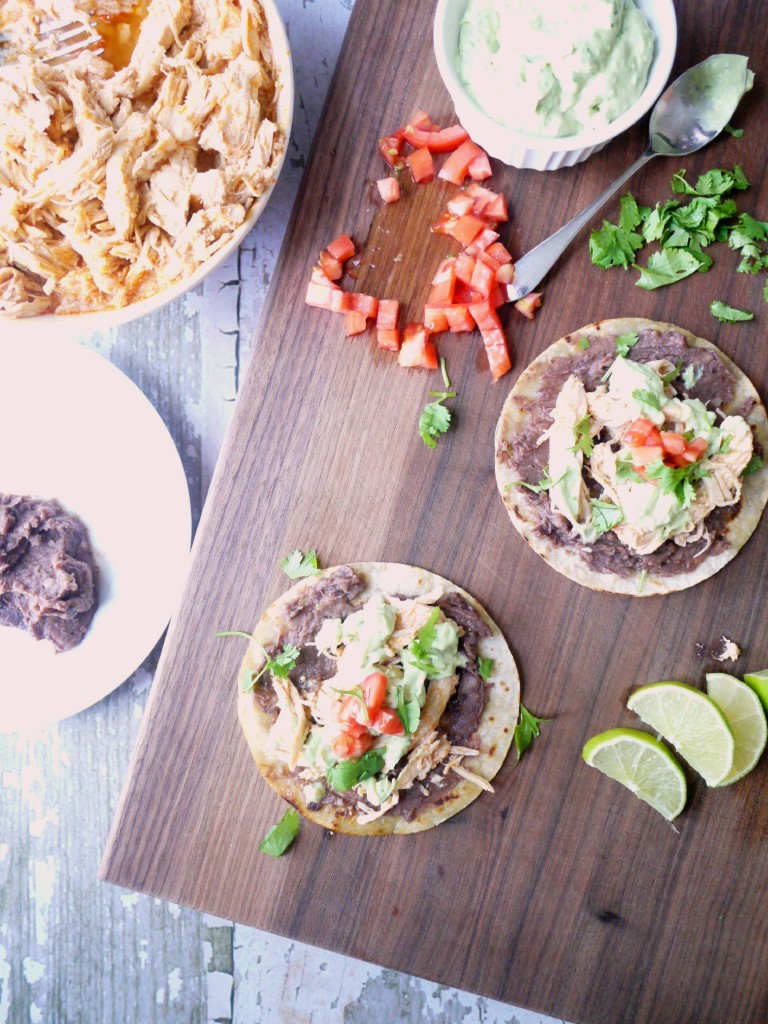 The slow cooker rarely makes it out of the cabinet in my house during the summer, but when I saw Cooking Light's list of summer slow-cooker recipes, I knew that needed to be rectified. I just told you all how I would not be a slave to seasonal cooking – seasonal produce, yes, seasonal cooking, no. What's a better way to celebrate lazy August (or what should have been lazy August) than throwing some meat in a crock pot and coming back 4-ish hours later to a cooked meal?
Ok, this recipe may not be thaaaat simple. But for the seemingly fancy deliciousness that results, it's pretty darn easy. Throw some chicken and enchilada sauce in the crock. Let it cook for 4 and 1/2 hours. Throw the avocado, jalapeno, Greek yogurt and a few friends in a food processor and let the machine do its thing. Fry up some tortillas, chop some tomatoes and cilantro, and, voila, you've got a healthy protein-packed, gluten-free dinner.
The kind of dinner that begs to be eaten on the deck, accompanied by a frosty margarita and some tunes from your favorite band. Who knows, maybe one day that band will be Piper Down. Or maybe I'll stick to cooking… 🙂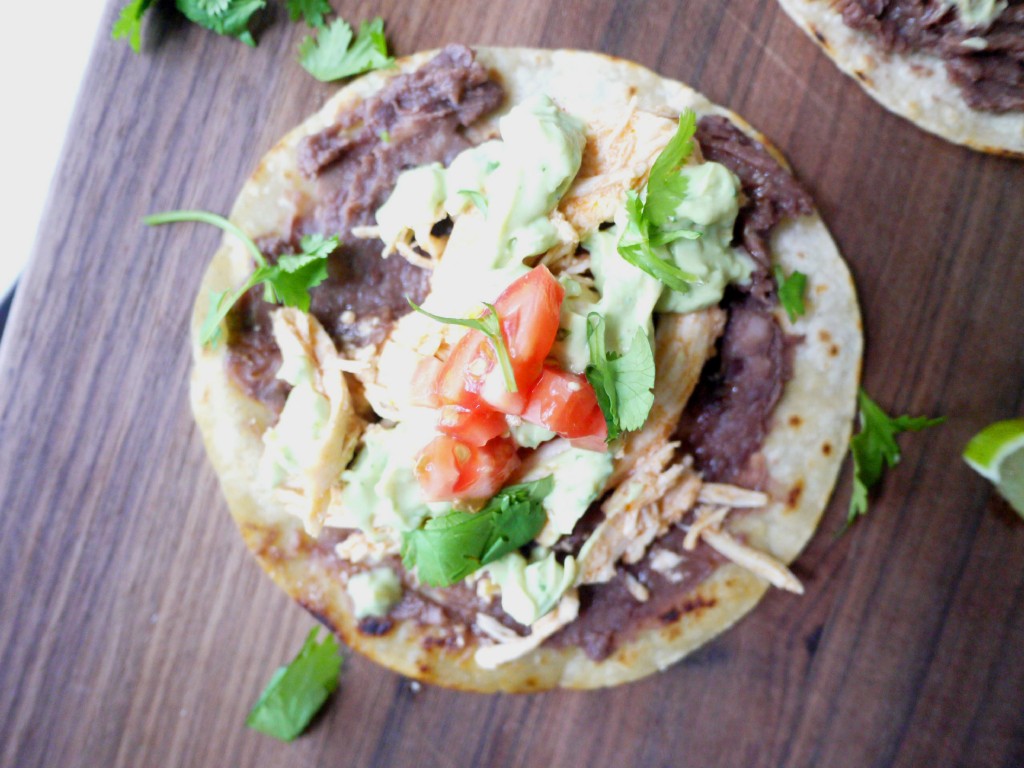 Slow-Cooker Chicken Enchilada Tostadas with Jalapeno Avocado Crema + My Secret Life
This is one of those lazy, you don't need to measure exactly recipes. Put as much garnish as you want on your tostadas. Slop on the avocado crema or just use a few drops. Leave off the tomatoes, add more cilantro. It's August. Do it your way. As you can see, this recipe makes a lot. It's great for a crowd, but feel free to halve the recipe if you aren't feeding the neighborhood. :)
Author:
Healthy Recipe Ecstasy
Ingredients
Jalapeno Avocado Crema:
1 medium avocado
½ cup non-fat Greek yogurt
1 jalapeno, chopped and seeds and ribs removed
Juice of 1 lime
3 tablespoons chopped cilantro
Sea salt and freshly ground black pepper, to taste
Chicken Enchilada Tostadas:
24 corn tortillas
Olive oil or canola oil, for frying
2-3 pounds boneless, skinless chicken breasts (yields about 6 cups of shredded chicken when cooked)
Coarse salt and black pepper, for seasoning.
1 14-ounce can mild enchilada sauce
3 cups refried black beans
Diced tomatoes, for garnish
Chopped cilantro, for garnish
Lime slices, for garnish
More enchilada sauce, for garnish
Instructions
Jalapeno Avocado Crema:
Add the avocado, yogurt, chopped jalapeno, lime juice and cilantro to a food processor. Process until smooth. Season with sea salt and pepper, to taste.
Chicken Enchilada Tostadas:
Season the chicken liberally with salt and pepper. Add chicken and enchilada sauce to the slow cooker. Set for 4 hours on high. After 4 hours, shred the chicken, turn the slow cooker to low and cook for another 30 minutes.
Add ½ teaspoon oil to a medium skillet over medium high heat. Add one tortilla at a time and lightly fry for 1-2 minutes on each side, or until the tortillas are golden and crispy. The hotter the skillet gets, the shorter amount of time the tortillas will need to crisp.
Warm the refried black beans.
To assemble: Spread 2 tablespoons black beans on each crispy tortilla. Top with ¼ cup shredded chicken and a few teaspoons jalapeno avocado crema (or a few tablespoons - up to you!).
Garnish with diced tomatoes, chopped cilantro and a squeeze of lime. You can also drizzle with additional enchilada sauce (not pictured).