After months of discussions, meetings with contractors, and trips to Home Depot and Lowes to pick out supplies, our kitchen renovation is finally starting this week. I had no idea how many moving parts were involved in this whole renovation business. We're not even doing a major renovation – no gutting or knocking down huge walls. Just a little sprucing up – new floors, countertops, some freshly painted cabinets, etc.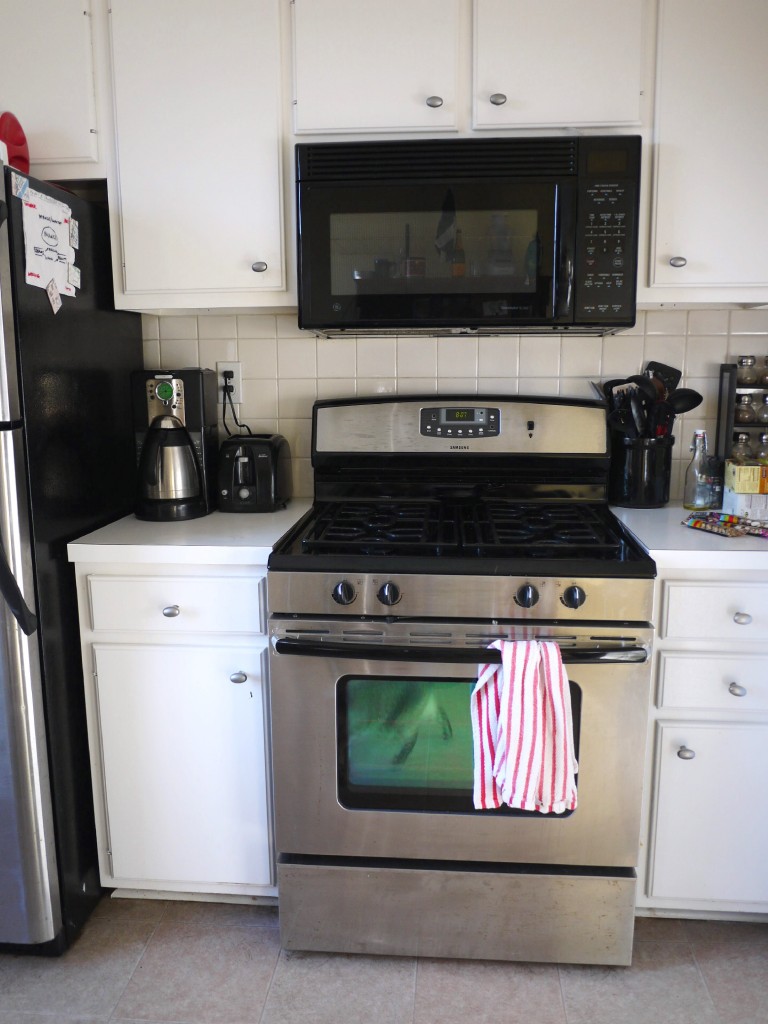 Not too bad. But then there's this side of the kitchen…. it needs help.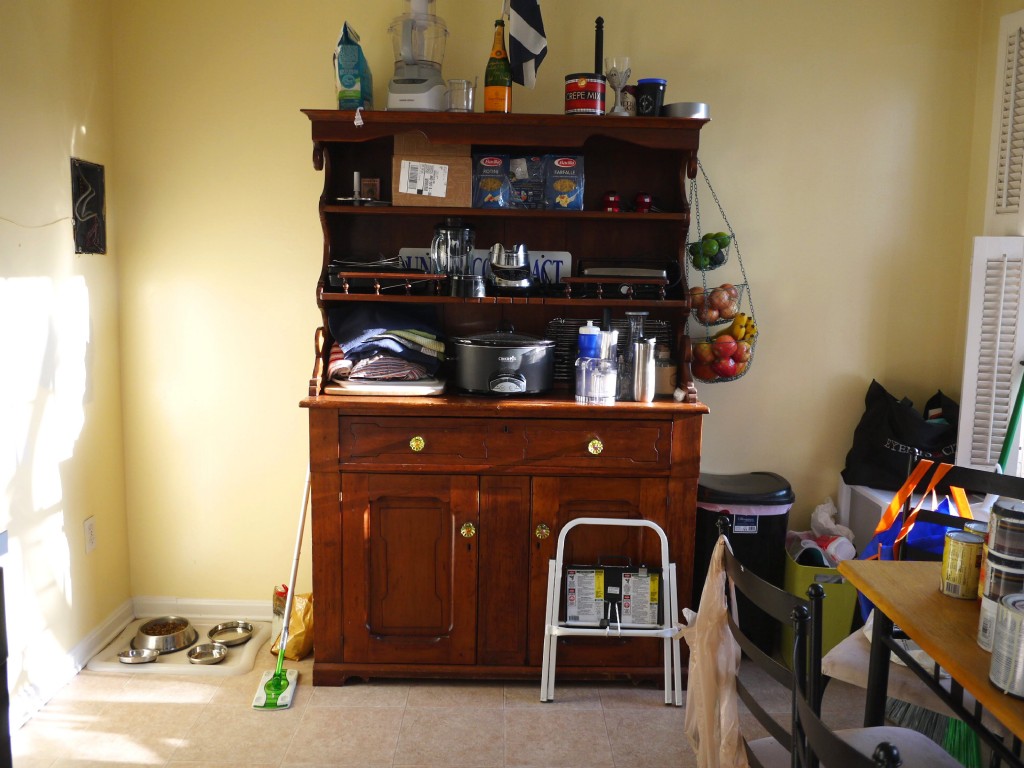 It hasn't even begun and I'm already exhausted.
Aside from deciding between Autumn Haze and White Sage for the cabinet color, the most stressful thing about this renovation is knowing that I may not have access to the kitchen for almost two weeks, possibly longer. The thought of not being able to cook dinner was one thing, but not being able to make my morning omelette and put together my lunches for work put me into a tailspin.  Especially as Alasdair and I are trying to shed the winter weight gain. I know that we will at least have access to the fridge and the microwave but, other than that, our world will be turned upside down. As of right now, everything that was previously in our kitchen is now in our dining room – on tables, in boxes. So, as any Type A food-obsessed, kitchen renovation first-timer would do, I planned our meals out for the next two weeks and then I turned myself into a lean, mean cooking and freezing machine. I made a Mexican Casserole – good for three nights of dinner. I made a Pork Stir Fry, extra noodles, and rice and froze that for emergency meals. I tasked Alasdair with making a Thai Red Beef Curry in the crock pot – good for a few nights. And, finally, I made about 15 pounds of Shrimp Fried Rice. Maybe that's an exaggeration, but I definitely made enough for another three nights of dinner and some lunches.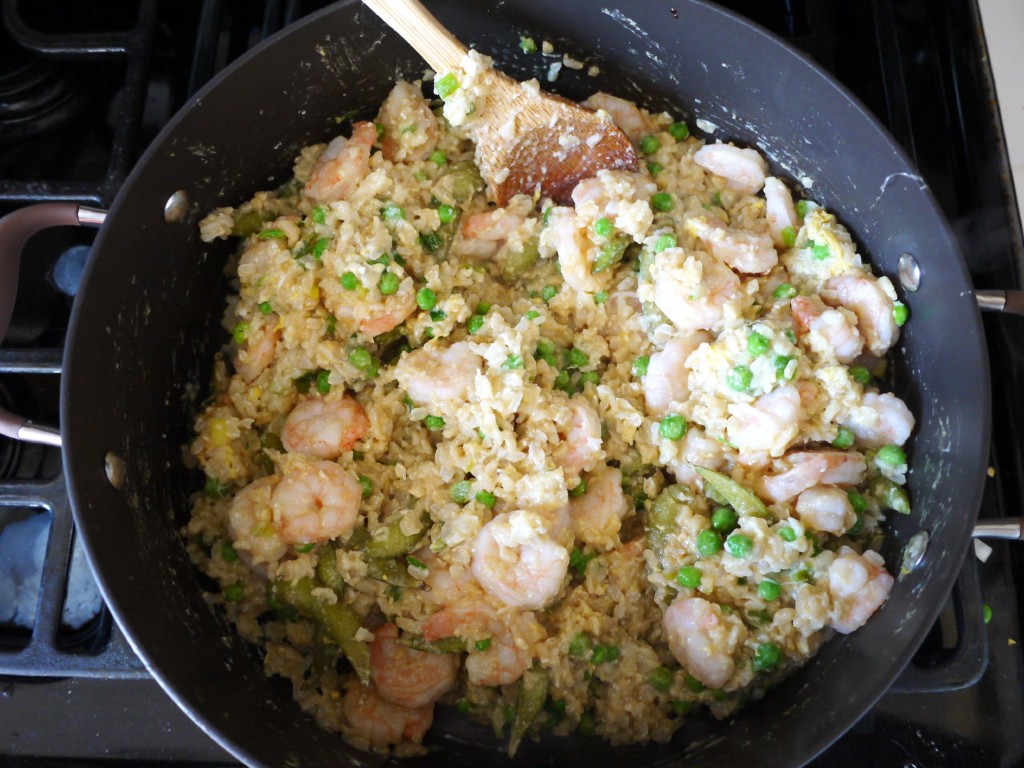 I wish I could share all those recipes with you, but, I only have time for one. So, I'm choosing the Shrimp Fried Rice because I have been craving fried rice lately and, I think that fried rice is amazing as a leftover which is all I'll be eating for the next two weeks.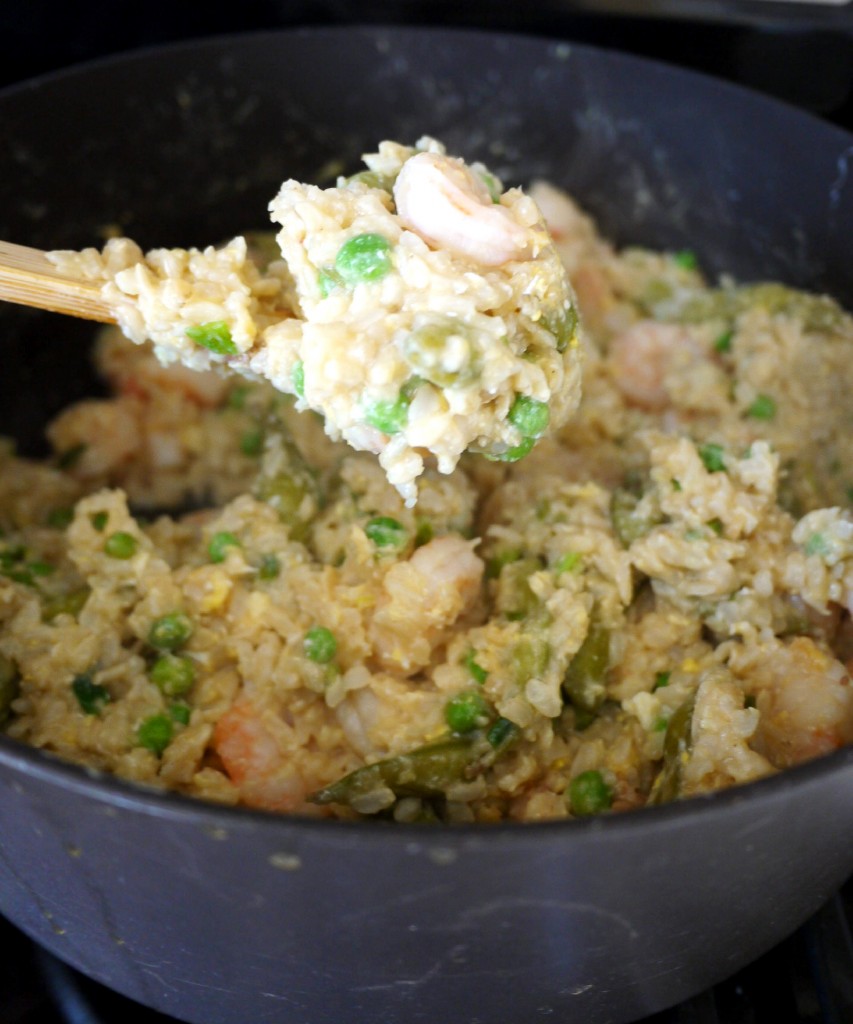 Healthy Recipe Ecstasy? The great thing about fried rice is that it's naturally dairy-free and gluten-free which means I don't have to get creative and make any major substitutions for those dietary constraints. *Don't forget to check that all your sauces are gluten-free.* Fried rice gets a bad rap because of the word "fried," but the recipe only uses a small amount of oil, and I've substituted heart-healthy olive oil for the vegetable oil. The rice is more sautéed than fried which makes me a little sad but seeing as I'm going to be eating this dish night after night, I'm happy that it's full of veggies and waist-line friendly.

Shrimp Fried Rice
Author:
Healthy Recipe Ecstasy (Slightly Adapted from Bon Appetit)
Ingredients
2 tablespoons olive oil, divided
12 ounces peeled deveined small shrimp, thawed if frozen
Kosher salt
8 scallions, chopped (reserve a handful of scallion greens for topping)
2 garlic cloves, chopped
1 tablespoons finely chopped peeled ginger
3 cups cold cooked white rice
2 large eggs, beaten to blend
½ cup frozen edamame, thawed
½ cup frozen peas, thawed
3 tablespoons reduced-sodium soy sauce (check that it's gluten free)
2 tablespoons unseasoned rice vineger
1 teaspoon toasted sesame oil
Instructions
Heat one tablespoon olive oil in a large nonstick skillet of medium-high heat. Season shrimp with salt and cook, turning once, until just opaque in the center, about three minutes. Transfer shrimp to a plate.
Heat remaining tablespoon olive oil in the same skillet and add the chopped scallion, garlic, and ginger. Cook, stirring, until fragrant, about one minute.
Add rice and stir to coat. Cook until rice is crisp, about two minutes. I found that it took longer for my rice to crisp but that's probably because I was making three times the amount of the recipe.
Push rice to one side of the skillet and add eggs to the other side and cook, stirring and working into the rice mixture, 1-2 minutes.
Add edamame, peas, soy sauce, vinegar, sesame oil, and cooked shrimp. Cook, tossing constantly, until shrimp and vegetables are heated through, about one minute. Top with more scallion greens.