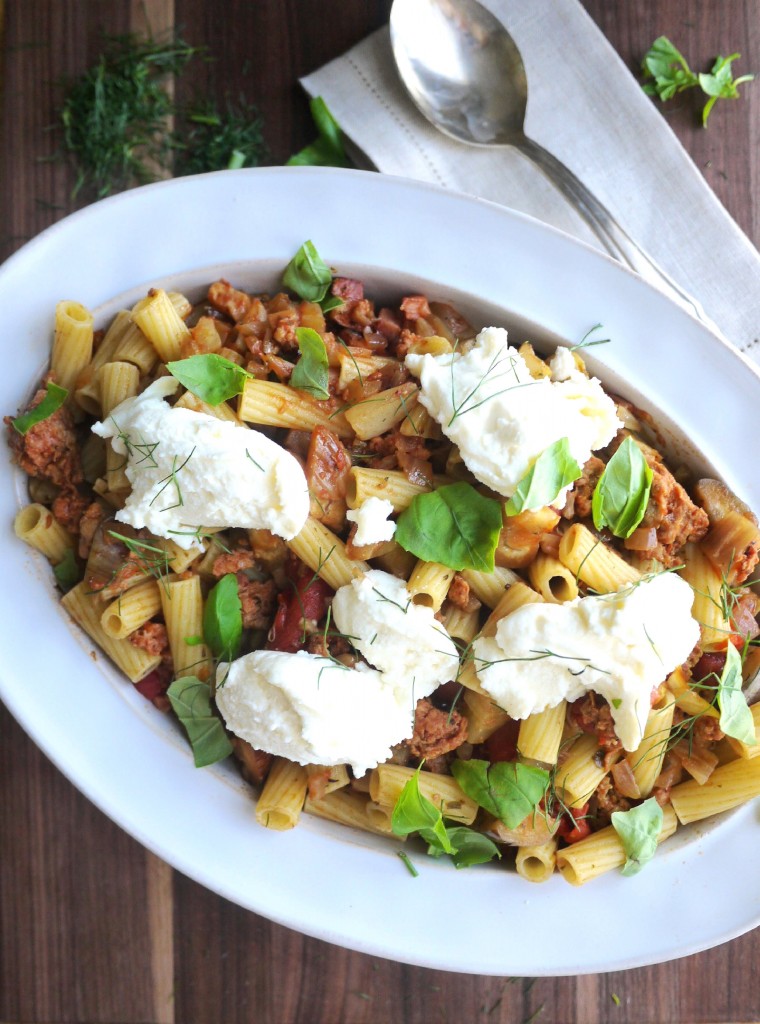 I get it. It's only the third week of January. You're still downing smoothies and calling lettuce '"dinner." You think pasta, pizza, and cakes are still a month away (you know, in February, when you're like resolution who?). But I just can't help myself. I. can. not. live. without. pasta. Most of the time, I temper my addiction by using whole-wheat, brown rice or quinoa noodles in my pasta dishes — all of which keep me fuller longer than regular pasta noodles and ease my carb-loading guilt. However, sometimes you need a regular, old pasta noodle. And that's ok. In moderation, of course.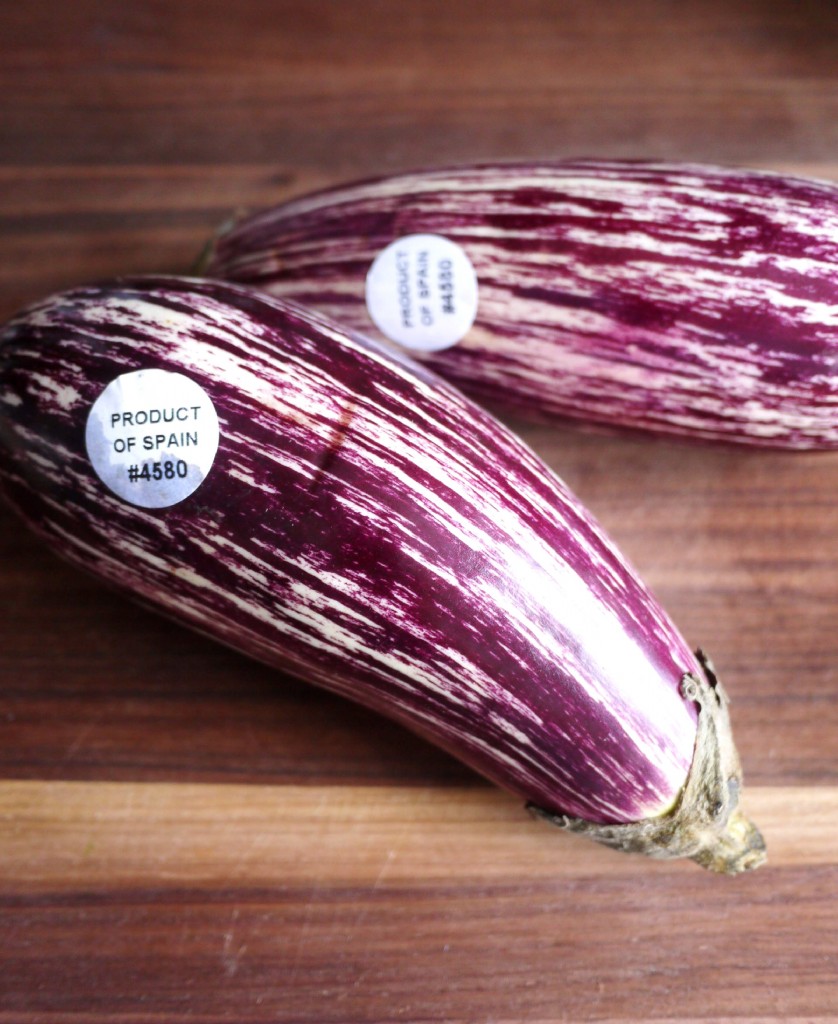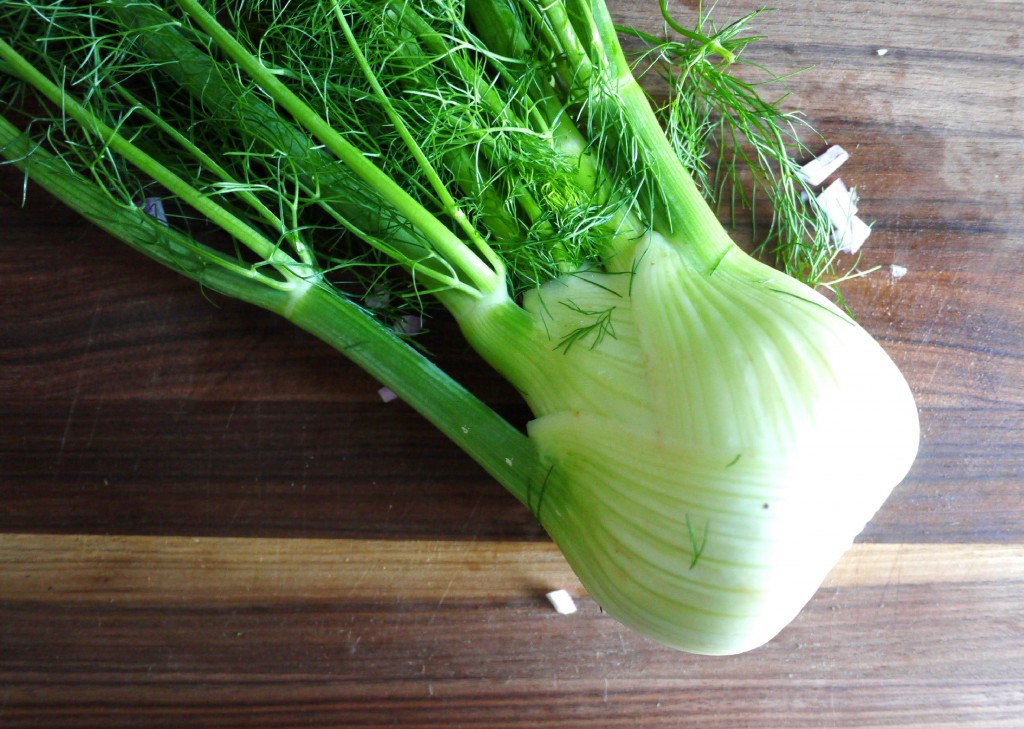 To me, pasta is the perfect way to sneak some extra veggies into your diet without even noticing. Does this look like veggie pasta to you? No siree. But, eggplant, tomatoes, fennel, onions, this pasta dish has got them all. It's also got a bit of fat in the form of pancetta and spicy Italian sausage. And just a smidge of part-skim ricotta and Pecorino-Romano cheese. Whoops – how did that get in there? 🙂 But it's soooo worth it.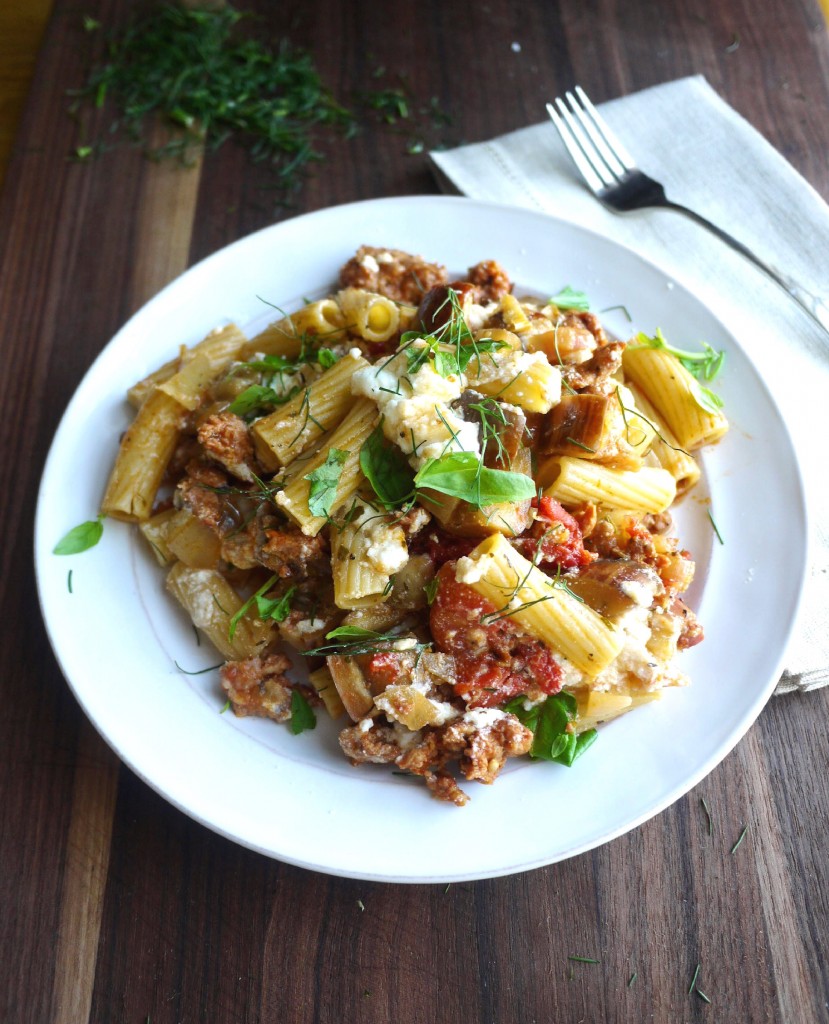 I first made this pasta dish after Christmas to use up some of the leftover fennel and onions and ricotta from our Feast of the Seven Fishes dinner. I happened to have two Spanish eggplants sitting pretty in my fridge and like 15 boxes of pasta crowding our cabinets thanks to some lack of restraint at Costco. Adding the sausage just seemed to make sense. The result was a spicy, creamy, licorice-y bowl of pasta heaven that I really didn't feel too bad about because – vegetables, guys, vegetables. I told myself that I would wait until February, maybe even March, to share this recipe with you, and, in the meantime, I would stick to sharing salads and smoothies like everyone else but I am not known for my patience. I was all "must share pasta now, can't stop myself," and before I knew it, my kitchen was filled with the fragrant smell of Italian seasoning and the sound of simmering tomato sauce. So, I decided to let my pasta freak flag fly this month. Salads be damned. I will be eating pasta. And I will lose weight doing it…..I hope….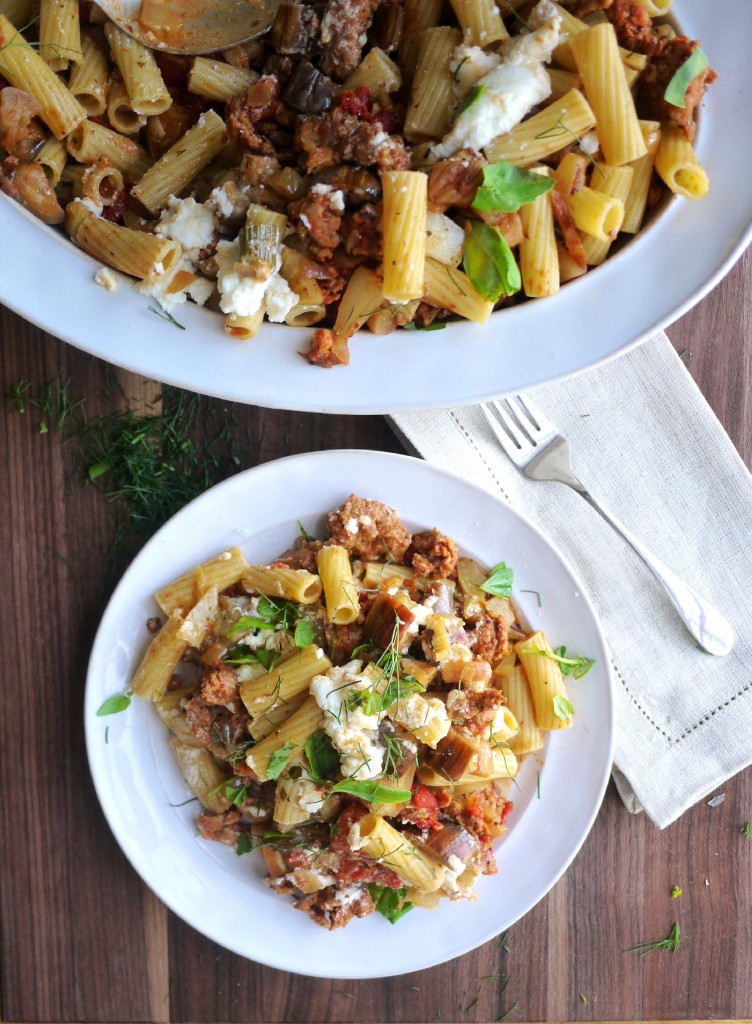 Now let's talk process. This is one of those dishes that ages well. The longer you cook it, the longer the flavors can hang out, get friendly and join together in a way that makes everything taste better. And, the leftovers, they're pretty awesome for the same reason. Speaking of leftovers, I must warn you that this recipe makes a lot of pasta. It equals three dinners and a lunch or two for me and Alasdair. So, feel free to half the recipe if you don't need a bucket of pasta in your fridge. But, if you do need a huge amount of impressive looking pasta for, say, a dinner party, then you're welcome. This will be a hit. There's nothing your friends will like more on a cold (or 50 degree because Mother Nature is a little schizo this year) winter night than a medium-sized bowl (not large-sized, we're stressing moderation after all) of spicy sausage pasta that's secretly providing them at least 2-3 servings of veggies. Shhh….they never need to know.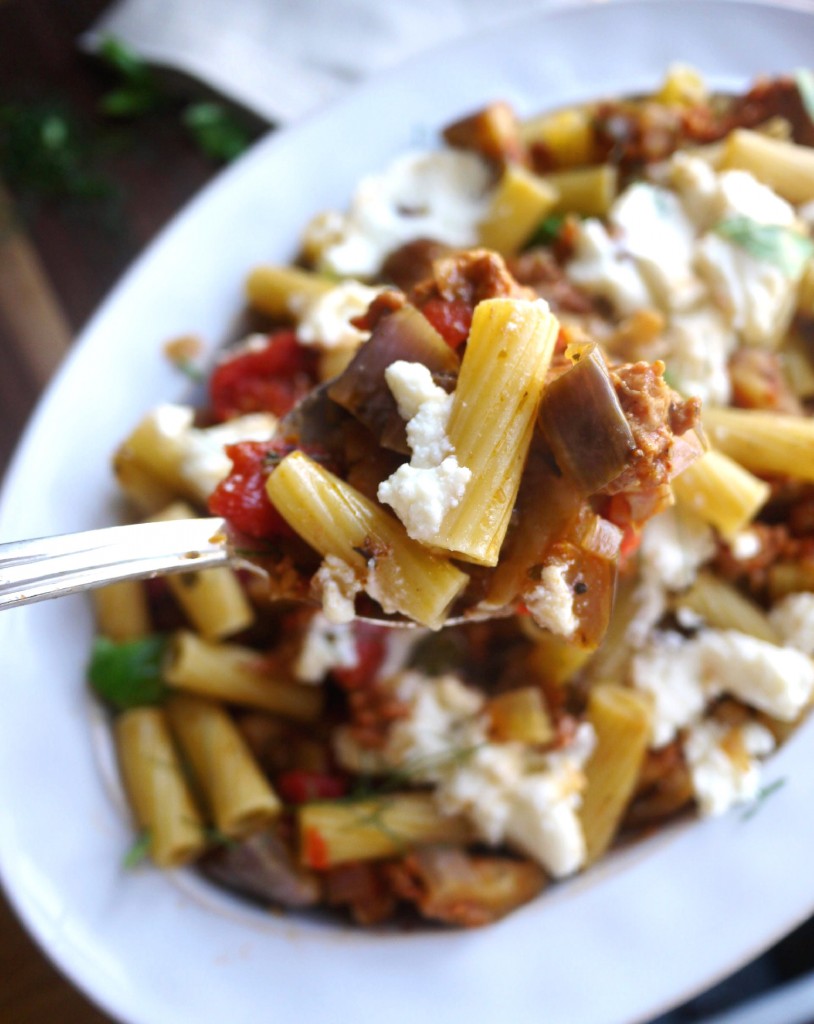 Sausage, Fennel, and Eggplant Rigatoni
Author:
Healthy Recipe Ecstasy
Ingredients
2 medium eggplants, chopped (I used a beautiful striped eggplant variety from Spain but feel free to use regular purple eggplant if that's what your grocery store carries at this time of year)
Generous pinch of coarse salt
1 tablespoon olive oil
½ cup pancetta, diced
1 pound spicy Italian sausage, casing removed
1 large bulb fennel, diced
1 large red onion, diced
Pinch of coarse salt
Ground black pepper to taste
28 ounces San Marzano whole peeled tomatoes
1 pound rigatoni pasta
½ grated pecorino romano cheese
1 cup part-skim ricotta cheese
Basil leaves and fennel fronds for garnish
Instructions
After chopping the eggplant, add it to a colander, along with a generous pinch of coarse salt, to drain for 30 minutes.
Heat one tablespoon olive oil in a large skillet or dutch oven over medium high heat. Add the pancetta to the skillet and cook for 4 minutes or until brown and crispy, stirring occasionally. Add the sausage to the skillet and cook for about 7-8 minutes or until browned. Remove the sausage and pancetta with a slotted spoon. Set it aside in a medium bowl.
Pour all but two tablespoons of the oil and fat out of the skillet. Then, add the diced fennel and onions to the skillet along with a pinch of salt and black pepper to taste. Cook the vegetables for 5 minutes over medium high heat, stirring occasionally. Add the chopped eggplant and cook for 5 minutes.
Add the sausage and pancetta back to the skillet. Next, add the tomatoes and Italian seasoning. Simmer for at least 30 minutes over medium low heat, stirring occasionally and crushing the tomatoes with the back of a wooden spoon. Feel free to simmer longer (60-90 minutes) - cooking it longer allows the flavors to deepen. However, 30 minutes suffices if you're pressed for time.
While the sauce is simmering, cook the pasta, taking it out of the boiling water one minute earlier than the suggested cooking time on the package. Drain the pasta and reserve ½ cup pasta water.
Add the pasta and the pasta water to the sauce. Cook for an additional one minute, taste and adjust seasonings, adding more salt and pepper if needed. Stir in the pecorino cheese.
Add the pasta dish to a large serving bowl and top with ricotta cheese, basil leaves and fennel fronds.