I recently reviewed The I Love Trader Joe's Vegetarian Cookbook for Capital Cooking. I'm not a Trader Joe's regular, but that's only because there's not a TJ's in my neighborhood. If there was, I would definitely frequent that grocery store more often. Great food choices and great prices. Fortunately, as I say in my review, you don't have to be a TJ's consumer to enjoy the recipes in the cookbook.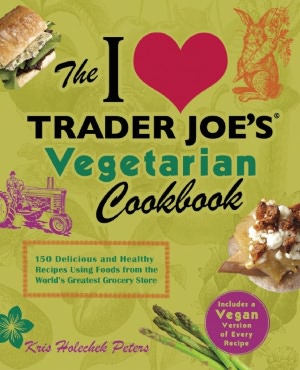 The cookbook has a lot of fun and interesting vegetarian recipes that I'm excited to try. However, the first recipe I tried, the Thai Lentil Simmer, turned out kind of "meh." See below. It even looks "meh."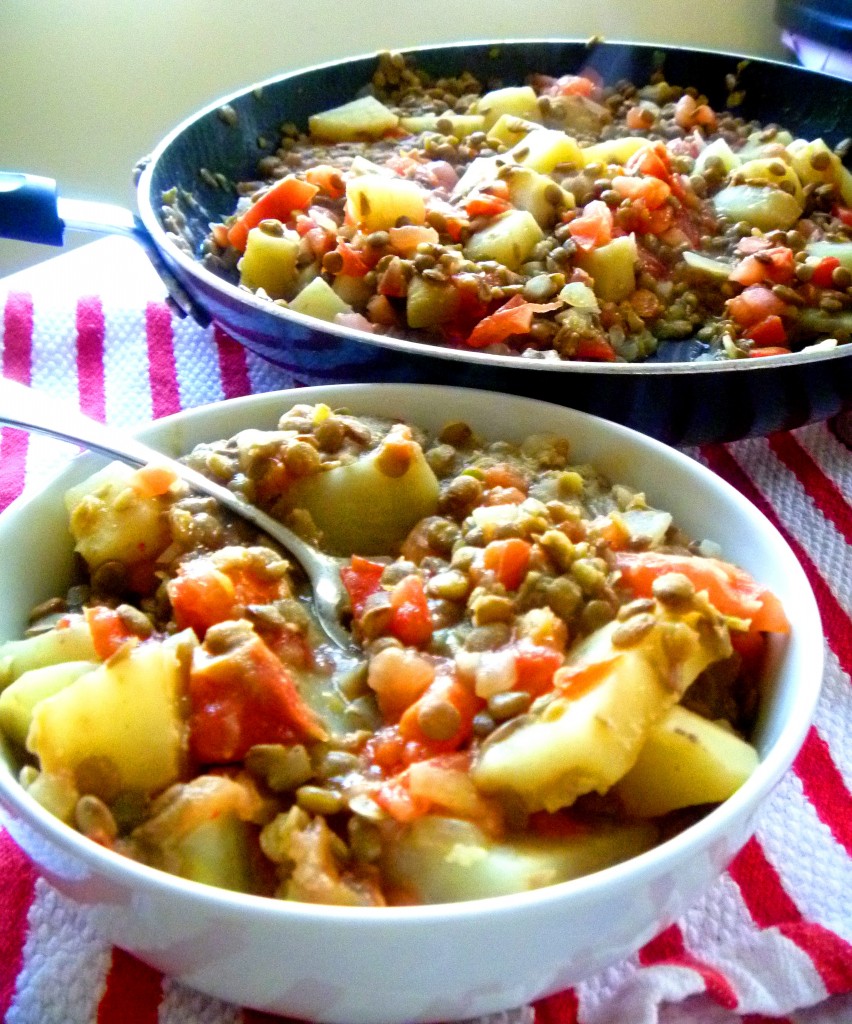 In all fairness, I did not use the Trader Joe's Steamed Lentils and the Trader Joe's Thai Green Curry Simmer Sauce called for in the recipe. Instead, I used a generic brand of lentils and green curry simmer sauce. The argument in the Trader Joe's cookbook is that TJ's products are awesome and these recipes are all the more awesome using those products. Maybe I picked one of the less impressive recipes or maybe it really would be that much better using Trader Joe's Thai Green Curry Simmer Sauce. I'll never know because I'll probably never make Thai Lentil Simmer again.
I do know that I made a TON of lentils and they would probably go to waste (which I hate) if I didn't fix them up a bit. So, I added meat. Sorry Trader Joe's, I love a good veggie meal as much as the next environmentally-aware consumer, but adding sausage (and fennel) really kicked these lentils up a notch! Actually, two notches because Alasdair went back for seconds. 🙂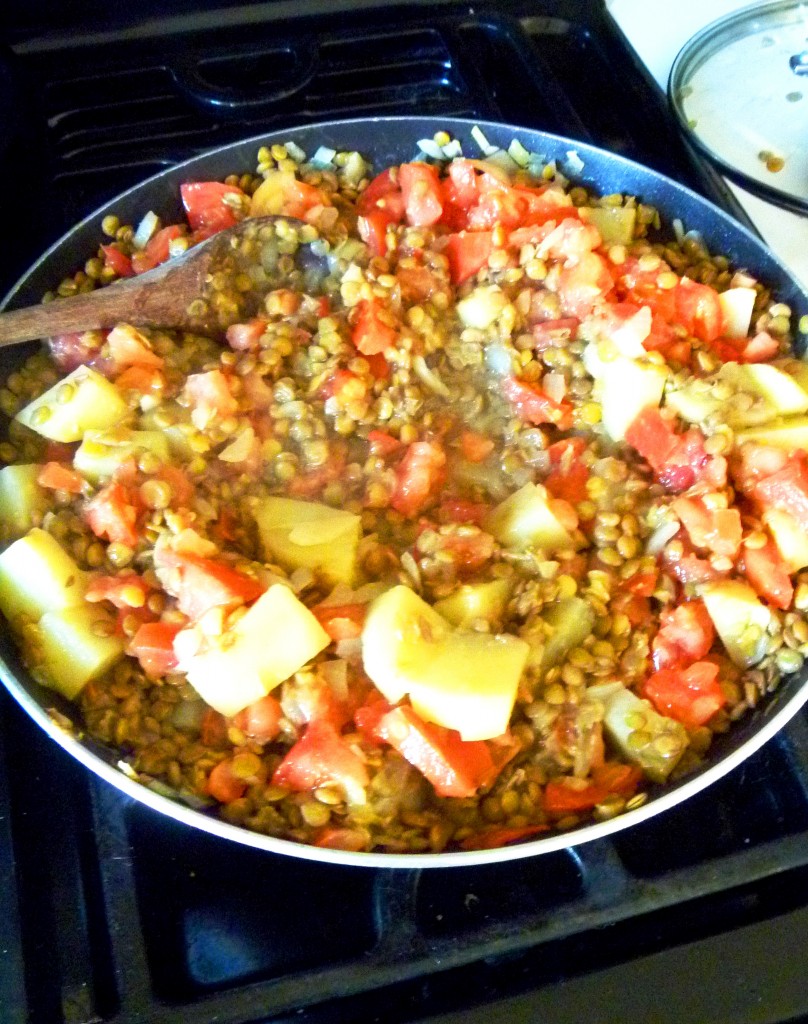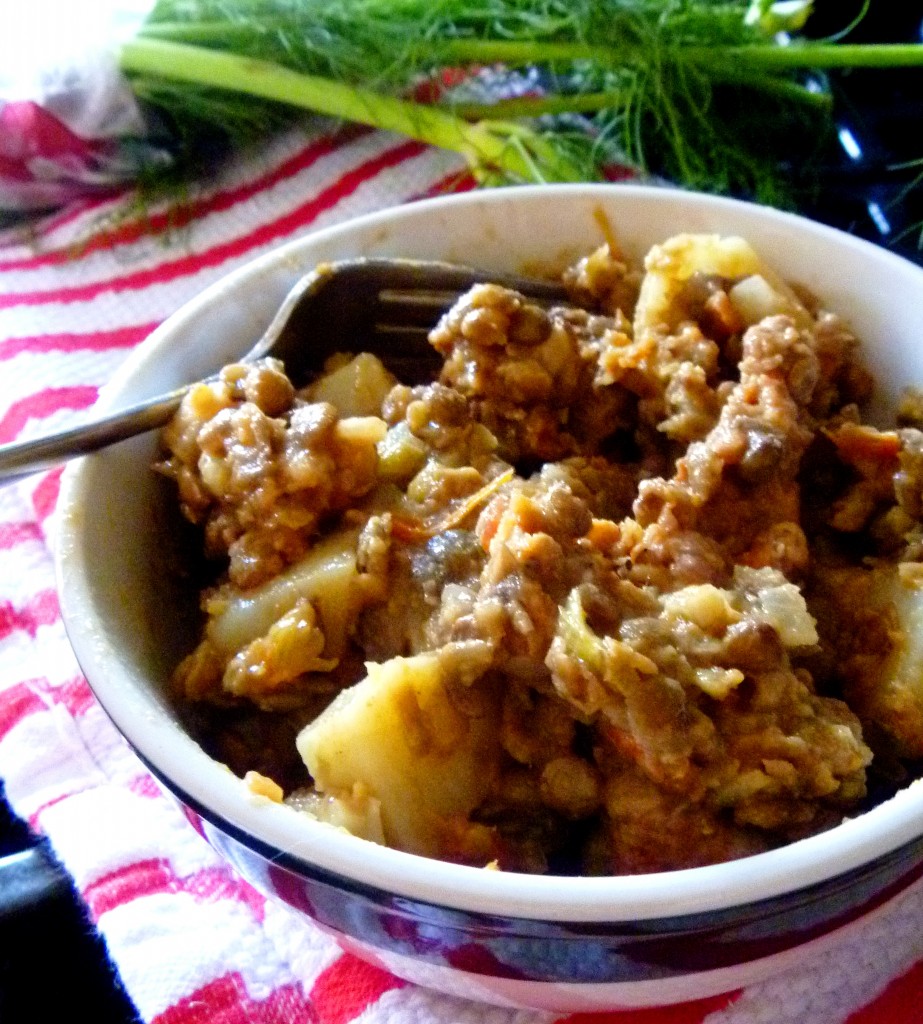 Because I was playing around with this dish, the cooking times and amounts are approximate, but this is the type of dish where you don't need an exact recipe. Although don't over fennel because fennel is a strong flavor! One day, if I make the dish again, I promise to update this post with exact numbers. But, in the meantime, this is a great fall dish that you can play around with on a cold rainy night.
Healthy Recipe Ecstasy? Well, it's not vegetarian anymore, but it's still gluten-free and dairy-free! And it's a hearty, spicy meal that made my man happy. The fennel flavor gives the dish a deep rich flavor and the mixture of the spicy sausage and the green curry sauce gives the lentils a nice kick. Yum!
Sausage and Fennel Lentil Curry
Author:
Healthy Recipe Ecstasy
Ingredients
4 tablespoons olive oil, divided
1 small yellow or white onion, diced
1 medium potato, peeled and cut into ½ inch cubes
2 cups lentils (some recipes specify the color, I use lentils interchangeably)
1 12-ounce jar Thai green curry simmer sauce
2 large tomatoes, diced and seeded
1.5 pounds spicy sausage (I used pork but you could substitute chicken or turkey)
1 cup fennel root, chopped
2-3 cloves garlic
Instructions
I made the Thai Lentil Simmer first. So here is the recipe I adapted from the Trader Joe's cookbook:
Cook the lentils according to the package. However, take off the heat and drain 15 minutes early. My lentil package said to cook the lentils for one hour so I cooked them for 45 minutes.
When the lentils are almost done cooking, heat the oil in a large skillet over medium heat. Add the onions and cook about five minutes. Add the potatoes, the cooked lentils, and the simmer sauce, and reduce the heat to medium-low. Cover and let simmer, stirring often, until the potatoes are softened, about 20 minutes.
Next, add the tomatoes to the skillet and cook until they are tender, about five minutes.
The TJ's cookbook says to cook up a grain, and top it with the lentil mixture. If that sounds appealing to you, give it a try. I wasn't impressed.
If you want a little spicy sausage in your life, you can follow my "fix the lentils" recipe:
Heat two tablespoons olive oil in a Dutch oven or large pot. Crumble the sausage. Add the sausage to the pan and let it brown over medium-high heat, stirring occasionally. This takes about 10 minutes. Add the chopped fennel and the garlic to the pot. Cook until the fennel is softened. Maybe another 10 minutes.
Finally, dump in the Thai Lentil Simmer mixture. Mix the sausage, fennel and lentils all together. Add salt and pepper to taste. Cover, reduce the heat to medium-low and let the mixture cook together for another 10 minutes.
NOW, you can enjoy! It's still not the prettiest of dishes but it sure tastes good!!
If I were to redo this recipe, I would cook everything in one big pot together which would be much faster and easier. However, until then, you can experiment on your own. All you need to know is that sausage, fennel, lentils, and green curry sauce together are yummmmmmmmmmy!