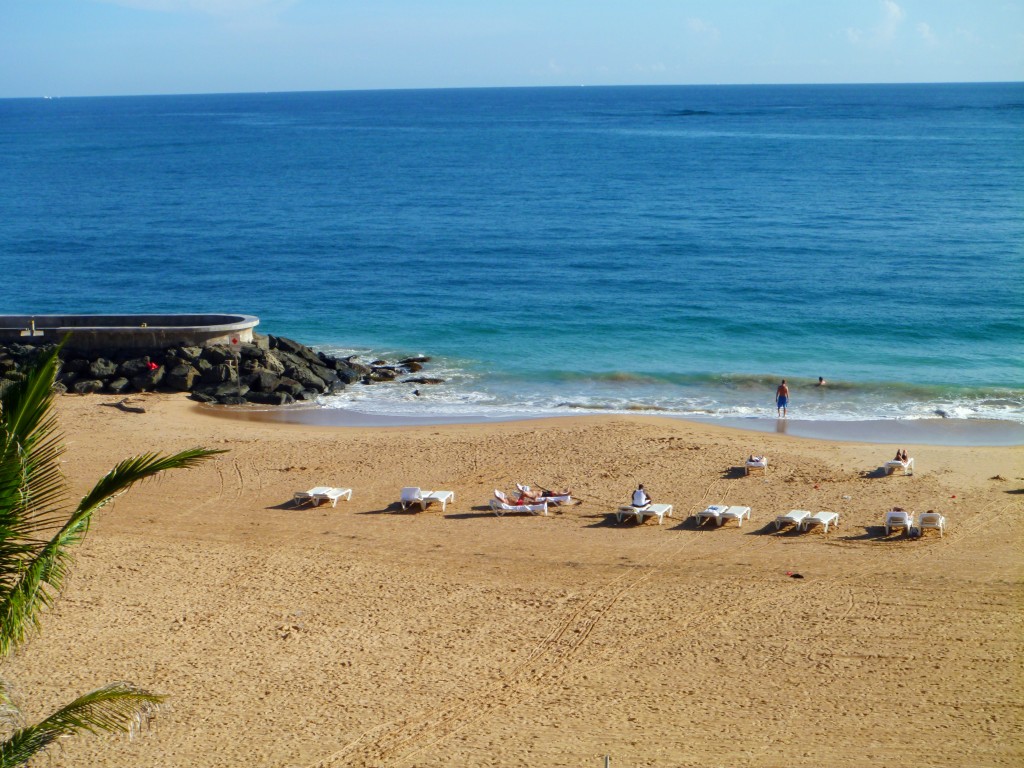 I realized something while I was away this week: I am way more obsessed with food than most people. On an average day, I am thinking about lunch before I've finished chewing my breakfast, and I plan my dinners a week in advance. If I'm going out to eat at a new restaurant, I spend days pouring over the menu in anticipation. This is normal behavior for me. However, when I travel to a new place (say, Puerto Rico), my food obsession goes from sweet high school secret admirer status to full on single white female. I am pretty maniacal about tasting as much local cuisine and as many "must try" dishes as I can possibly fit into my belly. Fortunately, Alasdair shares my passion (obsession) for "tasting" which means we gleefully plan our trips almost entirely around food and drink, spending hours researching beforehand.
This trip, however, was different. Being on work travel, my time was not really my own. I had to squeeze my tasting of local cuisine in after eight straight hours of meetings (I'm talking no bathroom breaks and a working lunch). You can imagine just how much I needed a cocktail and a good dinner after that. But, I was relentless, and, in my short time in Puerto Rico, I was able to make my way through some of the major players in Puerto Rican cuisine, in addition to finding some blog-worthy eats in some rather unexpected places.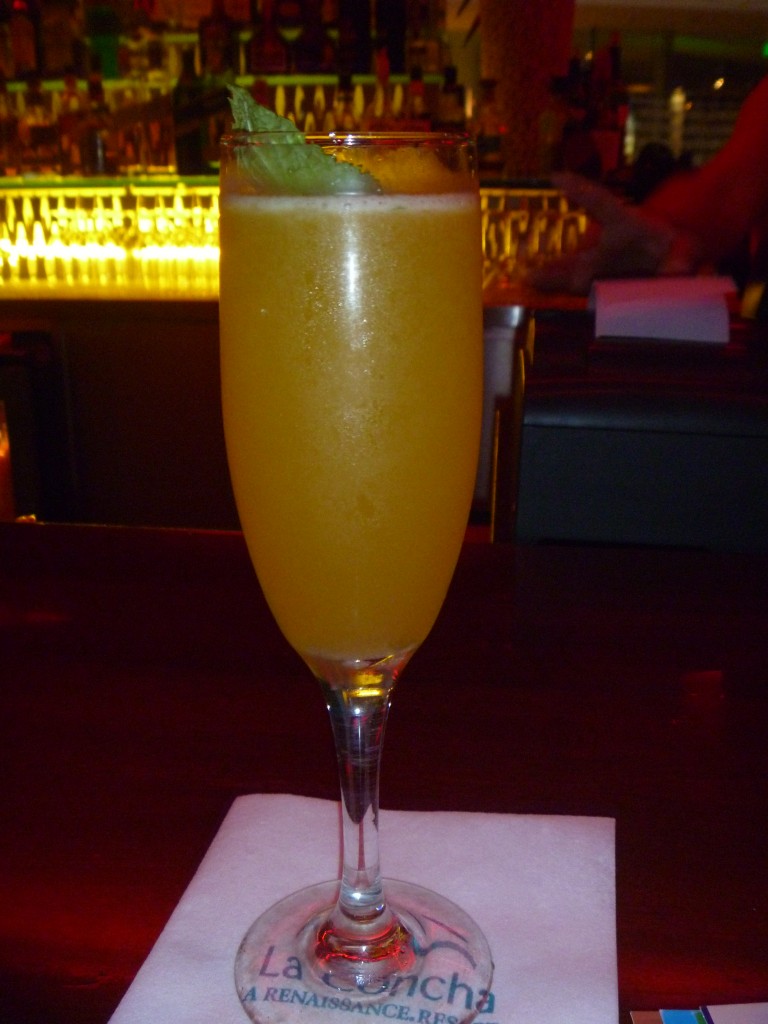 The first place I encountered (straight off the plane and on my way to a meeting with coworkers) was a food court in a mall that could have been found anywhere in the suburban United States, containing the usual sub joints and the requisite Panda Express-type fare. Raring for something local, I opted for the one Puerto Rican sandwich shop in the food court. While the sandwich was no great culinary discovery, the jamon y huevo y queso con ensalada on crusty Puerto Rican bread (ham, egg and cheese with lettuce and tomato) was just what I needed coming off an early morning flight where my breakfast consisted of a Kind Bar and a bag of Popcorners.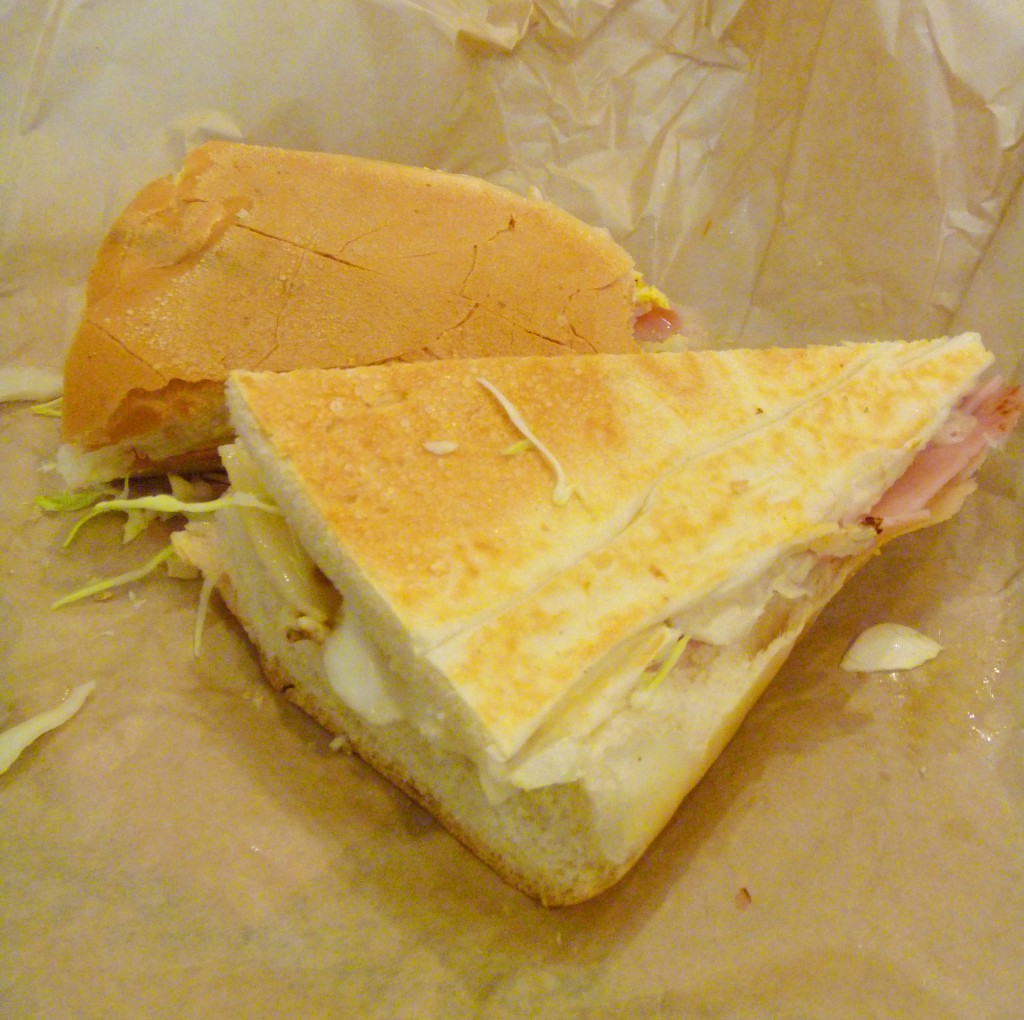 The real treat came later that night, though. By dinnertime, I was running on empty after the early flight and all-day meetings, and my exhaustion had hit the point where I knew I couldn't stomach a big meal without falling face first into a plate of yellow of rice. So, I went to the hotel bar for a quick cocktail and a snack before crashing out for the night. There, amidst the dim red lights and live island music, I discovered the bar had some eye-catching tapas on its menu. Along with a sparkling passionfruit cocktail (one of the best drinks I've had in a long time), I enjoyed local root chips (likely made from plantains or yuca which are found on nearly every menu in Puerto Rico) with guacamole and Asian-style hummus followed by chorizo and manchego croquettes. Perfectly fried and crispy on the outside and hot and gooey on the inside, they were the culinary highlight of my day. Surprisingly, the croquettes were paired with a small spoonful of sauce that looked and tasted like creamy southern grits. Those little balls of fried goodness would have been enough on their own but the mystery "grit sauce" was so good that I couldn't help slathering it all over the croquettes.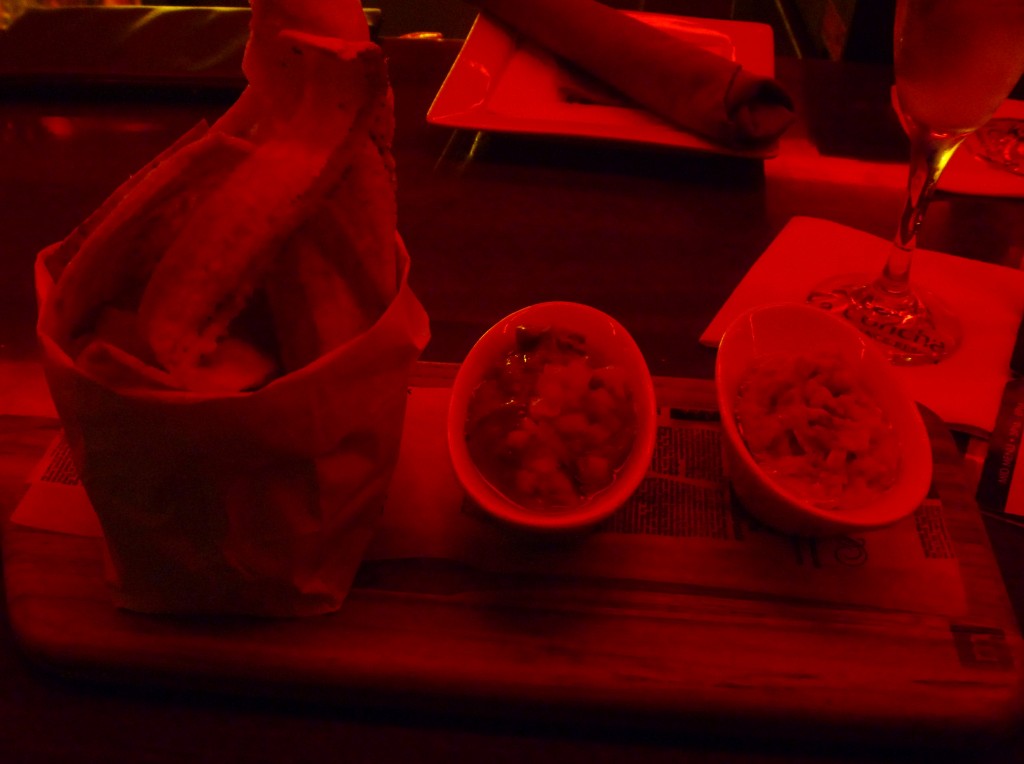 Day 2 on the island included a working buffet lunch of authentic Puerto Rican eats – pork, potatoes, yellow rice, flan, etc…. Most notable was the chicken breast wrapped in bacon and stuffed with "mofongo." Mofongo is typically a fried plantain-based dish, but the locals use the term mofongo to describe a variety of different kinds of mashed and/or fried plantain and yuca dishes.  That evening, when our planned restaurant was closed, my coworker and I ended up at a Chilis. I can hear the gasps across the blogosphere – eating at a suburban chain restaurant when I'm supposed to be frequenting local eateries?? How could I?? But this was no Northern Virginia Chilis in a strip mall. First of all, it was right off the beach, and second of all, it had creamy chicken enchilada soup and crispy tostones (fried plantain slices) on the menu. Oh, and let's not forget a great Cosmopolitan Martini. 🙂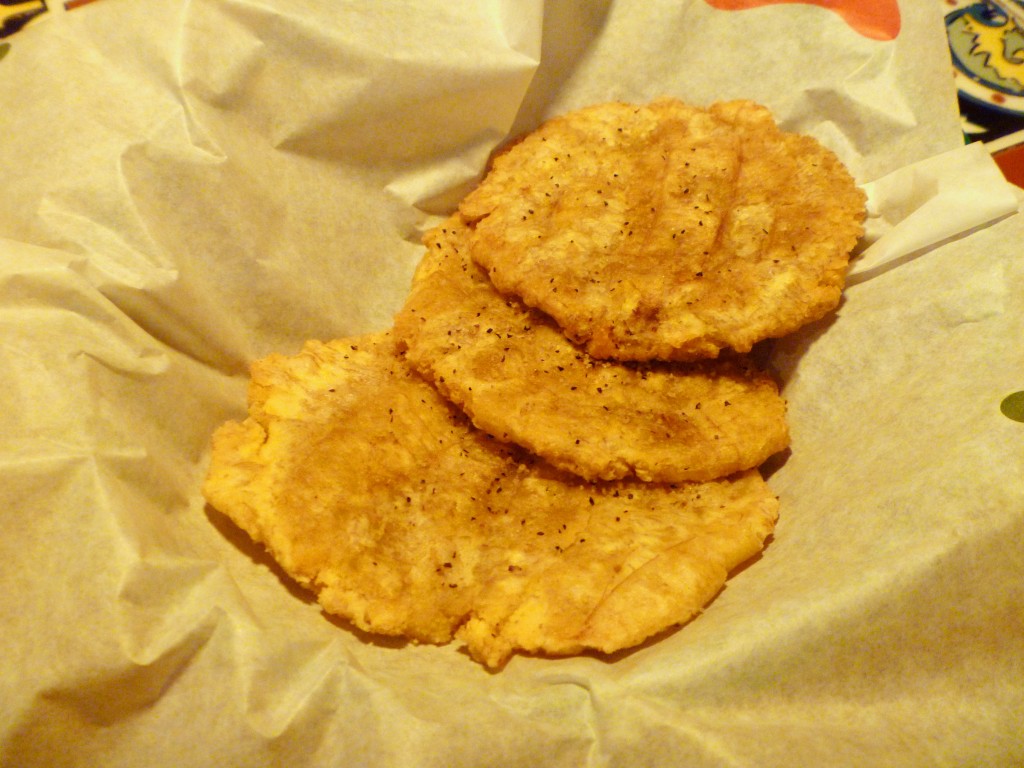 My final day, though, featured some of the best eats of the trip. I began my day with an in-room breakfast that I had been patiently awaiting the entire trip after first spotting it on the hotel menu. However this breakfast tasted, I would still have been happy because (a) I love room service almost as much as I love trying local cuisine and (b) I lucked out with an ocean view room and ate looking out onto the beach. It was just icing on the cake that the Island Native Eggs Benedict consisted of perfectly poached eggs over an extra crispy Loiza Valley crab cake drenched in homemade ají remoulade hollandaise sauce and topped with chopped avocado and tomato. Doesn't that sound amazing? Well, it was!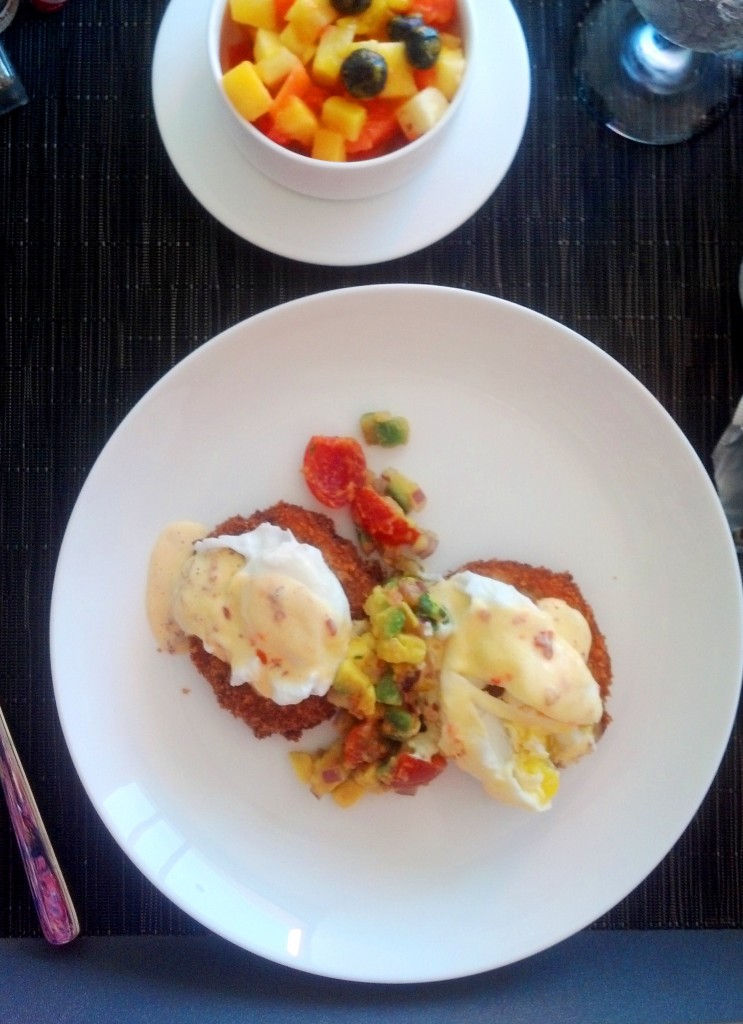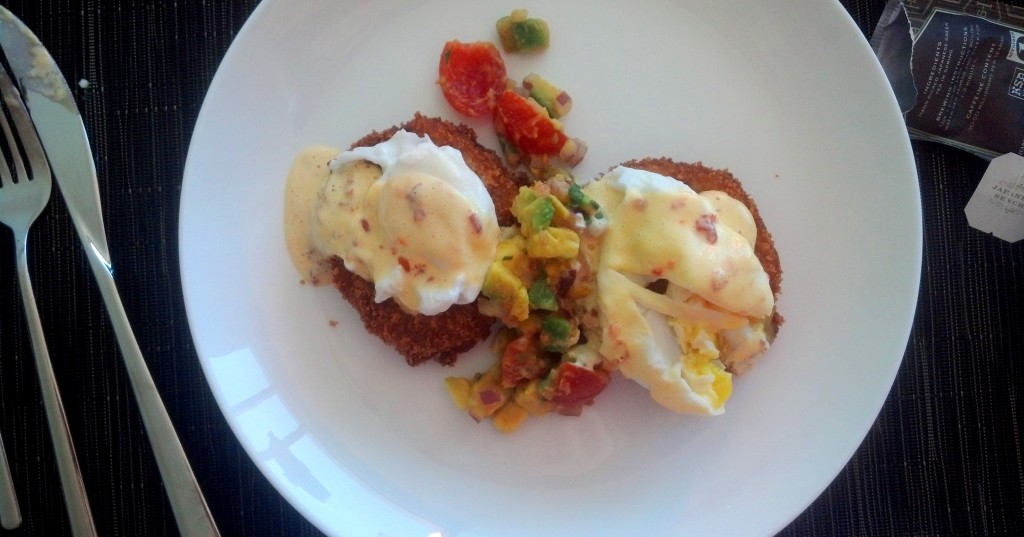 I thought that breakfast would be my final meal, eaten right before I left for the airport, but a random eatery at the Miami airport during a layover provided me with the most surprising and unexpected meal of the trip. Eschewing the hot dog chain and the usual airport fare, I made a beeline for a place called La Carreta, which was serving up cafeteria-style Cuban food. I went in planning to get a salad, and ended up with a large vegetable beef soup, braised ox tail, yellow rice, and steamed veggies. When I saw all the fragrant soups and tender, succulent meats, I couldn't resist. And I wasn't disappointed.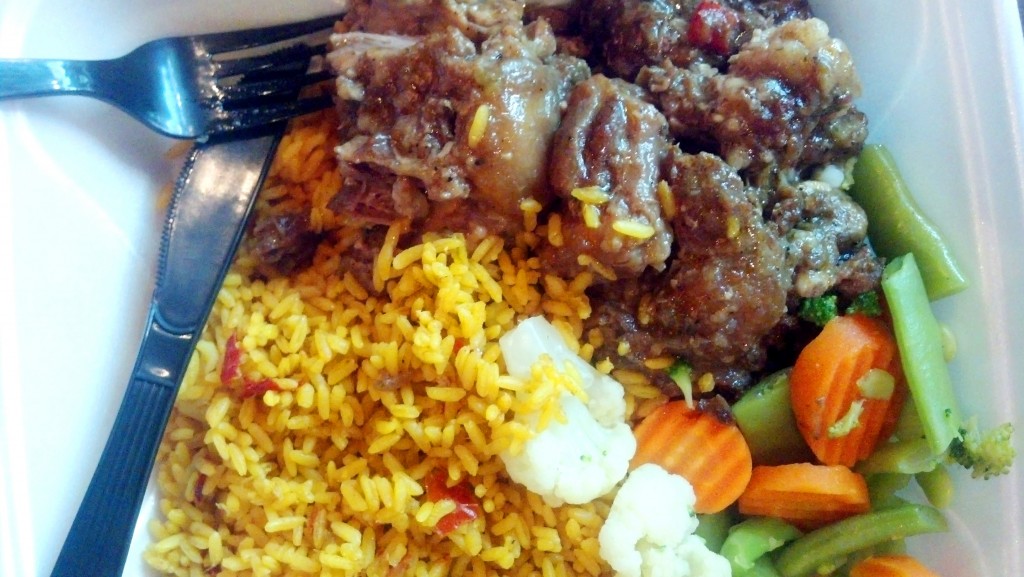 With a full belly and a satiated palate, I boarded the plane home brimming with new ideas for recipes and raring to get back into the kitchen but slightly deflated by the fact that not only do I need to spend this week detoxing from the vast array of fried foods I inhaled during my trip but I'm also about to take a brief hiatus from HRx to, you know, get married.  Then it hit me — in less than two weeks I will be married to the man I love, all the crazy wedding planning will be over, and I will be eating crepes in Paris!!!! When you're excited do you ever wish you could just fast forward time and wake up on the day you've been waiting for? I do, and never more than right now. Unfortunately, I don't have a flux capacitor, but I do have one week left in the kitchen to share a few more (extra) healthy recipes with you before I leave and then endless healthy and slightly more indulgent recipes to share when I get return.