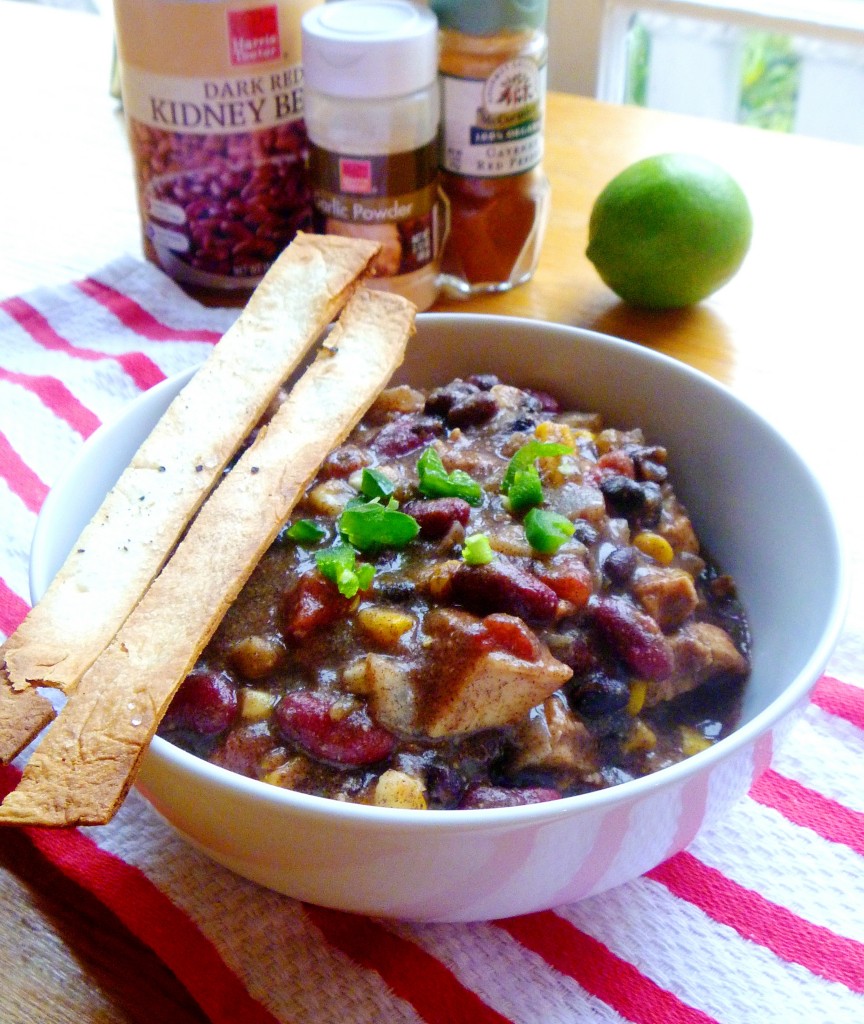 BIG NEWS! Alasdair and I are buying a house in the city (knock on wood because we still have to go through closing). After years of living in apartments, I get to cook in a real kitchen. Well, a rowhouse kitchen that needs a little work but a real kitchen all the same.
Needless to say, buying a house and planning a wedding at the same time has been a *little* stressful. There have been many sleepless nights and a little bit of stress eating. Point being, with home inspections, financing contingencies, work, wedding vendor appointments, etc, there has been no time to go to the grocery store this week. Last night, I needed something comforting and relatively healthy that could be made with ingredients I had on hand. What do I always have on hand? Chicken breast. There's a reason I always have chicken breast in my freezer…it's because I hate cooking it. Chicken breast is so boring and bland and I always over cook it. So I buy it, put it in the freezer, and there it stays — for months. Well, chicken breast, I'm desperate, so you're coming out.
While staring into my pantry, which is always stocked with beans and diced tomatoes, I spotted a can of chopped green chilis. A lightbulb went off in my head. Mexican Chicken Chili. That's what I would make. So, I basically dumped everything in my pantry plus the chicken into a crock pot, crossed my fingers for luck, and let it cook for four hours.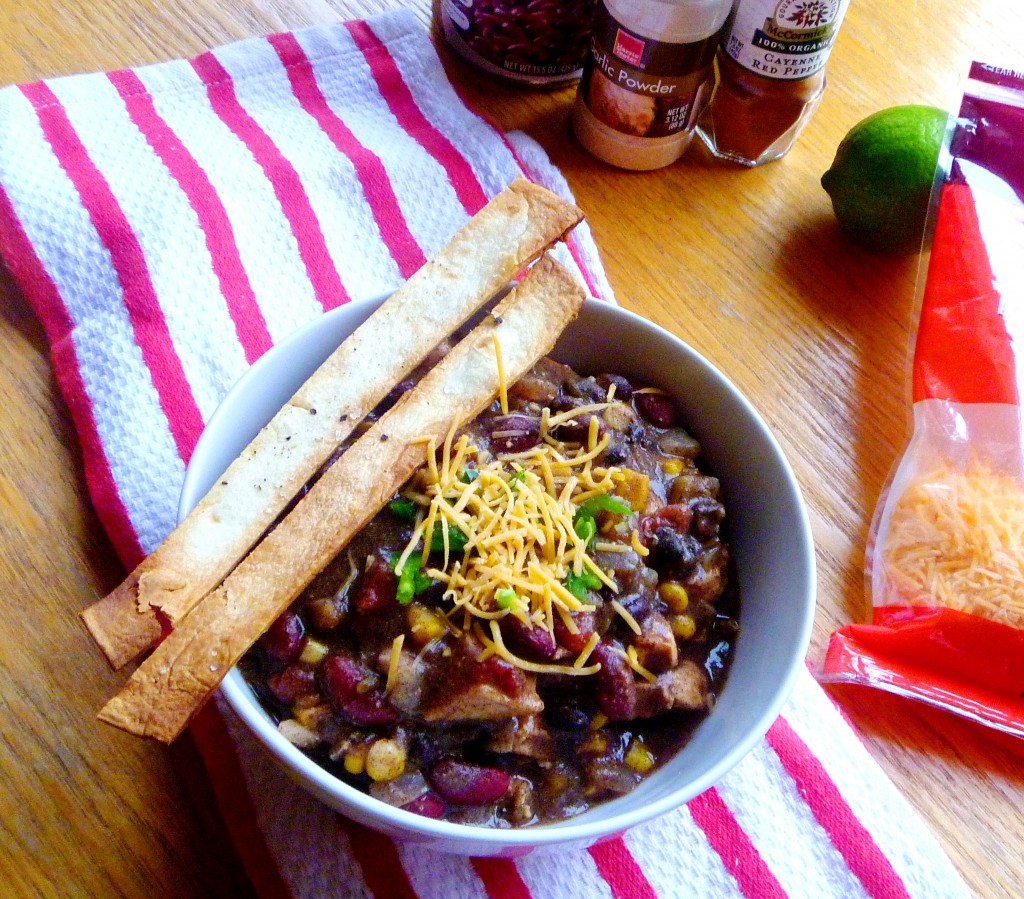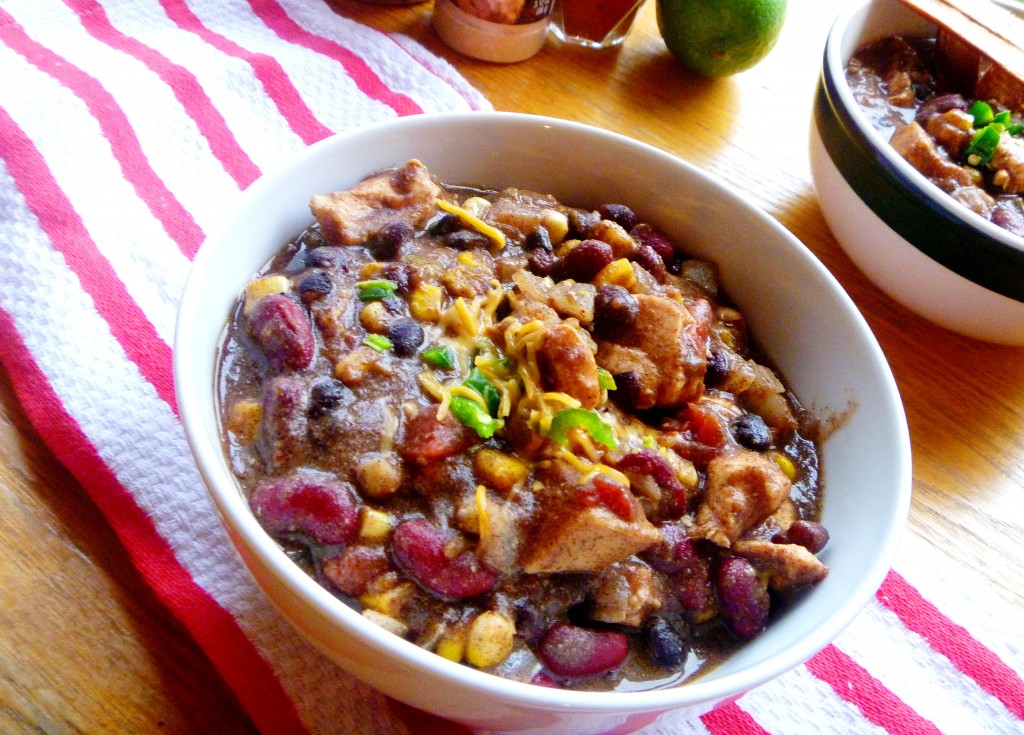 Healthy Recipe Ecstasy? I didn't need the luck because this turned out amazing! Alasdair said he was very impressed with my resourcefulness and I couldn't wait to eat leftovers the next day. I added buckwheat flour to thicken the chili. Why buckwheat? Because buckwheat flour is said to contain no gluten, making this a gluten-free recipe! It's darker and grainier than regular flour, meaning it didn't absorb quite the same, but it worked absolutely fine and tasted great! I had it again for lunch today, and I am seriously excited to eat it again tomorrow! This is the kind of dish that gets better with age.

Pantry Raid: Mexican Chicken Chili
Author:
Healthy Recipe Ecstasy
Ingredients
1 tablespoon olive oil
1.5-2 pounds of chicken breast, chopped into one inch cubes
1 can black beans
1 can kidney beans
1 can diced tomatoes, no salt added
½ cup fat-free, low-sodium chicken broth (check for gluten)
1 onion, chopped
1 cup frozen or canned corn kernels
¼ cup buckwheat flour
1 4.5 ounce can chopped green chilis
½ tablespoon kosher salt
½ tablespoon cayenne powder
½ tablespoon garlic powder
1 teaspoon black pepper
½ teaspoon chili powder
½ teaspoon cumin
Diced jalapenos (optional)
Shredded cheddar cheese (optional)
Tortilla strips (optional)
Instructions
Chop the chicken and the onions. Add all the ingredients through cumin to the crock pot. It may look like a lot of ingredients but I found everything I needed in my spice rack so hopefully you will too!
Turn on high and cook for four hours.
Check the chili after about three hours, and if it looks soupy, add a little more flour to thicken it up.
After four hours, taste and adjust the seasoning as needed. Top with diced jalapenos and/or cheddar cheese. I also made baked tortilla strips to eat with the chili. Click here for instructions on how to make baked tortilla strips. Easy as pie! Except it's chili...