This shop has been compensated by Collective Bias, Inc. and its advertiser. All opinions are mine alone. #EverydayEffortless #CollectiveBias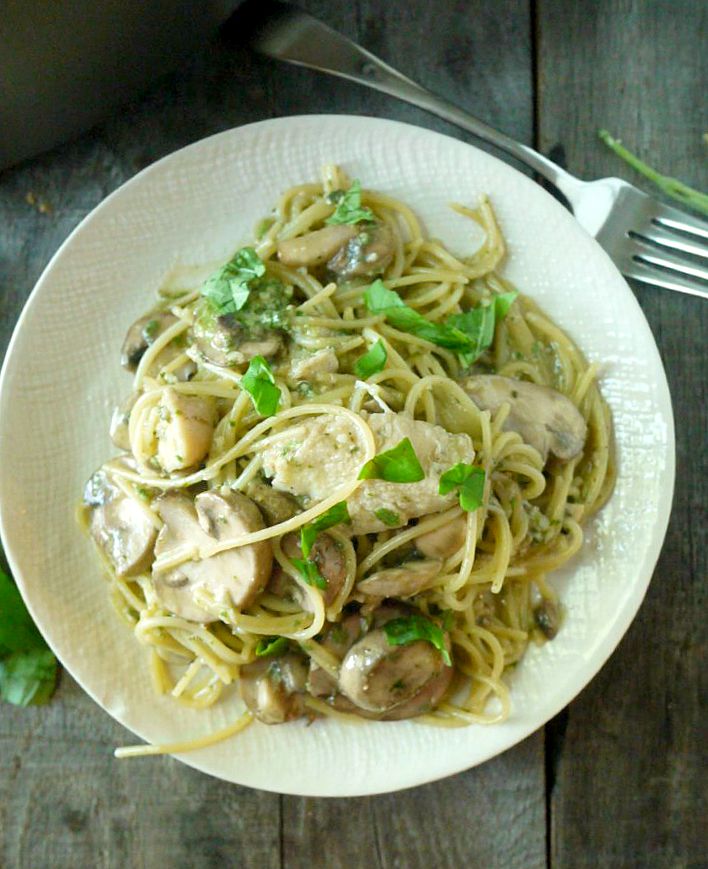 Hello there, big plate of pasta. It's been a long time, my friend. Would you believe me if I told you that it's been months – I repeat, MONTHS – since I've eaten a bowl of pasta? It's probably the longest amount of time I've gone in my life without slurping in a face full of noodles.
You all know I've been riding the Paleo train for the past few months (with a few weekend detours for social events that practically require you to eat carbs – I'm looking at your bachelorette party and baby shower) so my pasta cabinet full of regular noodles, wheat noodles, brown rice noodles, quinoa noodles, ezekiel noodles (yes, we have a lot of noodles) has been downright neglected in favor of cauli rice and zucchini "noodles."
Making noodles out of vegetables takes some work. I don't have a spiralizer, but even if I did, I imagine it's a little more complicated than throwing a pot of noodles on the stove to boil, drizzling with olive oil and calling it a day. And, as much as I've enjoyed our faux noodle vegetable regime, I barely have time to eat this week, let alone cook. Why you ask? Well, I'm starting a new business. I decided during my postpartum maternity leave haze that, in addition to raising a baby, working part-time, and keeping up my blog, I should start a mom-and-baby exercise franchise (#ShamelessSelfPromo). Six months postpartum is the perfect time to open a new business, right?  Don't answer that.
I'm super excited about my new venture and my grand opening on Saturday, but it's really keeping me on a tight schedule. Things like cooking, cleaning and washing my hair have fallen by the wayside. But, since my business is focused on fitness and health, I really can't let myself go in terms of eating. As much as I'd love to just order in some Thai food every night this week, I have to stay fit and strong (or as fit and strong as I can be post baby on minimal sleep) which means I need a healthy home-cooked meal that can be made in the time it takes for my son to get bored with sitting in his jumperoo: 10 minutes.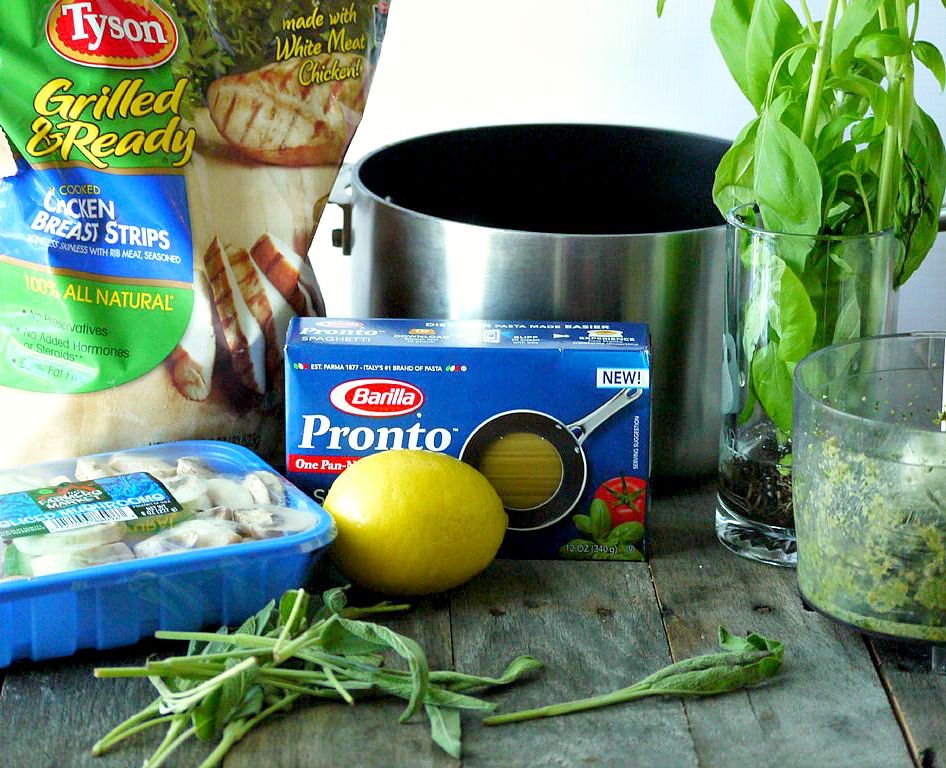 Fortunately, Barilla just came out with this awesome new Pronto pasta that can be made in one pot without boiling and draining – the two steps that takes pasta from a sorta fast dinner to a super quick dinner. I usually hate taking shortcuts because I love cooking from scratch but no can do anymore with the little one. Every second counts.
I also hate hate hate cooking chicken which is why I use a lot of rotisserie chicken in my recipes – but even that takes time because I have to pick and shred the chicken. And, let's be honest, I'm usually starving which means I spend most of the time standing at the counter shoving handfuls of chicken in my mouth. My husband is not impressed by that move…. So, I threw some Tyson Grilled & Ready Chicken Strips into the pot along with the pasta for protein and to avoid the counter chicken eating/shredding shame. The chicken strips are 98% fat-free and have no preservatives so they're actually healthier than most store-bought rotisserie chickens. I love that the food industry is getting that family's need healthy shortcuts and not just frozen chicken nuggets!
I also threw in some mushrooms to cook right along with the chicken and pasta. The only thing that takes a bit of work is making the pesto – and we're talking 5 minutes of work. But this can be done ahead of time or, if you're really strapped for time, you can buy store-made pesto. I like to make big batches of pesto and freeze them to be used in situations like this.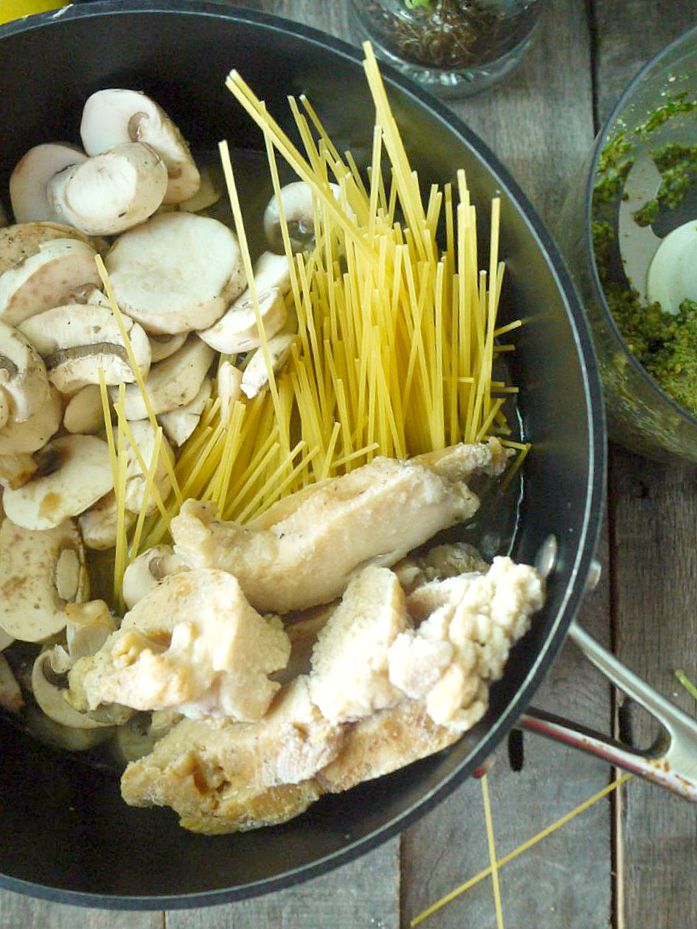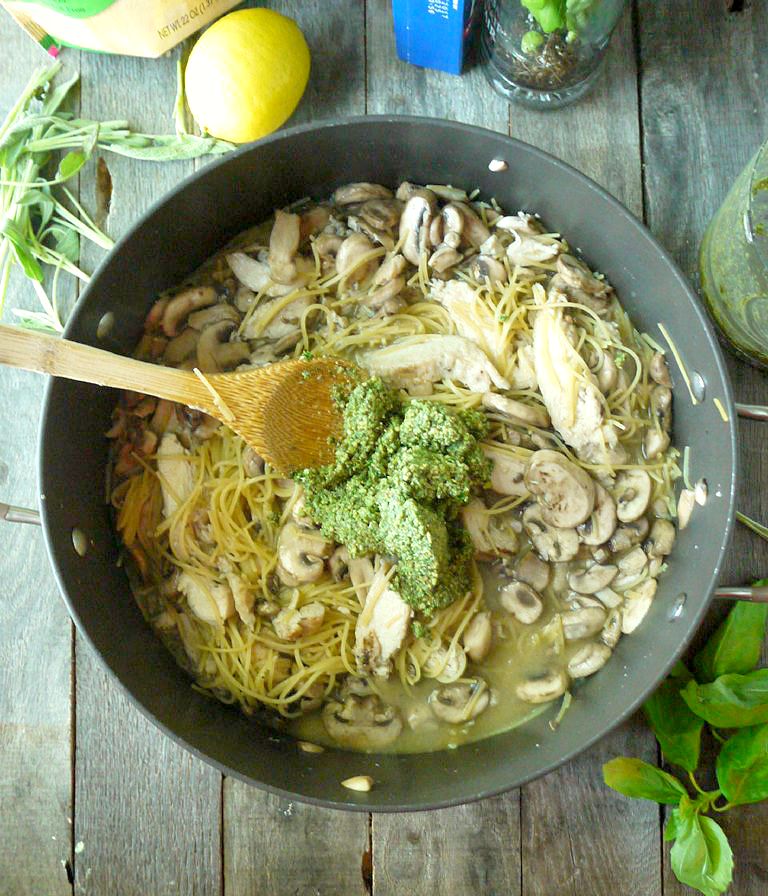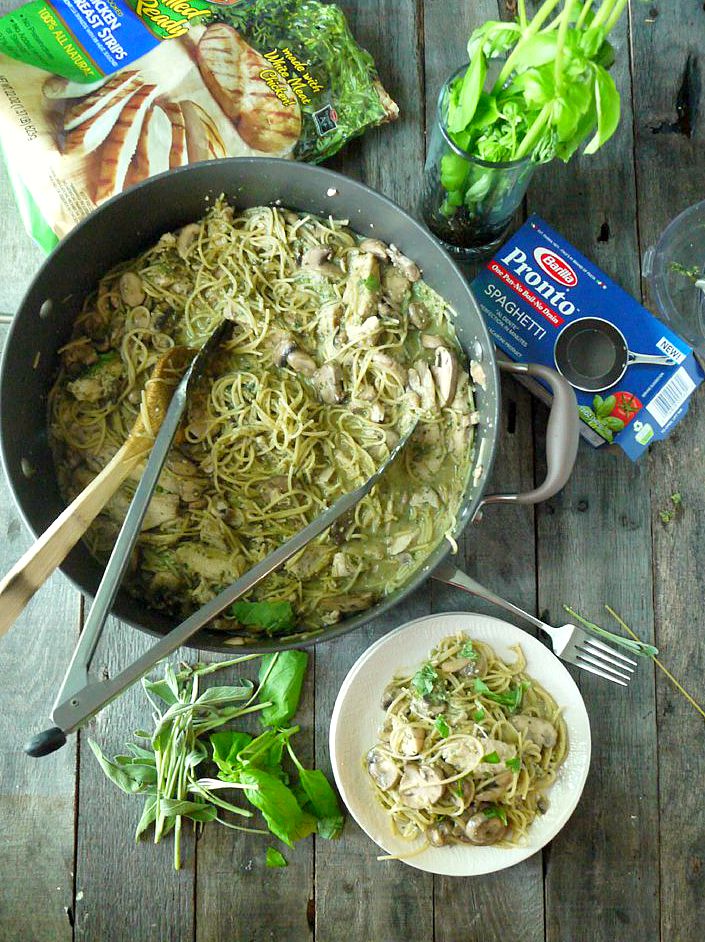 Minus the home-made pesto, you can pull this meal together in 10 minutes. I know, right?? I never think of myself as being able to make dinner in 10 minutes unless it's heating up leftovers. Cutting out at least 10-15 minutes of chicken pickin' and water boilin' time makes a huge difference. And, all you moms out there know that 10 minutes of time saved is golden. That's 10 more minutes to play with your sweet little one or, more likely, 10 minutes to run to the bathroom, brush your teeth and throw in some laundry (or change that shirt you've been wearing for the past three days that's covered in spit up).
I probably put less brain power into the creating and cooking of this recipe than I have for any other recipe on this blog. I just hopped on over to Walmart, grabbed the ingredients, threw them into a pot, added some pesto and crossed my fingers.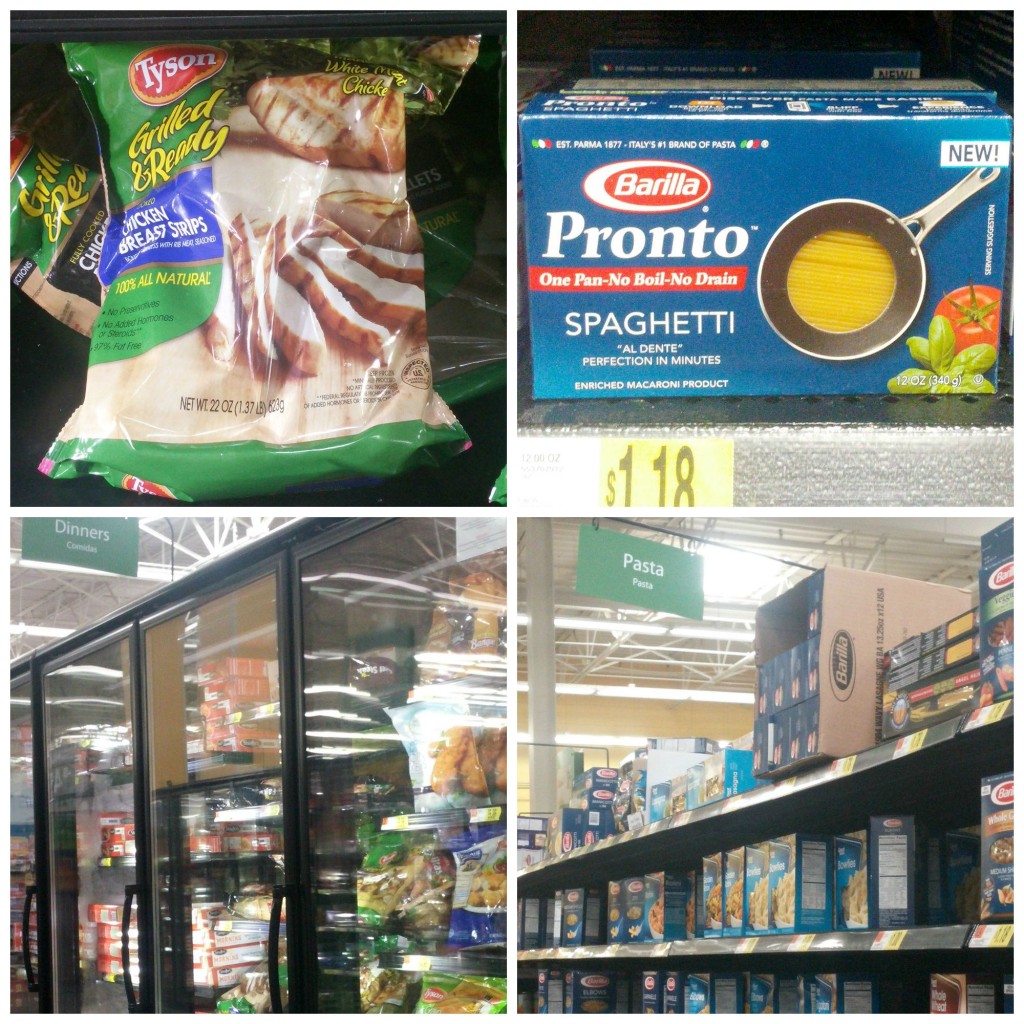 So, of course, I expected a disaster resulting in the usual "let's get takeout" response from my husband, but you really can't mess this up. The sage pesto is so flavorful – a little bit packs a big punch – and when it mixes with the starchy pasta water it turns into an unexpectedly creamy sauce. Seriously, the magic of this dish came together on its own. I just sat back and watched. Ok, I stirred a little…
P.S. If you throw in the whole box of pasta and the entire bag of chicken strips it makes A LOT so I'm pretty set on dinner for the next few days. What oh what will I do with my time? Zzzzz…….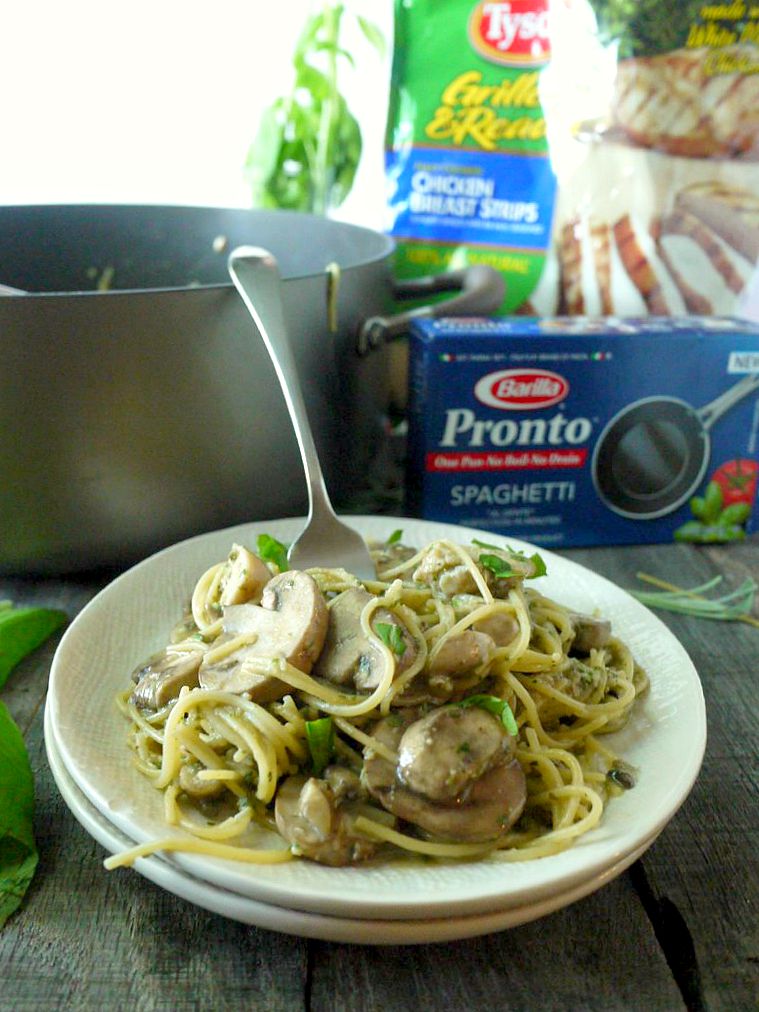 Check out more inspiration for #EverydayEffortless here!


One Pot Chicken and Mushroom Pasta with Sage Pesto
This recipe requires a pretty big pot to give all the ingredients enough room to cook. I started out with a smaller pot and had to transfer the ingredients to a dutch oven.
Author:
Healthy Recipe Ecstasy
Ingredients
Pasta:
1 package Barilla Pronto Spaghetti
1 package Tyson Grilled & Ready Chicken Strips
1 pound sliced white mushrooms
5-6 cups organic, low-sodium chicken stock
Salt and pepper, to taste
Fresh basil, for garnish
Sage Pesto:
3 cloves garlic, chopped
½ cup roasted walnuts
¾ cup fresh sage, loosely packed
½ cup fresh basil, loosely packed
½ cup fresh spinach, tightly packed
2 tablespoons fresh lemon juice
¼ teaspoon salt
¼ teaspoon black pepper
¼ cup olive oil
Instructions
Pasta:
Add the pasta, frozen chicken strips, mushrooms, salt and pepper to a large pot. Pour in 5-6 cups of chicken stock, making sure the stock covers the pasta. Cook on high for 10 minutes, stirring occasionally.
Remove the pot from the heat and stir in the pesto until all the remaining stock is absorbed. Garnish with fresh basil leaves.
Sage Pesto:
Mince the garlic and the walnuts in a small food processor. Roughly chop the sage, basil and spinach by hand then add it to the food processor along with the lemon juice, salt and pepper. Blend in short bursts while pouring in the olive oil. Store in the fridge for up to three days.