All that talk about almond cookies and Cooking Light reminded me that I have completely neglected to tell you guys about one of my favorite Cooking Light desserts. Sorry, guys. I'm the worst. I just gave myself a little bad girl smack on the hand. Bad Michelle! But, in my defense, I've been a little busy catering, doing food demos, attending bachelorette parties, working full-time, running giveaways (have you entered yet??) and trying not to lose my mind. More on that next week….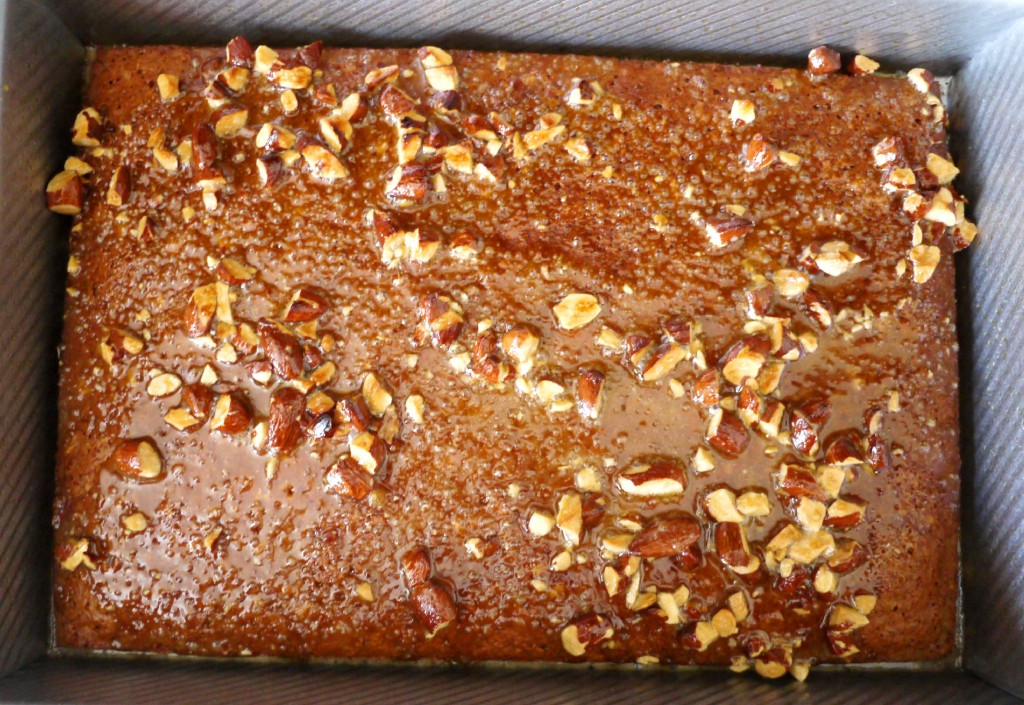 Fortunately for us all, my recent foray into catering resulted in me resurrecting this simple cake that I've been making for years. And, I remembered how well it strikes the balance between healthy and just a little naughty. Oatmeal = good. Apples = good. Almonds = good. Butter, sugar = not so good. But, as always with Cooking Light, those not-so-good ingredients make their appearance in moderation. Just enough to add a little bad to your good in a good way. You following me?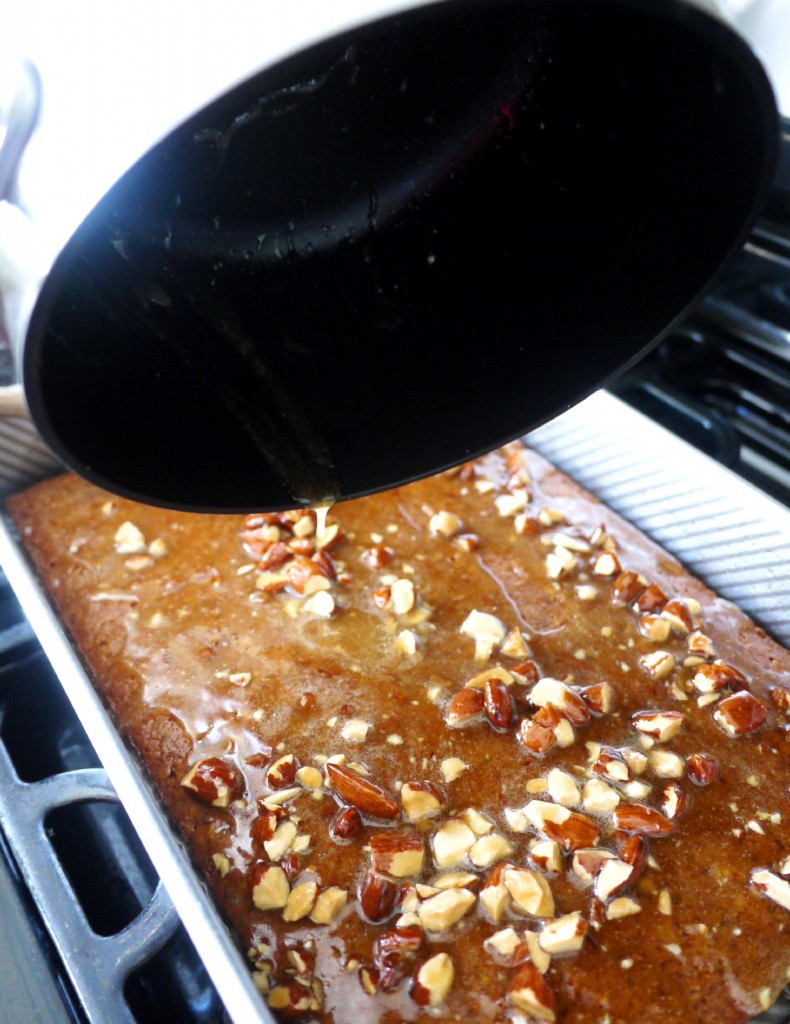 It's all cake-y and frosting-y goodness but in a subtle, nutty, just a tad sweet kind of way. That's why it's perfect for breakfast, dessert, snacks, anytime you want a little somethin' somethin' to tide you over. You know how people say stop and smell the roses? Well, I think that we all need to stop and smell this cake more often. Seriously, the honey apple smell is tantalizing and immediately puts me in a more relaxed, happy state. It doesn't hurt that, after a horrendous winter, we finally got a few sunshine days. I was all "I think I'll go for a walk outside now, the summer sun's callin' my name…it's a sunshine day." Of course, the nice weather was short-lived, but this cake is not. It makes enough to last all week long and it's dense enough that just one little slice is all you need to satisfy your cravings.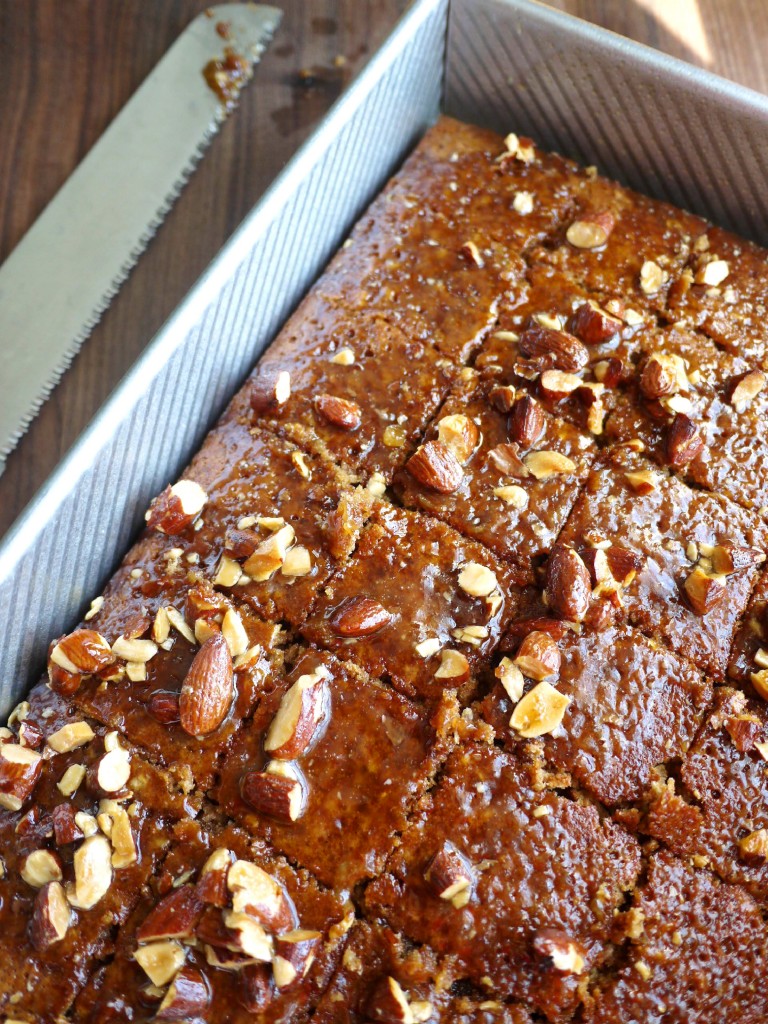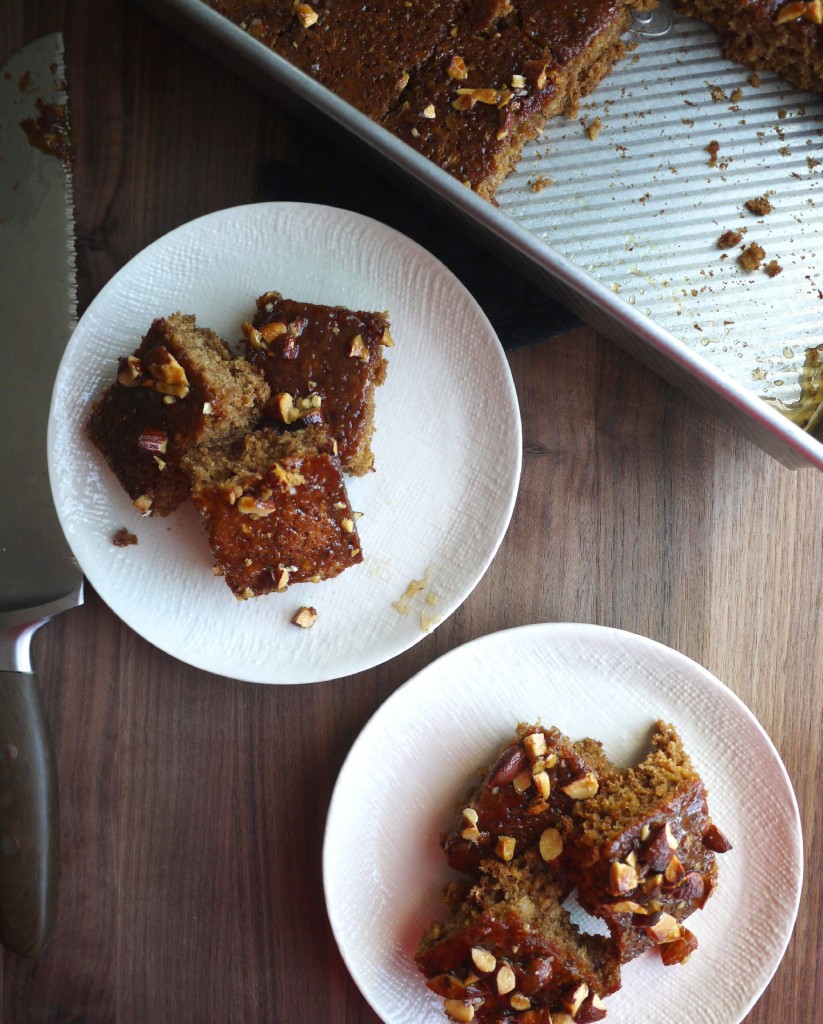 I haven't done any experimentation with making this cake gluten-free or dairy-free but I think some changes could easily be made if you're rocking one of those constraints. Gluten-free oats, almond flour, vegan margarine – I betcha wouldn't even be able to tell the difference. If you try it, let me know. In the meantime, I will be eating cake and dreaming of more sunshine days. 🙂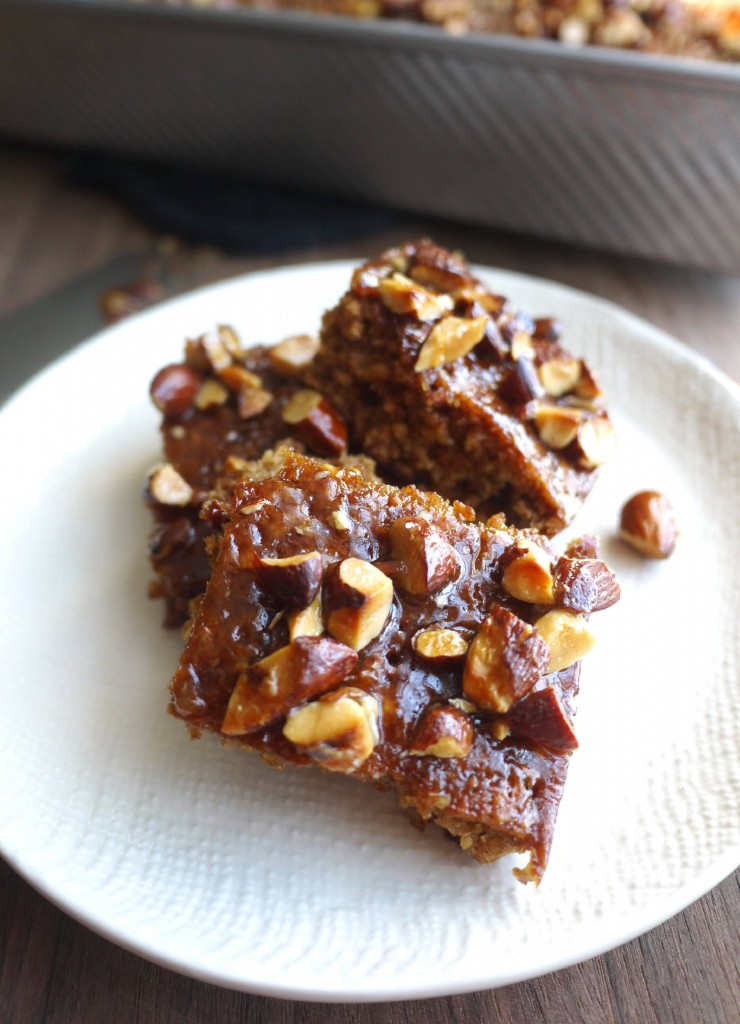 Old-Fashioned Oatmeal Honey Apple Cake
Author:
Healthy Recipe Ecstasy (Barely Adapted from Cooking Light)
Recipe type:
Dessert/Snack
Ingredients
Cake:
1 cup quick-cooking oats
1 cup hot water
1½ cups all-purpose flour (about 6¾ ounces)
2 teaspoons ground cinnamon
1 teaspoon ginger (the original recipe doesn't call for ginger but I thought it would be a great addition to this cake for a little extra flavor)
1 teaspoon baking soda
½ teaspoon salt
1⅓ cups packed light brown sugar
¾ cup chunky applesauce
⅓ cup honey
2 large eggs
Cooking spray
Frosting:
¼ cup butter
⅓ cup packed light brown sugar
¼ cup honey
½ cup coarsely chopped almonds, toasted
Remaining ingredients:
1 cup frozen fat-free whipped topping, thawed
Ground cinnamon (optional)
Instructions
Preheat oven to 350°.
To prepare cake, combine oats and 1 cup hot water in a small bowl; set aside.
Lightly spoon flour into dry measuring cups; level with a knife. Combine flour, 2 teaspoons cinnamon, ginger (if using), baking soda, and salt. Combine 1⅓ cups sugar, applesauce, ⅓ cup honey, and eggs in a large bowl; beat with a mixer at high speed 1 minute. Add oat mixture; beat at low speed until well blended. Add half of flour mixture to sugar mixture; beat well. Add remaining flour mixture; beat well. Spoon batter into an 11 x 7–inch baking dish coated with cooking spray. Bake at 350° for 48 minutes or until a wooden pick inserted in center comes out clean. Place dish on a wire rack.
To prepare frosting, melt butter in a small heavy saucepan over medium heat. Add ⅓ cup sugar and ¼ cup honey; cook 2 minutes or until bubbly, stirring constantly. Stir in almonds. Quickly pour frosting over cake; spread evenly using a rubber spatula.
Preheat broiler.
Broil cake 1 minute or until frosting is bubbly and golden. Cool completely on a wire rack. Serve with whipped topping; sprinkle with ground cinnamon, if desired.