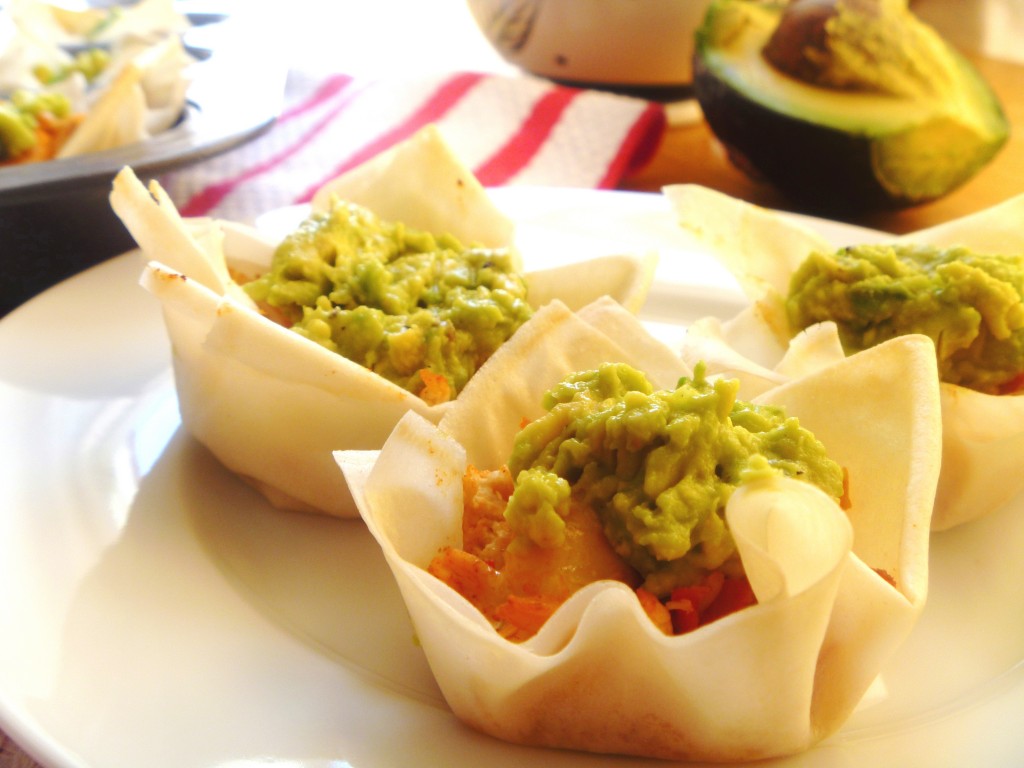 How adorable are these little chicken taco bites?? These would definitely wow at tailgates. They're cute and easy finger foods that are secretly healthy and not so secretly delicious.
The inspiration for these appetizers came from Pinterest: http://pinterest.com/pin/168955423491540898/. I'm not sure who is responsible for the initial idea, but when I saw the mini tacos on Pinterest, I knew I needed to HRX them! I swapped the ground beef for leaner shredded chicken breast, swapped the cheddar cheese for part-skim mozzarella and added some heart healthy peppers and avocado. HRX success!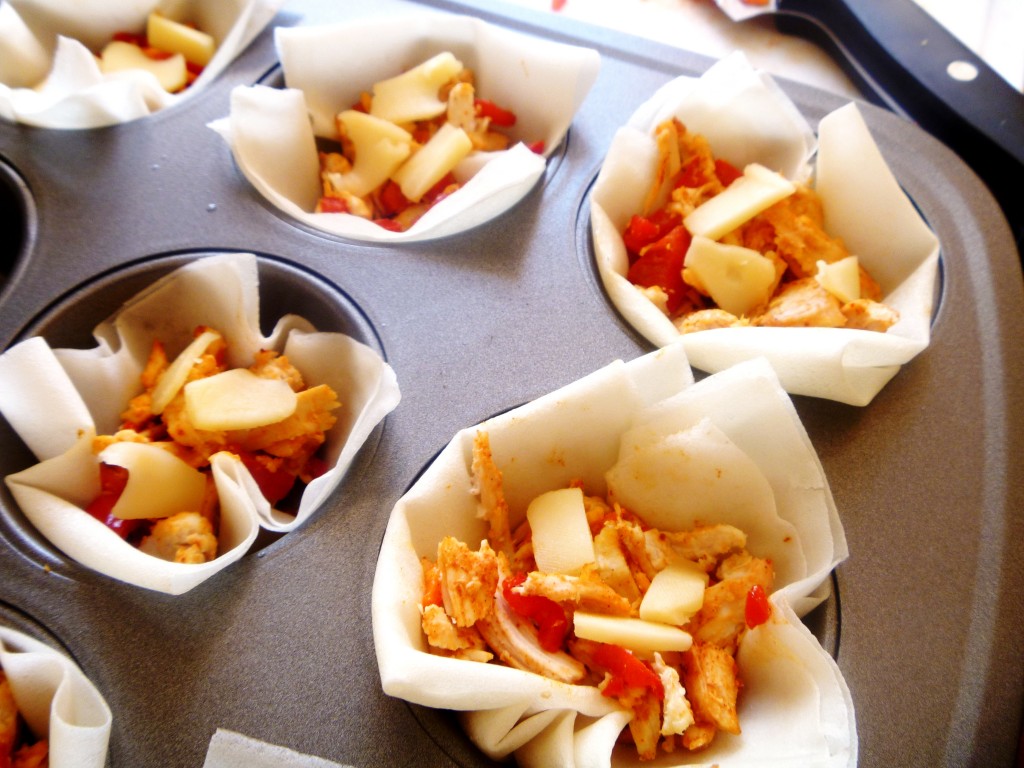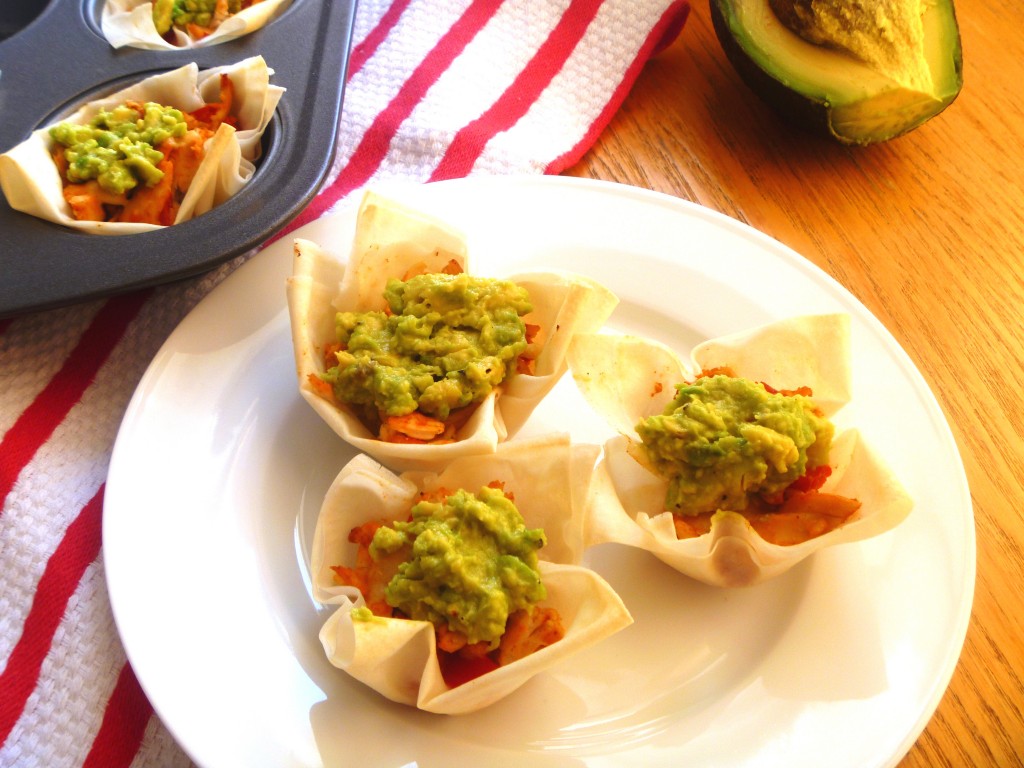 I did have a bit of a problem finding wonton wrappers because my grocery store was out of them. BUT, one of our favorite restaurants, Asian Spice, came to the rescue and provided me some wonton wrappers from their restaurant supply. I know it's a little off topic, but if you ever come to D.C. you HAVE to try Asian Spice. Alasdair swears by their green curry and I love their sushi.
Anyway, back to the mini taco bites. They're healthy, they're easy to make, and they're tasty. I promise these will be crowd pleasers at your next tailgate!
Healthy Recipe Ecstasy? They may not be gluten-free or dairy-free, but they are low in calories and fat. I'm not a calorie counting expert, but I would estimate each taco bite is only about 75 calories. And they are worth every one of those calories!

Mini Chicken Taco Bites
Author:
Healthy Recipe Ecstasy
Recipe type:
Appetizer/Snack
Ingredients
1 cup shredded rotisserie chicken
1 tablespoon taco seasoning
1 pinch kosher salt
4 wonton sheets
¼ cup mozzarella cheese
½ cup avocado
½ cup diced red peppers
Salt and pepper to taste
Instructions
Pre-heat oven to 350 degrees.
Heat a medium saute pan coated with cooking spray on medium-high heat. Add chicken, taco seasoning, salt and pepper. Saute 2-3 minutes.
Coat a muffin tin with cooking spray. Put each square in a muffin holder. You don't have to double up the wonton sheets, you could cut each sheet into four squares, but I wanted to make sure they were sturdy enough to hold up the filling. You could also use one entire sheet for each taco bite, folding it four times, but I don't think that's necessary and it makes the bites a little too big as you can see from my first taco bite in the muffin tin.
Fill each wonton wrapper with about a tablespoon of the chicken and some diced red peppers. Top each with a teaspoon cheese. I know this seems like a tiny amount of cheese, but I promise it's enough to add a little melted cheese flavor.
Bake for 10 minutes until the wonton wrappers are nice and crispy. While they're cooking, mash the avocado and add salt and pepper to taste. Once the mini tacos are finished cooking, top each with a tablespoon of mashed avocado. Delish!