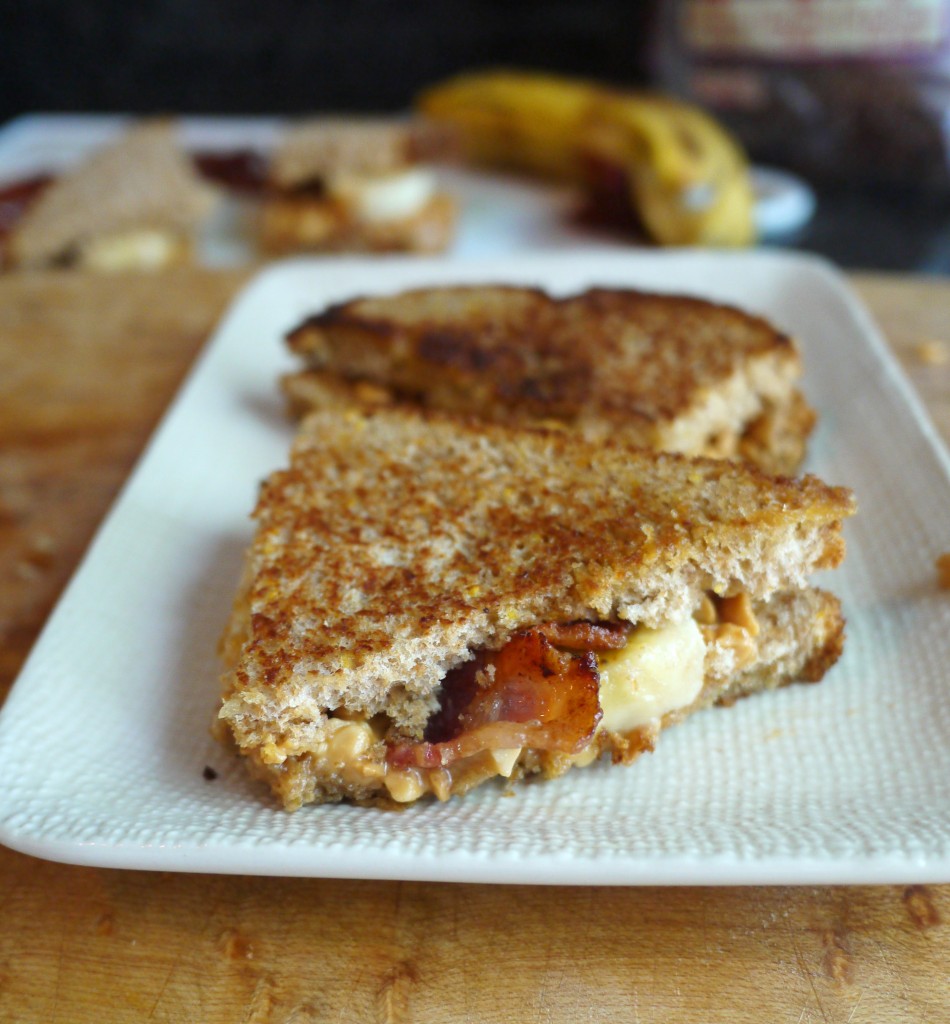 When I think of Memphis, I think of three things: BBQ, blues, and ELVIS! You know I couldn't let my first visit to Memphis pass by without paying tribute to the King himself. I went to Graceland and took the tour of the Elvis Presley house, gardens, automobiles and airplanes. Green carpeted ceilings and gold-platted sink basins anyone??
I went to Sun Studios and sang into the actual microphone Elvis (and a lot of other famous people) used to record their legendary records. Yeah, they let you do that. And, I went to The Arcade Restaurant, where Elvis used to eat his peanut butter and banana sandwiches.
There's a debate over whether the Elvis sandwich included bacon (I think it did). But there is little debate that it was usually capped off with two thick slices of white bread and fried in a whole lot of butter. We all know what happened to Elvis…. His unhealthy cravings got the best of him.
Fortunately, you can still enjoy an "Elvis" without turning your jumpsuit into a fatsuit. After my little adaptations, I bet you "can't help falling in love" with my HRx-ed Elvis sandwich. Sorry, had to get that in there… 🙂
Healthy Recipe Ecstasy? Let's face facts. Elvis was not a healthy man. And his signature sandwich especially got a really bad rap. I mean, it's fried in a stick of butter for crying out loud. But, the actual sandwich components are not thaaat bad. Peanut butter is a great protein and bananas are a fruit, right? All the sandwich needs are a few tweaks to become pretty darn good and good for you. First, you have to use moderate amounts of all the ingredients. Start with two tablespoons of all-natural, no sugar added peanut butter (I like crunchy best) and half a banana. Then, use one slice of center-cut bacon, which has a lot less fat than regular bacon. One slice is all you need to get that salty crunch.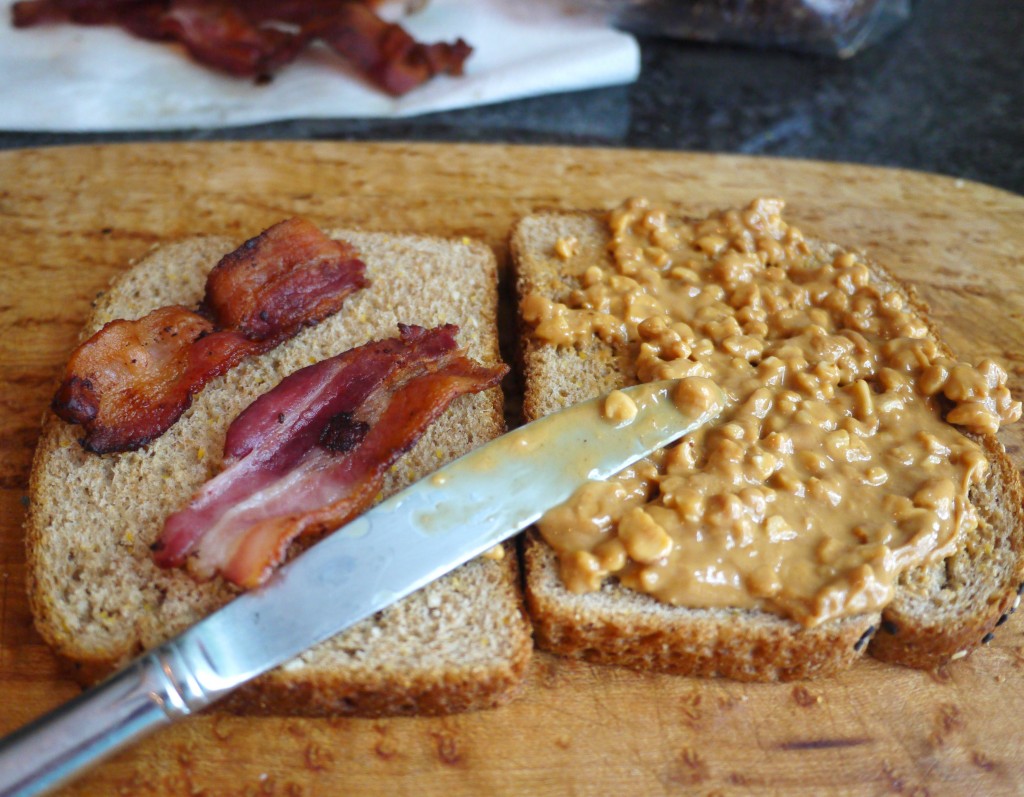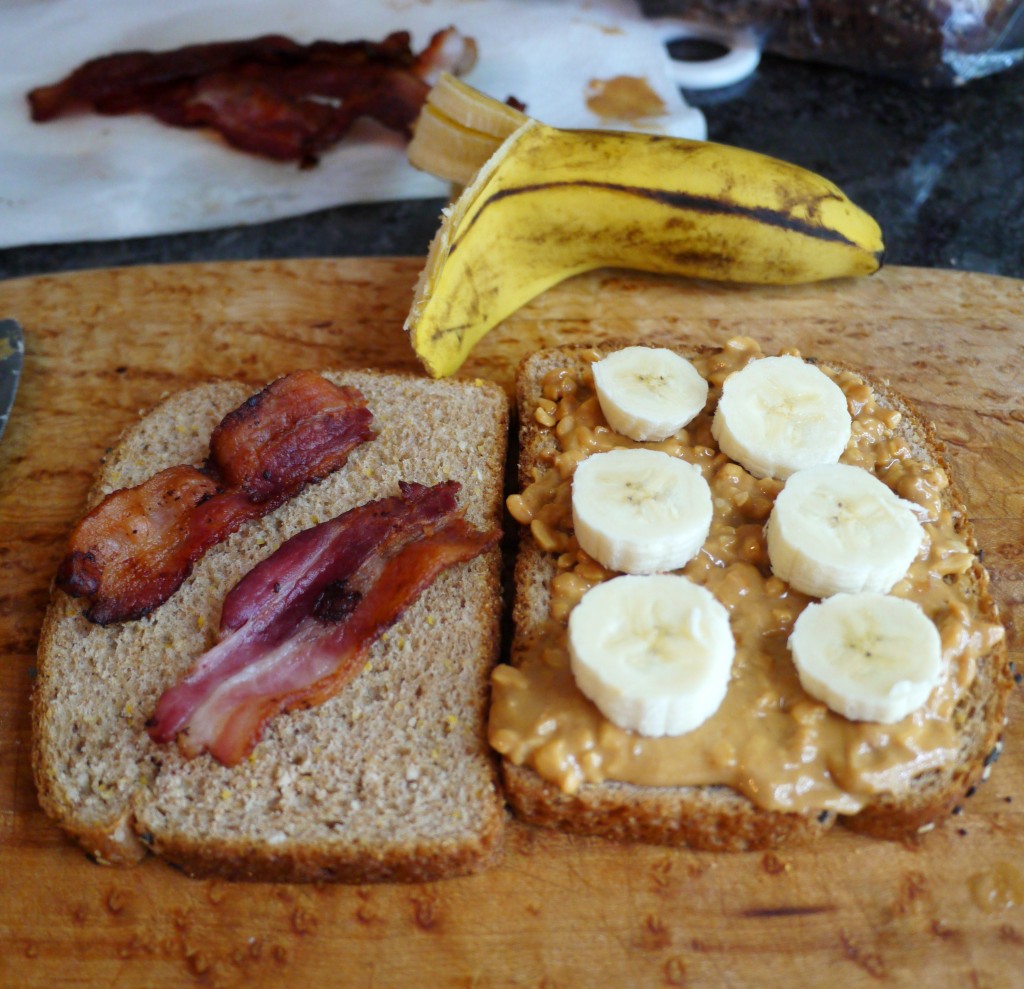 Swap out the white bread for your favorite multi-grain bread or whole-wheat bread. You could even use a gluten-free bread or a sprouted wheat. Whatever floats your boat. Then, most importantly, instead of frying the sandwich in an entire stick of butter, you will lightly fry the sandwich in one tablespoon of butter and one tablespoon of olive oil. And, finally, the biggest key to making this sandwich healthy is portion size. Quarter the sandwich and serve two quarters with a salad for lunch or with some fruit for a hearty breakfast. You could even add some honey and serve the sandwich quarters as a dessert. Seriously, the peanut butter and banana is so filling that you don't need to eat the entire thing.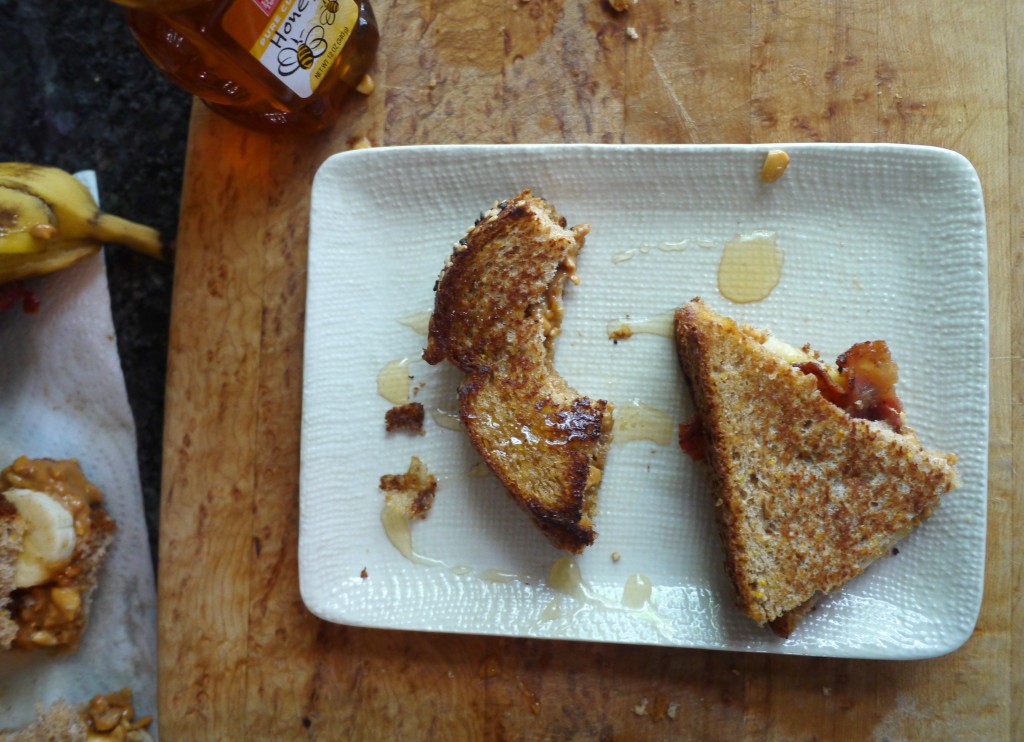 Memphis Makeover: Healthy Elvis Sandwich
Author:
Healthy Recipe Ecstasy
Ingredients
6 slices of your favorite multi-grain or 100% whole-wheat bread
6 tablespoons of all-natural, no sugar added peanut butter
1 and ½ bananas
3 slices center cut bacon
1 tablespoon Brummel and Brown yogurt butter
1 tablespoon olive oil
Instructions
Slice the bananas into ¼ inch slices.
Cook the bacon according to the package, until it's crispy but not burned. Cut each bacon slice in half.
While the bacon is cooking, spread two tablespoons peanut butter on one slice of bread. Top with six slices of banana. Put two half slices of bacon on the other slice of bread.
Put the bread slices together and cut the sandwich into four pieces.
Heat olive and butter in a medium skillet over medium high heat.
Once the butter is melted and sizzling, add the sandwich quarters to the pan and cook one minute on each side until nice and golden. Press the sandwich quarters down with the back of a spatula while they are cooking.
Serve plain or with a drizzle of honey.
NOTE: One serving is two sandwich quarters which equals about 350 calories depending on the type of bread and peanut butter you use.