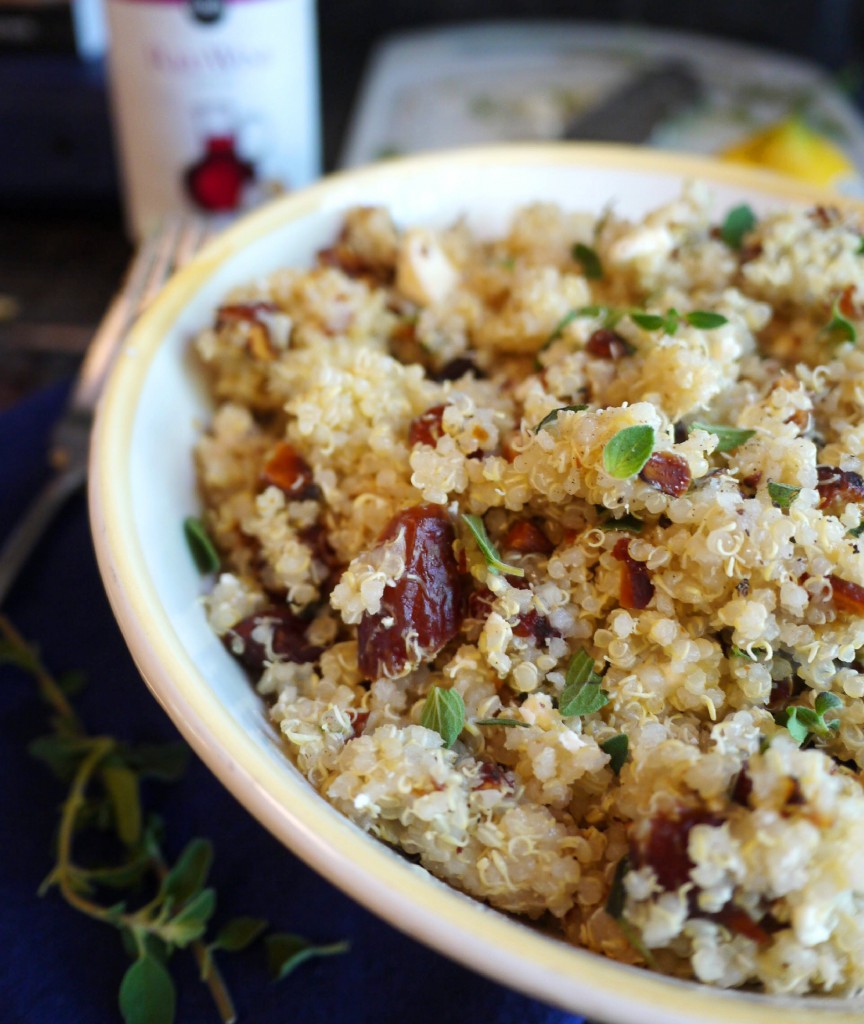 It's done! After nearly two weeks of eating bananas, Kind bars, and sawdust, the kitchen is done. Well, almost…. There are still a few touch up items to check off the list, and I'm still on the lookout for a small, portable, vintage kitchen island. Anyone giving one of those away? But the junk wall has now turned into a beautiful display of steel grey granite counter, dark sage cabinets and open shelving. The aging, sticky (no matter how many times I scrubbed it) vinyl flooring has been replaced with vintage oak grey laminate. And the existing cabinets have been sanded and painted an amazing shade of white sage.
Now that I have additional counter space and cabinets, I am no longer shoving my food processor and dutch oven onto the too small hutch shelves. Nor am I packing my spices into a pullout drawer so tightly that I can barely access the cumin. Nope, from here on out, my kitchen will be calm, collected, organized, and stylin'. Or at least until my next kitchen disaster… 🙂
The first meal I made in "new kitchen" as I like to call it was a chicken piccata dish that I served with pureed cauliflower seasoned with cumin and lime and broiled lemony asparagus. Healthy, flavorful and delicious. A great reprieve from frozen leftovers and takeout but not as spectacular as the second meal I made, which consisted of Moroccan Mint Lamb (recipe from my new favorite cookbook Longevity Kitchen) and Mediterranean Quinoa (recipe from HRx).  Awhile back I made a Southwest Black Bean and Quinoa Salad, and ever since, I've had the idea to make the same type of dish using Mediterranean flavors.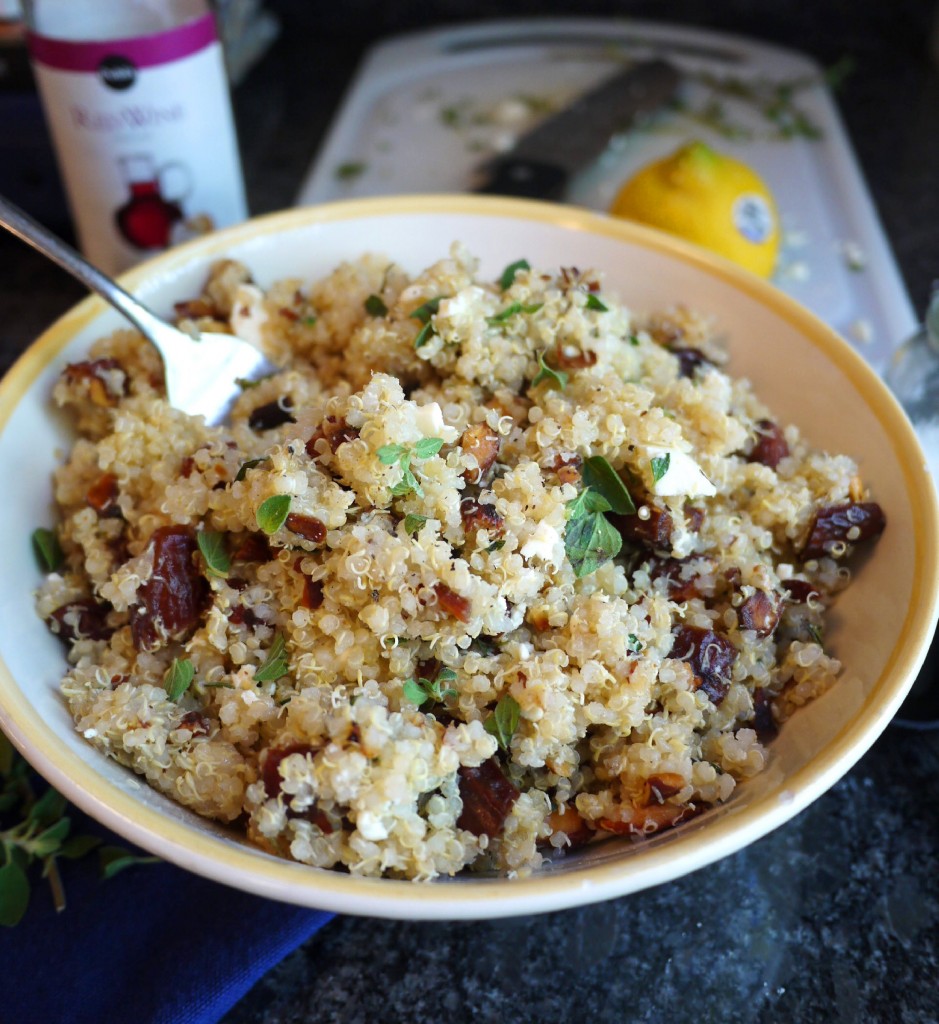 Such as toasted almonds and dates…..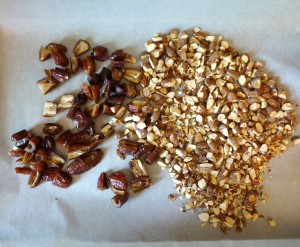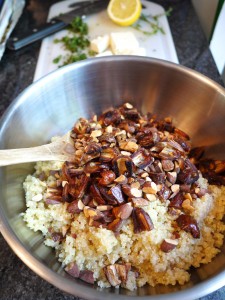 Fresh oregano, feta and lemon….
 Mixed together in a bowl with some red wine vinegar and olive oil!
Healthy Recipe Ecstasy? It's nutty, it's toasty, it's tangy, it's fresh, it's sweet – it's everything a quinoa salad should be. This dish has almost every healthy eating tag – vegetarian, gluten-free (good job quinoa), heart healthy (almonds and olive oil). But it's also incredibly hearty so you will not leave the table hungry. Alasdair said, and I quote, that the quinoa was "very filling." It's substantial enough to take center stage for lunch but it also makes a perfect accompaniment to lamb for dinner.
Mediterranean Quinoa with Almonds, Dates and Feta
Author:
Healthy Recipe Ecstasy
Recipe type:
Entree/Side Dish
Ingredients
2 cups quinoa
1 cup pitted dates
1 cup whole almonds
3 tablespoons chopped fresh oregano plus more for garnish
1 lemon
2 tablespoons olive oil, divided
3 tablespoons red wine vinegar
4-6 ounces feta cheese
Salt and pepper to taste
Instructions
Heat the oven to 400 degrees.
Cook the quinoa according to the package. Set it aside to cool.
While the quinoa is cooking, quarter the dates and coarsely chop the almonds. Spread the dates and almonds out on a baking sheet lined with parchment paper and drizzle one tablespoon olive oil over them. Bake for 10 minutes or until they start to brown. Let the dates and almonds cool.
Mix the dates, almonds, and quinoa in a bowl. Mix in three tablespoons fresh oregano, three tablespoons red wine vinegar and one tablespoon olive oil. Crumble the feta cheese and stir into the quinoa. Finally, add the juice and zest of one lemon, and salt and pepper to taste.
Garnish with more fresh oregano and serve warm. NOTE: This quinoa is delicious hot, warm, room temperature or cold, but I think somewhere between warm and room temp is the perfect temperature to taste and enjoy all the different flavors.