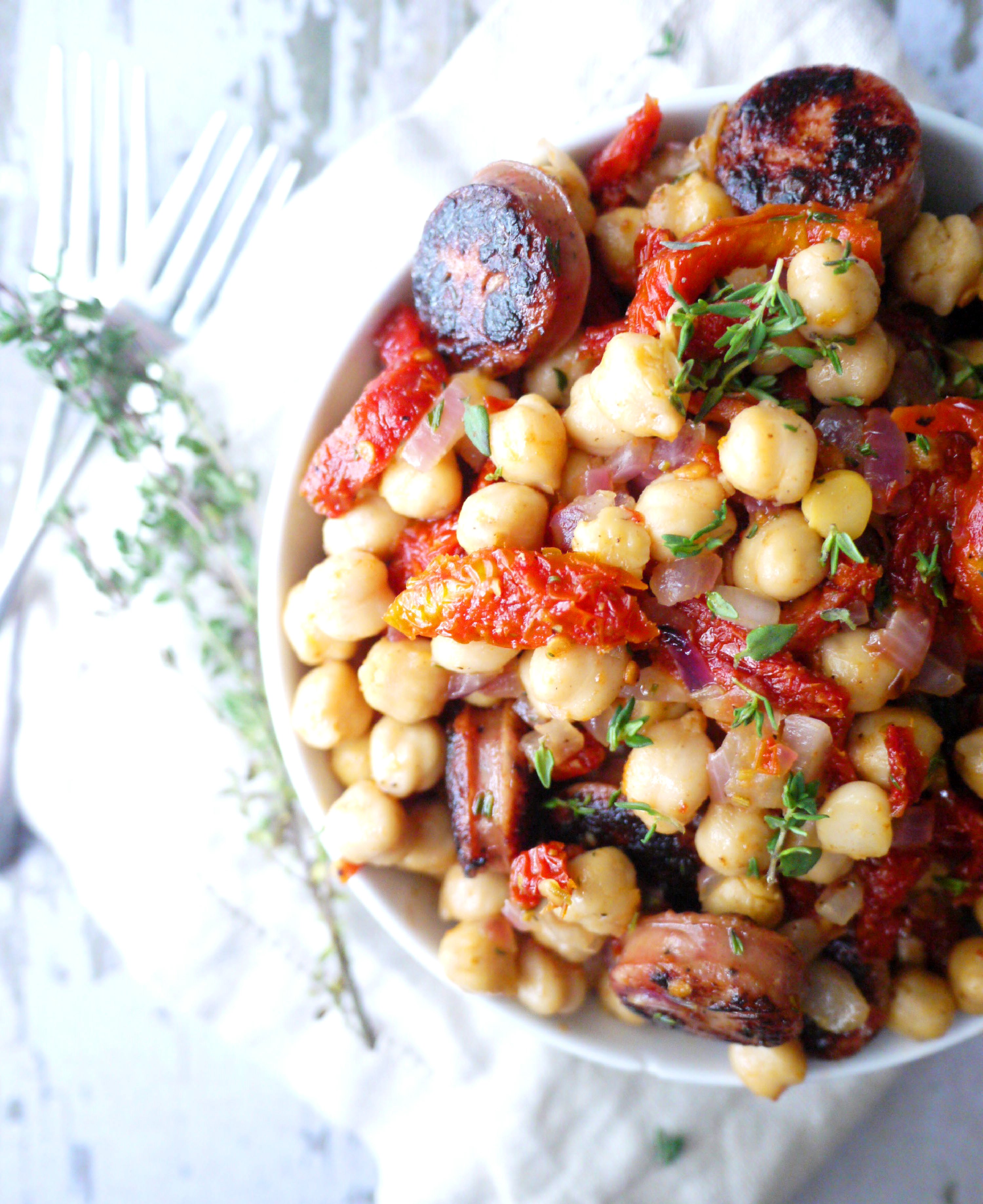 It's officially September. And, it feels like fall. Don't get me wrong. It's still 90 degrees and muggy outside, but it's like the world just flipped a switch and out went the popsicles and ice cream and in came the pumpkins, apples and slow cookers.
For me, the seasons change gradually. For the rest of the world, it seems like the seasons change overnight.
Since, I'm stuck in the limbo that is the August/September transition, I wanted to eat something that incorporated the best of both worlds. A light, grain-free chickpea salad filled with Mediterranean flavors (summer) and topped with hearty sausage (fall). I don't know why, but sausage just says fall to me. Oktoberfest, anyone??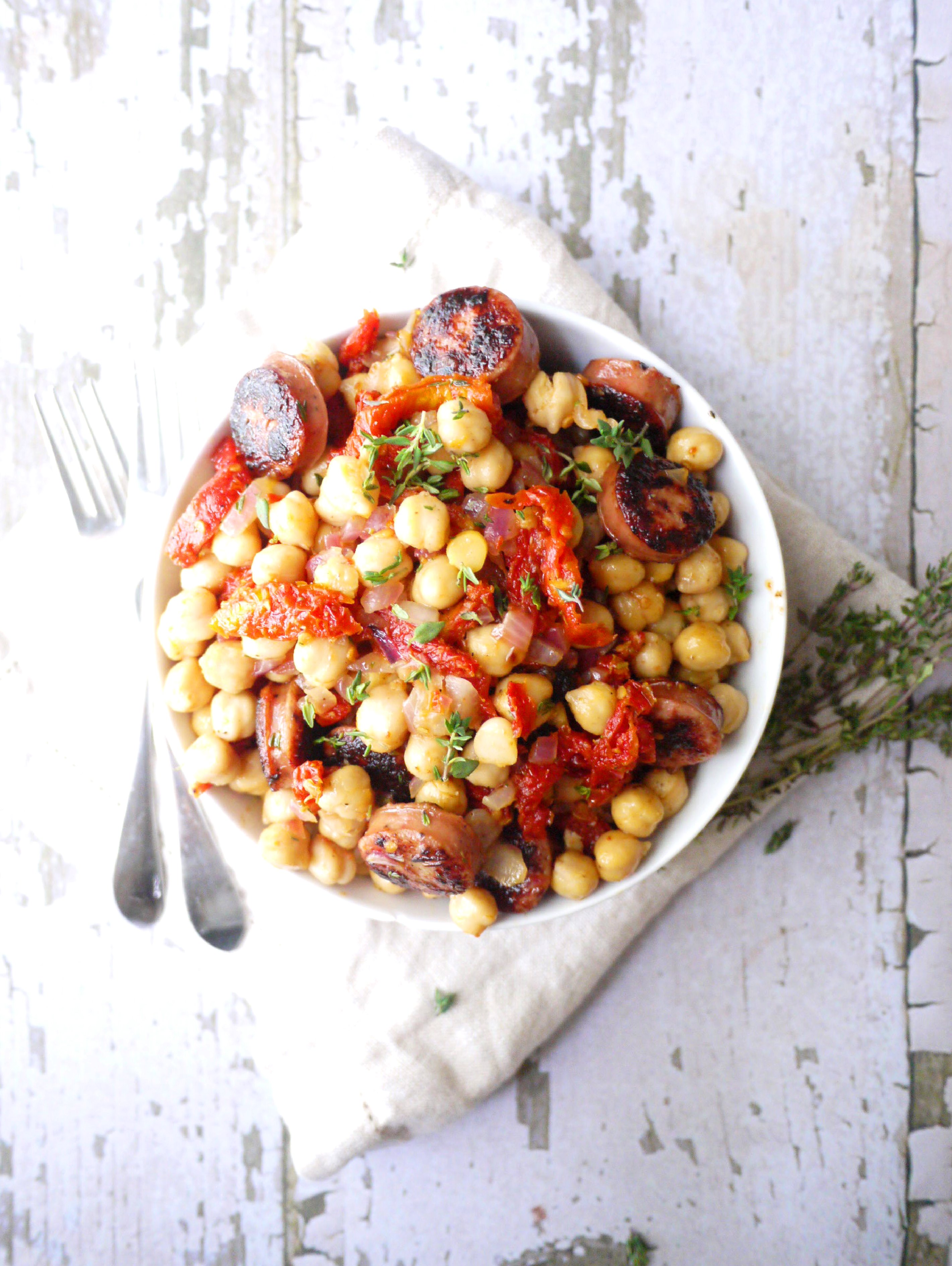 The inspiration for this salad came about 3 months ago when we were in Ireland. We were both over fish and chips and looking for something light and healthy to lift us out of the jet lag fog (OK, that was more me than Alasdair). Two sweet Irish women recommended a Mediterranean restaurant called Orso for lunch, and, like we do, we Googled it, Yelped it, and scanned the heck out of the menu. I was dying to try the chorizo and chickpea salad listed on their menu. I pretty much did not stop talking about it for 24 hours until Alasdair finally caved and agreed to eat Mediterranean food in Ireland. Thanks sweetie. 🙂
Unfortunately, when we got there, the chorizo and chickpea salad did not look as appetizing as it sounded. You know how you can hear the name of a dish and it sounds soooo delish but when you see the dish in person it looks disappointing? Well, that happened. Fortunately, my eyes and stomach perked up when they saw Orso's couscous salad. Sound familiar? It was the impetus for my Yellow Couscous with Pomegranate and Mint Citrus Dressing.
Despite never having tasted Orso's chorizo and chickpea salad, I haven't stopped thinking about the vision of it in my head. So, I thought it was finally time to turn my vision into reality.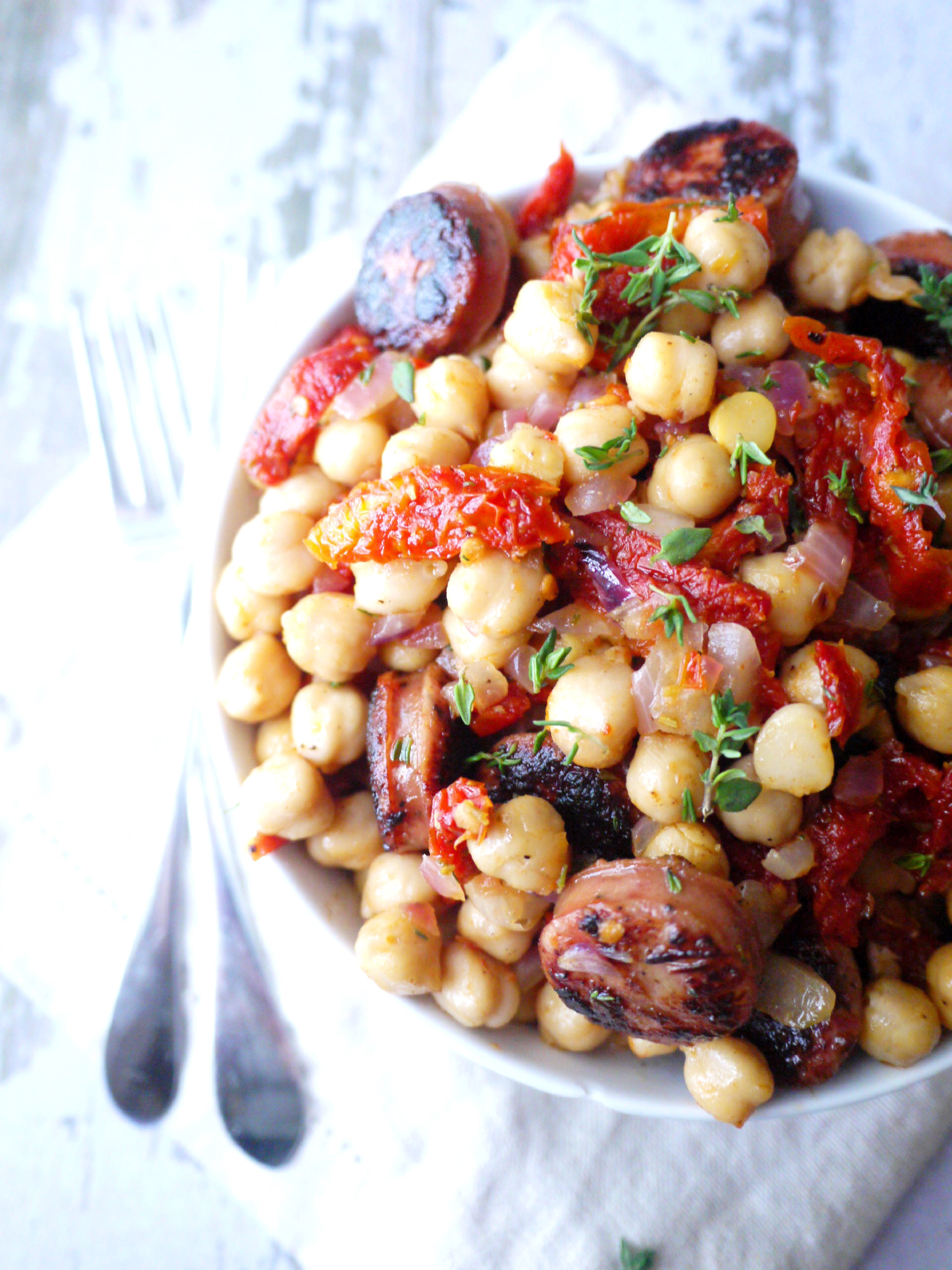 As much as I love chorizo, I decided to health it up a bit with some chicken sausage. Sorry, 'rizo. I'll get ya next time. Then, I added the chickpeas, red onions, fresh thyme and sun-dried tomatoes and tossed the whole thing in some sun-dried tomato oil. Not only did my version live up to the vision in my head, but it tasted just like my taste buds imagined. P.S. The sun-dried tomatoes take it over the top in a big way. I used Bella Sun Luci Sun Dried Julienne Cut Tomatoes, with Extra Virgin Olive Oil and Italian Herbs, Net Wt. 8.5 Oz.
It's the perfect lunch or side dish to take you from summer to fall. You can eat it cold or warm (I prefer warm). It's gluten-free and dairy-free, and there's no added sugar, so it's perfect for peeps with diabetes.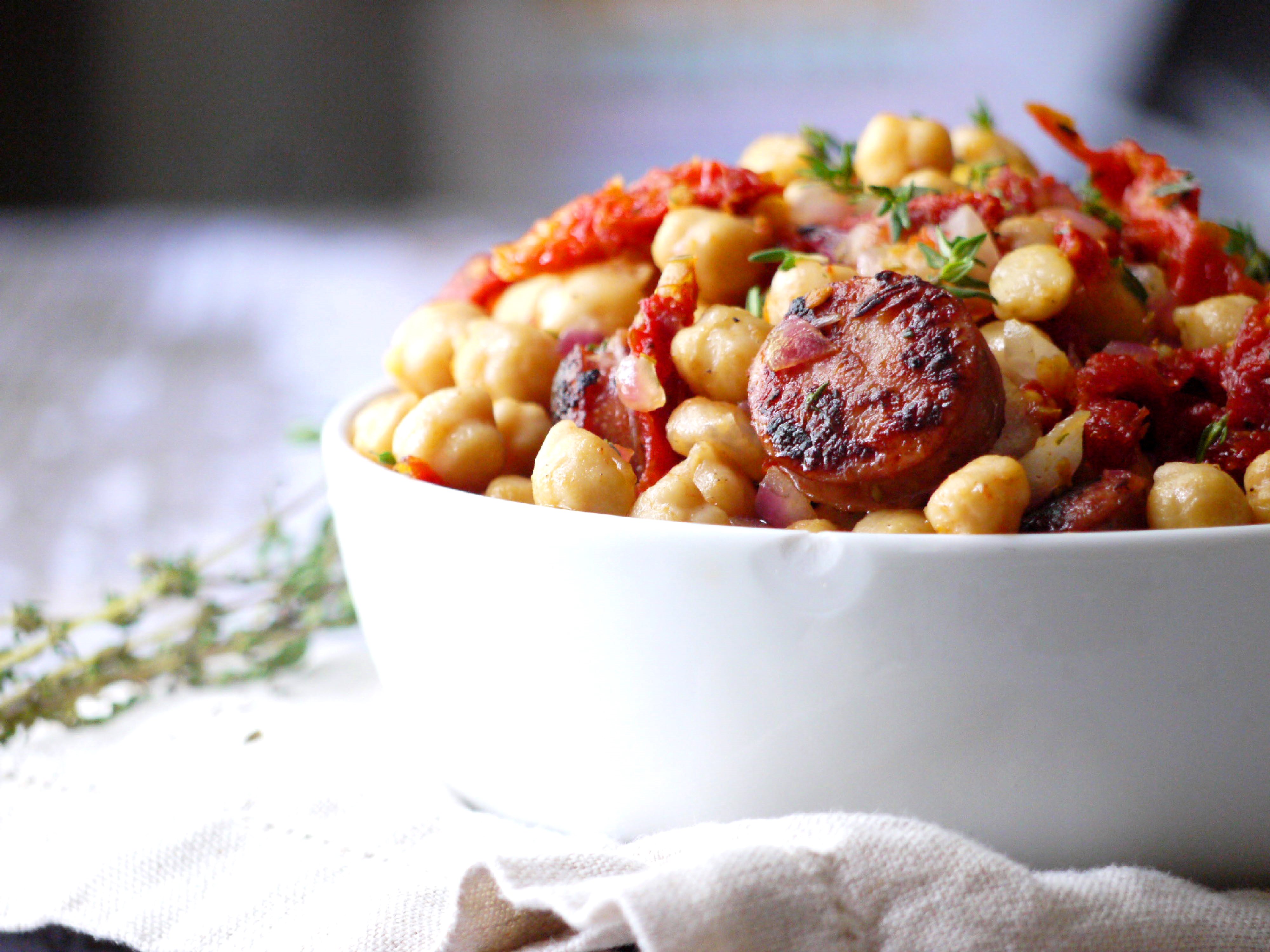 Can you beat that? Didn't think so.

Mediterranean Chicken Sausage and Chickpea Salad
The recipe serves 2 people as a salad or 4 people as a side dish.
Author:
Healthy Recipe Ecstasy
Ingredients
2 already cooked chicken sausage links (about 6 ounces), sliced into 1-inch thick rounds
1 teaspoon extra-virgin olive oil
½ cup diced red onions
2 teaspoons chopped fresh thyme, divided
1 15-ounce can chickpeas, drained and rinsed
½ cup chopped sun-dried tomatoes, packed in oil
1 tablespoon reserved oil from the sun-dried tomato jar
Sea salt and freshly-ground black pepper, to taste
Instructions
Heat a medium skillet over medium high heat and saute the sausage pieces for 3-4 minutes on each side, until they're nice and charred. Set the sausage aside.
Add 1 teaspoon olive oil to the skillet and turn the heat to medium. Add the chopped red onions and saute for 3 minutes or until they begin to soften.
Add 1 teaspoon thyme, chickpeas, sundried tomatoes, and salt and pepper, to taste, to the skillet. Saute for 1 minute.
Add the sausage back to the skillet along with 1 tablespoon oil from the sun-dried tomato jar. Saute for 1 additional minute, stirring all the flavors together.
Garnish with 1 teaspoon fresh thyme.