This month I'm celebrating two very special holidays – the one month birthday of this cutie pie and the national holiday of one of my all-time favorite foods: grilled cheese.
Grilled CHEESE. What's not to love?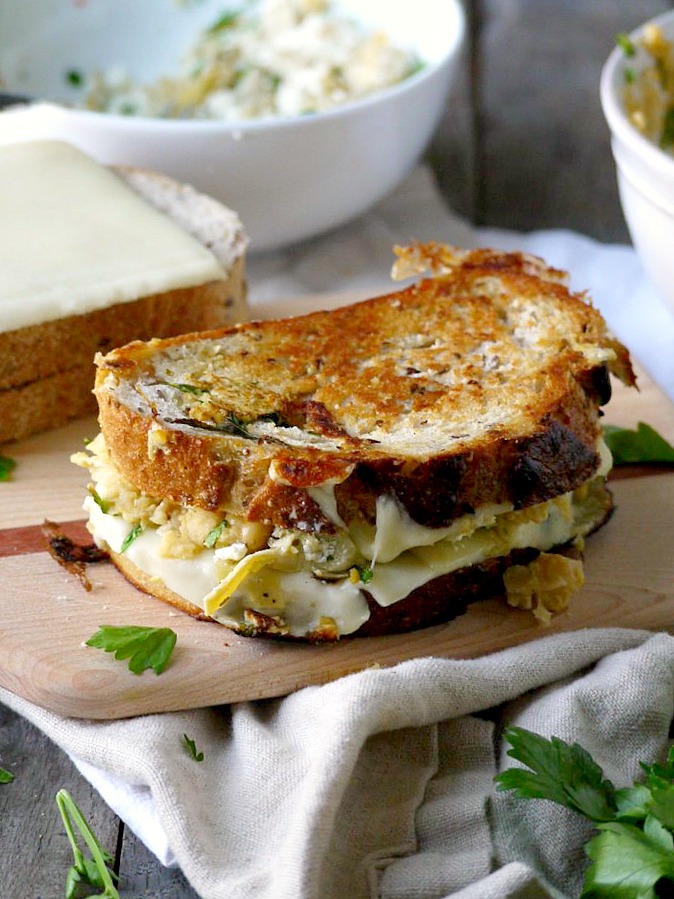 I'm still buried under a stack of diapers wondering when I'll be able to come up for air (don't worry, they're clean diapers) so cooking has been few and far between in this house. But grilled cheese I can just about manage to throw together and by just about manage I mean I straight up destroyed the kitchen the first time I made this sandwich. I also had to do multiple photo shoots because half the time I was holding an infant (blurry picture city), and I'm currently typing this blog with one hand because that's how I roll these days.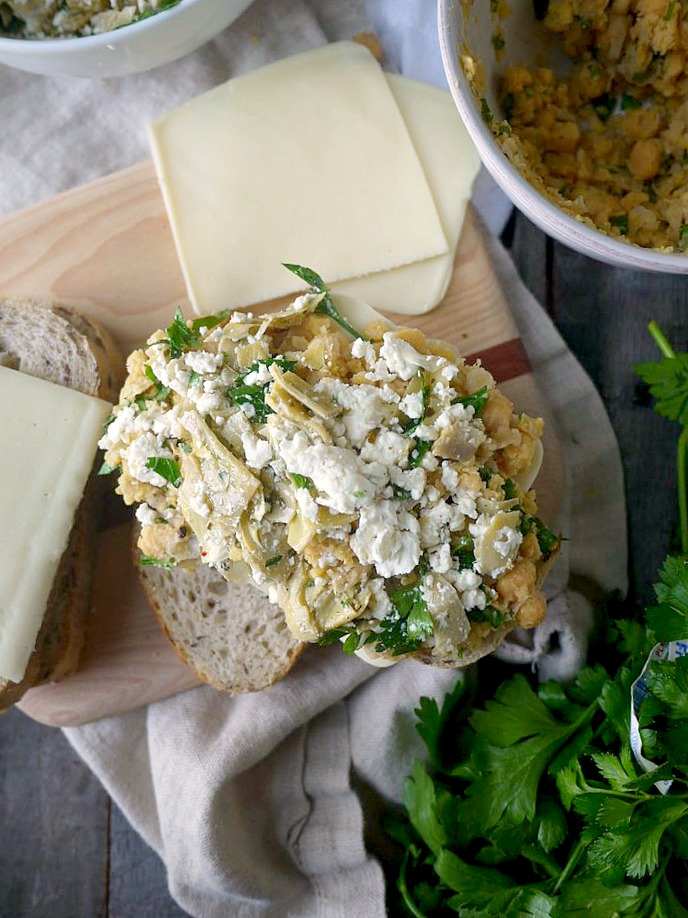 So, let's cut to the chase. This Greek-style grilled cheese was inspired by a ginormous jar of marinated artichoke hearts that Alasdair insisted we buy at Costco. He would have happily snacked away on those artichoke hearts a little at a time over the next year but I was all like these hearts need a purpose – they need to be a part of something special. At first that special thing was going to be an artichoke pizza with a chickpea crust, but the day I was going to make that glorious pizza pie, I went into labor. And, now, unfortunately, nobody got time to mess with chickpea crust in this house.
Instead, I decided to take the flavor profile of the pizza that is still but a dream and transfer it to grilled cheese. Feta cheese was an obvi choice to go with chickpea and artichoke pizza but a not-so-obvi choice for grilled cheese because the melting capacity of feta is not the best. Sorry, feta, I love you like a sister but you do a grilled cheese wrong, my friend. So, the solution was to treat feta like a topping – mix it in with those 'chokes – and add some super melty mozzarella. Cheese, please!
The result is a citrusy, creamy, salty, cheesy treat that makes me smile almost as much as this guy. It's the ultimate grown-up grilled cheese.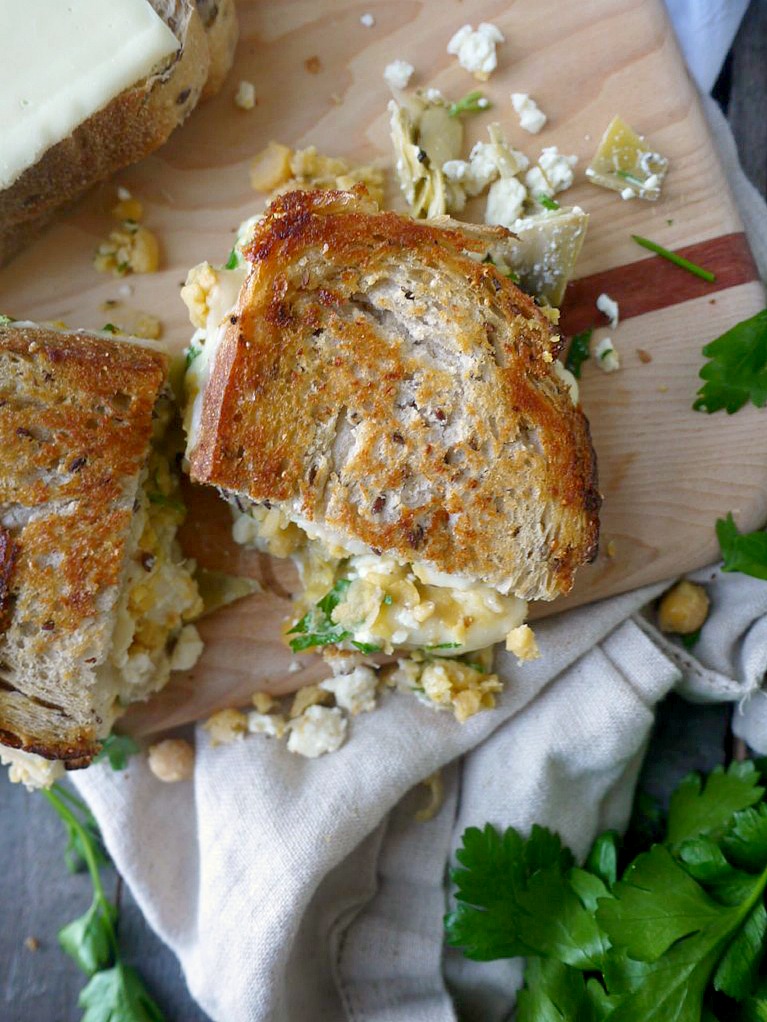 Lemony Smashed Chickpea, Artichoke, and Feta Grilled Cheese
I used a sturdy flax and quinoa bread from Whole Foods for this sandwich but any sturdy multigrain-type bread will do. You want it thickly sliced to stand up to the fillings and powerful flavors.
Author:
Healthy Recipe Ecstasy
Ingredients
1 cup smashed chickpeas from a can (rinse and drain the chickpeas before smashing)
3 tablespoons fresh lemon juice
3 tablespoons chopped parsley leaves, divided
½ cup marinated artichoke hearts, roughly chopped
½ cup crumbled feta cheese
Freshly-ground black pepper, to taste
4 slices mozzarella cheese
4 slices multigrain bread
1 teaspoon butter
1 teaspoon olive oil
Instructions
Mix the smashed chickpeas, lemon juice, 2 tablespoons chopped parsley and black pepper in a small bowl. I smashed the chickpeas with a potato masher and then a fork. You want the ingredients combined but you still want the chickpeas to have some texture.
Mix the chopped artichoke hearts, feta cheese, 1 tablespoon chopped parsley and black pepper in another small bowl.
Spread ½ cup chickpea mixture on one slice of bread. Add ¼ cup artichoke mixture. Press the chickpea and artichoke mixtures down with the back of a spatula so they stick to the bread. Top it off with 2 slices of mozzarella cheese and another slice of bread.
Heat a small skillet over medium high heat. Add ½ teaspoon butter and olive oil. Once butter is melted, add the sandwich. Let it cook for about 4-5 minute or until the bottom slice of bread is nice and golden. If the bread starts to brown to fast, turn the heat down to medium. Press down on the sandwich with the back of a spatula to make sure it stays together before flipping. Then, flip the sandwich and cook for 3-4 minutes on the other side or until the mozzarella cheese is fully melted.
Repeat with the rest of the ingredients to make the second sandwich.