Here's the thing, there are thousands of food bloggers out there who know MUCH better than I how to start a food blog, and, more importantly, be successful. But, as I approach my two-year food blog-a-versary, I am realizing that I've learned a whole heck of a lot in the past few years, and maybe it's time to share that knowledge. Personally, I can not get enough information about themes, hosting, monetizing, photography, etc. I find that even if bloggers just share the resources they use personally, it's helpful for me. So that's my intention here.
Disclaimer: Please note that some of the links below are affiliate links and I will earn a commission if you purchase through those links. I use or have used all of the products listed below and recommend them because they are companies that I have found helpful and trustworthy. 
How To Start Your Own Food Blog (aka What I Did):
1) Name Your Blog And Buy A Matching Domain Name: Your domain name is the URL of your blog (Healthyrecipeecstasy.com). You can check out domain names on BlueHost.com to see what's available. Once you have picked your domain name, you can get it through WordPress, buy it for free with your BlueHost hosting plan, or you can buy it for under $20 a year at GoDaddy and connect it to your web host later.
2) Find a reliable web host: A web host stores your website and makes it accessible to the world wide web. And, most importantly (at least to me!), they provide tutorials to help you get set up and lots of support when things go wrong. Like that one time I tried to mess with my site's code… Not a good day! The web host I use, love, and highly recommend is BlueHost. Click the banner below to sign up! FYI – I'm an affiliate with BlueHost so I get compensation if you sign up through me!



3) Install WordPress: WordPress is the industry standard blogging software. Some people use Blogger, but I much prefer WordPress.  If you choose BlueHost as your web host, click here to install WordPress.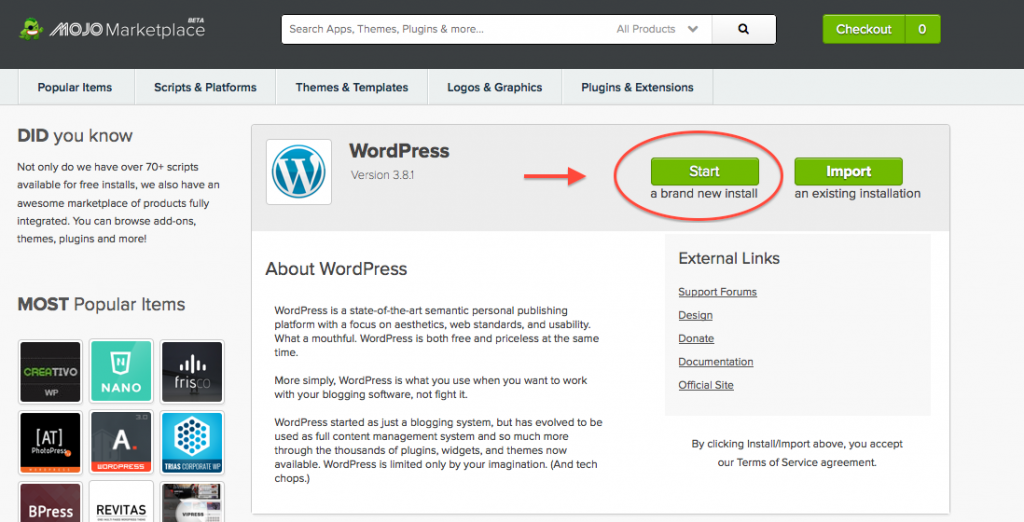 4) Install a WordPress theme: I originally built this blog on a basic, free WordPress theme (Delicacy). WordPress has thousands of free themes available if you're not interested in purchasing a "premium" theme right away. It's a great place to start if you're looking to start your blog without spending a lot of money right off the bat.
However, in 2014, I decided that I wanted a more unique look and I switched to the Genesis Framework by StudioPress.com.
I searched the internet high and low for the best themes, and I found that Studiopress offered the most aesthetically pleasing and functional themes available. My site is built on the Foodie Pro Theme, which is obviously a particularly great Genesis theme for food blogs. Shay Bocks, who designed the Foodie Theme offers customization for a price of $600. It sounds steep (and it is), but it's pretty standard for blog customization. Check out Genesis themes, available for a one-time fee of $59.95 and up. They also have a cool guidebook for beginners: Click here to download The Genesis Guide for Absolute Beginners (PDF – 1.4 MB) Check out Foodie Pro Theme, available for a one-time fee of $99.95.
Now you're ready to start blogging! Seriously, that is all you need to do begin a basic blog.

But, wait. There's More.

Other resources for food bloggers – These are the things that you don't need in order to blog but they are really, REALLY key to success:

1. Google tools: Google offers invaluable tools and services like Google Analytics, Webmaster Tools and Feedburner. You will need a Google and Gmail account in order to utilize these tools.
2.  WordPress plugins: WordPress plugins extend the functionality of WordPress in certain areas. Here are some of the plugins I use and highly recommend for food blogs:
3. Food photography: Photography can have a profound impact on the life of your blog or website, especially if you're looking to earn income. I've learned a lot in the past two years, but I still have a long way to go. That's why, rather than sharing my paltry knowledge of food photography, I'm going to suggest you check out this book by one of my favorite food photographers who has attained incredible success in the blogging world. Lindsay from Pinch of Yum wrote Tasty Food Photography as a way to share all her photography knowledge and help other bloggers take food photos that make people say, "I am dying to eat that right now!" Click here to view more details.
Speaking of Pinch of Yum, Lindsay and her hubby Bjork have created this amazingly helpful program called Food Blogger Pro which contains tons of videos and tutorials on how to set up a blog. Click here to Sign up for Food Blogger Pro.
4. Driving Traffic to Your Food Blog: Speaking of food photography, here is a list of the food photo submission sites that I use. There are SO many out there, but the ones listed here are the ones that I submit to. I find that I get the most traffic from the first two sites listed.
Don't forget about social media. I get a lot of traffic from posting on Pinterest, Facebook and Twitter.
Questions, Comments, Concerns?
Feel free to leave comments in the section below and I'll do my best to answer them.