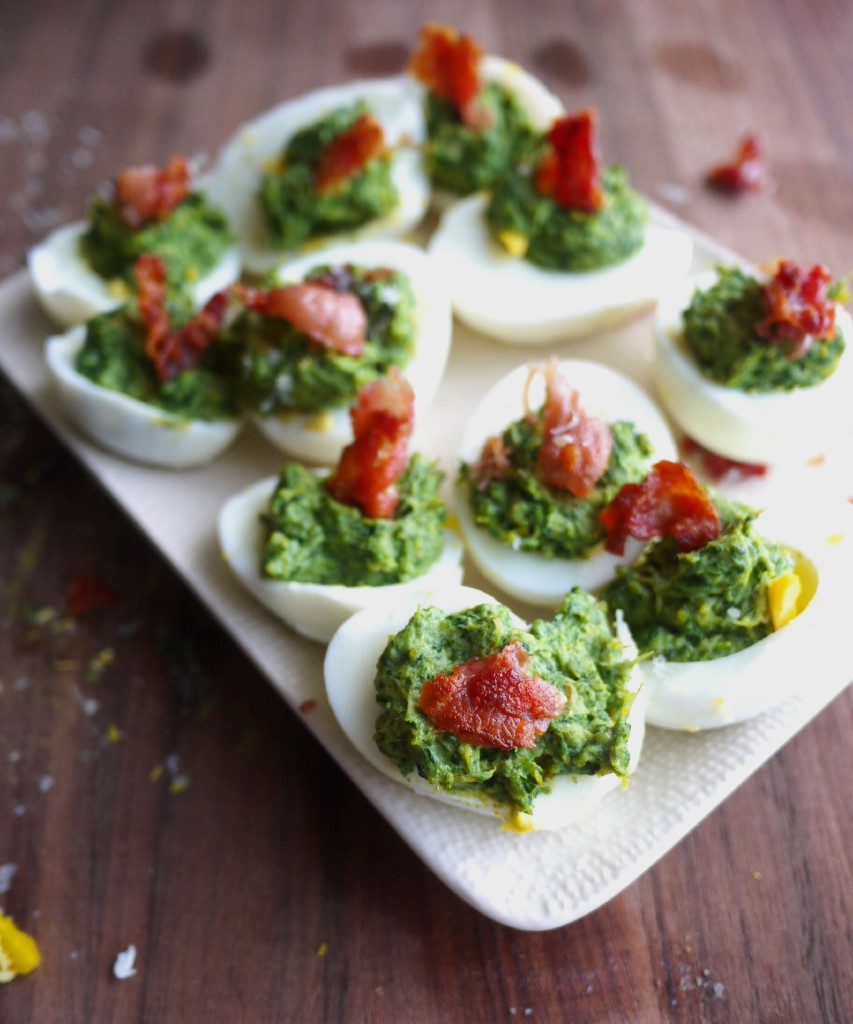 I do not like green eggs and ham.
I do not like them in a house.
I do not like them with a mouse.
I do not like them on their own.
But…wait….I DO like them at Boundary Stone.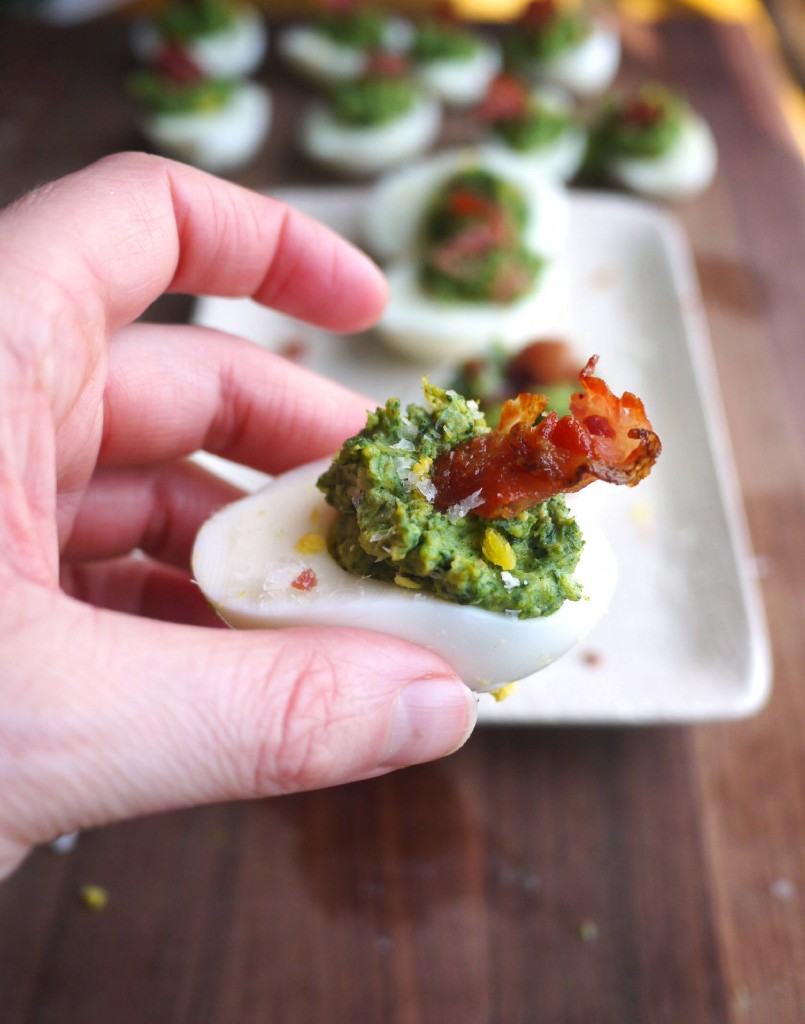 Why am I quoting Dr. Seuss, you ask? Well, here's my tale so sit back and relax. (Couldn't resist one more rhyme!) A few weekends ago, Alasdair and I were out celebrating his birthday, which for us, usually means spending the day joyfully eating and drinking our way around the city. Nine hours and seven eating establishments after we started our birthday journey, I came home with a food hangover and a purse full of bar napkins sporting hastily scribbled recipe ideas. Crispy Brussels sprouts aka best Brussels sprouts in the city – must make at home. Salty chocolate oat cookie from the bakery I stopped in between bars (like I needed another snack) – must replicate. And, then, there were the green eggs.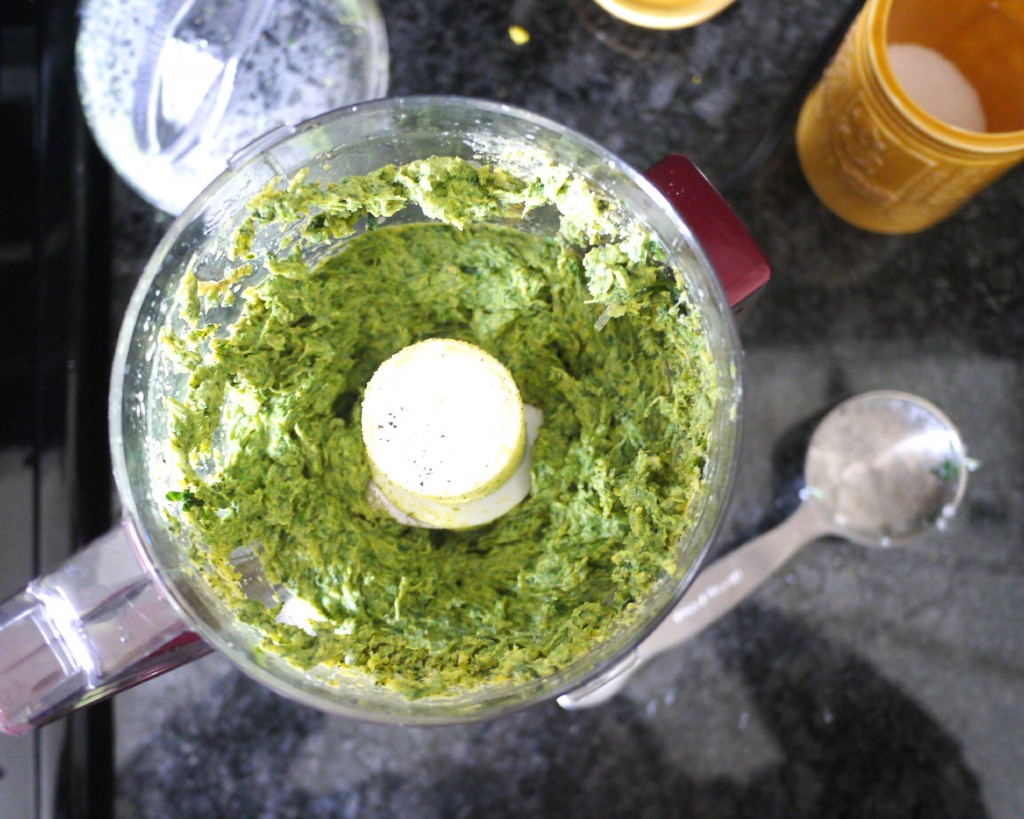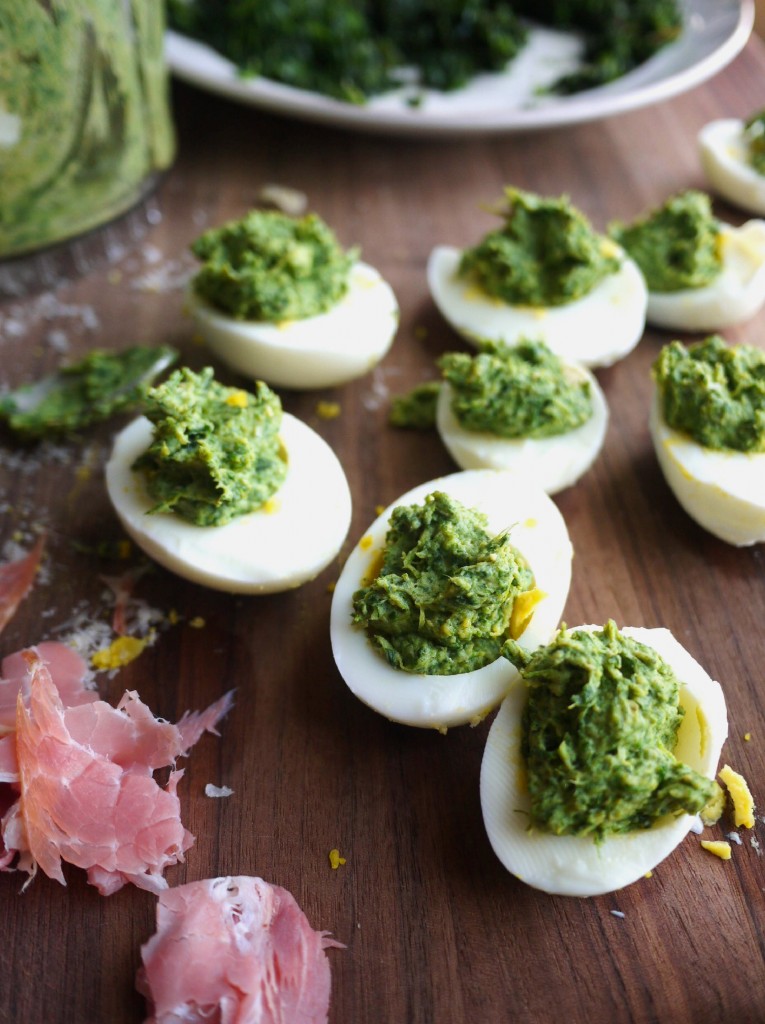 While at Boundary Stone, having a drink and taking a short but much-needed break from eating, I spied beautifully bright green deviled eggs. Green deviled eggs. Green eggs. Green eggs….and ham? See where I'm going with this? I thought to myself, those little devils are adorable and wouldn't they be just even more adorable (and delectable) if I topped them with a tiny slice of crispy prosciutto? From the storytelling corner of Dr. Seuss to the grownup corner of the HRx blog.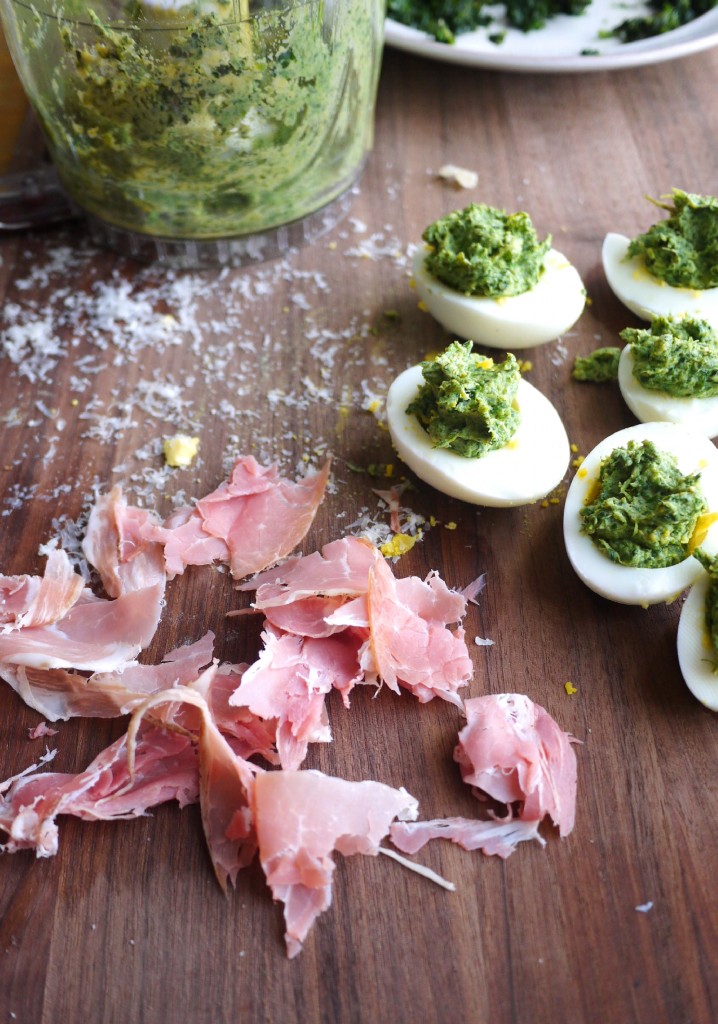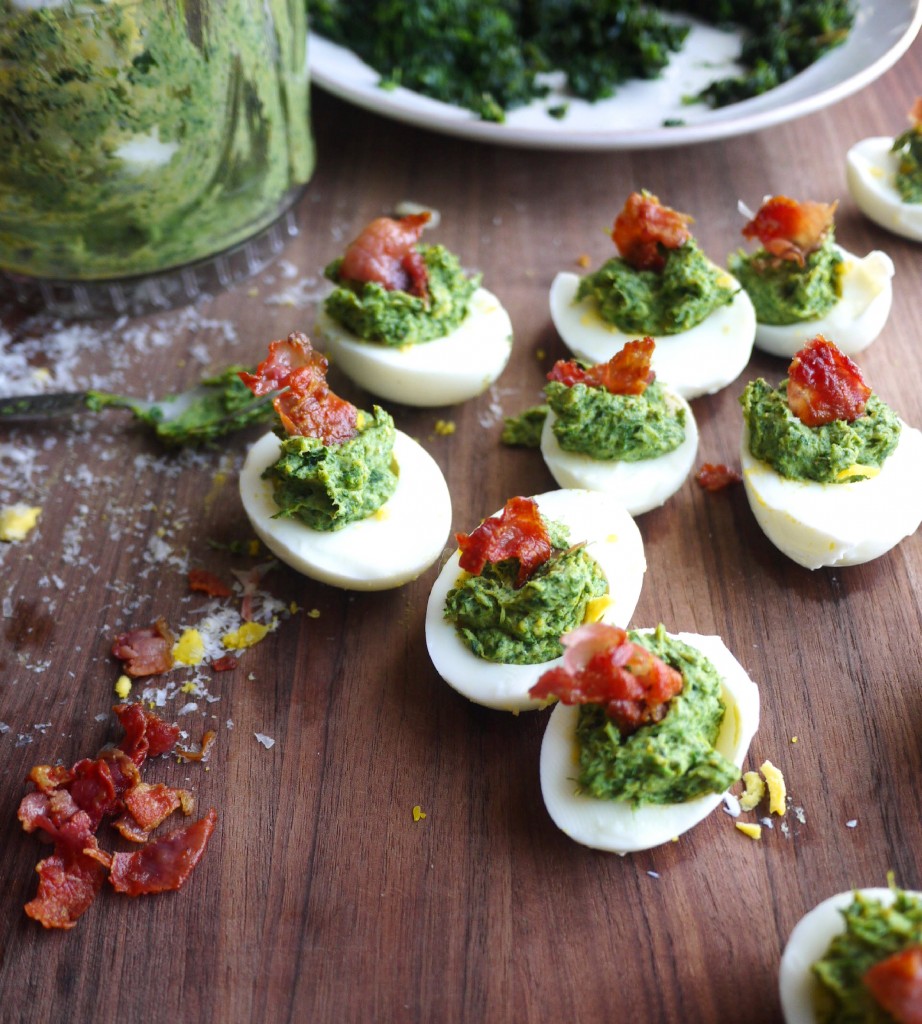 So, here I am with my grownup green eggs and ham. Just what you need when you're fam(ished). You might say, I can't, but really you can. Get to the kitchen already and get you some green eggs and ham. (Last rhyme I promise!)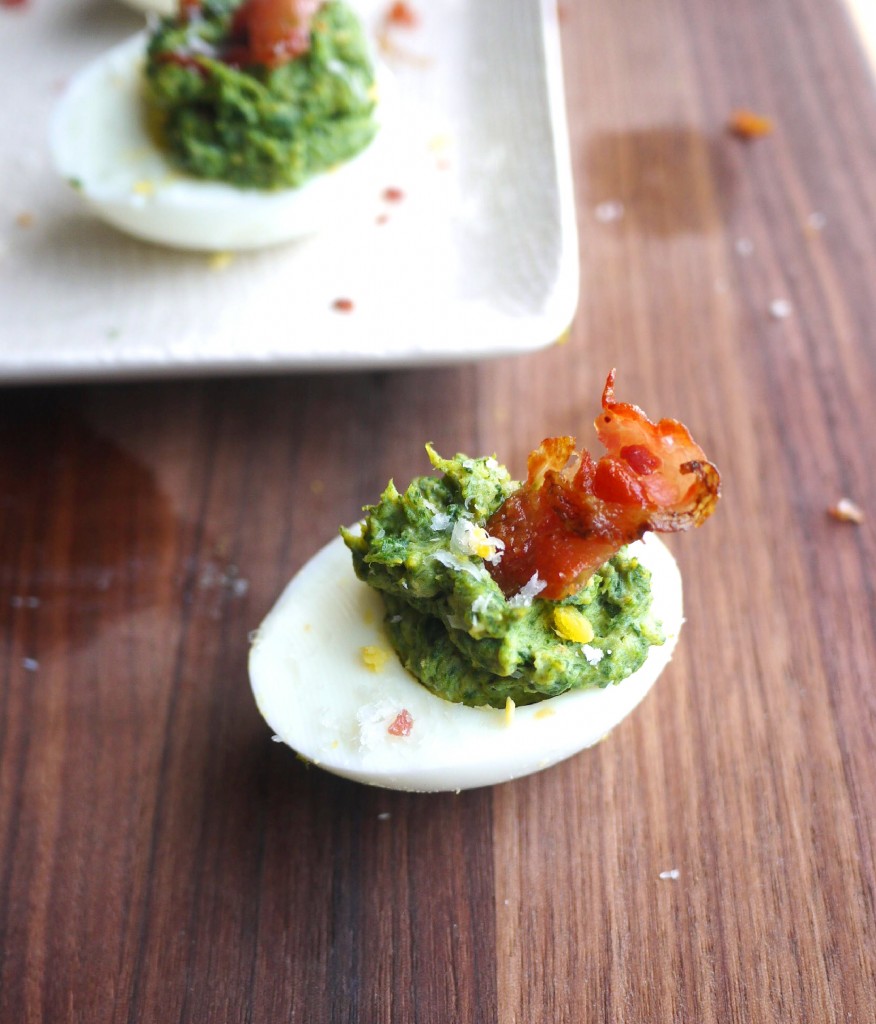 NOTE: This is a great gluten-free or low-carb appetizer, snack, breakfast, you name it. Leave out the parmesan cheese for a dairy-free or Paleo alternative.

Spinach Deviled Eggs with Crispy Prosciutto
Author:
Healthy Recipe Ecstasy (Inspired by Boundary Stone and Dr. Seuss)
Recipe type:
Appetizer/Snack
Ingredients
12 eggs (I used organic, cage-free, large eggs)
¾ cup frozen spinach, thawed and drained
¾ cup freshly-grated parmesan cheese, plus more for garnish
2 tablespoons extra-virgin olive oil
Coarse salt and freshly-ground black pepper to taste
2 slices of thinly-sliced prosciutto, roughly torn into small pieces
½ teaspoon extra-virgin olive oil
Sea salt for garnish
Instructions
TO HARD BOIL EGGS: Gently place the eggs in a deep saucepan and cover with cold water by one inch. Bring to a boil over high heat, then immediately remove from the heat, cover, and let stand 13 minutes. Use a slotted spoon to transfer eggs to an ice-water bath to stop the cooking. Once completely cooled, peel the eggs.
Cut eggs in half lengthwise. Remove yolks; set whites aside.
Add the yolks, spinach, parmesan cheese and olive oil to a food processor. Puree until the mixture is combined and smooth. Add salt and pepper to taste.
Stuff or pipe the egg yolk-spinach mixture into the egg whites. Set aside. As you can see from my photos, I hastily stuffed the mixture into the egg whites. Short on time and hungry = messy-looking eggs. I'm sure yours will look much nicer. :)
Heat ½ a teaspoon olive oil in a small skillet over medium high heat. Add the prosciutto pieces and fry for 2-3 minutes, stirring frequently, until the prosciutto is crispy. Drain on a paper towel.
Top each deviled egg with one piece of prosciutto. Garnish with a sprinkle of sea salt and parmesan cheese. Serve immediately or refrigerate until serving.
YIELDS: 2 dozen.