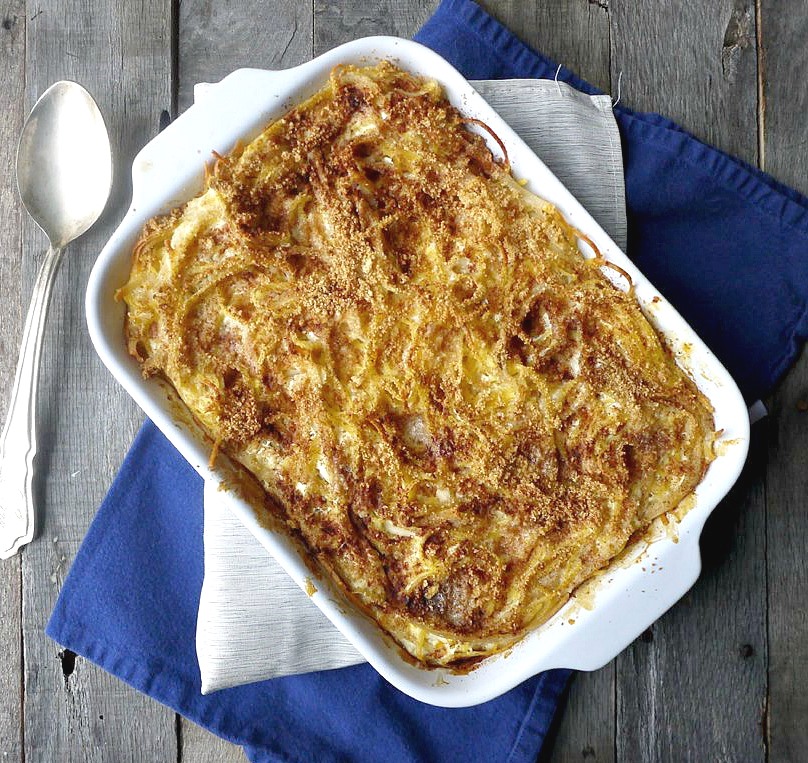 Dreidel, dreidel, dreidel, I made you out of kugel….I mean, clay. Wouldn't it be awesome if dreidels were made out of kugel, though? Kind of like gelt – coins made out of chocolate. I may not be a very good Jew (I quit Sunday School when I was 6 years old to be a "dancer"), but I will always appreciate that Jewish holidays revolve around food: latkes, kugel, matzo, bagels. These are the things meant to be celebrated.
My family doesn't really celebrate Hanukkah anymore, but, as a kid, I remember visiting my grandparents in Florida, lighting the candles and partaking in the oh-so-Jewish tradition of eating Chinese food on Christmas Day. Those were the days.
When I told my mom I wanted to feature family recipes on my blog, she sent me my Grandma's Noodle Kugel recipe. I don't actually remember my grandma ever making me her kugel. All I remember is her feeding me buttered matzo to my little heart's content – happy food memories – but my mom has made my grandma's kugel and I know it's family comfort food perfection. All savory and sweet and creamy and crunchy. It's actually kind of a weird dish – I mean cheese, noodles, graham crackers and cinnamon? That shouldn't taste good. But it does.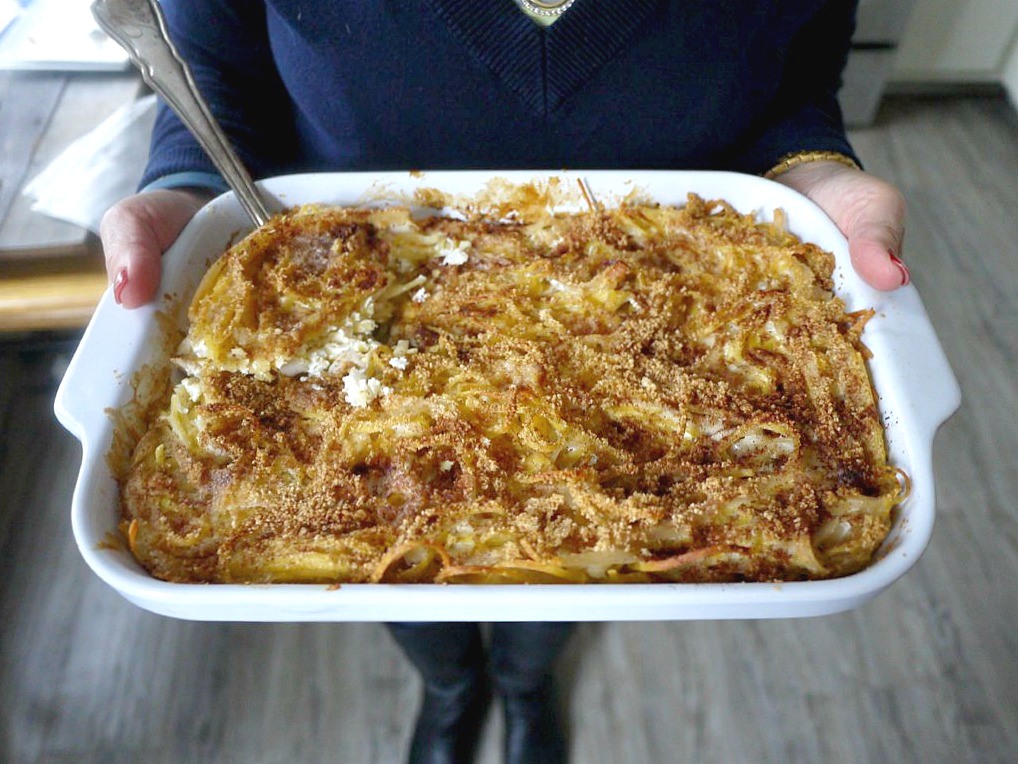 I also know that my grandma's kugel is all sorts of unhealthy. We're talking a pound of full-fat cottage cheese, a pound of sour cream, a quarter pound of butter and American cheese slices. YIKES. Not healthy Grandma.
Fortunately, kugel is pretty versatile and responds extremely well to some healthy updates. I swapped out the full-fat cottage cheese for all-natural 1 percent cottage cheese, I used nonfat Greek yogurt instead of sour cream and coconut oil instead of an entire stick of butter. I nixed the uber-processed American cheese and used low-fat cheddar instead.
Classic kugel calls for wide egg noodles but I used brown rice fettuccine noodles. Feel free to stick with the egg noodles or swap in whatever healthy noodle you like.
The results? Still savory and sweet and creamy and crunchy. I think Grandma would be proud.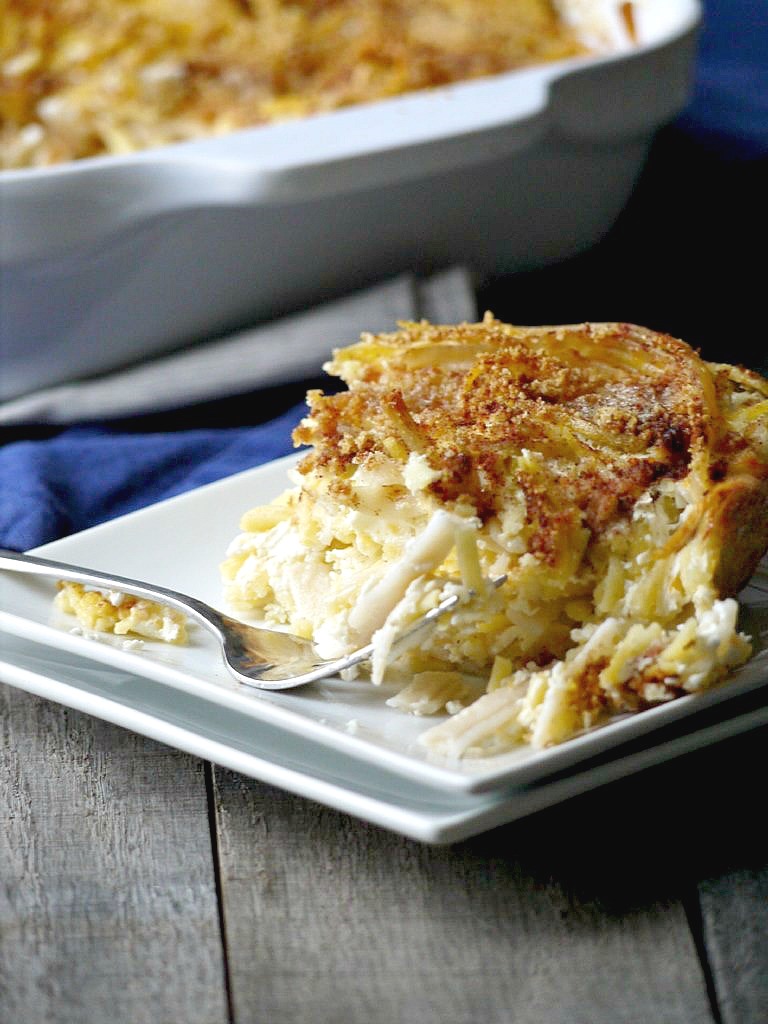 P.S. Thanks for being a hand model, Mom. Her nails are way better than mine!

Grandma's Noodle Kugel Makeover
You can eat kugel hot, warm or cold for breakfast, lunch, dinner or dessert. I prefer the kugel heated as a side dish.
Author:
Healthy Recipe Ecstasy
Ingredients
1 pound wide noodles (I used brown rice fettuccine noodles)
16 ounces 1% cottage cheese
12 ounces nonfat Greek yogurt
⅓ cup coconut oil
3 tablespoons yogurt butter (I used Brummel and Brown), divided
3 eggs
2 egg whites
⅔ cup low-fat mild cheddar cheese
2 graham crackers
Ground cinnamon
Instructions
Preheat oven to 325 degrees F.
Cook noodles in salted water until tender. Drain with cold water. Add the noodles to a large bowl and mix in the cottage cheese and yogurt.
Add the coconut oil, 2 tablespoons yogurt butter, eggs, egg whites and cheddar cheese to a food processor. Process all the ingredients until creamy and combined. Add the egg and cheese mixture to the noodles.
Coat a casserole dish with cooking spray. Pour the noodle mixture into the casserole dish.
Add the graham crackers to the food processor and grind into crumbs. Spread the cracker crumbs evenly over the noodles. Sprinkle with cinnamon and dot with the last tablespoon butter.
Bake for 1 hour and 10 minutes. Let stand 10 minutes before cutting and serving.