Pregnancy brain. It's a thing. It's a real thing. It's a real thing that I seem to be suffering from on an almost daily basis nowadays.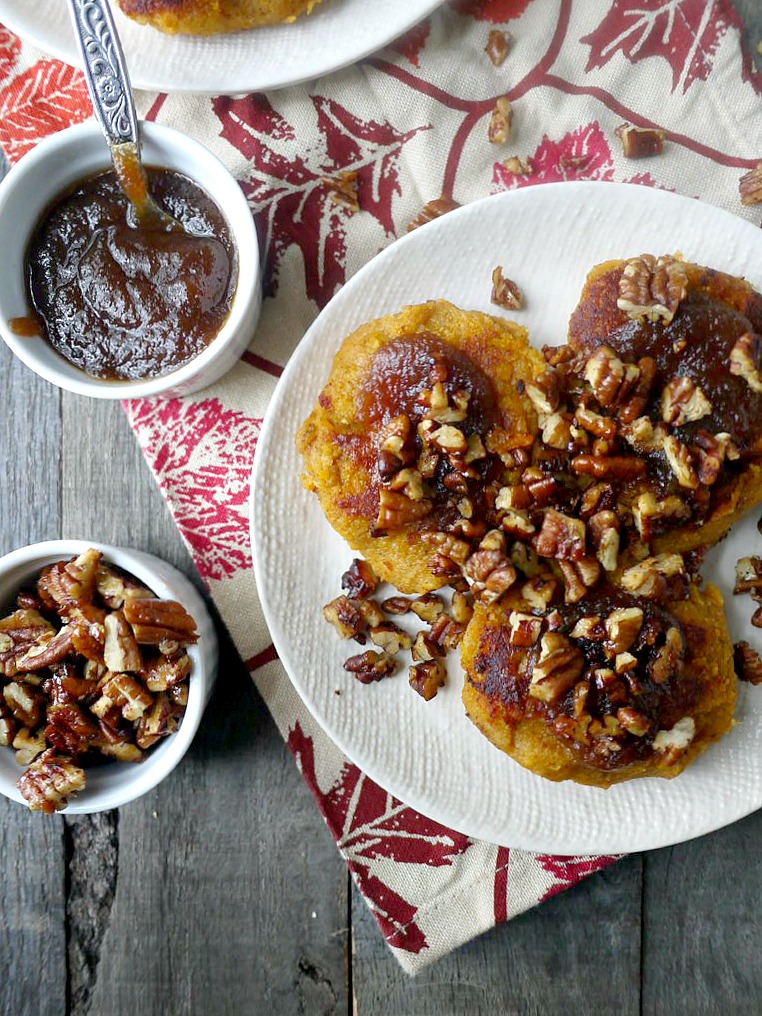 Did I mention it's a thing? Oh wait, am I repeating myself? No worries, that's just pregnancy brain.
On the one hand, it's nice to have an excuse for forgetfulness and lack of comprehension. I'm sorry, boss, what did you want again? I have pregnancy brain. Yes, sweetie, I forgot to fold the laundry. Pregnancy brain. Sorry, Mr. IRS man, I forgot to file my taxes. Pregnancy brain (KIDDING). I'm totally going to file my taxes, and, by me, I obviously mean my husband.
On the other hand, it's kind of a pain when I walk upstairs to get something and forget what I need by the time I reach the top of the stairs. And it's a really big downer when I have three recipe fails in two weeks. THREE. Wait, maybe it was four? Pregnancy brain…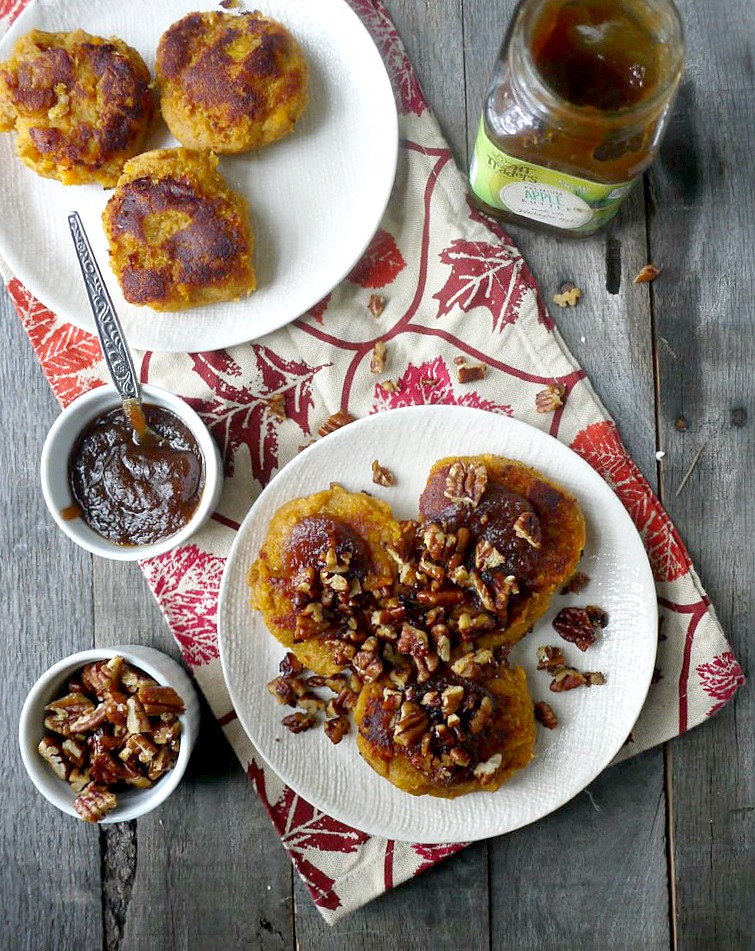 Fortunately, I've been able to make some decent turnaround on those recipe fails. A failed fig and walnut cake became some pretty delish rustic fig and walnut cookie tarts. And, this week, my failure to HRx one of my favorite pancake recipes from Tupelo Honey Cafe in Asheville, NC became sweet potato cakes. P.S. Tupelo is opening up a store in Northern Virginia and I cannot wait. Best brunch ever!!
I was halfway through the recipe when I remembered that coconut flour in place of all-purpose flour is not a one-to-one substitution. Oh, that's why my pancake batter is more like a big pile of mildly damp flour. I wasted almost a whole bag of expensive coconut flour and completely ruined my pancakes. Damn you pregnancy brain!!
BUT, I was able to rescue the sweet potatoes. And my plan for gluten-free sweet potato pancakes with spiced pecans and apple butter became gluten-free sweet potato cakes with spiced pecans and apple butter.
All the flavor but only half of the fuss. It's a win-win situation, really.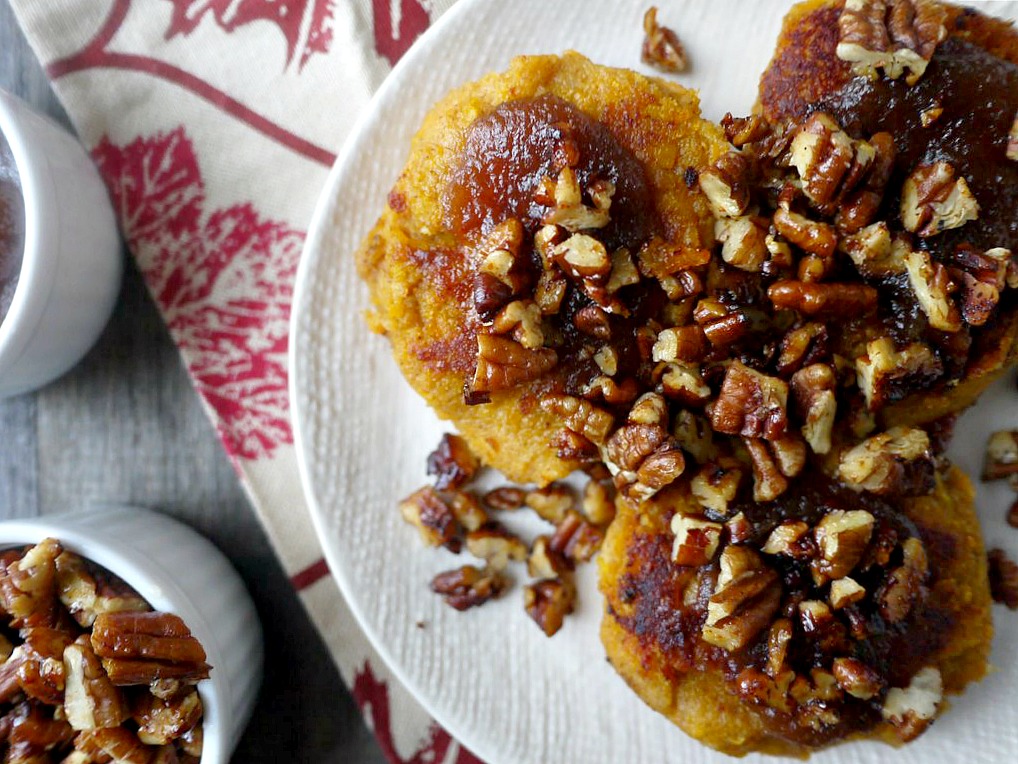 I'm a huge fan of mashed potato cakes. I mean, it's fried up mashed potatoes, what's not to like? Nada. But these sweet potato cakes kick some regular mashed potato cakes butt. For one thing, they're made with sweet potatoes (can you say healthy?) and there's no cheese or bread crumbs involved in the cake process. Just some honey, spices and a touch of almond flour which makes them gluten-free and dairy-free. Secondly, they're topped with apple butter and spiced pecans. APPLE BUTTER AND SPICED PECANS. Tell me that combo doesn't make you swoon.
No, don't tell me. Because it can't possibly not make you swoon. It's sweet, it's savory, it's creamy, it's crunchy, it's healthy with just a touch of sugary treatness to it. It's everything I love.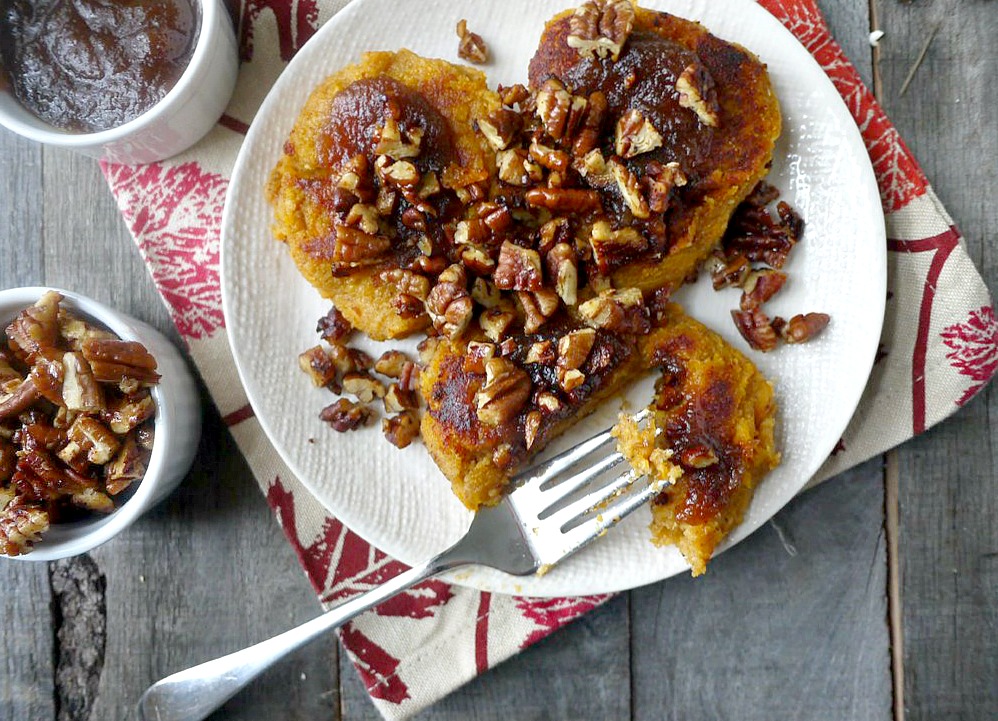 Take THAT pregnancy brain!

Gluten-Free Sweet Potato Cakes with Spiced Pecans and Apple Butter
I can't decide what category these sweet potato cakes belong in. They'd make a great appetizer. They'd be perfect as a Thanksgiving side dish. They'd be a perfect sweet snack or dessert. I'd even rock them for breakfast. So, let's note label them. NOTE: The recipe makes 6 sweet potato cakes. The serving size depends on how you're serving them. If the sweet potato cakes are an appetizer, I would say 1 cake equals 1 servings. However, if they're a side dish or breakfast, I'd probably eat 2-3.
Author:
Healthy Recipe Ecstasy
Ingredients
2 tablespoons canola oil
1 large sweet potato
2 tablespoons raw honey
1 teaspoon ground cinnamon
¼ teaspoon kosher salt
⅛ teaspoon ground nutmeg
¼ cup almond flour
¾ cup chopped pecans
1 teaspoon honey
⅛ teaspoon cayenne pepper
⅛ teaspoon kosher salt
1 teaspoon butter
Apple butter, for garnish
Instructions
Heat the oven to 400° F. Pierce sweet potato several times with the tines of a fork. Place the sweet potato on a rimmed baking sheet lined with foil. Bake until tender, about 45 minutes. Let the sweet potato cool then peel and mash.
Mix the honey, cinnamon, salt, nutmeg and almond flour into the mashed sweet potatoes. Form small patties with the sweet potato mixture. I grabbed handfuls that were just larger than a golf ball, rolled them into a tight ball and then flattened them.
Heat the canola oil in a large skillet over medium high heat. Add the sweet potato cakes to the skillet and cook for 2 minutes or until golden brown on the bottom. Flip and cook for an additional 1-2 minutes on the other side. Remove sweet potato cakes to drain on a paper-towel lined plate.
Mix the pecans, honey, cayenne pepper and salt in a small bowl. Melt the butter in a small skillet. Add the pecan mixture and cook over medium heat for 4-5 minutes or until toasted. Set aside.
Top each sweet potato cake with tablespoon of apple butter and a handful of spiced pecans. Serve warm.