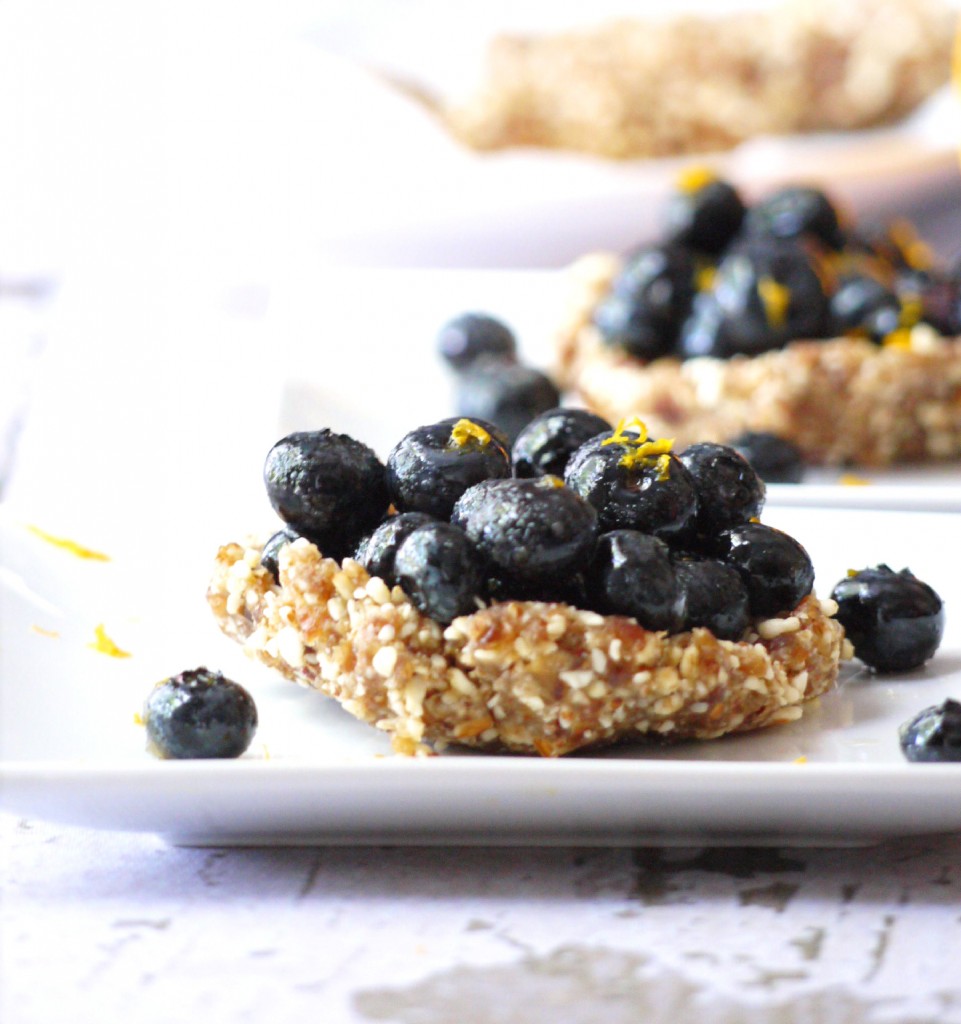 These tartlets have been dancing around in my brain for weeks. No, make that prancing. Yeah, they were all like, "prance, prance, prance, aren't we adorable, don't you want to eat us?" And, I was like, I do, I do!! But, I could not for the life of me remember where I'd put the recipe. If you saw my shameful collection of books, binders, mags, sheets of paper, newspaper clippings, etc. tumbling out of the kitchen cabinets you would understand immediately.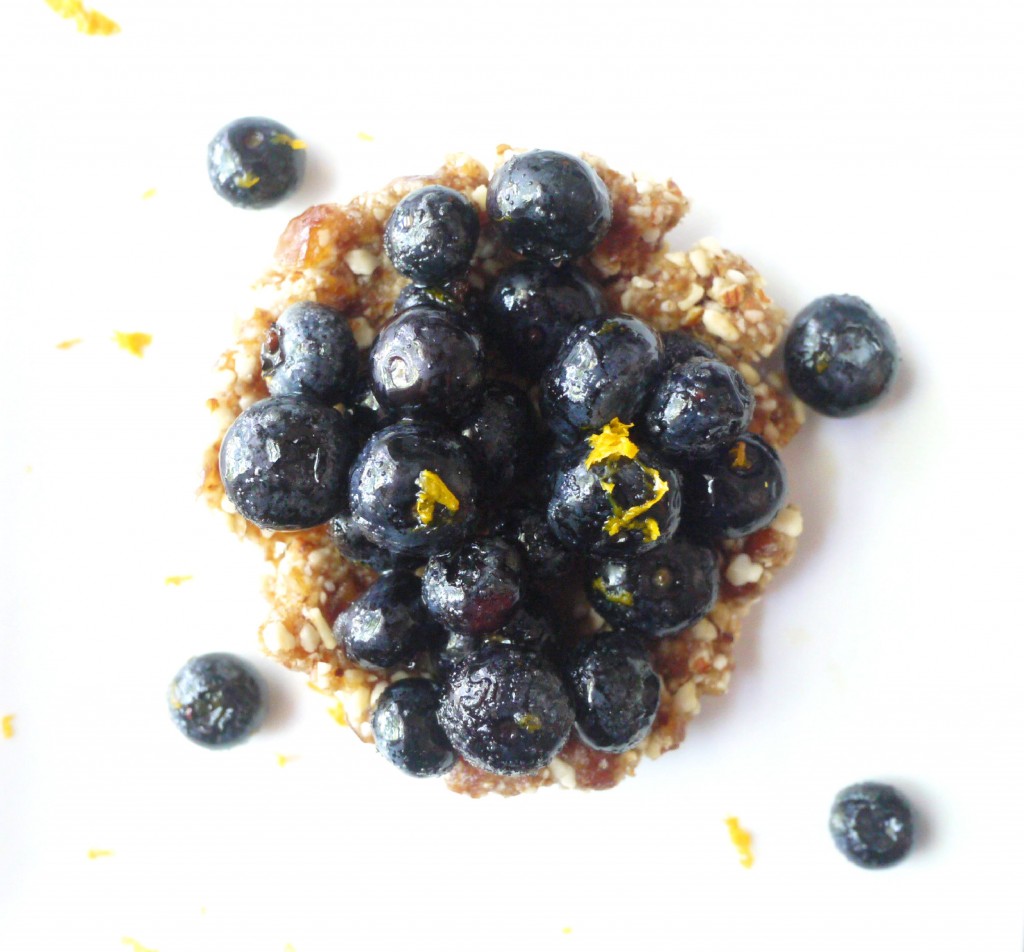 The last time I remember eating these tartlets was sitting on my back deck at our old apartment enjoying the summer heat, which means it's been at least two years. Which means the recipe may or may not have survived our move into the house. Frantically, I scoured my old cooking magazines, cookbooks and clippings. I looked all over my Pinterest site. I Googled "blueberry and almond tart." But nothing. Nada. Zero. Zip. Zilch.
I swear I thought these tarts were a figment of my imagination.
Then, I found it. An old magazine clipping from Self magazine. Ta da!! Raw blueberry tartlets. Just as gorgeous as I remembered.
I made a few small tweaks and a few hours later, I was chomping away on some fresh citrus and brown sugar marinated blueberries in a sweet almond and date gluten-free crust. Easy, peasy, breezy. Remember that episode of Friends where Monica leaves a message for Richard and says, "I'm breezy…"? This recipe is just like that, except actually breezy. The individually portioned tartlets are perfect for a dinner party, especially if you have guests on a raw, gluten-free or vegan diet. They look so impressive, but, shhh, they're easy.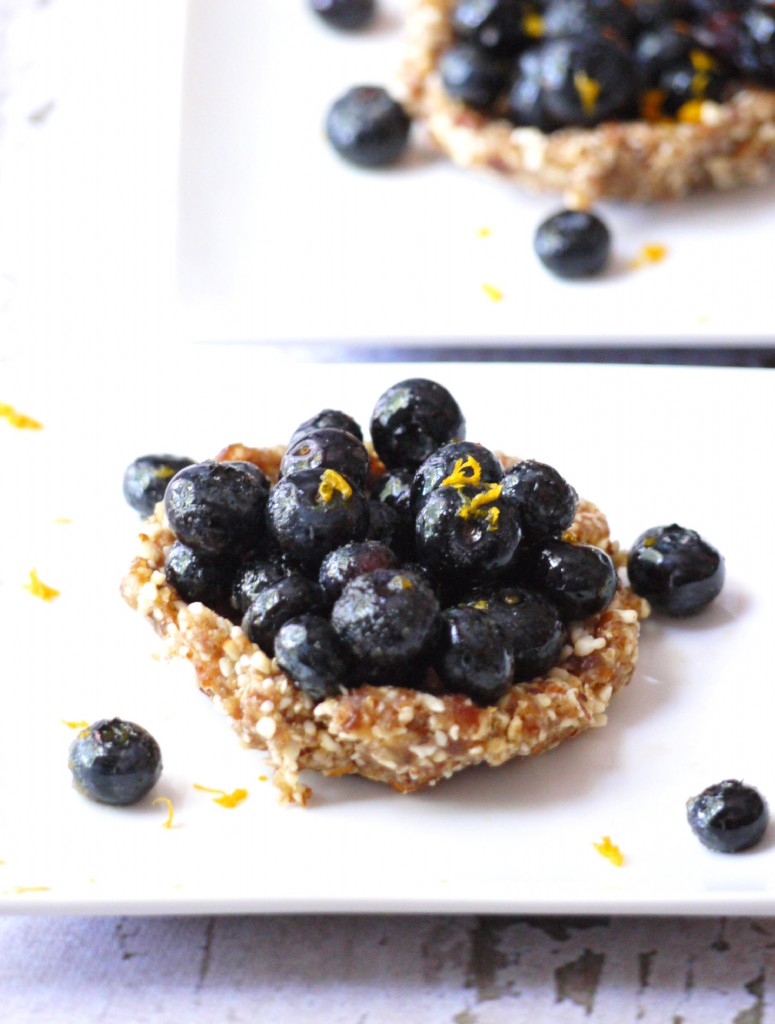 And I adore the crust. So does the hubby – score when hubby (a) likes dessert and (b) likes healthy dessert. It's just almonds and dates and a little bit of liquid – no flour, butter or eggs required. If you're not a fan of blueberries, you can use another fruit or mix it up with a few different varieties. Whatever you want. It's summer, be breezy. 😉
Gluten-Free Blueberry and Almond Citrus Tartlets
These tarts are so sweet and citrusy, your guests will never know they're healthy!
Author:
Healthy Recipe Ecstasy (Slightly Adapted from Self Magazine)
Ingredients
Blueberry Filling:
2 cups fresh blueberries
2 teaspoons fresh orange juice
1 teaspoons fresh lemon juice
½ teaspoon grated orange zest, plus extra for garnish
¼ teaspoon vanilla extract
4 teaspoons brown sugar
Canola-oil cooking spray
Crust:
⅔ cup raw almonds
¾ cup pitted dates
1 teaspoon orange juice
1 teaspoon water
Instructions
Blueberry Filling:
Combine the first 6 ingredients in a bowl, cover and refrigerate. Wasn't that easy?
Crust:
Pulse almonds in a food processor until they resemble breadcrumbs. Empty the almonds into a mixing bowl. Pulse the dates in the food processor until well chopped (they will be a little clumpy).
Add almonds back into the food processor with the dates along with 1 teaspoon water and 1 teaspoon orange juice. Pulse on high several times to form a paste.
Divide mixture evenly into 4 golf ball-sized rounds. Press the rounds with the palm up your hand to form a 4-inch crust and gently turn up the edges. Refrigerate for 2 hours.
Assembly:
Use a spatula to move crusts to serving plates; fill each with ½ cup berries and drizzle each with some leftover juices from the bowl. Top with orange zest for garnish.