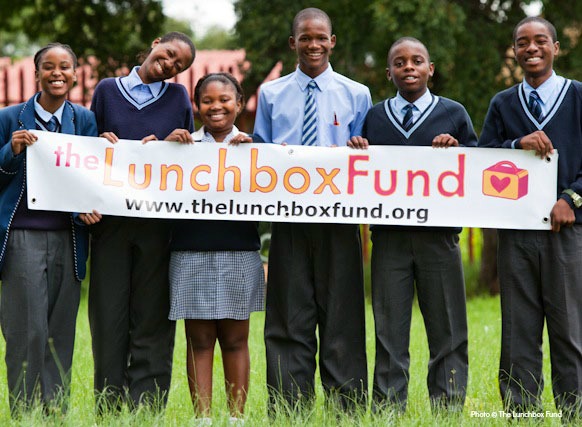 Every once in a while, I am struck by a thought so profound and monumental that it stops me in my tracks no matter what I'm doing: I am lucky. The reason this thought is so enlightening is because I, like millions of others out there who are also lucky, tend to forget just how lucky I am. Of course we all have daily complaints, no matter where we live or how much money we make – we're human. But, it's important to remember the difference between complaints and real problems. Just like it's important to recognize that thousands of food bloggers out there are cooking and eating elaborate meals on a daily basis for entertain and enjoyment while there are others, specifically children, who aren't getting a simple school lunch and who don't have a Harris Teeter, Whole Foods and Trader Joe's within walking distance.
I am one of those food bloggers who is lucky enough to eat for more than just sustenance, and it breaks my heart every day that there are kids out there who aren't eating tuna fish sandwiches or PBJs every day for lunch like I did when I grew up.
Today, we can change that. Today, food bloggers are coming together for a nationwide fundraiser with the goal of raising funds to provide one daily meal to 100 South African schoolchildren for one year.  Today, I'm asking that you join me in making a change in the lives of those that go hungry. I'm challenging you to join me in donating just $10 to The Lunchbox Fund to provide lunch for those schoolchildren for one year. A lunch that could possibly be their only meal of the day.
This food blogging organizational inspiration began with Los Angeles native, innovative philanthropist, and food blogger of Eat this Poem Nicole Gulotta, the driving force behind The Giving Table. The inspiring nonprofit, which she started in 2011, brings like-minded food bloggers from all corners of the globe together for powerful social change. Nicole organizes short-term fundraising campaigns every few months, and enlists the help of the food blog community. When searching for campaigns, Nicole looks for projects that are reachable, like The Lunchbox Fund. The Lunchbox Fund has a mission to fight hunger among these children who are not eating, but go to school and are expected to learn while their stomach grumble and their heads are in a fog. If I could make those kids these chicken fingers for lunch every day, I would. Till then, I hope my donation will do a small part to change their lives for the better.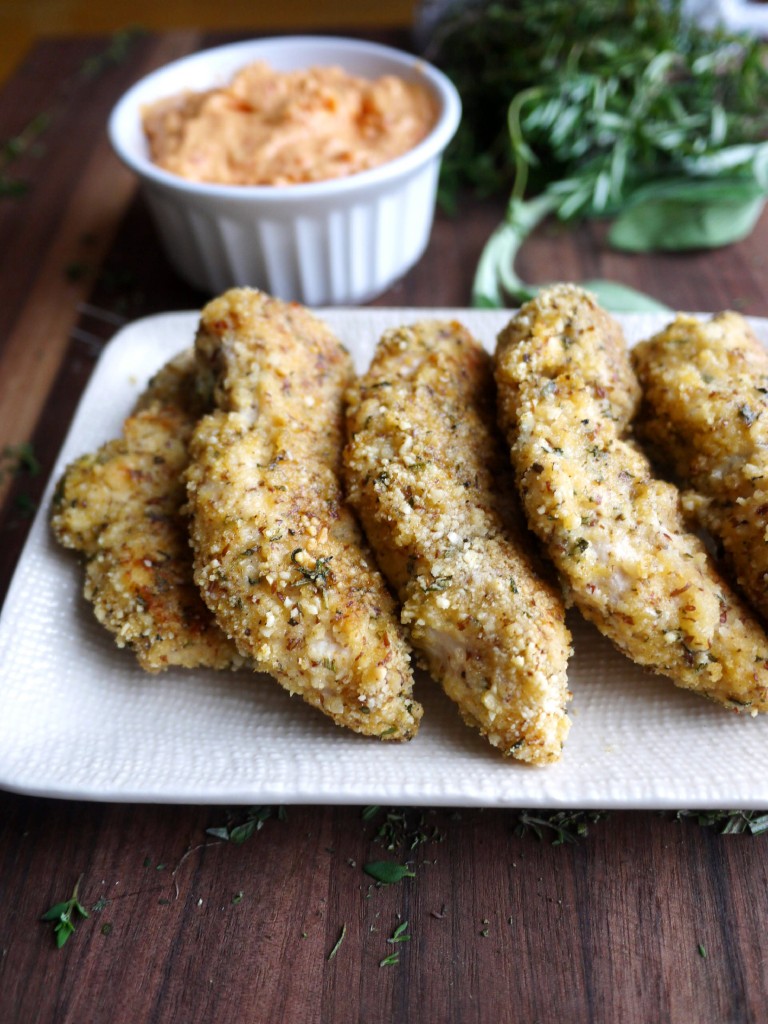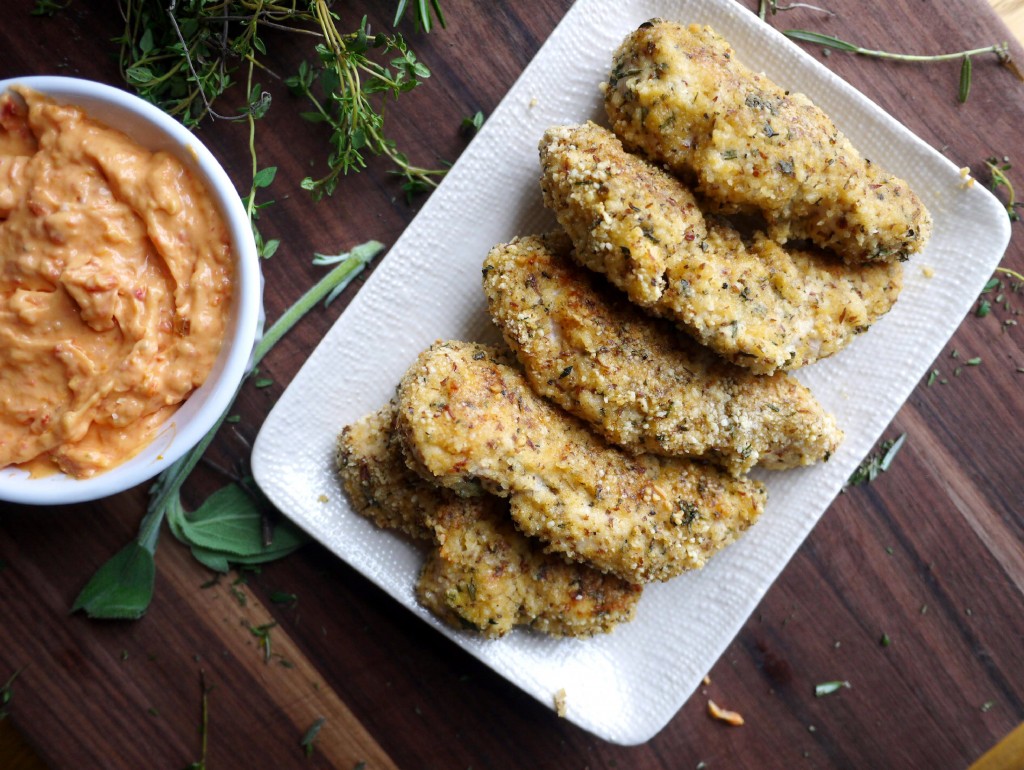 The Lunchbox Fund identifies schools or forms partnerships with locally based NGOs or community organizations in order to evaluate and identify schools. It funds distributors to buy and deliver food, monitor the feeding scheme, implement a Project Manager, and deliver reports back to them for evaluation.
Please, consider donating to the Giving Table fundraising campaign to provide 100 South African school children a daily meal for one year.
Choose an amount, any amount, and give. Think of how many times you've gone out to lunch with friends this month. If you bring a bag lunch to work a few days this week instead of eating off the over-priced lunch menu at the restaurant down the street, you can help at least one child make it through the school day with a full belly.
Grown-up Chicken Fingers with Spicy Sun-Dried Tomato Dipping Sauce
Author:
Healthy Recipe Ecstasy
Ingredients
Chicken Fingers:
8 chicken tenderloins
1 cup almond flour
1 tablespoon flaxseed meal
1 teaspoon paprika
1 teaspoon ground marjoram
½ teaspoon garlic powder
½ teaspoon sea salt
1 tablespoon finely chopped rosemary
1 tablespoon finely chopped sage
1 tablespoon finely chopped thyme
Ground black pepper to taste
2 eggs, lightly beaten
Cooking spray or olive oil spray
Spicy Sun-Dried Tomato Dipping Sauce:
1 cup low-fat mayonnaise
1 and ½ teaspoons sriracha or sambal oelek ground fresh chili paste
¼ cup sun-dried tomatoes packed in oil
½ teaspoon garlic powder
Instructions
Preheat oven to 425 degrees (F) and line a large baking sheet with parchment paper.
In a shallow dish or plate, mix together the almond flour, flaxseed meal, paprika, marjoram, garlic powder, sea salt, chopped herbs, and ground black pepper.
Add the eggs to another shallow dish.
Blot the excess moisture off from the chicken tenderloins with paper towels and then dip them in the egg. Make sure the tenderloins are thoroughly coated in the egg mixture and then dredge them in the almond flour breading, pressing to adhere.
Place the chicken fingers on the parchment-lined baking sheet and lightly spray with cooking spray or olive oil.
Place the chicken fingers in the oven and bake for 8-9 minutes. Flip the chicken fingers over, lightly spray again with cooking spray or olive oil and bake for another 8-9 minutes.
Transfer the chicken fingers to a platter and keep warm.
Add the dipping sauce ingredients to a food processor and process on high for 30 seconds or until the sauce is smooth. Serve the sauce along with the chicken fingers.