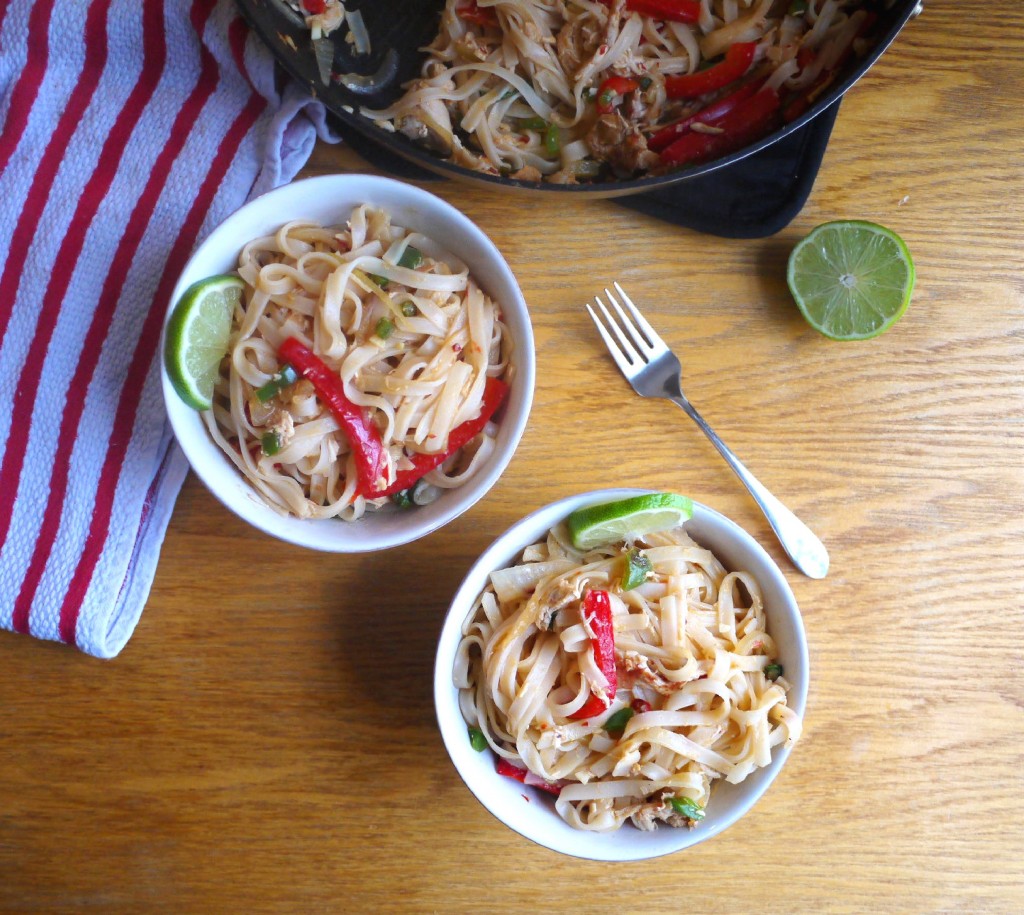 Let me preface this blog by saying that the cooking of Asian cuisine is not my specialty, but as my husband (have I said husband on this blog yet??) is something of an Asian food connoisseur and practically goes into withdrawal if he doesn't get a Thai fix at least once a week, I've had to up my game. I think the fall/winter holidays are especially hard for him because they're filled with week after week of typical American holiday fare and tiny cocktail party appetizers (my favorite) and, during this time, his curries and coconut-based soups take a backseat to turkey, casseroles, and pies.
In an effort to please my new husband, I decided that, instead of ordering overly-expensive and under satisfying Thai takeout (biggest complaint about D.C. is the lack of decent delivery and takeout joints), we should try our hand at drunken noodles the weekend after Thanksgiving. So, I chopped peppers and stir-fried noodles, and Alasdair whisked together fish-flavored sauces. We tossed all the ingredients together and got down to the important part: taste-testing. And by taste-testing, I mean we hungrily shoveled the food into our gullets with all the grace of grizzly bears. Once the food was properly disposed of in our tummies, we sat back in our chairs and traded thoughts on how the recipe ranked compared to some of our favorite drunken noodle dishes.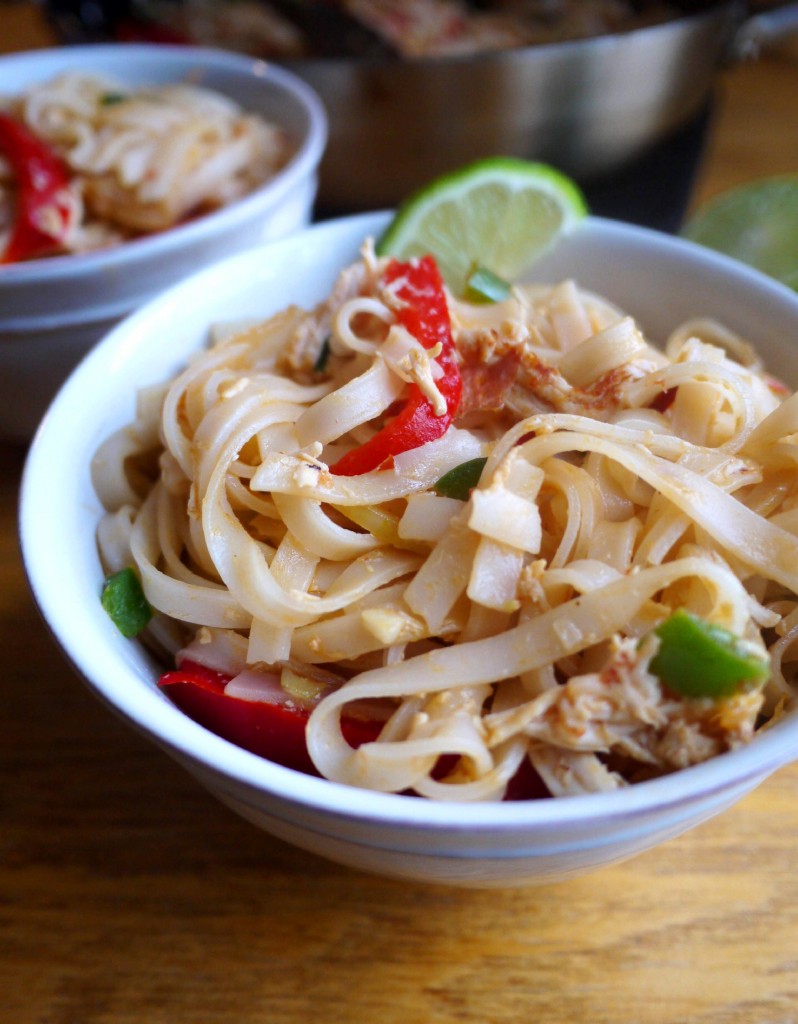 Other than a serving size issue (1/2 a pound of noodles does not equal four servings in my household but, then again, we do have a problem with portion control…), I was pretty impressed with the Food and Wine Drunken Noodles recipe that I choose – crispy tofu, yummy noodles, just the right amount of spicy that leaves your mouth tingling without that unattractive eye-watering, nose-running thing that happens when you accidentally bite into a chunk of habanero. Alasdair, on the other hand, was not 100 percent convinced. For one thing, despite my best efforts, he still hates tofu. He was all: "where's the beef." Actually it was more like, "where's the pork or chicken," but you get my drift. Also, his love of saucy dishes wasn't satiated by the recipe's noodle to sauce ratio. And, finally, the moderate spice factor didn't quite reach his preferred rating on the Scoville scale (he aims to look like he's got the flu or a serious case of spring allergies while happily munching away on the hottest peppers he can find). 
So, we made a few changes to the recipe – we doubled the noodles, tripled the sauce and took some liberties with the peppers…. A lot of liberties. Liberties that left me reaching for tissues, with burning fingers, to sop up my watery eyes and runny nose. Tip: do not get red hot chile seeds underneath your fingernails. I was determined to make sweat pour down Alasdair's face as he dug into a big bowl of super fiery noodles. Don't worry, I'm not a sadist. As I said before, he likes it. 🙂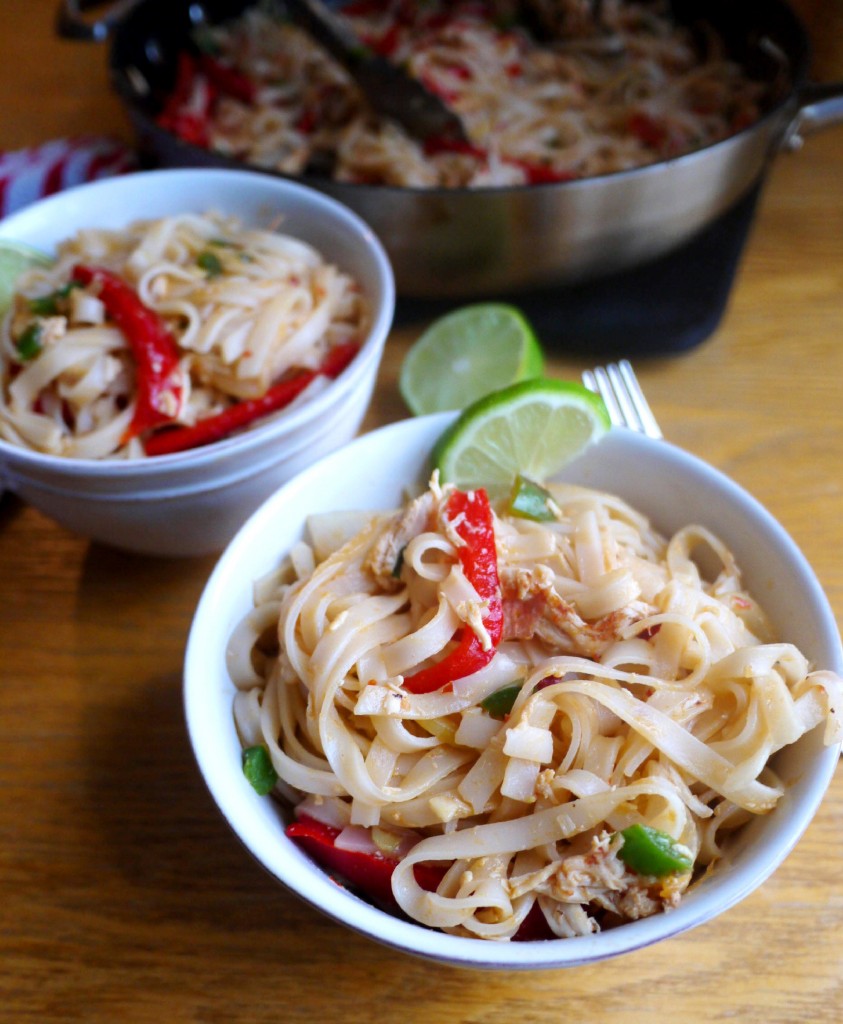 Healthy Recipe Ecstasy? After all the changes, we crossed our fingers and eagerly lifted our forks (not so easy to cross your fingers and lift your fork at the same time but we managed). The result? A gluten-free (rice noodles) and dairy-free dish packed with metabolism boosting peppers that made us both happy.  I also swapped out the regular soy sauce and chicken stock for the low-sodium varieties so we didn't have to deal with post-Thai noodle bloat and blood pressure issues, and I added in onions and chicken per the hubby's request. I used rotisserie chicken because (a) I hate cooking chicken when I don't have to and (b) I prefer shredded chicken to chunks in my stir fry.
I've got to warn you. This dish earns the name "fiery." In fact, let's call it a disclaimer. But, if you're worried you won't be able to handle it, listen up. While Alasdair, the spice master himself, said the dish was pushing even his spice threshold, I, a spice-loving has-been due to an annoying case of acid reflux, was still able to enjoy it without taking a post-dinner milk bath. This recipe is like The Sisterhood of the Traveling Pants of drunken noodles. Somehow one size fits all despite all not being one size. At least in our house. And that's why we've both been, not-so-secretly, sneaking to the fridge and eating cold noodle leftovers right out of the tupperware morning, noon and night. All we need are those cute Chinese food takeout boxes (because everything's better eaten out of those) and we'll never need takeout again!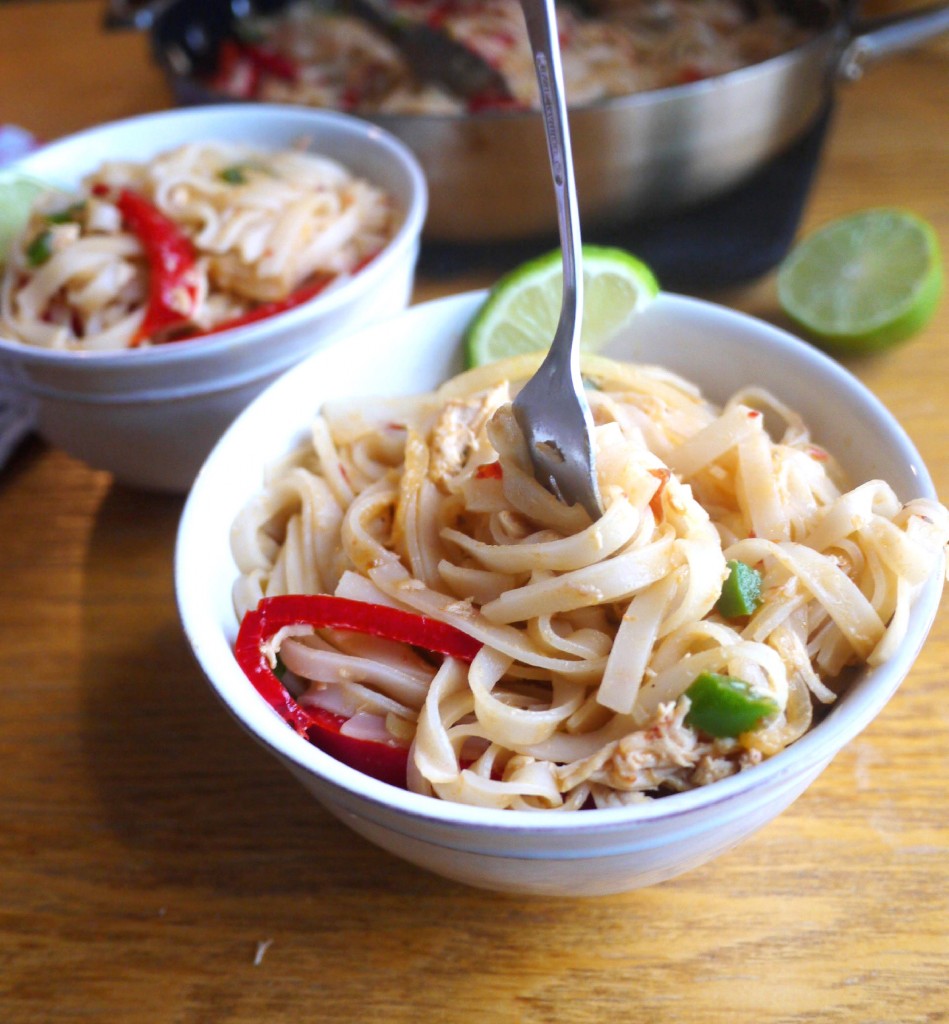 Fiery Drunken Noodles
Author:
Healthy Recipe Ecstasy (Inspired by Food and Wine)
Ingredients
3 dried red hot chilies (the original recipe called for Thai bird chili but that's not so easy to find so I would recommend dried red hot chilies such a guajillo or ancho)
1 and ½ cups chicken stock
3 tablespoons oyster sauce
3 tablespoons Asian fish sauce
4 teaspoons roasted red chile paste (I used sambal oelek)
3 teaspoons low-sodium soy sauce
1 and ½ teaspoons honey
3 tablespoons canola oil
2 medium onions, cut in half vertically and then thinly sliced
2 medium red bell peppers, seeded and thinly sliced
2 large jalapeños, seeded and diced (use one large jalapeno if you want a milder dish)
4 garlic cloves, minced
3-4 cups shredded rotisserie chicken
1 pound pad thai rice noodles, cooked according to the package and cut in half crosswise
1 cup Thai basil leaves, plus more for garnish (or you can use regular basil leaves mixed with mint if you can't find Thai basil)
Lime wedges, for serving
Instructions
Soak the dried chiles in hot water for 15 minutes. Discard liquid, chop and seed chiles.
In a bowl, whisk the stock, oyster sauce, fish sauce, chile paste, soy sauce and honey. Set aside.
In a large skillet, heat the canola oil over high heat. Add the chicken, onion, bell pepper, jalapeño, garlic and chopped chiles and stir-fry over high heat until fragrant, 3-4 minutes. Add the noodles and stir-fry until browned, 5 minutes. Turn the heat to medium, add the sauce and toss together until absorbed, 2-3 minutes.
Take the skillet off the heat and fold in 1 cup of basil leaves.
Garnish with more basil and serve with lime wedges.