This post is sponsored by Kerrygold – the makers of my favorite butter and, now, my favorite cheese. All opinions and lusty feelings are my own.
I'm in  love. Knock down, weak in the knees, heart fluttery love.
With chicken thighs. Yes, chicken thighs.
I know chicken thighs aren't super sexy – they're no creamy truffle pasta. They're not even all that cute like a fluffy little pancake. Nope, they're just standard, practical fare. They're the boy next door who always remembers to fill his car up with gas – unlike the older guy who rides in on a Vespa… Sure, he might be fun for a while, but you know it will end in heart break, tears and a pint of ice cream.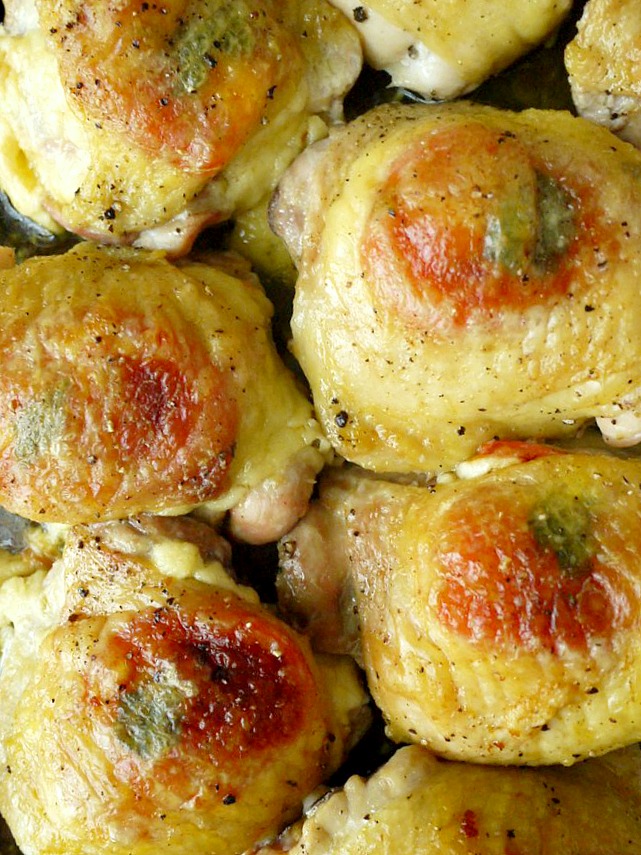 Chicken thighs never let you down like Vespa guy. They're dependable, easy to cook and ridiculously versatile. Pan-fried chicken? I use chicken thighs. Slow cooker chicken? It shreds so good. Roasted chicken? Who needs the rest of the bird when you can just roast the dark and juicy thighs? OKAYYYYYYY, maybe they are kind of a Baldwin (name that movie!)….
Especially when you slide a slice of Dubliner cheese under the skin so that it oozes over the sides of the chicken after roasting. OMG that cheese is divine. I had no idea. When making the recipe, I was all, one piece for the chicken, one piece for Michelle, one piece for the chicken, one piece for Michelle. And speaking of chicken, don't forget to brush that skin with olive oil so it gets all golden and crispy. Yep. Crispy chicken skin = weak. in. the. knees.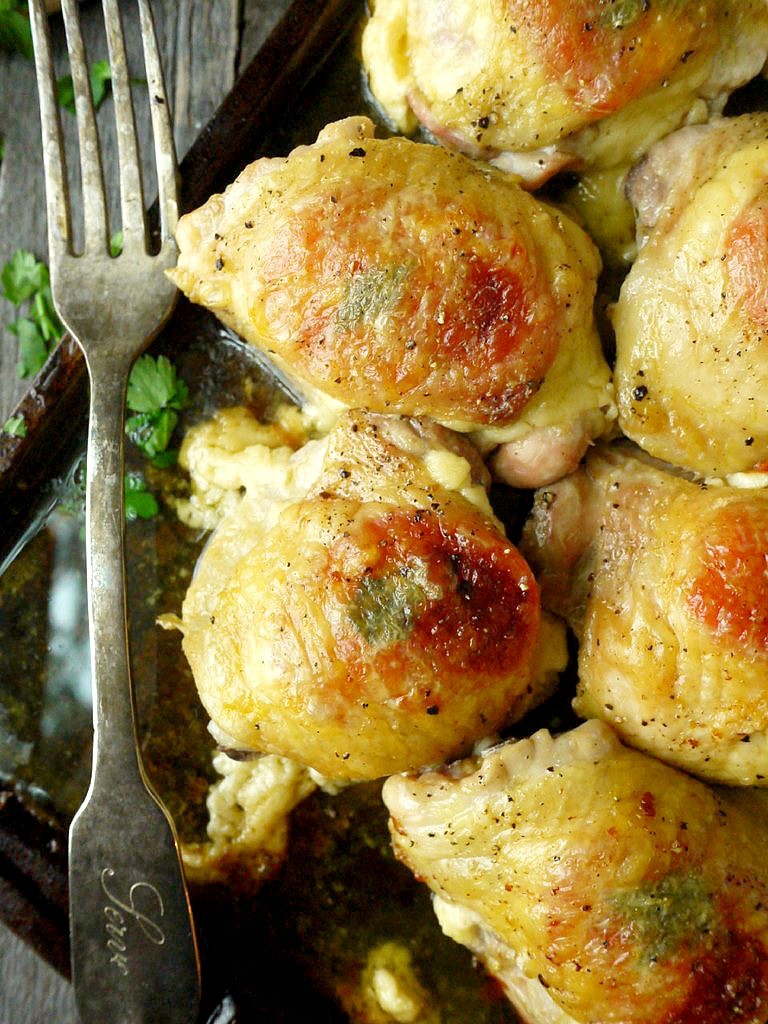 I've been having a little lust affair with my crock pot lately because my 8-month-old only allows me enough time to throw all the ingredients in the crock and turn it on before he makes a break for the cat bowls, decides he wants a cuddle or starts playing in the bathroom trash (usually all three occur within about 30 seconds).
But, as much as I love me some shredded meat, I'm over it. Now, I'm having a moment with roasted chicken thighs.  Dubliner cheese and roasted tomato chicken thighs, to be exact. Cheesy, juicy, and ridiculously easy to throw together. My kind of lover.
Served over my spaghetti squash puttanesca, it's the perfect low-carb weeknight meal, in my not-so-humble opinion. It feels a little decadent because, you know, melty cheese and crispy chicken skin, but it's really simple, whole food ingredients. Like, FOUR ingredients. Who can say no to a four-ingredient dinner that tastes like a million bucks?
And chicken thighs can be reheated all week long without drying out like chicken breasts which makes them a go-to when you're looking for meals that multi-task. How practical. *Sigh* *Heart flutter*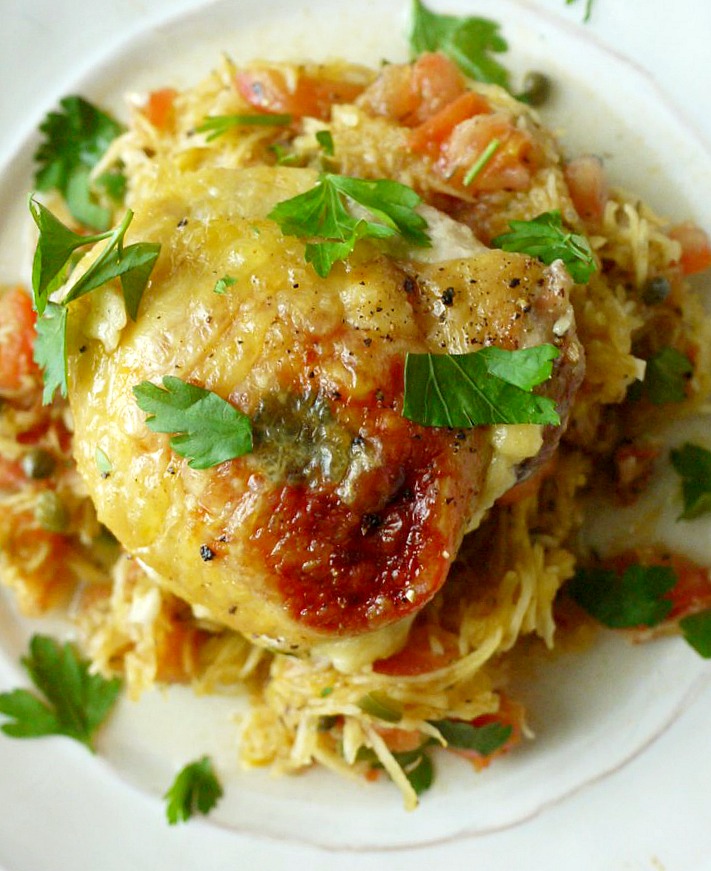 Chicken thighs for the win.

Dubliner Cheese and Tomato Roasted Chicken Thighs
This gluten-free recipe is barely adapted from Kerrygold's Dubliner and Tomato Chicken recipe.
Author:
Healthy Recipe Ecstasy
Ingredients
8 chicken thighs (bone-in), about 4 pounds
7 ounces Dubliner Cheese , cut lengthwise in 16 thin slices
1-2 plum tomatoes, cut lengthwise into 8 thin slices
8 parsley leaves
Coarse salt and freshly-ground black pepper, to taste
Extra virgin olive oil, for drizzling
Instructions
Preheat oven to 450 degrees F. Coat a shallow baking sheet pan with cooking spray.
Working with one chicken thigh at a time, pull the skin back but not completely off. Place two pieces of the cheese lengthwise on the meat and under the skin. Top the cheese with a slice of tomato and place a parsley leaf flat on the center of the tomato. Pull the skin back to cover the thigh, fold the excess skin under the chicken and place on the baking sheet pan. Repeat with the remaining ingredients.
Season to taste with salt and pepper and drizzle with olive oil.
Roast 15 minutes. Baste with the skin with additional olive oil and roast another 10-15 minutes, until an instant read thermometer registers 170-175 degrees F.
Note: Chicken thighs vary greatly in size, which will affect cooking times.