HOLY MOTHER OF ALL CHILI RECIPES. This chili recipe is officially my favorite chili recipe of all time. This is not an exaggeration. I repeat, this is not an exaggeration.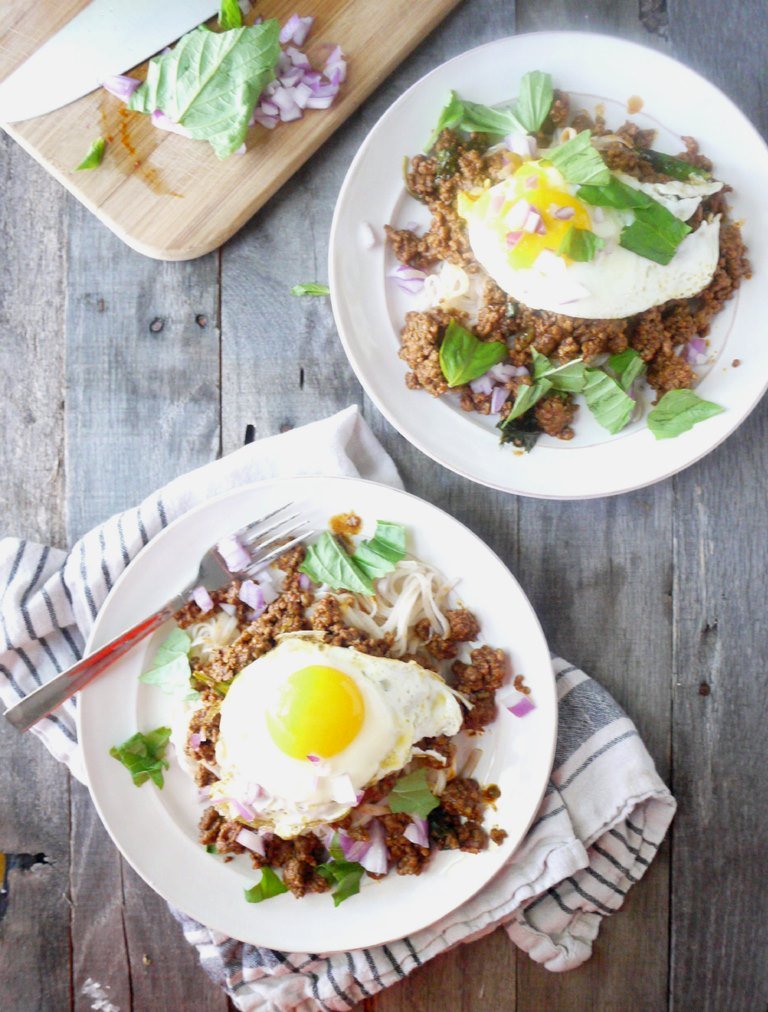 I've made chili a gazillion times in the past, and I've never been blown away. My previous chili efforts have either lacked flavor or texture (too soupy, too dry, etc, etc). Not this chili. This chili blew my mind. Hence the name.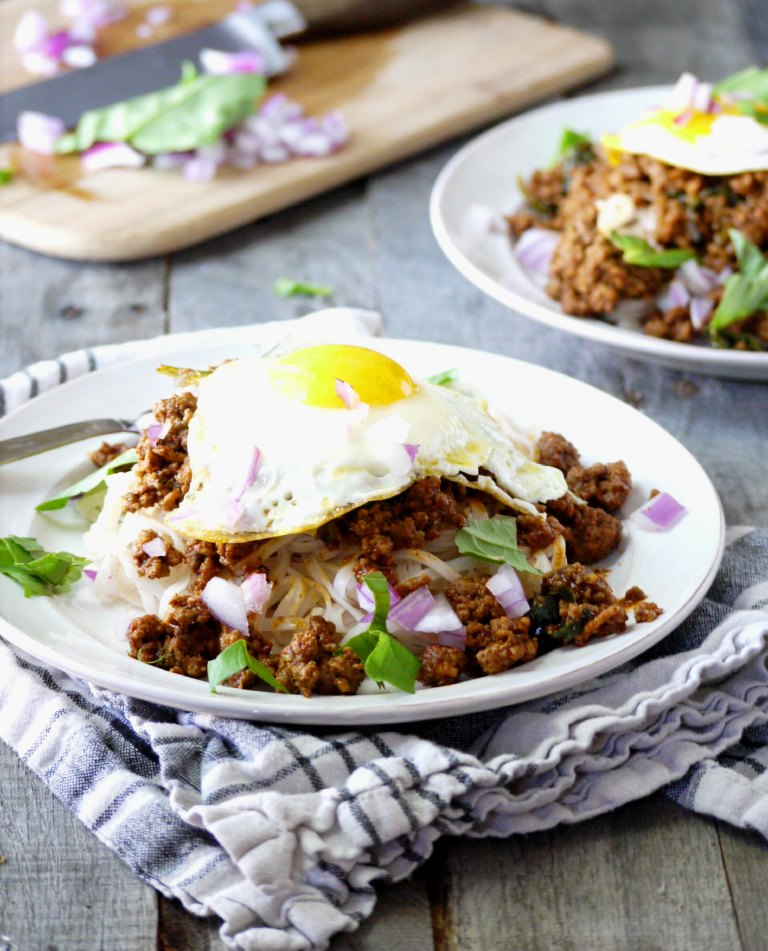 First of all, it's not just chili. It's drunken noodle chili. Let me break that down for you.
You've got a chili base with drunken noodle flavoring – soy sauce, fish sauce, oyster sauce, sriracha, the whole shebang. Then, you've got the Thai brown rice noodles.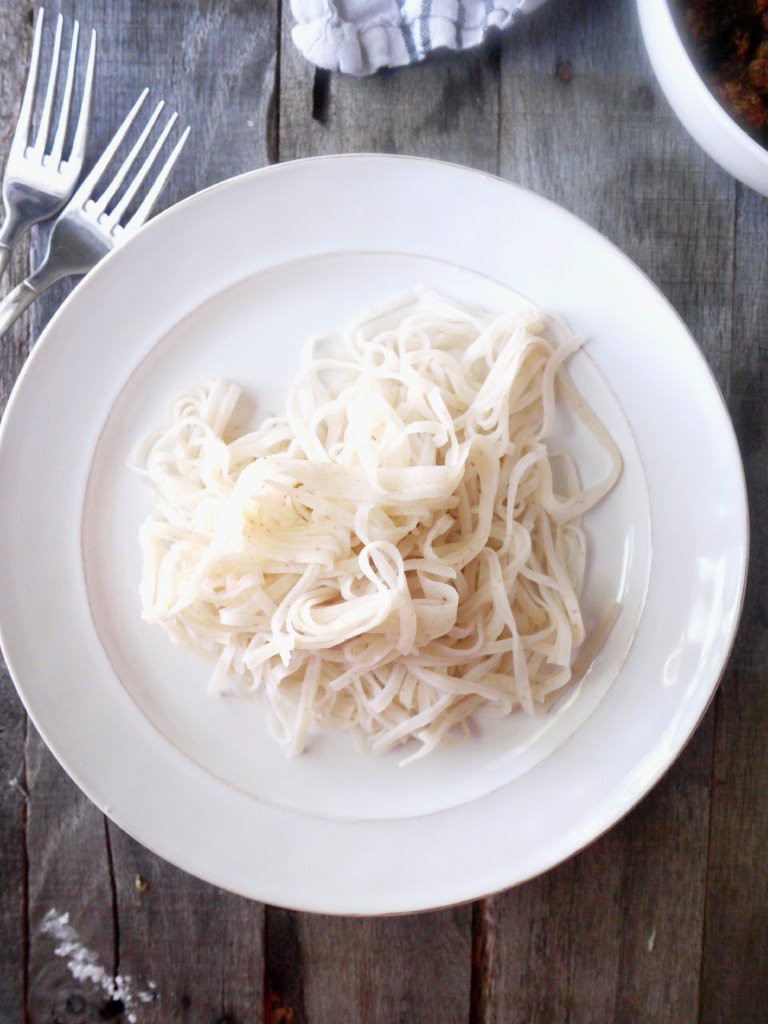 And, then, the piece de la resistance: the fried egg which oozes delectable runny yolk all over the meat and noodles. Mix all the different components together and prepare to scarf.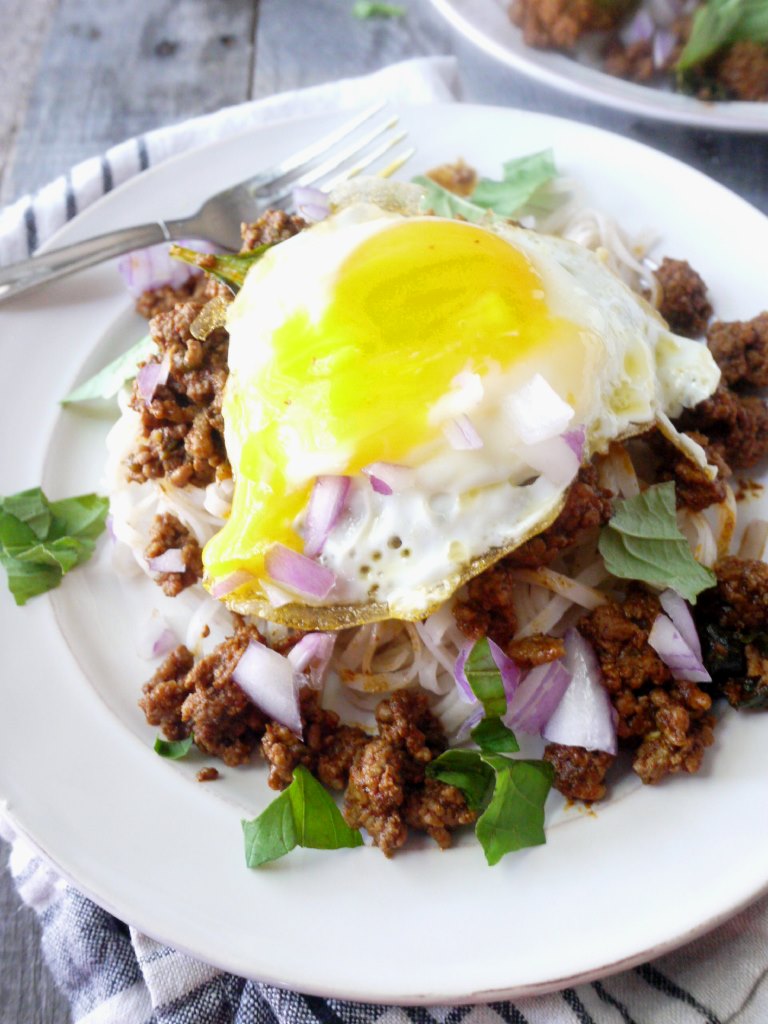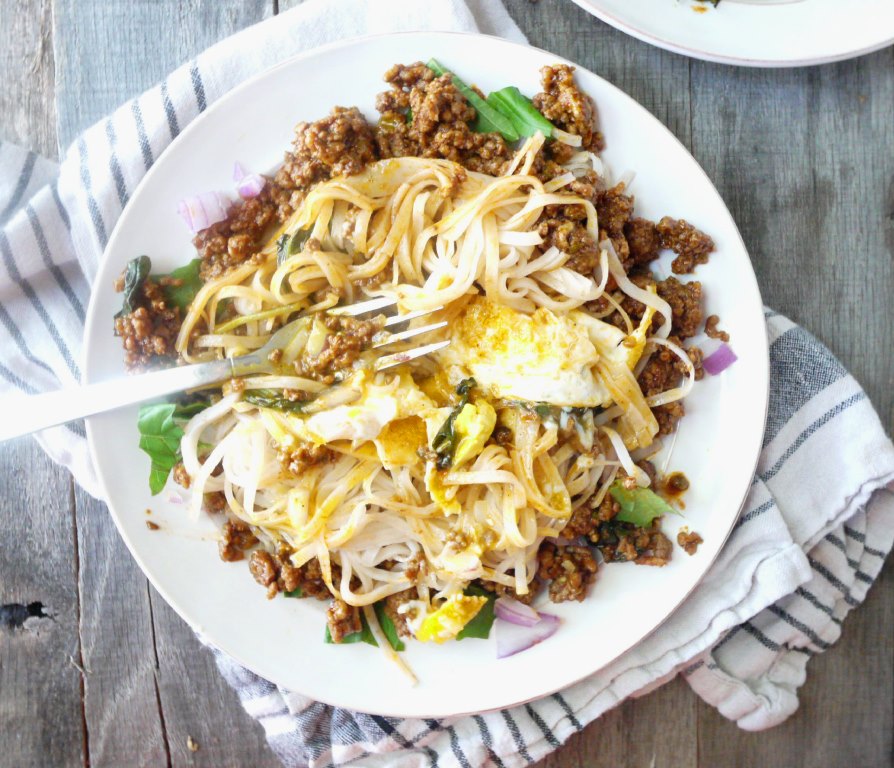 It's kind of like Cincinnati chili but with a spicy, uber-flavorful Thai twist. Are you drooling yet? I am.
Here's the one tiny little thing I hate about chili. Really good chili often needs to sit and simmer for HOURS in order for all the flavors to mix and mingle. And who wants to wait hours to eat chili?
Drunken noodle chili will not make you wait. It understand your needs. One of the reasons we (I'm using the collective "we" here) order Thai takeout is because we're feeling lazy and want some food stat. I can't promise this chili will be hot and ready in under 30 minutes but you can crank it out in just under an hour which is pretty good in chili time.
Unlike Thai takeout, we're watching our sodium intake here with low-sodium soy sauce and no salt-added tomato sauce and steering clear of refined sugars. So, as indulgent as this chili looks, it's actually pretty guilt free.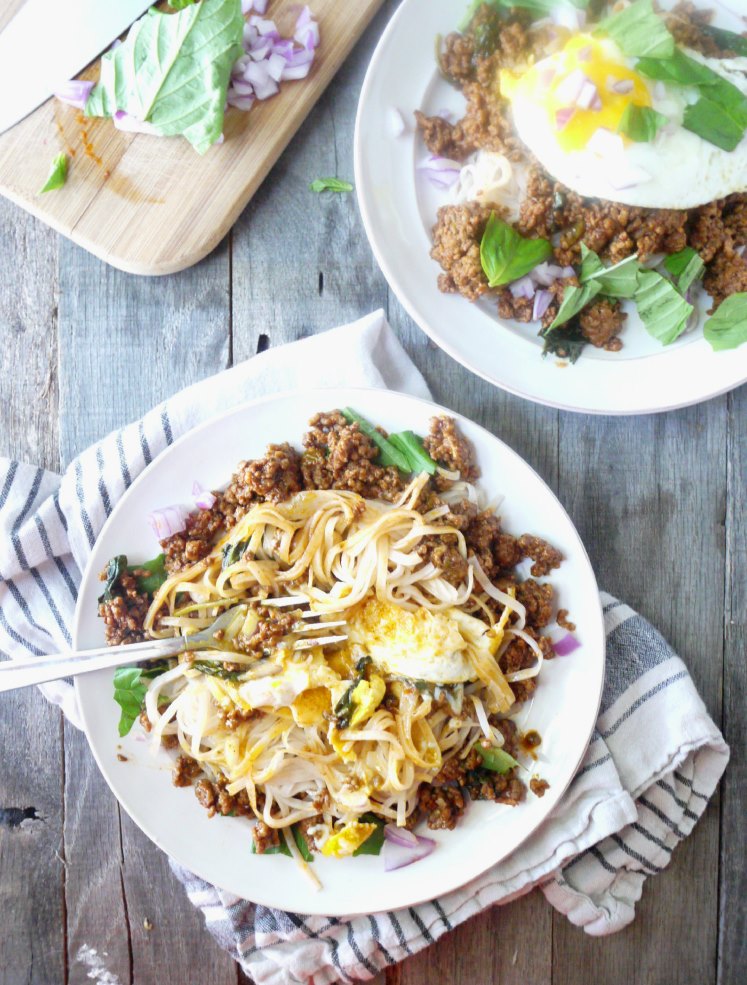 Is there anything better than guilt-free comfort food on a cool Fall night? Not in my world. 🙂

Mind-Blowing Drunken Noodle Chili
This dish is pretty spicy and that's coming from my habanero-loving husband. If you're a fan of more mild flavors, start with 1 serrano chili and 1 tablespoon chili powder. You can always taste test along the way and add more heat. Same thing goes for the Thai basil leaves. If you're not a fan of their strong flavor, start with ¼ cup. If you're using regular basil, you can start with ½ cup because it's not as strong.
Author:
Healthy Recipe Ecstasy
Ingredients
1 pound lean ground beef (I used 85/15)
1 pound ground pork
2 teaspoons garlic, minced
1-2 serrano chilis, thinly sliced (only use 2 if you like things extra hot!)
One 8-ounce can tomato sauce, no salt added
3 tablespoons low-sodium soy sauce
2 tablespoons chili powder
1.5 tablespoons fish sauce
1 tablespoon oyster sauce
1 tablespoon sriracha sauce
1 tablespoon maple syrup
1 teaspoon ground cumin
1 teaspoon ground oregano
1 teaspoon salt
½ cup loosely-packed Thai basil leaves, torn, plus more for garnish (if you can't find Thai basil leaves, you can use regular basil)
8 ounces brown rice noodles
4 large eggs
1 tablespoon olive oil
Chopped red onions, for garnish
Instructions
Heat a large pot over medium heat. Add the ground beef, ground pork, garlic and chilis to the pot. Cook over medium heat until the meat is browned, breaking up meat with a wooden spoon as it cooks, 5-7 minutes.
Drain off most of the excess fat, keeping 2-3 tablespoons worth of fat in the pot. Then, pour in the tomato sauce plus the next 9 ingredients (through the salt). Stir together well, cover, and reduce the heat to low. Simmer for 45 minutes, stirring occasionally. Add ¼ cup of water halfway through if the chili starts to look dry.
Add the basil leaves to the pot and cook for another 5 minutes.
While the chili is simmering, cook the rice noodles according to the package.
Heat the olive oil in a large skillet over medium high heat. Crack the eggs in the skillet and fry until the whites are set. Remove from the heat. The eggs will continue to cook in the skillet.
Divide the rice noodles among 4 plates or bowls. Top the noodles with the chili, red onions, fried eggs and more basil leaves.