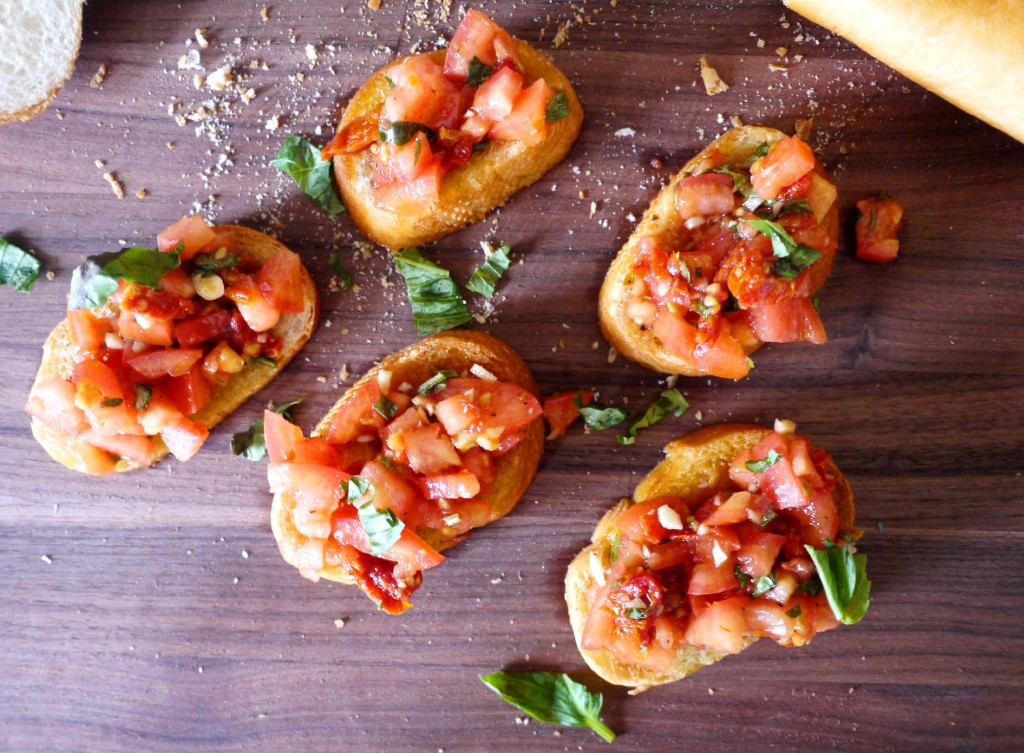 Out of all the dishes I've ever made for my extended family holiday gatherings, this double tomato bruschetta (or tomato squared bruschetta as I like to call it) that I discovered a few years ago on allrecipes.com is the most popular. I say discovered because when you find a good recipe it really is like finding buried treasure – except instead of buried in a tomb somewhere in Egypt, the treasure is buried amongst the vast and overwhelming food websites slowly rotating through the blogosphere. The second I lay the warm bruschetta down on the table, the vultures descend, from young to old, each one exclaiming after the first bite, "mmmm, this is really good," and then coming back for seconds, thirds, even fourths, until they look up at me forlornly realizing all that's left on the platter are the crumbs.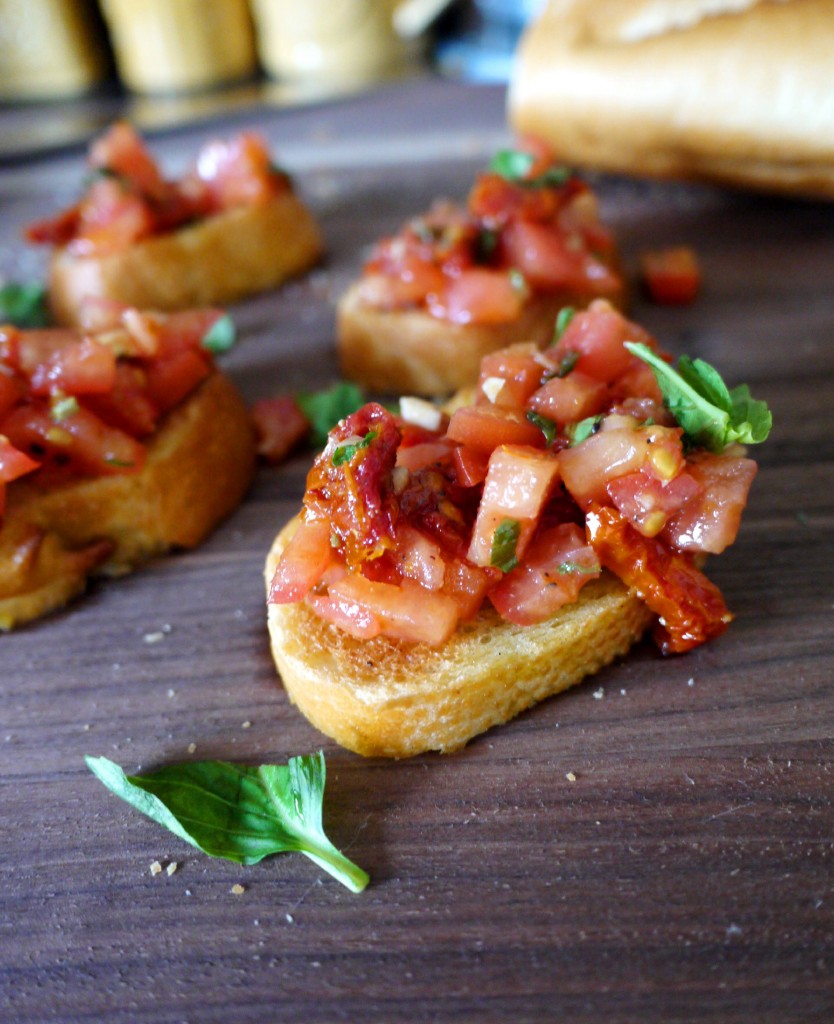 Maybe that description came out a little more dramatic than I meant for it to sound. Despite the reaction it invokes in people, this bruschetta is one of the least drama-filled dishes I've ever made. It's the epitome of "less is more" with a few simple ingredients and a super quick and easy prep. But the end result is a glamorous, almost shimmering display of red tomato and green basil lounging on crusty toasted bread. The original recipe calls for a sprinkle of mozzarella on top of the tomato mixture, but my version leaves off the cheese because, in this case, the cheese actually adds nothing but a distraction from the beautiful bruschetta topping.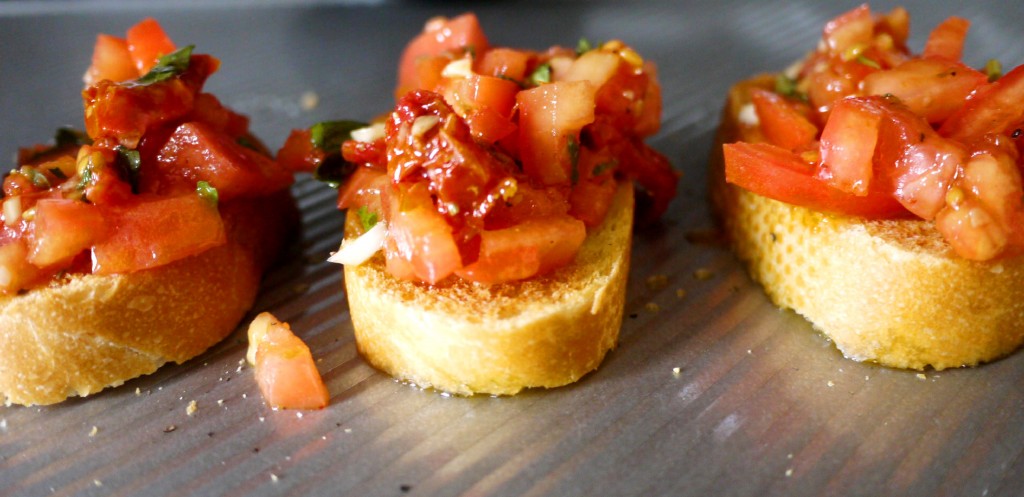 BRUSCHETTA = AWESOME DOUBLE TOMATO BRUSCHETTA = DOUBLE AWESOME 🙂 Healthy Recipe Ecstasy? I've said it before, and I'll say it again, tomatoes are the good guys. Filled with cancer-fighting health benefits, they pack a double punch in this double tomato bruschetta. There's something about the combo of the fresh juicy roma tomato and the intense flavor of the sun-dried tomato that will blow you away. Alasdair actually asked me if I used a special kind of tomato because the bruschetta topping tasted so good. On that note, when you're making an appetizer like this with just a few ingredients, you want to use the best you can find – fresh farmer's market tomatoes, good balsamic vinegar (not the stuff that's been sitting in your cabinet for the past 10 years), and freshly baked bread. I recommend a hearty baguette bread that toasts really well. I once used a soft French bread and, even toasted, it just couldn't stand up to the juicy, olive oil drenched tomatoes and basil. If you have a gluten issue, swap the bread out for some gluten-free crackers.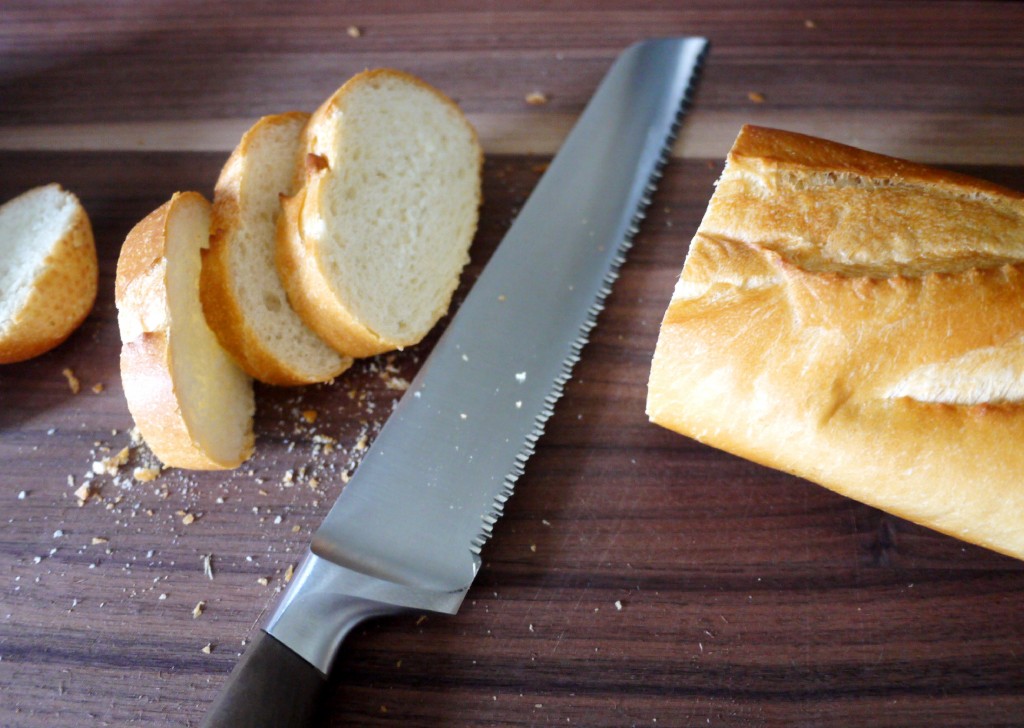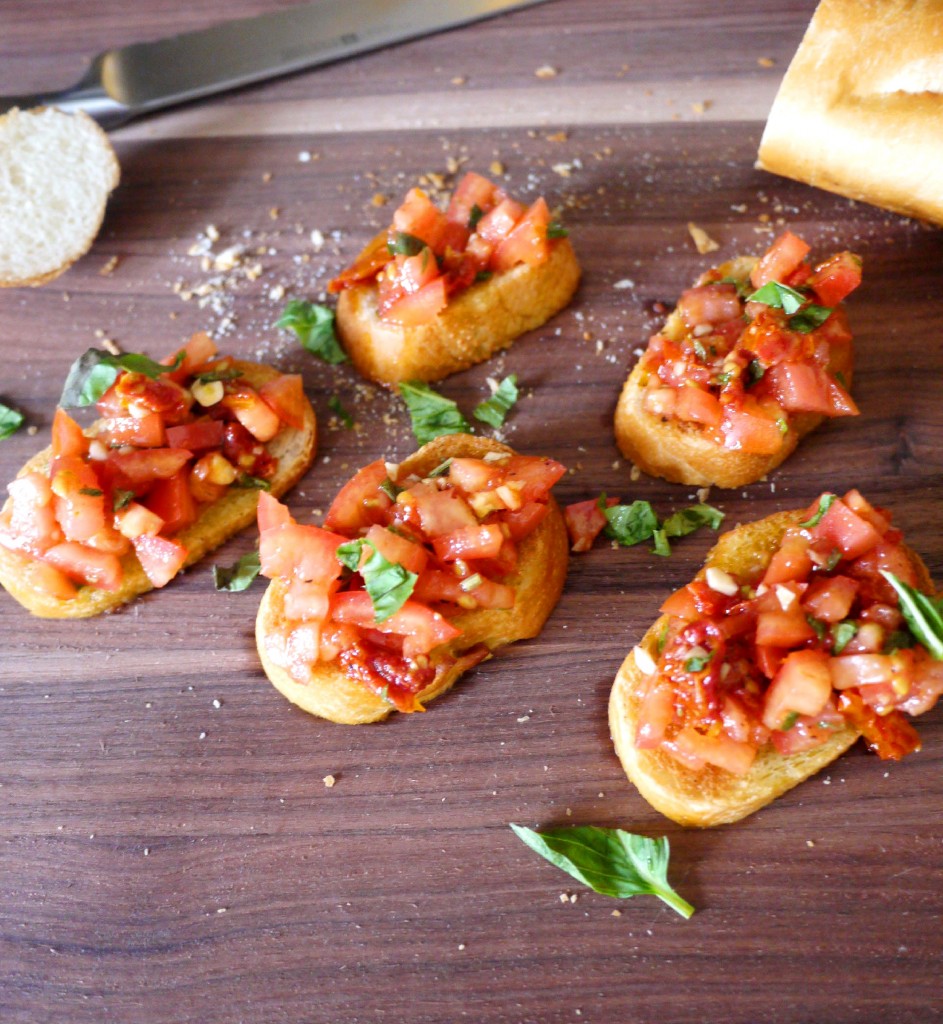 Double Tomato Bruschetta
Author:
Healthy Recipe Ecstasy (Barely Adapted from allrecipes.com)
Ingredients
6 roma (plum) tomatoes, chopped
½ cup sun-dried tomatoes, packed in oil
3 cloves garlic, minced
¼ cup olive oil, plus more for garnish
2 tablespoons balsamic vinegar
¼ cup fresh basil, stems removed and chopped, plus more for garnish
¼ teaspoon salt
¼ teaspoon ground black pepper
1 French baguette
Sea salt
Instructions
Preheat the oven to the broiler setting.
In a large bowl, combine the roma tomatoes, sun-dried tomatoes, garlic, olive oil, vinegar, basil, salt, and pepper. Allow the mixture to sit for 10 minutes.
Cut the baguette into ¾-inch slices. On a baking sheet, arrange the baguette slices in a single layer. Broil for 1 to 2 minutes, until slightly brown.
Divide the tomato mixture evenly over the baguette slices. Broil for another 2-3 minutes to warm the tomatoes, if desired.
Garnish with a drizzle of olive oil, a sprinkle of sea salt and more fresh basil. Serve immediately.