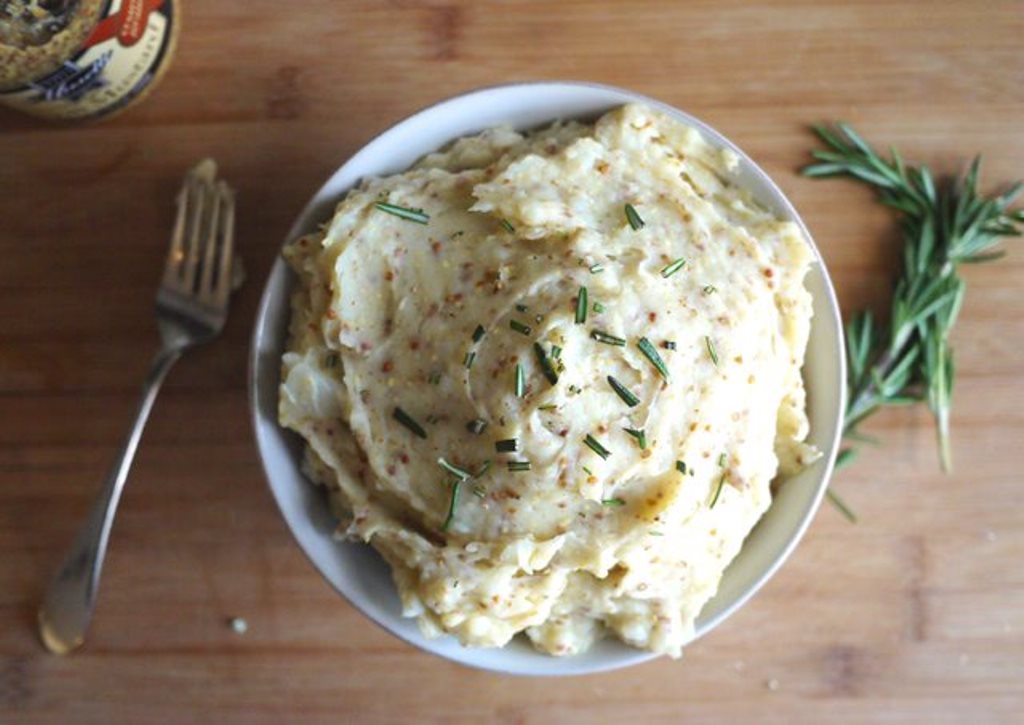 I know that today is Thanksgiving, but I can't stop thinking about my honeymoon in Spain. More specifically, I can't stop thinking about these mustard-y mashed potatoes we ate our last night in Barcelona along with a heaping helping of chuleton de buey. Those potatoes were so good that I tried, unabashedly, to lick the bowl clean during our dinner. See below for evidence. And if you've never heard of or seen chuleton de buey, well, it's a GIGANTIC piece of fatty, flavorful, salty steak (second picture below) that we ate twice during our honeymoon.
It's no secret what made that meal so delicious…..and so rich. The steak was cooked to perfection and the flaked sea salt was the perfect complement to the fatty meat. And then there were the potatoes which I'm pretty sure were resplendent with the mashed potato dairy trifecta – milk, cream and tons of butter – in addition to the tangy mustard. I mean, what dish doesn't taste good, better, great with a ton of butter and cream mixed in? Let's be honest, adding all that butter and cream is just plain cheating. Of course, it's going to taste amazing. The real trick is making food taste good without relying on the trifecta. Since we don't do things the easy way around here (evidenced from our insanely stressful year and a half of wedding), I was determined to replicate the Spanish mash in time for American Thanksgiving with an HRx dairy-free twist.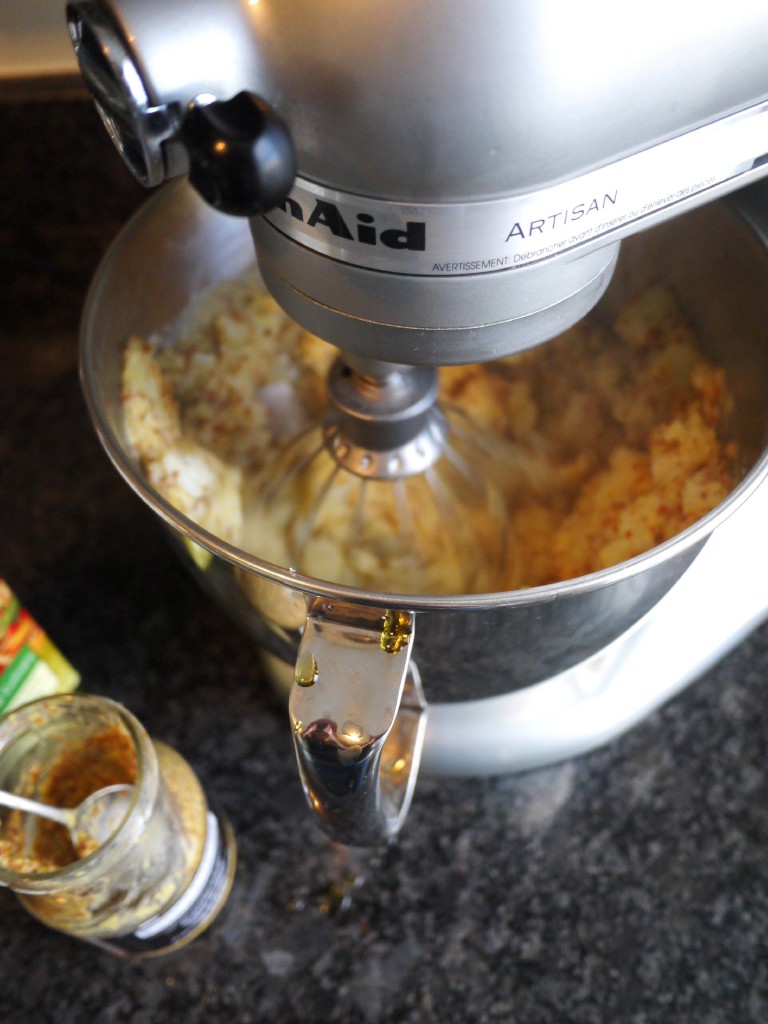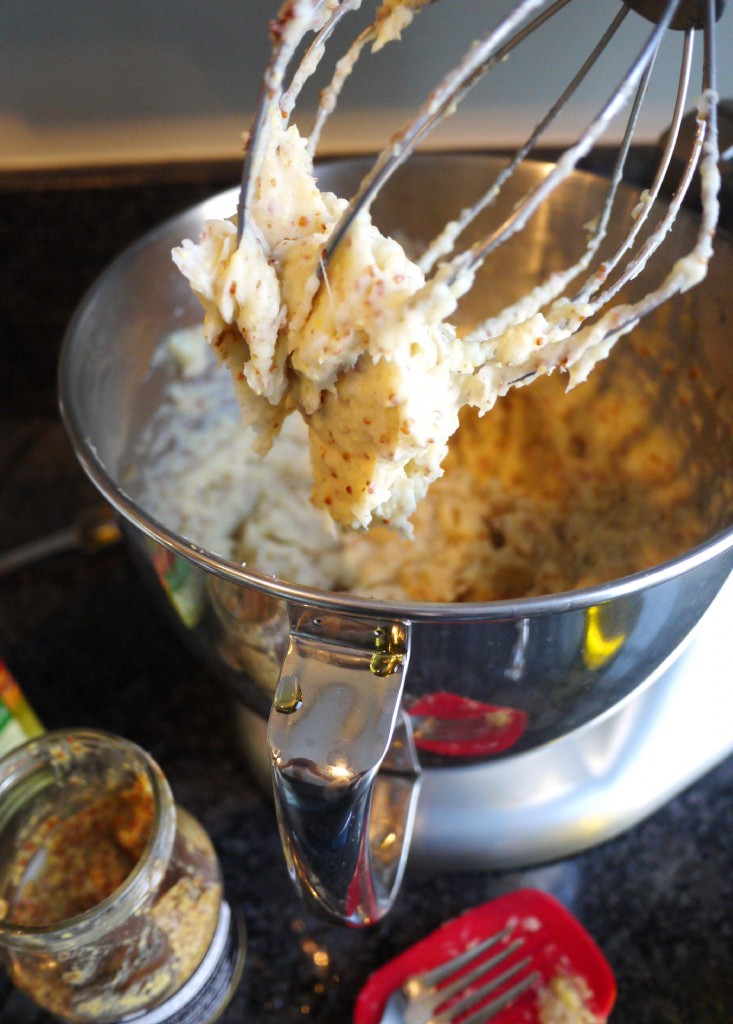 Say what? You want me to eat mashed potatoes on Thanksgiving without butter? Yes, that's what I'm saying. For some people, dairy free is not a fad or a luxury or the newest dieting tactic, it's a way of life. And, on Thanksgiving, those people are sad. Or popping lactose pills…or indulging and regretting it later (that's usually me). But now, Thanksgiving revelers with a dairy intolerance don't have to miss out. Everyone can indulge in creamy mashed potatoes that are 100% comfort, 100% delicious and zero percent guilt. Oh, and ridiculously easy if you have an electric mixer. So, if you woke up this morning freaking out because your Thanksgiving menu is incomplete, whether you have dairy issues or not, this simple mustard mash will be the perfect side dish to your turkey. And if you're really in a bind, Cooking Light has 44 ultimate holiday sides to choose from.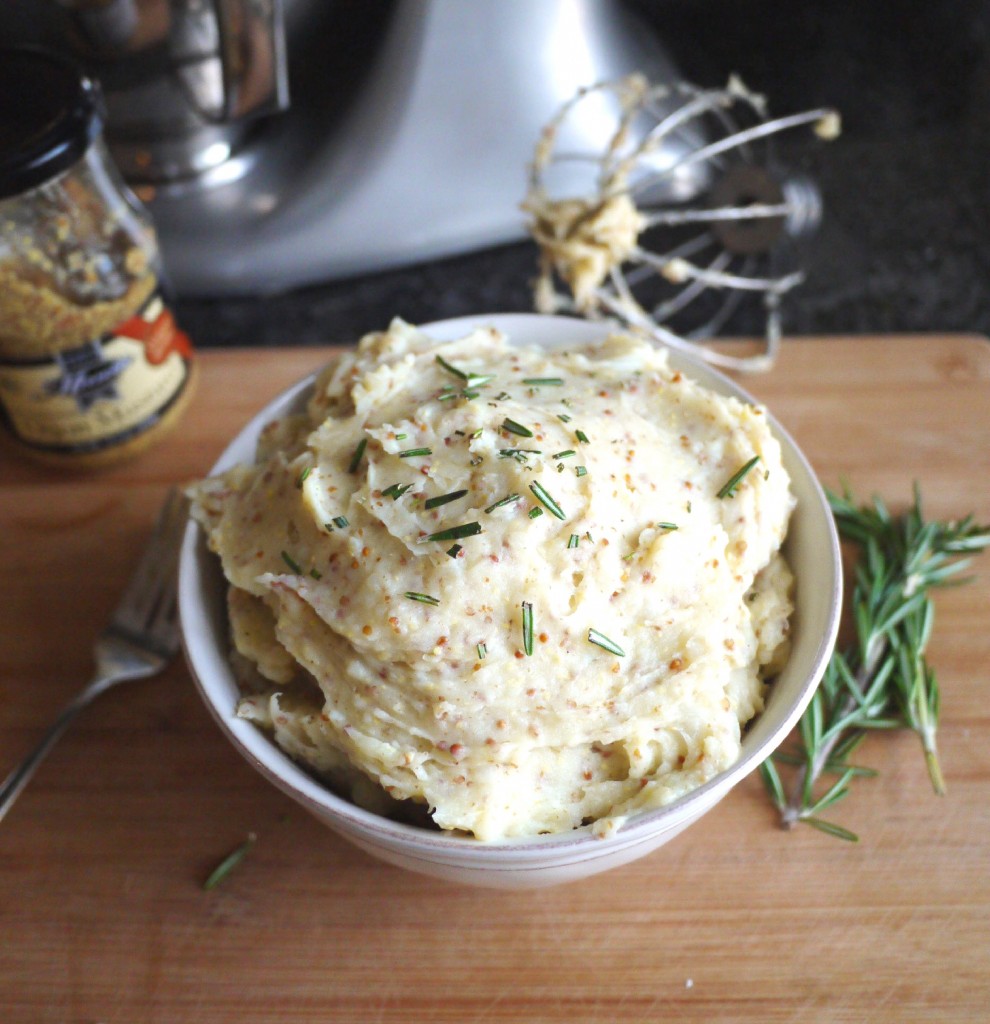 Healthy Recipe Ecstasy? Here's the deal. Nothing can compete with the dairy trifecta. But this mashed potato recipe comes pretty darn close. Instead of milk, I used organic vegetable stock. Instead of cream, I relied on the mustard for flavor and texture. And, instead of butter, I used olive oil. I basically took three delicious ingredients and replaced them with three different delicious ingredients, which I think will actually impart more flavor and excitement to your boring old mash. Potatoes + liquid + electric mixer are all you really need to whip those spuds into creamy submission. But, seeing as how this is Thanksgiving, the holiday of indulgence, if you don't have a dairy issue, and you want to add a touch of butter or cream to the potatoes before serving, you have my permission. Indulge away and have a great turkey day! 🙂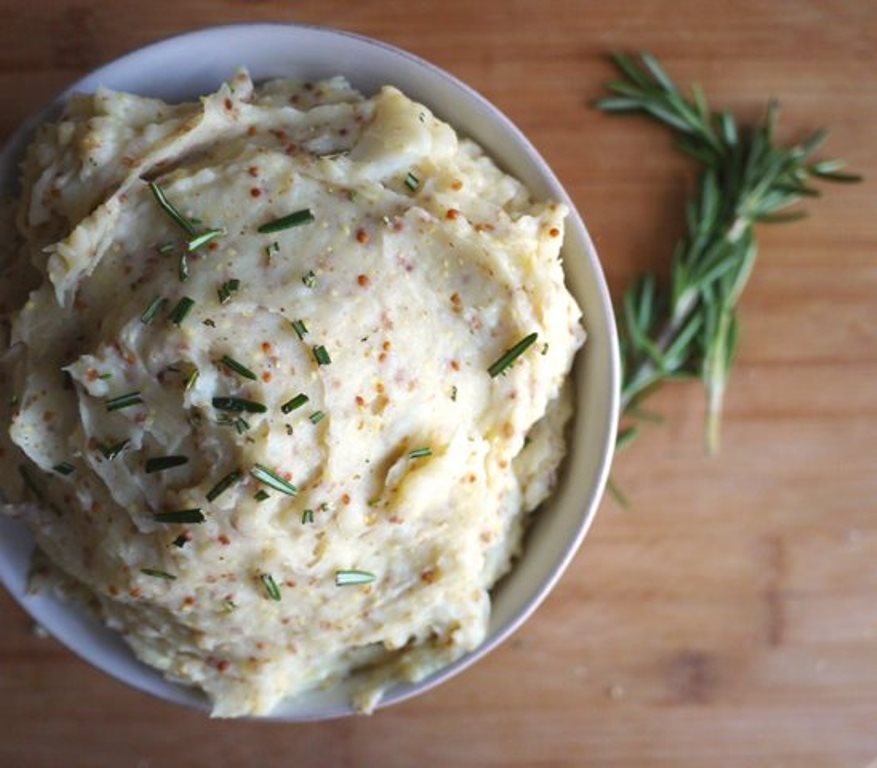 Dijon and Olive Oil Mashed Potatoes
Author:
Healthy Recipe Ecstasy
Ingredients
8 medium red potatoes, peeled (about 9-10 cups)
2 cloves garlic, peeled
Generous pinch of kosher salt
¾ cup stock
½ cup whole-grain mustard
¼ cup plus one tablespoon extra-virgin olive oil
Sea salt and freshly-ground black pepper to taste
Fresh rosemary for garnish (optional)
Instructions
Add the potatoes, garlic and kosher salt to a medium stockpot. Cover the potatoes completely with water and bring to a boil. Next, simmer rapidly for 15 minutes or until potatoes are fork tender.
Drain the potatoes well. Add the potatoes back to the pot over low heat, gently stirring for about one minute or until potatoes are completely dry.
Add the potatoes, stock, mustard and olive oil to a large bowl or the bowl of an electric stand mixer. Using either an electric hand mixer or the stand mixer, slowly mix the ingredients until combined. Then, mix on high until the potatoes reach the desired creamy consistency.
Add sea salt and black pepper to taste.